TRAINING TEMPLATES & TOOLKIT – EXCEL & ONLINE
for Planning, Developing, and Managing Training Programs
---
Ranked #1 | Best Training Plan Template, Matrix & Toolkit
As a Senior Training & Change Management Consultant, I have successfully delivered training to over 50,000 employees and users across Intel, Accenture, Cisco, Apple, Deloitte, Capital One, HSBC, Goldman Sachs, and other large firms.
Throughout my training career, a major challenge I have seen impacting most training practitioners has been a lack of a streamlined and standardized best-in-class employee training plan, template, and tool for planning, tracking, and managing all aspects of their training programs.
As a Pioneer of best employee enablement tools, and a strong Advocate of the training, change management, and HR communities, I decided to work with AGS Designers and Developers to launch the top-ranking all-in-one training planning and training audience management toolkit below that you can obtain and use for your training needs.
Ogbe Airiodion
Senior Change Management Leader
---
 Our goal is to place this training management toolkit at the hands of everyone involved in employee training to increase your training successes and your overall performance.
Spread the word.
Inform your colleagues about this powerful, and simple-to-use training plan template and tracking toolkit. 
---
Video Review: Best Training Plan Template – Excel & Online Tool
---
Change Management Made Easy
There are many moving parts to change management as well as developing and implementing an employee training plan. You have to identify the skills and proficiency gaps for each user, develop training topics, measure progress for each trainee, and more! AGS Cloud provides you with everything you need to plan and implement a successful training and enablement program.
AGS Cloud is equally suited to newbies and experienced change managers. These comprehensive tools and templates are designed to help those new to change management ramp up the learning curve with expert guidance as well as give seasoned change managers tools that are truly time-saving.
---
Illustration: Employee Training Toolkit Dashboard
Training Score Card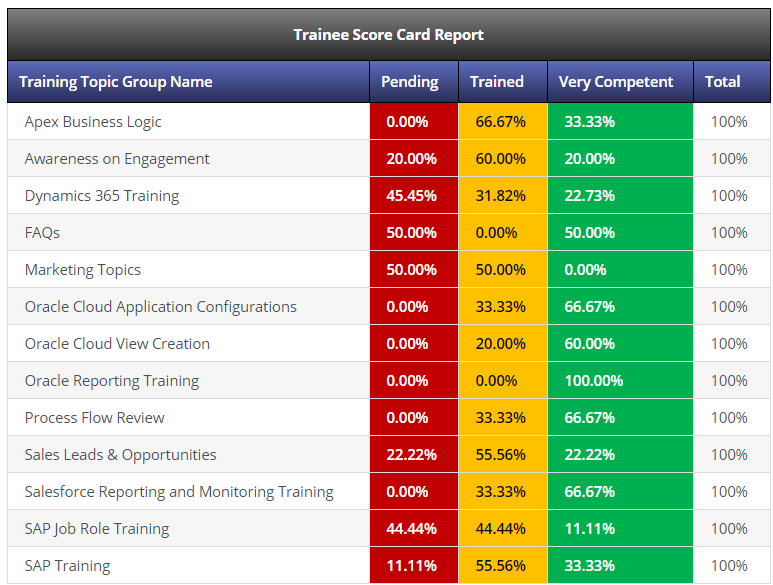 ---
Top 2020-2021 Employee Training Matrix Template Database – Excel & Online Versions
An effective training and development program allows you to increase the success of your change adoption and enablement, which includes training new employees or existing employees that are impacted by an organizational change.
Existing employees often have to be trained to adopt new business processes, new or upgraded system implementation, culture changes, M&A integrations, new skills, and enabled to adopt other types of business changes.
If employees aren't trained properly to become proficient in the new processes, then the change will fail to achieve desired results.
Key data points that need to be gathered and documented when conducting your training requirements assessments include the Who, Why, What, When, and How.
Gathering the various training audience information from your training assessments will be an ongoing process. As you progress with your training assessments, you should enter the information into the Training Audience Template Database that comes with our training tool.
Our toolkit's training records' template comes in both Excel and online versions. As such, you can go with the version that best meets your training needs.
---
Video DEMO of This Training Planning & Management Tool
---
Sample Training Tool – Training Record Template- Illustration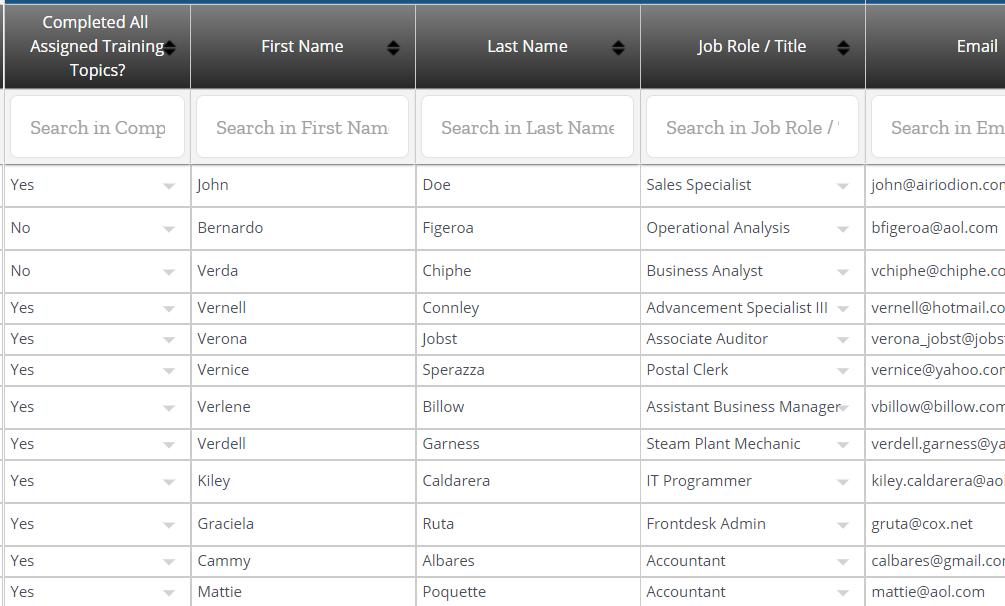 ---
Training As Easy as 1-2-3!
AGS Cloud Employee Training Tool streamlines the process of planning and implementing an employee training program related to a change management plan.
Use the Training Topics Database to detail training topics

Use the Training Audience Database to detail user training progress

See & share real-time training progress data in the Analytics Dashboard  
Flexibility & Scalability
Your AGS employee training software's template is scalable, meaning you can use it for any type of program, from small projects that will impact only a few groups to large transformations that will impact thousands of employees, managers, customers, and external users.
Training Agenda Topics – Template Database
The all-in-one training tracker and planning toolkit also comes equipped with a training schedule template that allows you to document and track your training topics and curriculum.
This employee training schedule template is linked to the employee training database and automatically calculates the total number of Trainees for each assigned training topic.
Our training tool is set up to give you one comprehensive place to plan all your training activities:
Plan your training topics

Include topic details

Designate training delivery methods

Schedule training dates
Watch a Video Tutorial of This Training Tool
Illustration: Employee Training Schedule Template & Topics Matrix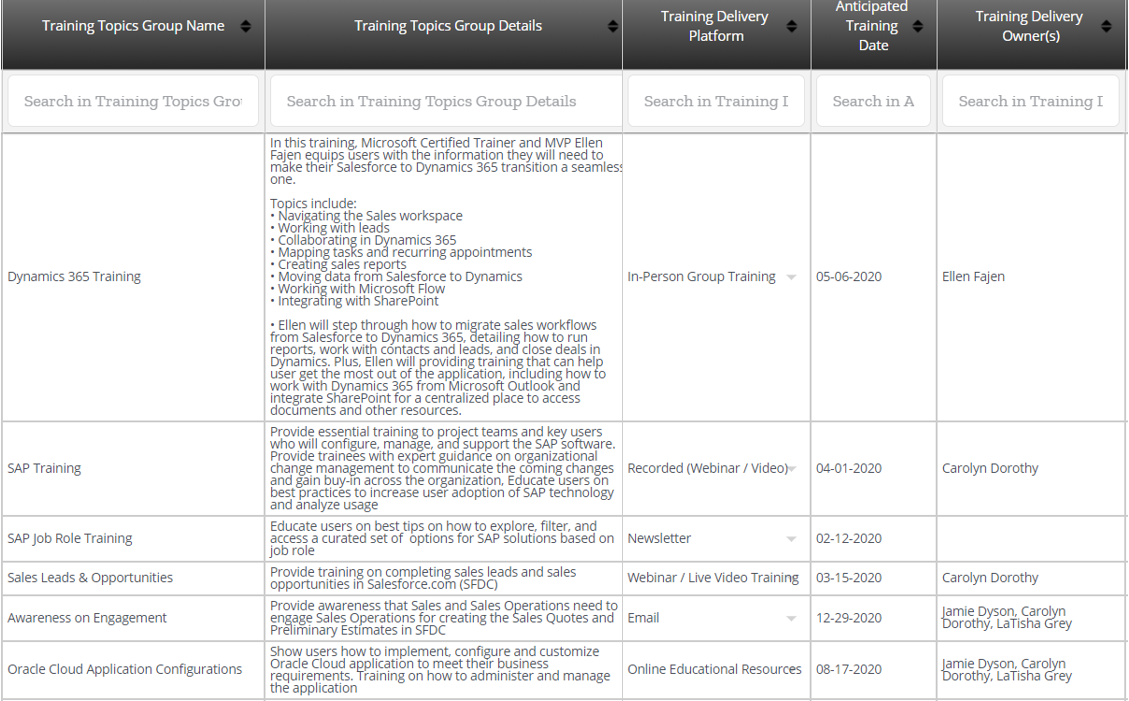 Training Audience – Template Database
Once you enter your training topics in the Training Topics Database, they will automatically populate into the Audience Database so you can easily chart each employee's progress in each required training activity. This automated connection makes your work easier!
Our audience database is set up to give you one comprehensive place to manage all your trainees:
Add each trainee

Add trainee contact details

Note if the trainee has completed all training or not

Include trainee's geographical location

Include trainee manager details

Chart each trainee's progress on each training topic

Include as much additional information as you need on topics or trainees!
Filter database columns to quickly find a trainee or topic. You can also search columns to bring up a list of topics that still have training in progress or which are completed.
Add, delete, and import data into both databases. You have full control!
Analytics & Reporting Dashboard
The Analytics Dashboard that comes with your AGS change training tool gives you real-time insights on your training schedule and a training scorecard.
The training tool's Analytics Dashboard will also allow you to easily identify which employees, job roles, departments, and regions have the most and the least number of targeted trainees.
Your Analytics Dashboard is continuously up-to-date with the progress you or your team are making as you complete the steps and tasks needed for your training exercises.
This is going to save you tons of time when it comes to analyzing and presenting your data. Instead of having to spend hours pouring over your inputted information and trying to chart it into comprehensive insights – AGS Cloud has done it all for you!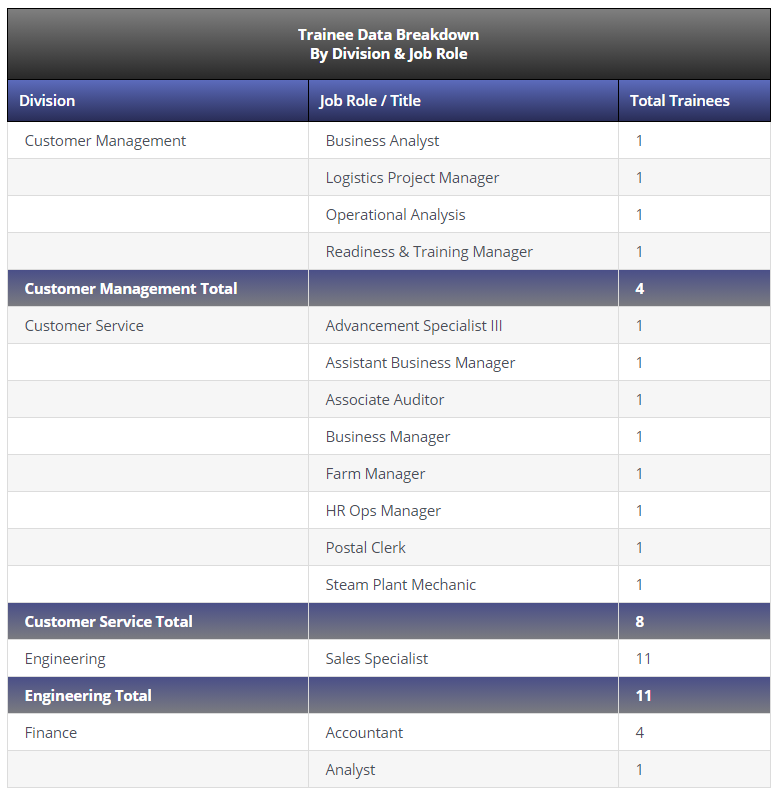 In addition, you can quickly see which countries, cities, states, or regions have the highest or lowest levels of Trainees, and then plan your training delivery accordingly to accommodate time zones, local requirements, and other localization needs.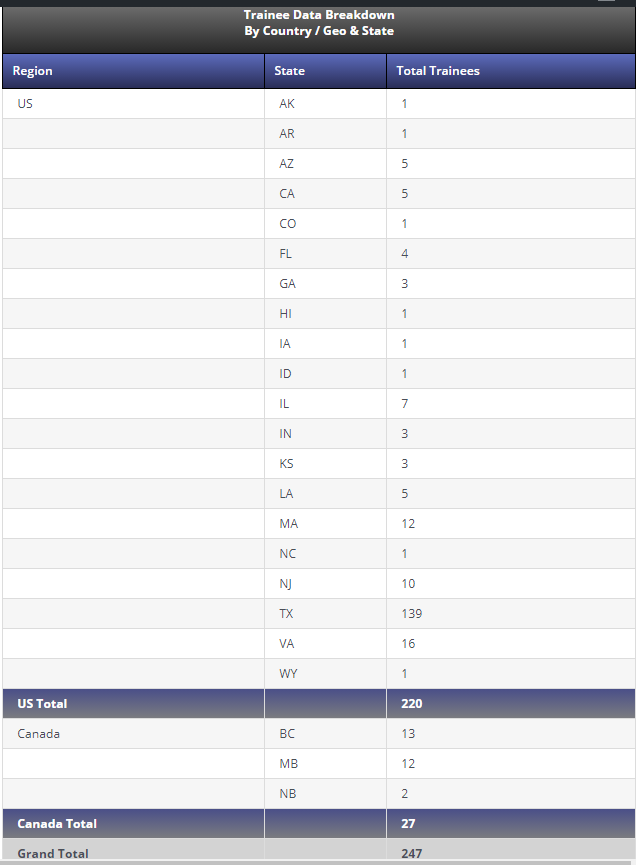 Watch a Video Tutorial of This Training Planning & Management Tool
---
Training Success Tracking!
A key benefit of the employee training records template is the "Training Progress Score Card" section, that allows you to easily track (at a holistic level), the progress that Trainees are making towards completing their assigned training topics.
See the progress on a granular level in a glance!
Sample Training Database – Training Success Tracking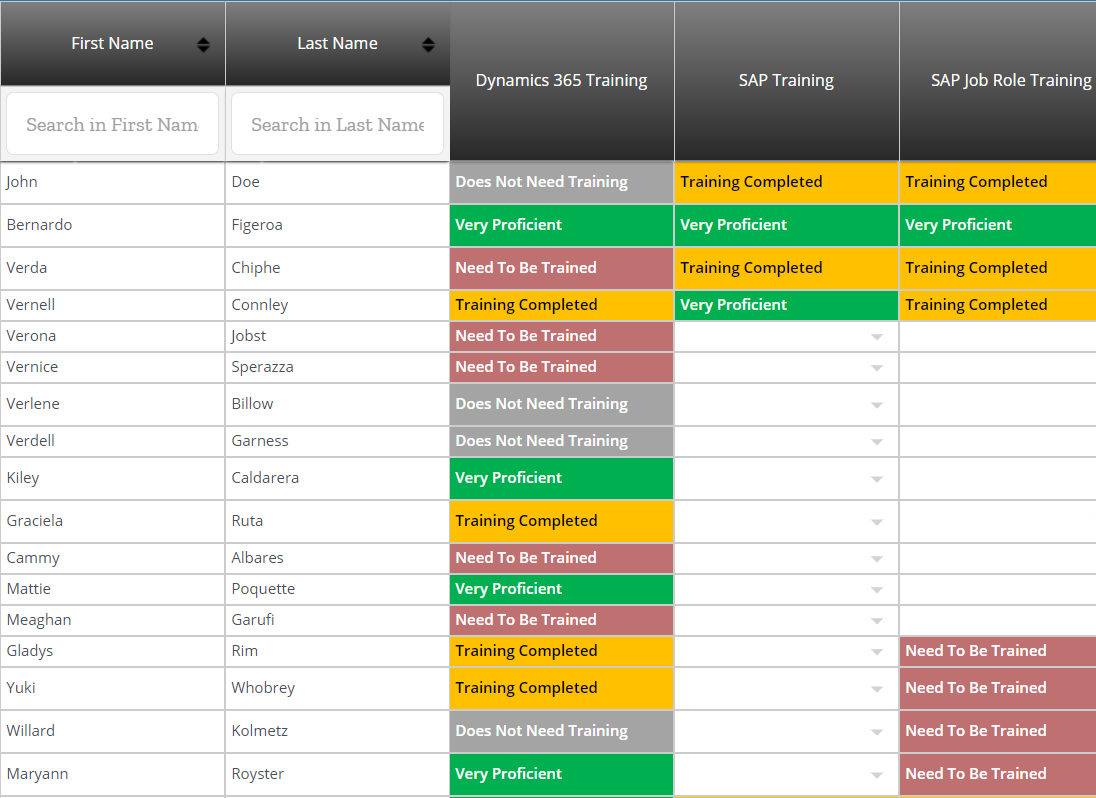 ---
Don't hesitate to contact Airiodion Global Services (AGS) if you have any questions about this top-ranking training guide template and the associated training matrix samples.
---
Video Tutorial – AGS Training Management Tool
Video Review of AGS Cloud  Training Toolkit & Templates.
Video Review of AGS Excel Training Toolkit & Templates.
---
Why Use AGS Cloud for Your Change Project?
Saves you tons of time 

Based on industry-standard change methodologies

Can be used by both beginners and experienced change managers

Change teams can collaborate together online

Automatic reporting that is always current with your data

You can access AGS Cloud from any device

Keeps you from dropping any balls 

Makes you look good with smart analytics!
No Risk – Use it Risk Free for 30 Days!
What's Inside the AGS Cloud Change Impact Assessment Module?
Free change management templates & roadmaps

Guides and best practices

Instant analytics as you input data (no spending hours trying to create reports)

Ability to upload your data from a spreadsheet or key it into the AGS Cloud interface

Master organizational lists that populate into all modules as dropdown options

Ability to add on special features like knowledge library access or a live dedicated Senior Change Manager as a resource

and More!
---
Don't hesitate to let us know if you have any questions or feedback about this training software tool that allows you to effortlessly track employee training.
---
AGS Cloud Training & Enablement Tool Pricing
We've created this Training Toolkit in the Cloud and also created a downloadable Excel version to increase the number of options available to you.
Today, the toolkit is being offered at a discounted price.
No Risk – Try it Risk Free for 30 Days (Cloud version)
Don't wait! Subscribe now.
Cancel anytime you want.
For Enterprise, Consultancies, Agencies, & Group pricing: Contact us.
CLOUD

EXCEL

Monthly Billing*

One-Time Payment*

$24.99 (USD)
$99.99 (USD)

Discounts:

Get 20% off today –
Coupon code: AGSHSE20%

Discounts:

Get 20% off today –
Coupon code: AGSHSE20%

Best for:

Change Practitioners

People who prefer a low monthly recurring payment

People who like to add teammates to collaborate together in using the toolkit

Best for:

Change Practitioners

People who prefer Excel, and the ability to make their own changes to the toolkit

People who prefer to download and own the toolkit forever

All prices are in US Dollars

Ongoing enhancement and innovation

Free upgrades

Import / export data

30-Day money back guarantee

I

f you don't like it, just let us know within 30 days and we'll refund you

Low recurring monthly cost

Add unlimited team members for collaboration

Advanced filtering and sorting capabilities

Can only be used for one project or client at a time. But you can clear data, and reuse the tool for another project

Secured with top grade cyber security systems

All AGS products come with an NDA and confidentiality clause to give you peace of mind about your data

All prices are in US Dollars

Sales are final | Cost for the Excel version is a one-time cost that enables you to use the Toolkit indefinitely – Single User Usage only. 

Can only be used by you (all other teammates need their

own license

)

Add our Value-Add Service Plan (At the checkout page) which allows you to make copies and use the Excel version of this toolkit for multiple projects and clients

Excel/Microsoft Office should be installed on your computer to use this version
* Click one of the prices above to add to cart. Prices are per user per US Dollars.
For Enterprise & Group pricing: Contact us for group discounts.
Excellent ROI from the first month
---
Cloud vs. Excel Comparison | Training Plan Template & Toolkit
Cloud vs. Excel Comparison
Cloud Version: The Cloud version of the training matrix template and toolkit is more automated. Because this version is in the Cloud and we own the technology, we're free to innovate. Also, take this out for a spin risk free. 
The Excel version of the toolkit is a downloadable version, but because Excel is a Microsoft platform, we are limited on how we can support it. 
Cloud Version Details
Low recurring pricing options. Cancel any time before your next billing.
We offer a 30-day risk-free trial. 
Collaborate across your company with effortless team collaboration.
Easily add an unlimited number of training teammates or stakeholders to work together or view your Training Plan Template and Toolkit.
Effortlessly track employee training and progress.
Import data: Start new training planning, assessment, development, and delivery from scratch or upload data.
Automated upgrades at no cost to you.
View real-time analytics reporting and charts on your Training Matrix Template and Management Tool.
All our Cloud business change software come with enterprise-level security & scalability.
Excel Version Details
Do you need complete control over your Training Toolkit, including the technical and development control? For example, if you want to manually build more macros, charts, and other functions at the backend, then go with the Training Template – Excel version.
Note: The training program template -Excel version is sold as-is, with no money-back guarantees or AGS maintenance. These are only applicable to the Cloud version of the training software tool.
GET YOUR TRAINING TOOLKIT TODAY - RISK FREE
(and Get Instant Access!)
---
Staff Training Toolkit – Instant Analytics
One of the best features is the Analytics Dashboard of your employee training and enablement toolkit. Here are a few more screenshots to show you just how helpful it's going to be for tracking, reporting, and managing your training program.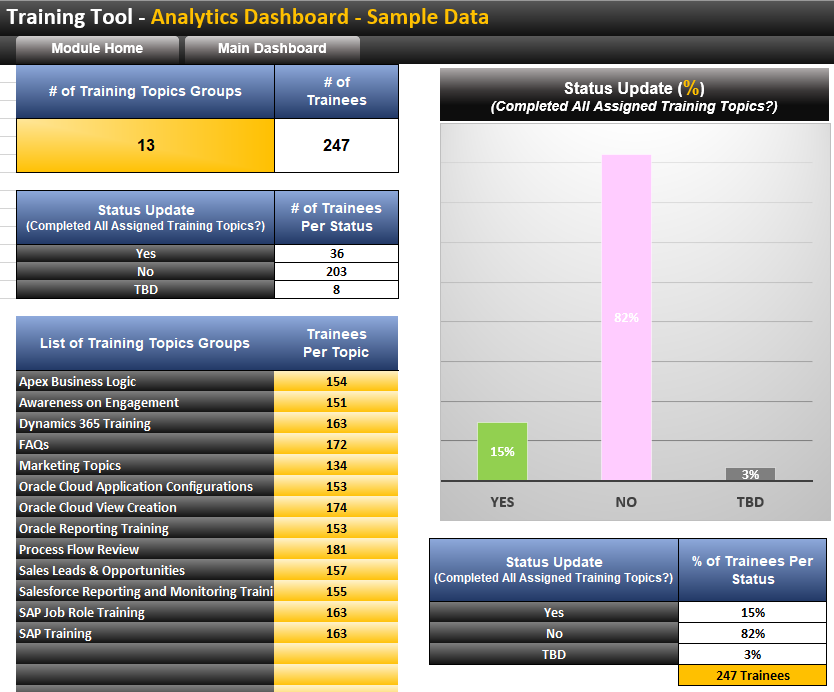 Employee training matrix – Excel & online versions – easily track training progress.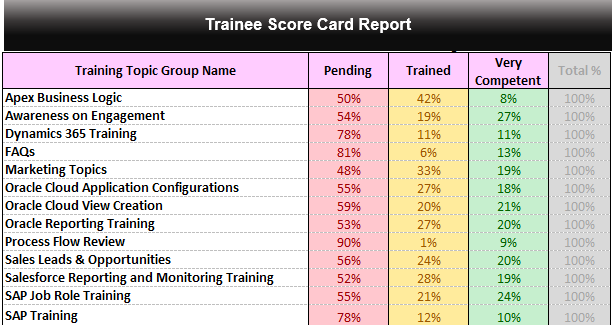 Training matrix for employees – breakdown by job role and geographic locations.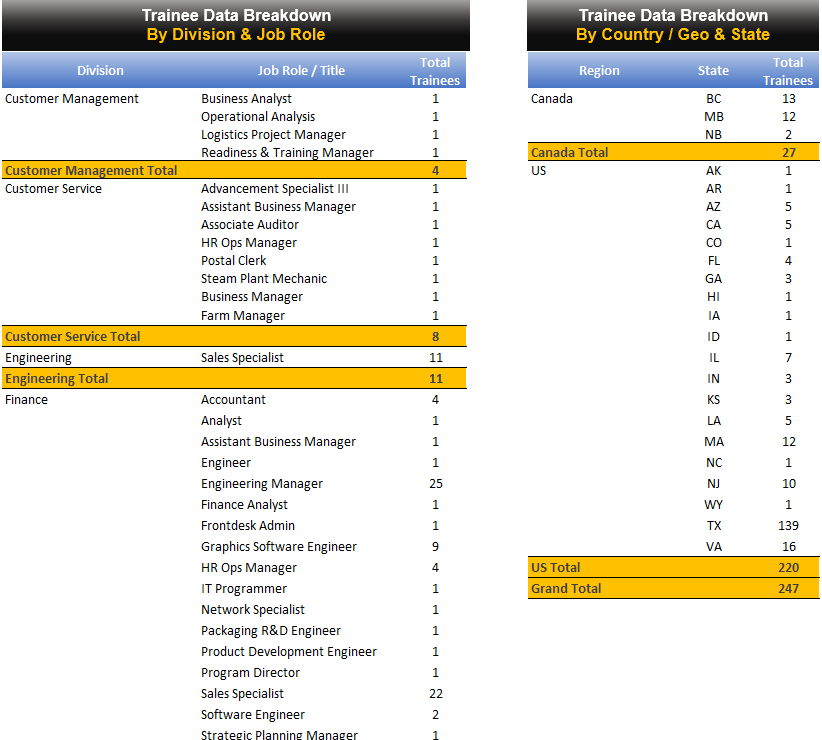 Watch a Video Tutorial of This Employee Training Software Tool
GET YOUR TRAINING TOOLKIT TODAY - RISK FREE
(and Get Instant Access!)
---
FAQs
Multi-prong question about sharing the Training Management Toolkit with other team members
Questions: Can I share this Training Toolkit with others? What are the requirements for the single-use license? If I have a colleague on the same project, can we use it separately and work on the project separately, or do we need to buy 2 licenses?
Answer: Our Training Plan Matrix and Toolkit is offered on a per user basis. You can add users to your account to collaborate with you, but they need to subscribe. Subscribing gives them their own single-user license. After you purchase the Training Management Toolkit, we will follow-up with additional details on the 3 quick steps for adding teammates and other users to sharing the tool with you.
Can I cancel at any time?
Answer: Absolutely! We'd hate to see you go, but we understand things come up. Subscription plans for our Training Management Toolkit are recurring but can be canceled before the next renewal period on your My Account > Subscriptions page. We have a no-questions-asked simple-click cancellation policy—no hoops for you to jump through.
Does the sample training plan template, and the main training matrix include tutorials?
Answers: Yes. And more. Our All-in-One Employee Training Log, Template, and Toolkit also includes video tutorials that provide you with a step-by-step walkthrough on using the Training Management Toolkit.
Can I upload (import) data into the Training Management Toolkit's spreadsheets. For example, can I upload employee rosters vs having to re-enter the data?
Answer: Yes, you can. We've made it easy with a simple click to import existing data into your Training Management Toolkit. Automatically import your data from other databases or spreadsheets in minutes and instantly bring your team together.
Do you offer a free trial for your Training Management Toolkit?
Answer: Yes we do. Use our online toolkit risk free for 30 days.
I am in a different region, will this Training Management Toolkit still work for me?
Answer: Yes. This tool was developed for the U.S., as well as for change managers in Australia, the U.K., Canada, Philippines, India, Africa, Europe, LATAM, Middle East, APAC, and in any region. It is truly a global Training Management Toolkit platform.
Can I remove AGS branding and use my branding or firm's logo?
Answer: Yes, you can replace AGS branding on your purchased Training Management Toolkit, when you add a customization or a value-add service plan to your order. 
If acquiring the Excel version of the Training Management Toolkit, add our Customization Service plan.
If acquiring the Cloud version of the Training Management Toolkit, add the "Value-Add Service – Premium" plan. Let us know if you have any other questions.
Can I upgrade at any time? Can I add more products later on?
Answers:
You can add products or upgrade at any time, but some products may need to scale together with this Training Management Toolkit. Check out our All-in-One Toolkit for more details.
How are future enhancements/changes handled for this Training Management Toolkit?
Answers:
• Future upgrades and changes to your Training Management Toolkit will be done periodically. Upgrades and future enhancements will always be free to customers.
• If you decide to go with the Excel version of this Training Management Toolkit, please note that our Excel products are considered final sales, meaning there are no upgrades, refunds, or changes to them after purchase. See also: Which Version Should I Go With? Cloud or Excel?
---
Watch a Video Tutorial of This Training Tool
GET YOUR TRAINING TOOLKIT TODAY
(and Get Instant Access!)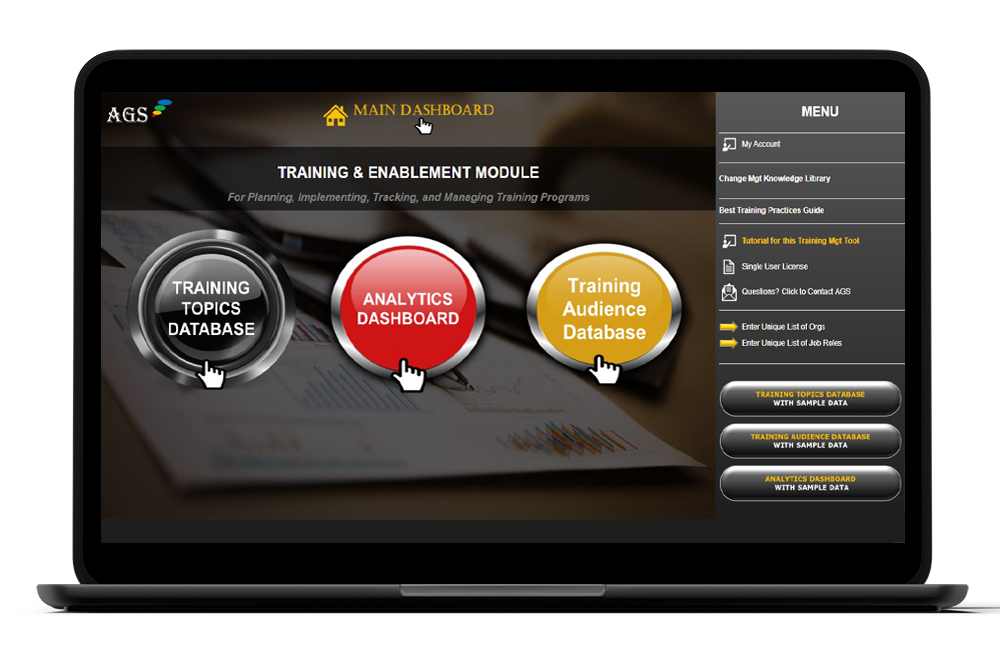 ---
Note: Content on Airiodion Global Services (AGS)'s Airiodion.com website is copyrighted. If you have questions, comments, or tips about this Airiodion Global Services content or product, please contact Airiodion Global Services today.
---
External Sources: https://www.ls.graphics/free/free-pixel-4-and-pixelbook-go-mockup