CHANGE MANAGEMENT (OCM) METRICS & KPIs
for Tracking & Measuring Change Adoption
---
Change Management Enablement KPI Metrics to Track
When it comes to tracking and measuring organizational change management, including how employees, managers, or customers are adopting and transiting through a change, there are two key areas that you need to focus on:
Change Management Adoption & Enablement KPIs

Change Plans Metrics
While project management (which involves designing, developing, and deploying solutions) has defined key performance indicators (KPIs) that can be tracked against, organizational change management (which involves the people side of change for projects) does not have similar kinds of industry-standard change performance indicators to track against.
This guide has been published to address this particular issue.
This guide has been developed and published for Change Management Leads, Change Practitioners, Program Leads, Project Managers, HR, and other resources across all industries to use in tracking and measuring their organizational change management activities.
Adoption & Enablement Metrics to Track
---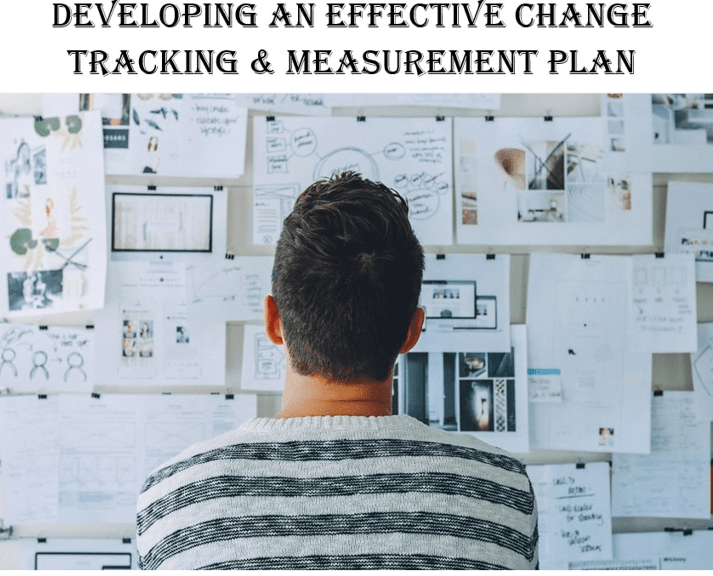 Change Manager Viewing Change Tracking Plans & Metrics
---
Change Management Enablement & Adoption Metrics to Track
---
First, What is the Goal of Enabling Impacted Employees, Managers, & Customers?
The goal of an effective change management enablement program is to increase the success of the business change. This is done by effective communications, stakeholder and impacted users' engagement, training, coaching, and change reinforcement to get impacted users to embrace and adopt the business change.
A business change can involve new business processes, system integrations, technology changes, merger and acquisition integration, business expansion, new product roll-out, a change to a company's organizational culture, re-organizational, new company vision, or any type of change.
To determine whether change adoption and enablement activities are successful, you need to track how impacted audience groups are reacting and adopting new business solutions.
Impacted groups and individuals generally progress through the milestones listed below. 
Click here to read more about these change milestones: Individual Transition Change Curve
To increase change adoption and the success of a project, program or transformation initiative, your change management efforts should involve tracking and measuring the change management metrics and KPIs discussed below.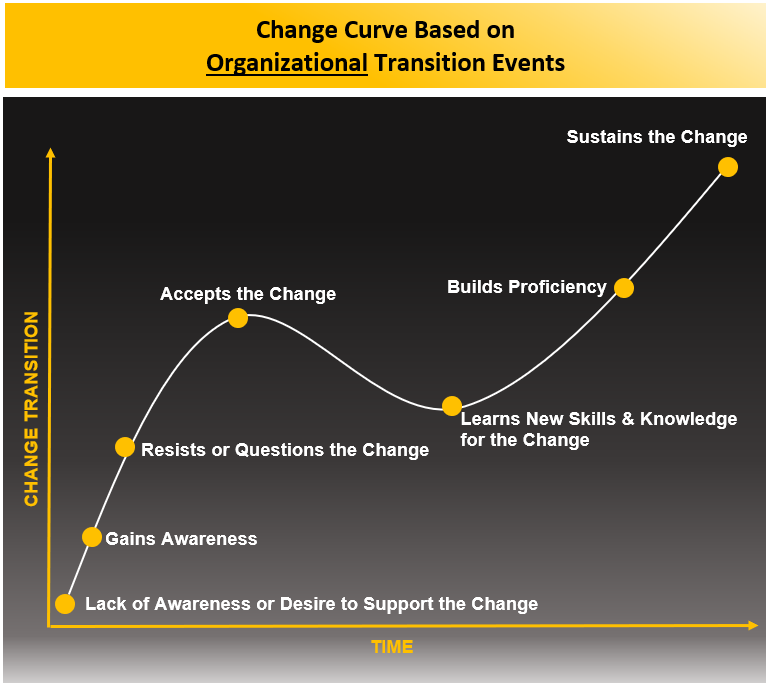 ---
Change Metrics to Track & Measure
Click any of the links below to review each change management KPI, or keep scrolling down.
When you implement a communication campaign, your aim is to spread awareness and keep users informed.
When you initiate stakeholder engagement strategies, your aim is to increase the support for the change.
When you provide coaching and training, your aim is to equip impacted employees, managers, and customers with new skills and knowledge, that will enable them to effectively use the new business solutions.
Change adoption has a direct correlation with the effectiveness of your change activities. The more efficient your change activities are, the higher the rate of change adoption. 
---
(1) Measure Awareness Change Metrics
Track and measure the effectiveness of your change awareness and program updates communications.
---
(2) Track and Measure "Desire to Support" Business Change KPIs
---
(3) Track Knowledge & Skills Change Management Measurements
Follow the steps below to track change management training and coaching activities.
Tracking these particular change metrics and change KPIs will allow you to quickly determine how well end-users are adopting and learning to use the new solutions and processes.
---
(4) Measure Impacted Users' Proficiency Change Metrics
---
(5) Change KPI Metrics: Track Reinforcement of the Enablement
After Go-Live, ensure that you are completing the below steps and measuring the reinforcement of the change adoption.
People tend to revert back to their old ways of doing things, or they tend to develop workarounds if they feel the new process is too complicated for them. An effective change management program involves working with stakeholders and users to minimize people reverting back to the old processes, or not using the new processes by developing workarounds.
---
Change Management Plan Implementation Metrics
---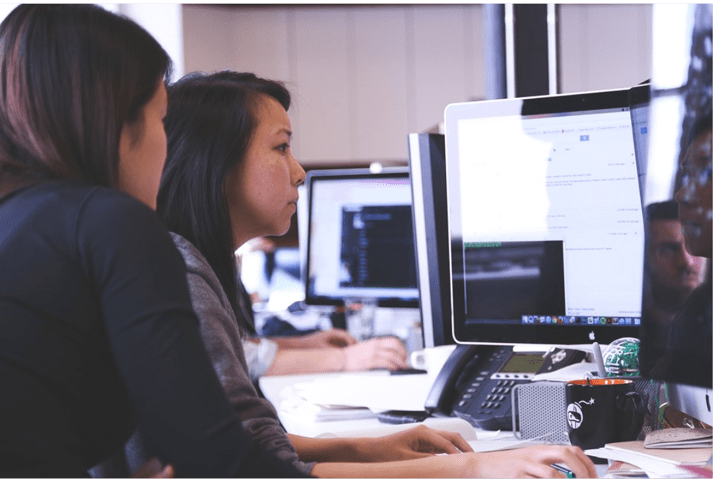 As mentioned in the top section of this change management measurement guide, there are two buckets of organizational change management metrics that need to be tracked and measured.
The section below provides a review of change management metrics examples and KPIs that should be tracked to gauge the successful delivery of your change management plan.
---
Change Management Plan Tracking
At the beginning of the change program, when planning out your change management and program management strategies, it is a best practice to develop your change management roadmap, which is nothing more than a list of change deliverables and sequencing of when these deliverables will be implemented and completed.
Below is an example of a change management roadmap.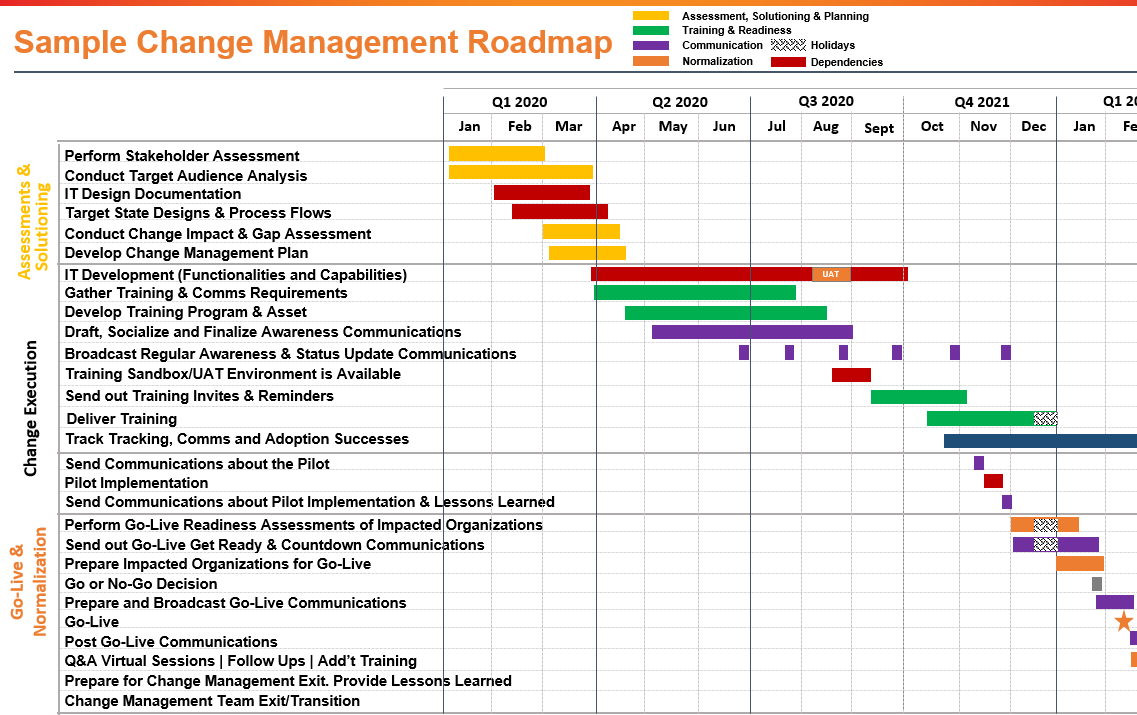 As the project progresses, you should track how well you or the change management team are delivering the change management plan. Are you successfully delivering these plans according to schedule? Or are you running into delays and missed milestones?
Track and report out on your plan implementation progress to the program management team, sponsors, steering committee and any other key stakeholders that need to be updated on your change management efforts.
Click here for downloadable Change Management Roadmap templates.
Below is a quick overview of key change deliverables that change management teams often need to implement. For a more detailed list of each change plan and deliverable can be completed, click to view this page: Change Management Resource Center.
---
Change Management Deliverables to Increase Awareness of the Change & Build End-User Buy-in
Send out awareness communications to:

Educate employees and impacted customers on the program (why we are changing, why now, risk of not changing, benefits, and other awareness information (emails, newsletters, internal social media, blogs, etc.)

Build employee desire to support the program

Engage with employees via workshops, townhalls, roadshows, meetings, 1-on-1s, webinars, and other channels to communicate the impacts to their existing processes and legacy solutions, and to build desire and support

Solicit change champions, managers, and key stakeholders for their help in cascading communications, and engaging with end-users to facilitate understanding, buy-in, and support for the change
---
Change Management Deliverables to Increase Knowledge, Proficiency and Change Sustenance
Design, develop and execute training programs and train end-users to help them build knowledge of the new processes and solutions

Provide opportunities (e.g., a test environment, materials, online educational resources) for employees to practice and learn at their own pace

Follow up with end-users and provide coaching or additional training, as needed

Have a "Help System Network" in place (e.g., help desk subject matter experts, support team, points of contacts and a change champion network) that employees can contact for additional help in learning the new processes and solutions

Follow up with end-users to provide additional coaching and training as needed

Celebrate quick wins, individual efforts, and program successes
---
External sources: https://pixabay.com/photos/new-year-s-eve-fireworks-beacon-1953253/, https://pixabay.com/photos/startup-business-people-students-849805/
---
Note: Content on Airiodion Global Services (AGS)'s Airiodion.com website is copyrighted. If you have questions, comments, or tips about this Airiodion Global Services content or product, please contact Airiodion Global Services today.
---