BEST CHANGE MANAGEMENT METRICS & KPIs
for Tracking & Measuring Change Adoption
---
Complete Guide to Best Change Management KPIs and Metrics
This free guide is published for Change Management Leads, Change Practitioners, Program Leads, Project Managers, HR, and other resources across all industries.
It provides you with a step-by-step overview and everything you need to know for tracking, measuring and reporting on the successes of your organizational change management program.
---
Best Practices – How to Measure Change Management
When it comes to tracking and measuring change management effectiveness, including how employees, managers, or customers are adopting and transiting through a change, below are the metrics and examples you will need to focus on. 
Click any of the links below to review each change management KPI, or keep scrolling down.
When you implement a communication campaign, your aim is to spread awareness and keep users informed. As such, your change management metrics should include manager and employee communication metrics to track the success of your awareness communication.
When you engage with stakeholders, your aim is to increase stakeholder support for the change. As such, your change management success tracking should include how well stakeholders are supporting and advocating for the change.
When you provide coaching and training, your aim is to equip impacted employees, managers, and customers with new skills and knowledge, that will enable them to effectively use the new business solutions. As such, your adoption metrics needs to include training and coaching KPIs
Change adoption has a direct correlation with the effectiveness of your change activities. The more efficient your change activities are, the higher the rate of change adoption. 
While project management (which involves business requirements, planning, designing, developing, and deploying solutions) has defined key performance indicators (KPIs) that can be tracked against, organizational change management (which involves the people side of change for projects) does not have similar kinds of industry-standard change performance indicators to track against.
This guide has been published to address this particular issue.
Adoption & Enablement Metrics to Track
---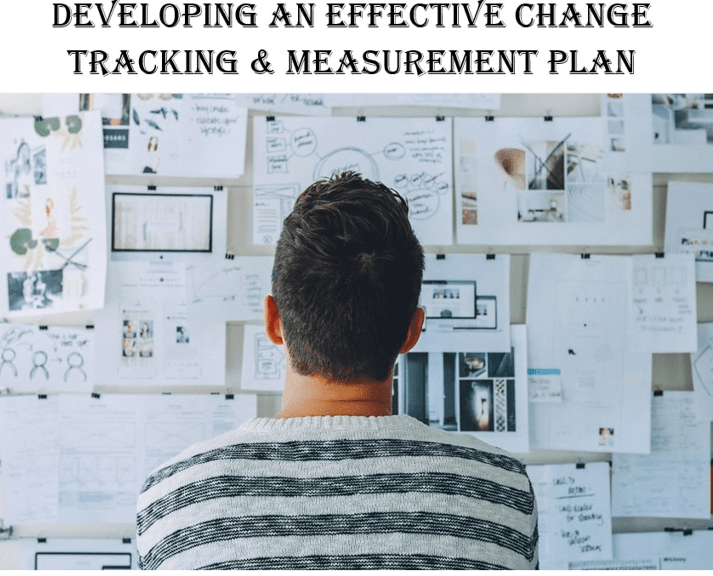 Change Manager Viewing Change Tracking Plans & Metrics
---
Change Management Enablement & Adoption Metrics to Track
---
First, What is the Goal of Your Change Management Activities?
The goal of an effective change management enablement program is to increase the success of a project, initiative, or business change. This is done by effective communications, stakeholder and impacted users' engagement, training, coaching, and change reinforcement to get impacted users to embrace and adopt the business change.
A business change can involve new business processes, system integrations, technology changes, merger and acquisition integration, business expansion, new product roll-out, a change to a company's organizational culture, re-organizational, new company vision, or any type of change.
To determine whether change adoption and enablement activities are successful, you need to track how impacted audience groups are reacting and adopting new business solutions.
Impacted groups and individuals generally progress through the milestones listed below. 
Milestone 1: Initial Stage (Lack of Awareness or Desire to Support the Change)

Milestone 2: Gains Awareness

Milestone 3: Resists or Questions the Change

Milestone 4: Accepts the Change

Milestone 5: Learns New Skills & Knowledge for the Change

Milestone 6: Builds Proficiency


Milestone 7: Sustains the Change
Click here to read more about these change milestones: Individual Transition Change Curve
To increase change adoption and the success of a project, program or transformation initiative, your change management efforts should involve tracking and measuring the change management metrics and KPIs discussed below.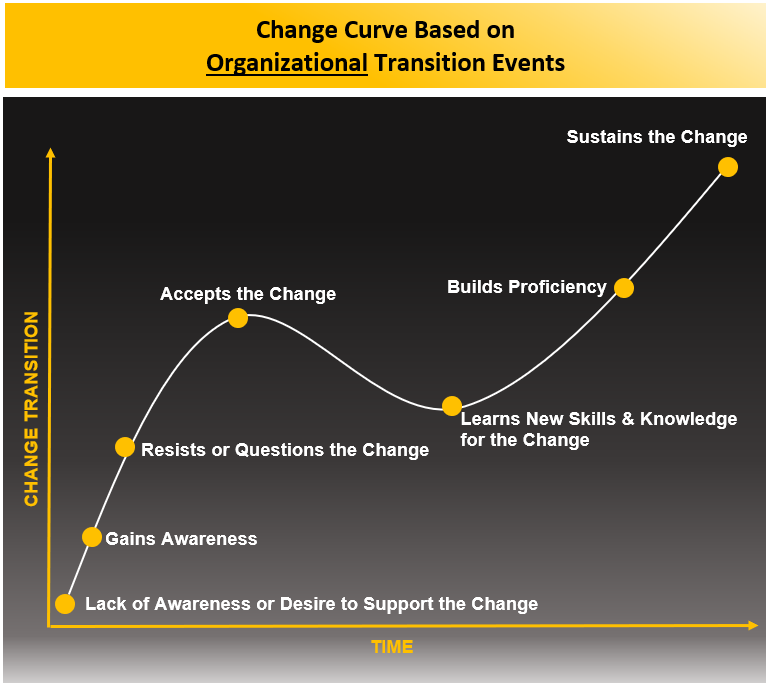 ---
DETAILED OVERVIEW OF THE CHANGE METRICS FOR MEASURING CHANGE SUCCESSES
---
(1) Measure Communications and Awareness of the Change Metrics
According to studies conducted by Prosci and other organizations, the lack of "Awareness about a Change" is the number one reason why people resist a change. As such, implementing an effective communication campaign to spread awareness will be a key factor to the success of your change program.
But how do you measure user awareness about the change? How do you measure the success of your communications?
One of the best ways to do this is to draft and send out surveys and questionnaires to employees and managers that received your communication.
Your survey should include questions that gauge how aware these individuals are of the change and the communication messages.

For example, one of the questions can be: On a scale of 1-5 with 1 being "I am Completely Unaware", and 5 being "I am Fully Aware", how aware are you of the change?

Below is another example of a survey question for tracking awareness and communication.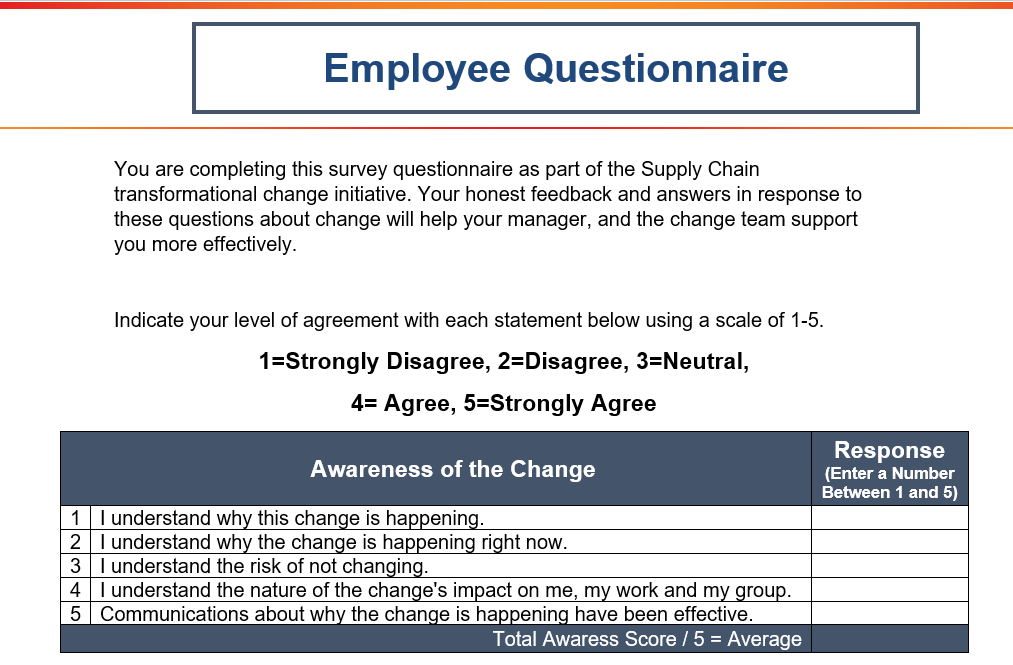 Other change management KPI examples include meeting with selected managers and asking them directly how well their direct reports are reacting to the communications, and how aware they are of the change.
In addition, you should engage with change champions to get their input on "water cooler employee conversations" on the change, as well as having them pass direct end-user feedback to you. Examples of change management metrics to track with your change champions include getting feedback about what employees are saying about your change management communications:
Do employees and managers feel your communications are too many, or not enough?

Would they like more of specific types of communications?

Would employees and managers like to receive these communications in a different manner from how the change team is providing them? (e.g., in a Newsletter format versus email?)
Another change management communication metric to track is the number of users that are opening and reading the awareness communications that you sent to gauge engagement with and also the effectiveness of the communications. Outlook and most email platforms provide you with the ability to track "Read" and "Open."
In addition you should track the number of questions, concerns, and feedback that are coming from end-users to gauge how well end users are interacting with your change or project communications
---
(2) Track and Measure "Desire to Support" KPIs
A lack of "Desire to Support" a change is one of the biggest reasons why change and projects fail. As such, measuring change management effectiveness should include tracking the desires to support the change. 
How do you measure a desire to support the change? The best way is to get direct feedback from employees and managers.
Draft and send out surveys and questionnaires to measure stakeholder support for the change, as well as how willing employees and managers are to support and participate in the change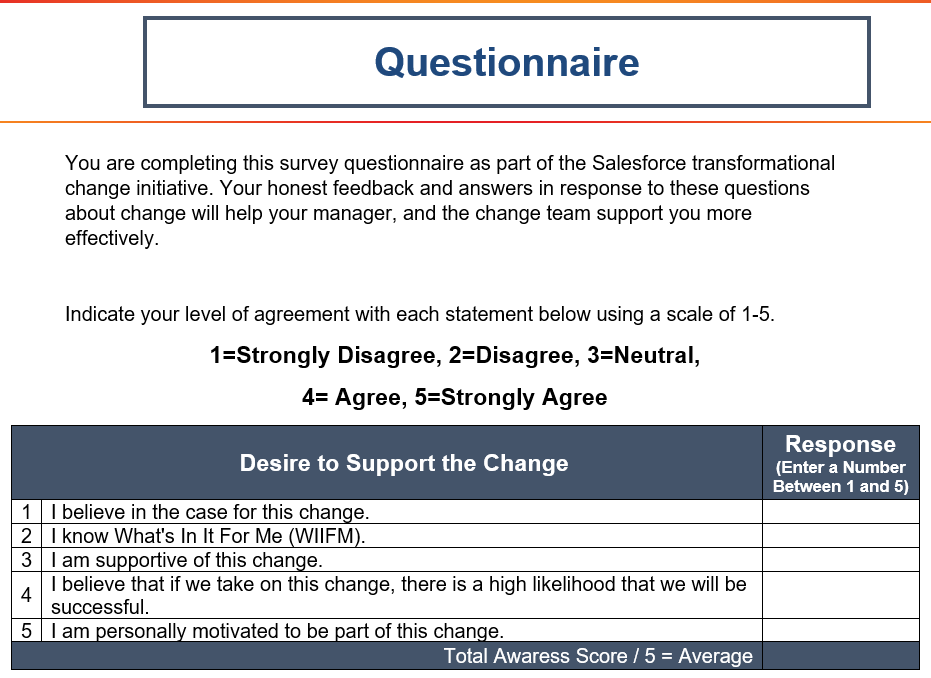 In addition, you should meet with managers and change champions to get their input on overall desire to support the project
And don't forget to ask for and get direct feedback from users during 1-on-1 meetings, group meetings, open forums, workshops, and other engagement sessions to determine how well stakeholders and employees are providing their buy-ins and willingness to support and participate in the change
---
(3) Track Knowledge & Skills Change Management Measurements
Follow the steps below to track change management training and coaching activities.
Tracking these particular change metrics and change KPIs will allow you to quickly determine how well end-users are adapting and learning to use the new solutions and processes.
Measure the relevance and usefulness of the training via surveys, questionnaires, or talking to learners during, and after the training to collect their feedback. Topics to cover:

Was the course content relevant and easy to follow?

Ask questions about the learning, as well as key takeaways.

Discuss the strengths and weaknesses of the training program.

Understand if the training was able to accommodate the learner's pace and learning style.

At the end of this assessment, you should have a good understanding of how well the training was received and determine any gaps in the training content.

Measure the knowledge and skills gained by learners as a result of the training. To measure this level, you can use a combination of metrics such as:

Test scores during and after the training

COLT scores

Course completion and certification

Supervisor report and feedback

At this stage of evaluation, you should be able to determine if the training is meeting its set objectives.

Follow-up with trainees to measure how the training has impacted each learner's performance using:

Self-assessment questionnaires

Informal feedback

Focus groups

On-the-job observation

Job performance key performance indicators (KPIs)

Customer surveys, comments, or complaints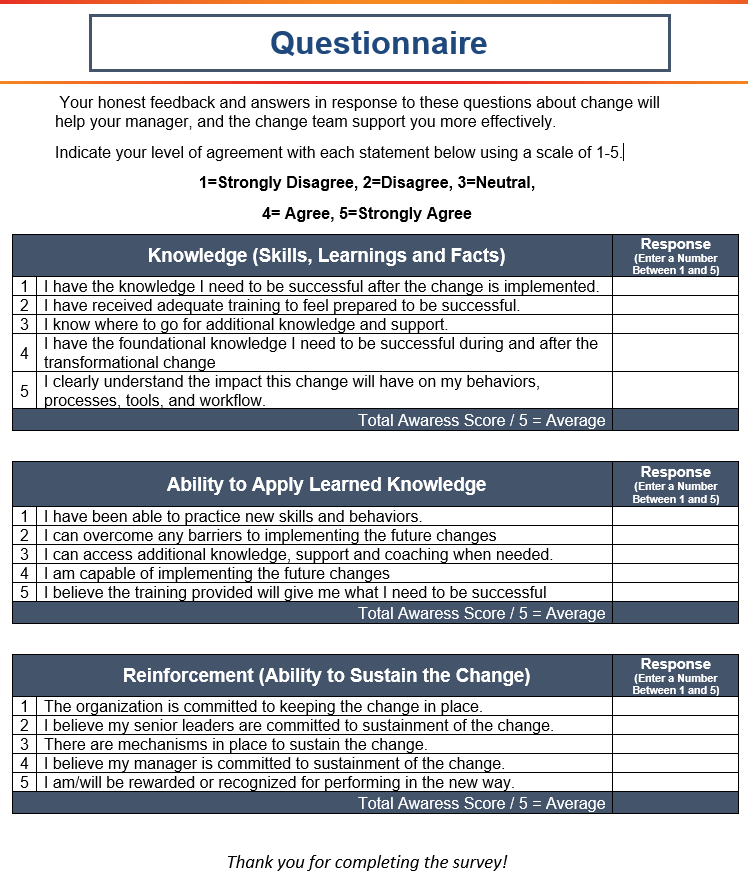 Don't forget to meet with managers and change champions to get their input, as well as getting feedback from what they are hearing from users about their knowledge and proficiency levels.
---
(4) Measure Impacted Users' Proficiency Change Metrics
Track the number of users that are utilizing the Help System Network to gauge the effectiveness of the help desk network. A Help System Network could be a help desk, a virtual desk, or any platform that has been created for people to reach out to if they need help

Track the number of frequently asked questions being asked. Provide answers to these questions using an online FAQ page that is accessible by all end-users
---
(5) Change KPI Metrics: Track Reinforcement of the Enablement
After Go-Live, ensure that you are completing the below steps and measuring the reinforcement of the change adoption.
People tend to revert back to their old ways of doing things, or they tend to develop workarounds if they feel the new process is too complicated for them. An effective change management program involves working with stakeholders and users to minimize people reverting back to the old processes, or not using the new processes by developing workarounds.
Meet with impacted managers and groups to track if they are running into any issues

Email selected individuals that were part of the training audience, and ask them if they are running into any issues

Send out surveys asking impacted users for direct feedback

Ask change champions and super users for feedback on how often people are reaching out to them with questions or concerns  

Track usage of new processes and systems

Identify and document performance gaps or lack of usage
---
CHANGE MANAGEMENT PLAN IMPLEMENTATION METRICS
---
As mentioned in the top section of this change management measurement guide, there are two buckets of organizational change management metrics that need to be tracked and measured.
The section below provides a review of change management metrics examples and KPIs that should be tracked to gauge the successful delivery of your change management plan.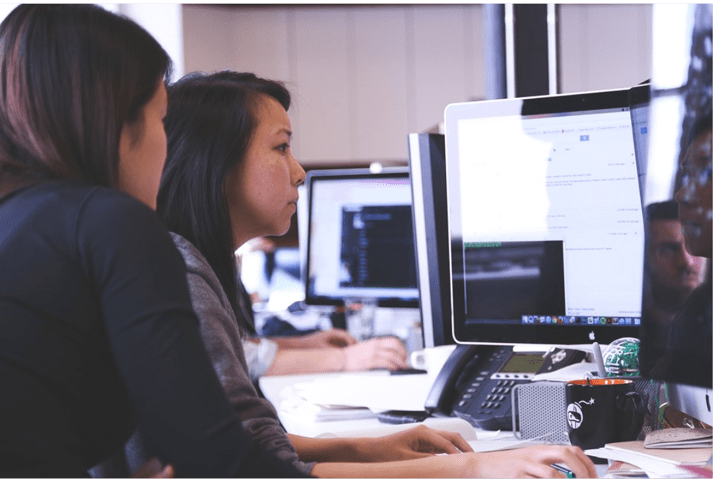 Change Management Plan Tracking
At the beginning of the change program, when planning out your change management and program management strategies, it is a best practice to develop your change management roadmap, which is nothing more than a list of change deliverables and sequencing of when these deliverables will be implemented and completed.
Below is an example of a change management roadmap.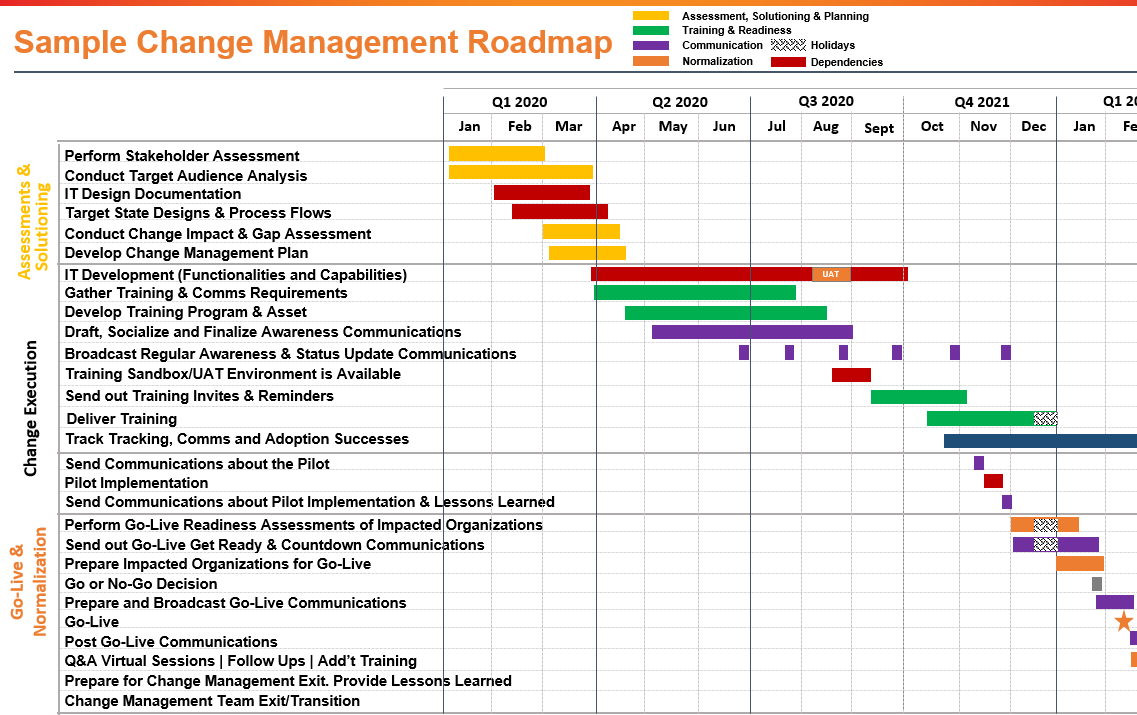 As the project progresses, you should track how well you or the change management team are delivering the change management plan. Are you successfully delivering these plans according to schedule? Or are you running into delays and missed milestones?
Track and report out on your plan implementation progress to the program management team, sponsors, steering committee, and any other key stakeholders that need to be updated on your change management efforts.
Click here for downloadable Change Management Roadmap templates.
Below is a quick overview of key change deliverables that change management teams often need to implement. For a more detailed list of each change plan and deliverable can be completed, click to view this page: Change Management Resource Center.
---
Change Management Deliverables to Increase Awareness of the Change & Build End-User Buy-in
Send out awareness communications to:

Educate employees and impacted customers on the program (why we are changing, why now, risk of not changing, benefits, and other awareness information (emails, newsletters, internal social media, blogs, etc.)

Build employee desire to support the program

Engage with employees via workshops, townhalls, roadshows, meetings, 1-on-1s, webinars, and other channels to communicate the impacts to their existing processes and legacy solutions, and to build desire and support

Solicit change champions, managers, and key stakeholders for their help in cascading communications, and engaging with end-users to facilitate understanding, buy-in, and support for the change
---
Change Management Deliverables to Increase Knowledge, Proficiency and Change Sustenance
Design, develop and execute training programs and train end-users to help them build knowledge of the new processes and solutions

Provide opportunities (e.g., a test environment, materials, online educational resources) for employees to practice and learn at their own pace

Follow up with end-users and provide coaching or additional training, as needed

Have a "Help System Network" in place (e.g., help desk subject matter experts, support team, points of contacts and a change champion network) that employees can contact for additional help in learning the new processes and solutions

Follow up with end-users to provide additional coaching and training as needed

Celebrate quick wins, individual efforts, and program successes
---
How do you measure effective change management?
The best ways to measure change management effectiveness is to: 1. Measure "Awareness of the Change" Metrics 2. Measure & Track "Desire to Support the Change" KPIs 3. Track "Knowledge & Skills" Change Management Measurements 4. Measure Impacted Users' "Proficiency" Change Metrics 5. Track "Reinforcement" of the Enablement
How to measure success of change management
There are various ways for measuring the success of your change management programs. The most common is to track your communications, training, stakeholder engagement and change adoption metrics and KPIs.
What are the KPIs of change management?
Organizational change management KPIs and Metrics including tracking the awareness of your communications amongst your communication target audience groups, as well as tracking training success KPIs. Other KPIs includes how often people are using a new system or process
---
Authors: Ogbe Airiodion (Senior Change Management Lead) and Francesca Crolley (AGS Cloud Content Producer)
---
Content on Airiodion Global Services (AGS)'s Airiodion.com website is copyrighted. Questions? Contact Airiodion Global Services (AGS) .
---
Best Change Management Toolkits & Templates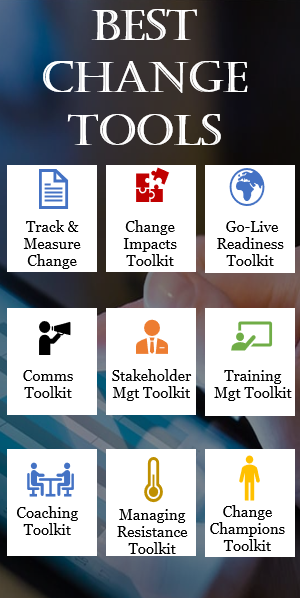 ---
Free & Downloadable Change Management Plans (Excel, PDF, PPT)

---
►► FREE Change Mgt Strategy Playbook and Toolkit ◄◄
---
►► Change Impacts Assessment Toolkit ◄◄
---
►► Change Readiness Templates & Toolkit ◄◄
---
►► Change Management Toolkit | All You Need ◄◄
---
External sources: https://pixabay.com/photos/new-year-s-eve-fireworks-beacon-1953253/, https://pixabay.com/photos/startup-business-people-students-849805/