STAKEHOLDER ASSESSMENT & ENGAGEMENT TOOL
for Stakeholder Mapping, Engagement, and Management
---
Stakeholder Mapping, Engagement, and Stakeholder Management Template for 2020
Stakeholder assessment, mapping, and management is critical for projects because they allow you to identify critical stakeholders, including executives and senior managers who can positively or negatively impact the success of a business change.
The section below presents a top stakeholder mapping template and stakeholder management tool you can use for your stakeholder mapping, assessments, tracking, and management.
Video Review of this Stakeholder Tool
Stakeholder Mapping Template Database– Illustration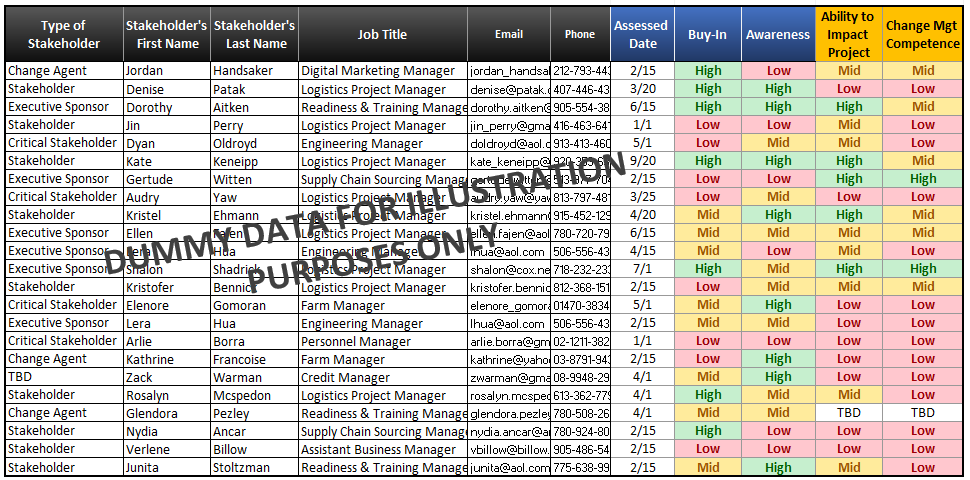 Sample Stakeholder Engagement Software Tool Template
---
But First, What is a Stakeholder Management Tool? And Why is it Important?
A stakeholder management tool is a tool that allows you to map, identify, engage and manage stakeholders for a project. Stakeholder mapping templates and stakeholder analysis tools include any type of platform that can be used for your assessment and management, including Excel templates, spreadsheets, databases, or a cloud-based stakeholder engagement software.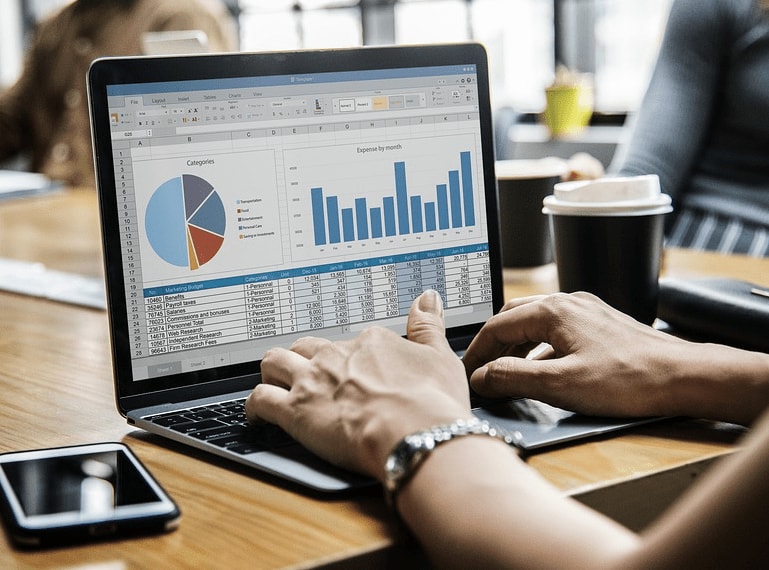 Using a stakeholder engagement software you can identify and document the "who, what, when, how and why" of stakeholders that have a stake in a change or who will be impacted by your project initiative.
► Watch a Quick Video of This Tool: Video Review of  AGS Stakeholder Tool
---
Stakeholder Mapping Template and Engagement Tool
Our change management stakeholder tool provides you with a best-in-class stakeholder mapping template that allows you to gather the right levels of stakeholder analysis data.
Do you know all the critical stakeholder mapping and analytics factors that need to be assessed to increase your success? If not, no worries, our stakeholder matrix template includes a simplified and optimized structure with pre-defined stakeholder analysis columns and data fields.
Spend less time trying to figure which stakeholder factors need to assess. This allows you to better focus your time in conducting your stakeholder assessment and also managing critical stakeholders.

We also include a step-by-step tutorial to walk through the entire process of conducting your mapping, engaging your stakeholder and managing relationships with key leadership stakeholders.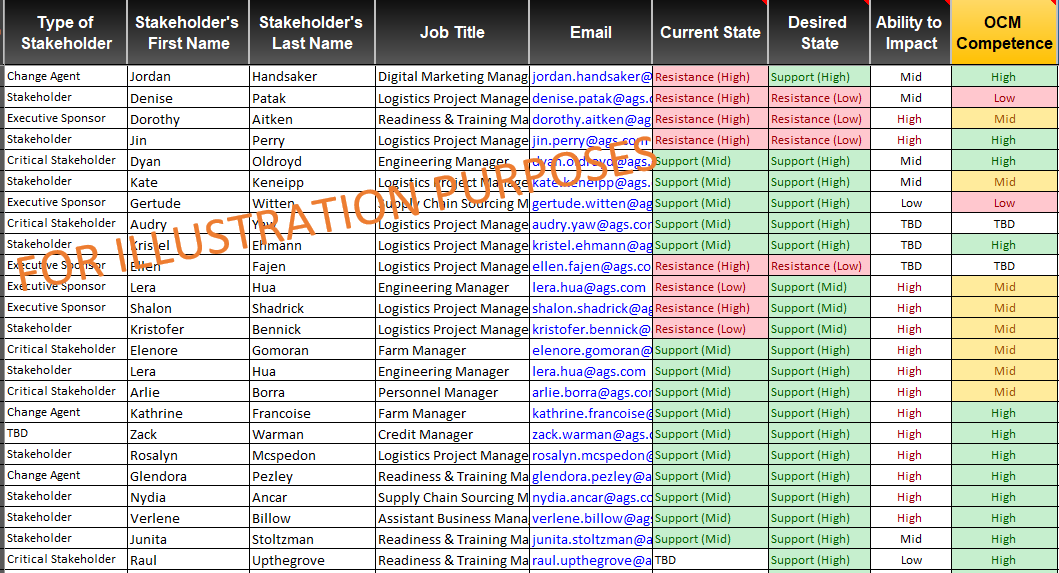 ---
Stakeholder Management Template with Holistic Analytics
Our stakeholder engagement tool includes an analytics dashboard that provides quick and visualized insights into your stakeholder audience.
Video Tutorial of this Stakeholder Tool
On the Home page of your Stakeholder Management Tool, click on the red Analytics Dashboard to be taken to the analytics reports, charts and views.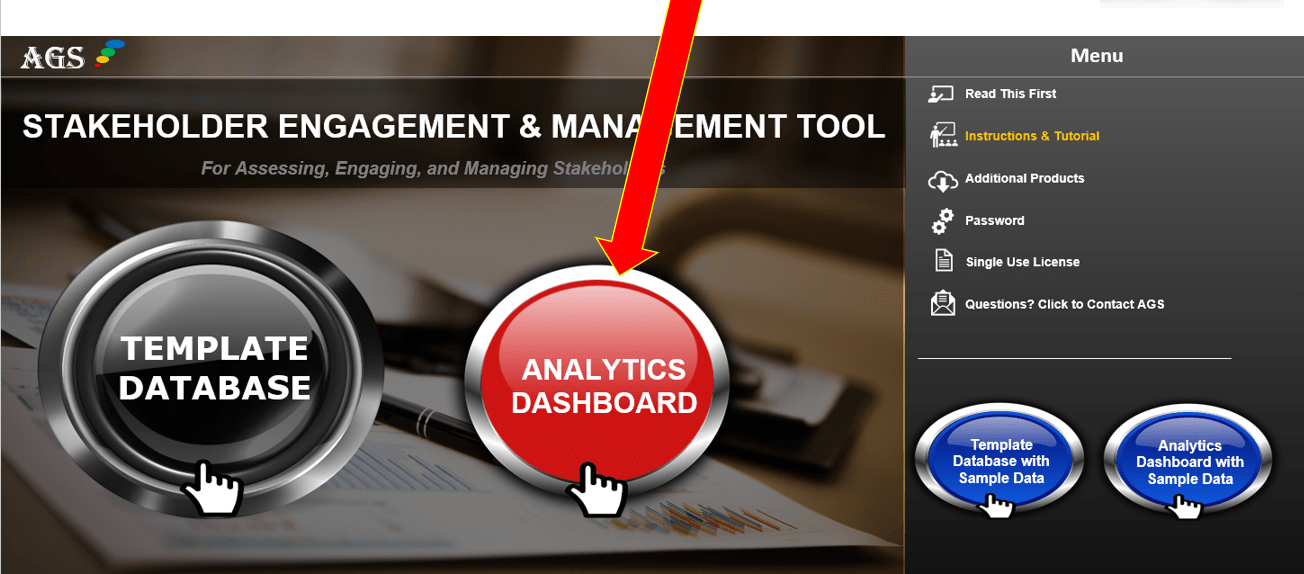 Using your stakeholder management tool from AGS, you can easily segment your stakeholder audience based on their receptiveness of (or resistance to) the change. Easily see which stakeholders are resisting the project, and which ones have provided buy-in and support.
Apply geographical location views to effectively identify and engage stakeholders based on localization attributes.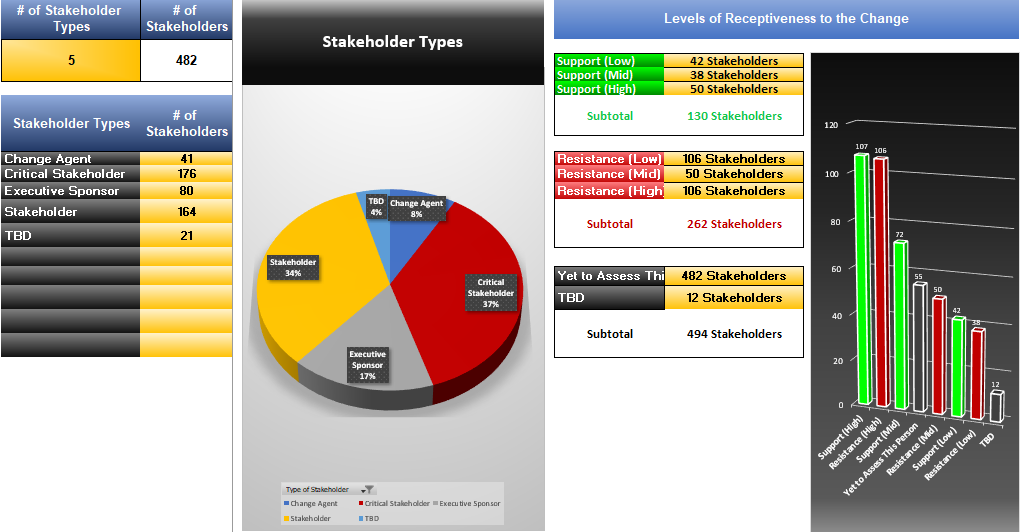 ---
Don't hesitate to let us know if you have any questions or feedback about this article or any of our products.
---
Video Review of AGS Stakeholder Assessment & Management Tool
Click below to view an end-to-end video tutorial of AGS's stakeholder management tool
AGS Stakeholder Management Video Tutorial
---
Two Options for You to Choose from – Get Yours Today
We decided to build our stakeholder engagement and management tools using Excel to increase their flexibility and usability. This is because most people are already familiar with Excel, and prefer to maintain local copies of their work.
"We created two stakeholder management tools to match everyone's budgeting needs."
Option 1: The 1st option is the Stakeholder Mapping, Engagement & Management

Tool

, which includes the database template for your stakeholder mapping and assessment, as well as an analytics dashboard for insights and monitoring. It also comes equipped with detailed samples, it is automated and includes additional features.
Option 2: The 2nd option is the Stakeholder Mapping, Engagement & Management

Tool PLUS 90

.

With this option you get Option 1 plus a 90-Day Priority Support & Customization Service. This option is similar to an insurance policy in the event that you need customization done to your tool in the future to meet particular needs. It gives you up to three separate customization requests within 90 days of purchase, as well as priority and prompt support entitlement. A customization can include requesting additional enhancements, added features, additional pivot tables, more charts, additional reporting analytics, etc.
If you are low on budget, then you can go with just the Stakeholder Analytics Template.
However, if you believe in value over cost, then obtain the 2nd or 3rd option.

Click below to purchase the version of stakeholder management tools that best meets your needs.
Airiodion Global Services' Best Stakeholder Management Software provides you with a 360-degree interactive platform that allows you to assess and manage all aspects of your stakeholder engagement and management using one software tool.
Using the stakeholder engagement dashboard that comes with this stakeholder engagement plan template (Excel-based), you can easily view graphical analytical visuals to share trends and stakeholder insights with the project team, as well as with senior leadership.
---
Developing This Year's Best Stakeholder Management Software for Stakeholder Mapping, Assessment, Tracking, & Management
Video Review: Stakeholder Template & Tool
We often get questions from clients and other change practitioners including "which tools are the best stakeholder management software tools to use for mid-to-large scale projects." We've also heard comments like "if only I had an easy-to-use stakeholder engagement dashboard and stakeholder assessment tool."
From experience we have learned that to better increase the success of your stakeholder assessment, mapping, engagement, and management, it is essential that you apply a structured change management process, as well as leverage a best stakeholder assessment tool, also referred to as a stakeholder management software that interactively allows you to see which stakeholders are receptive to the change, which ones are resisting the change, and which stakeholders need additional engagement to increase their receptiveness to the change.
Stakeholders, including executives and senior managers, have the ability to block a change directly or indirectly.
They can influence the thinking or actions of other project stakeholders and are in a position to support or oppose changes that are related to an initiative. As such, stakeholder assessment and stakeholder management has become one of the most critical components of an effective change program, which is why using a stakeholder assessment software tool is very important.
There is a wide range of best stakeholder management software tools that can be found on the market today. Some of these top stakeholder assessment tools allow you to conduct stakeholder mapping, and others include an easy-to-use stakeholder engagement dashboard that provide you with graphical analytics to an effective map, track and manage your stakeholders.
The AGS stakeholder assessment Excel tool presented on this page is a streamlined and optimized stakeholder management software that allows you to conduct and get faster insights into your stakeholder mapping, assessment, and management, which is essential for intuitive planning and reporting.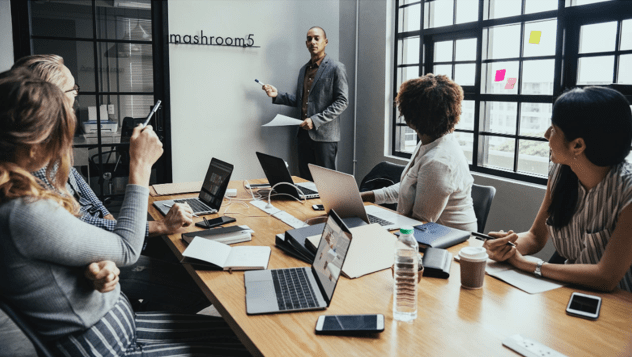 In addition, this top stakeholder assessment and management software tool from AGS allows you to eliminate the guesswork on who is supporting and who is resisting the change.
Click below today to obtain a copy of Airiodion Global Services' Best Stakeholder Engagement and Management Template and Software Tool.
Airiodion Global Services' Stakeholder Tracking Software Tool provides you with a 360-degree interactive platform that allows you to assess and manage all aspects of your stakeholder engagement and management using one complete stakeholder analysis software tool.
---
AGS's Stakeholder Management Software Includes a Detailed Assessment & Engagement Database
And don't forget that our stakeholder management and tracking tool comes fully equipped with a structured, easy-to-use Stakeholder Assessment & Engagement Database that provides you with a centralized matrix for capturing the key pieces of information from your stakeholder assessment, as well as your plans for engaging and managing stakeholders throughout the life cycle of the change program.
Video Tutorial of this AGS Stakeholder Tool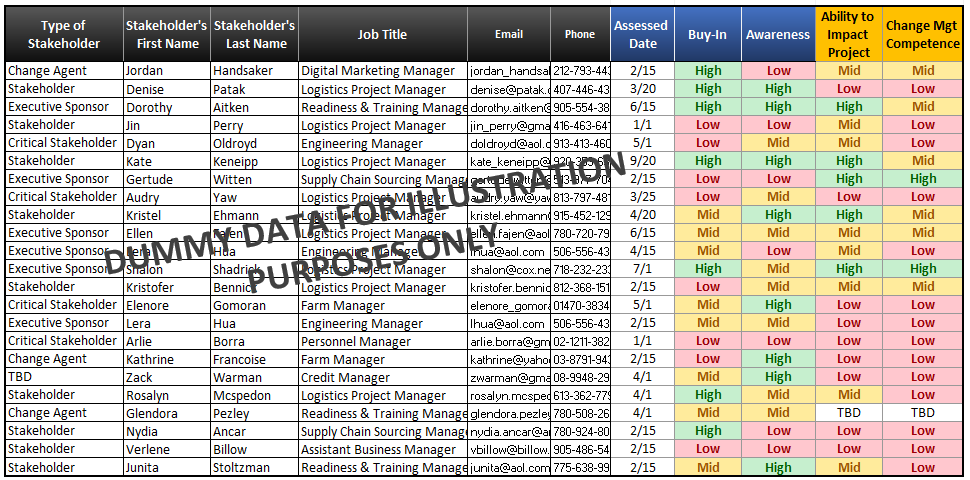 ---
Stakeholder Management, Assessment & Engagement Analytics Dashboard
AGS' stakeholder management analysis Excel template dashboard is automatically kept up-to-date with the progress you are making as you complete the steps and tasks needed for your stakeholder and sponsors' assessment exercise. 
Click below to purchase the version of stakeholder management tools that best meets your needs.
With these top-performing stakeholder management software tools and products you can easily understand the segments of managers and supervisors that have low change management competencies. This understanding allows you to effectively develop and implement the appropriate engagement plans needed to build their change competencies.
Based on a stakeholder's competency, the ability to impact the change and the role he or she will play in increasing adoption of the change, your engagement plan might need to include change management coaching activities.
Video Tutorial of this Stakeholder Tool
---
Authors: Ogbe Airiodion (Senior Change Management Lead) and Francesca Crolley (AGS Lead Writer)
---
Content on Airiodion Global Services (AGS)'s Airiodion.com website is copyrighted. If you have questions, comments, or tips about this Airiodion Global Services content, please contact Airiodion Global Services (AGS) today.
---
RELATED AIRIODION GLOBAL SERVICES (AGS) STORIES & VIDEOS:
---
---
►► Change Management Tasks for All Change Managers | (Step-by-Step)
---
---
---
---
---
---
External Sources: https://pixabay.com/photos/business-colleagues-communication-3605367/, https://www.pexels.com/photo/man-standing-near-of-wall-1391371/