AGS' BEST STAKEHOLDER ASSESSMENT TOOL
For Assessing, Tracking, Reporting, and Managing Stakeholders
---
Top Stakeholder Management Software for Stakeholder Mapping, Assessment, Tracking, & Management
As a Senior Change Management Consultant, I have worked on a wide range of transformational projects, across many different industries and companies including Cisco, Intel, HSBC, Berkshire Hathaway, Deloitte, Accenture, and Goldman Sachs.
I often get questions from clients and other change practitioners including "which tools are the best stakeholder management software tools to use for mid-to-large scale projects." I've also heard comments like "if only I had an easy-to-use stakeholder engagement dashboard and stakeholder assessment tool."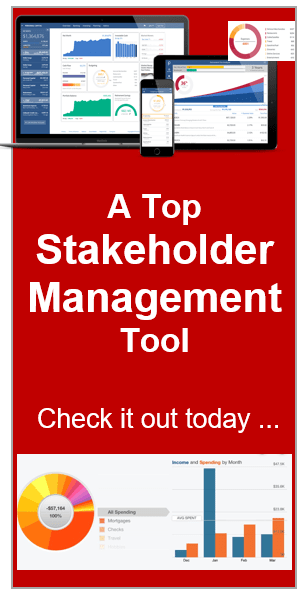 From experience I have learned that to better increase the success of your stakeholder assessment, mapping, engagement, and management, it is essential that you apply a structured change management process, as well as leverage a best stakeholder assessment tool, also referred to as a stakeholder management software that interactively allows you to see which stakeholders are receptive to the change, which ones are resisting the change, and which stakeholders need additional engagement to increase their receptiveness to the change.
Stakeholders, including executives and senior managers have the ability to block a change directly or indirectly.
They can influence the thinking or actions of other project stakeholders, and are in a position to support or oppose changes that are related to an initiative. As such, stakeholder assessment and stakeholder management has become one of the most critical component of an effective change program, which is why using a stakeholder assessment software tool is very important.
---
Best Stakeholder Assessment and Management Software Tool
There is a wide range of best stakeholder management software tools that can be found on the market today.
Some of these top stakeholder assessment tools allow you to conduct stakeholder mapping, and others include an easy-to- use stakeholder engagement dashboard that provide you with graphical analytics to effective map, track and manage your stakeholders.
The AGS stakeholder assessment Excel tool presented below is a best stakeholder management software that allows you to conduct and get faster insights into your stakeholder mapping, assessment, and management, which is essential for intuitive planning and reporting.
In addition, this top stakeholder assessment and management software tool from AGS allows you to eliminate the guesswork on who is supporting and who is resisting the change.
Using the stakeholder engagement dashboard that comes with this enhanced Excel-based stakeholder assessment tool, you can easily view graphical analytical visuals to share trends and stakeholder insights with the project team, as well as with senior leadership.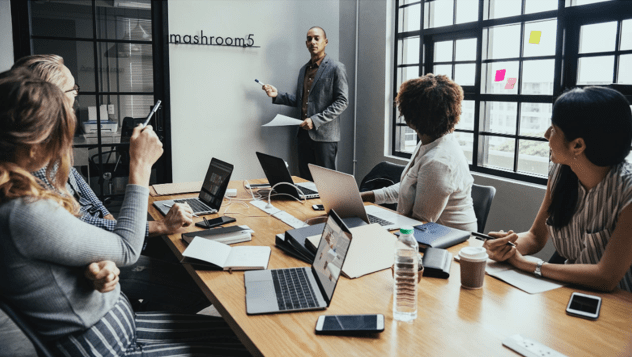 Presenting to key stakeholders and program sponsors
Airiodion Global Services' Best Stakeholder Management Software provides you with a 360-degree interactive platform that allows you to assess and manage all aspects of your stakeholder engagement and management using one software tool.
---
Real-Time Top Stakeholder Management, Assessment & Engagement Analytics Dashboard
AGS' stakeholder assessment dashboard is always up-to-date with the progress you are making as you complete the steps and tasks needed for your stakeholder and sponsors' assessment exercise.
Easily monitor completed, in-progress, and pending tasks; as well as tasks that are past due.
Instantly see how you and your team are progressing with your stakeholder analysis, including your assessment of managers that are needed to support the change, and those that are needed to sponsor the change by helping to reduce resistance and help to increase adoption of the change.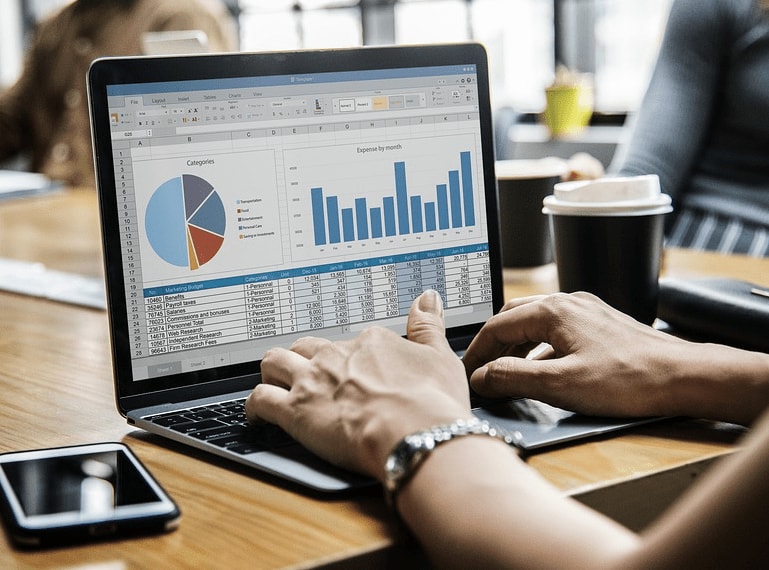 Click here: Add to Cart and get a copy of AGS' best stakeholder management software tool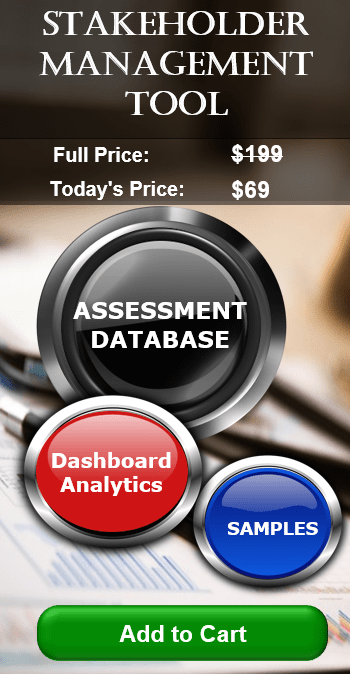 ---
Best Stakeholder Management Software with Holistic Dashboard 360° View
The dashboard on AGS's stakeholder assessment tool & impacted leaders' engagement software provides you with a holistic 360-degree view. Easily get the latest insights on stakeholder types, including their level of support.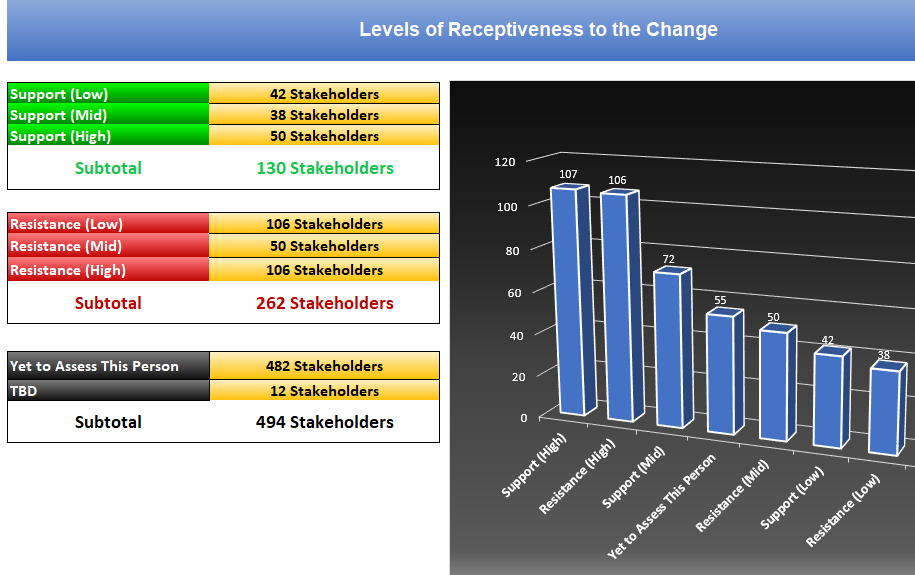 With this top performing stakeholder management software tool you can easily understand the segments of managers and supervisors that have low change management competencies. This understanding allows you to effectively develop and implement the appropriate engagement plans needed to build their change competencies.
Based on a stakeholder's competency, ability to impact the change and the role he or she will play in increasing adoption of the change, your engagement plan might need to include change management coaching activities.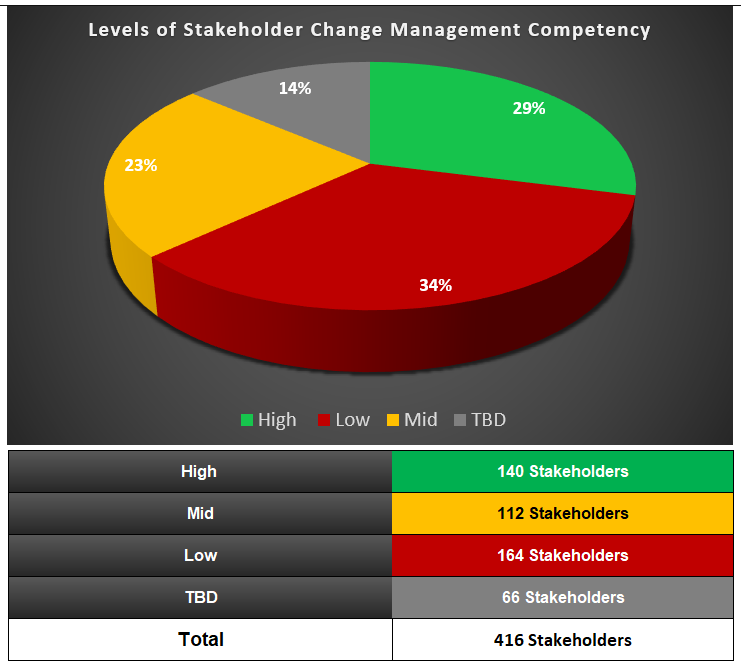 With AGS' stakeholder assessment software tool, you can easily obtain and include screenshots of charts and tables onto your PowerPoint presentation documents when you provide a status update to senior leaders, steering committee members and other project leads.
Get a holistic view of which individuals have low, mid or high change management competency, as well as the number of sponsors and stakeholders that have a high, mid or low ability to increase the success or failure of your program.
This helps you get straight to what matters most, which includes better engagement with your target stakeholders, better stakeholder experience, and more effective governance.
Get AGS' Best Stakeholder Management Software today.

<Add to Cart: Stakeholder Assessment Template & Tool>
Using this best AGS change management software tool that has been developed by senior change management leads, you can easily segment your stakeholder audience based on their geographical location and current state of receptiveness to the change, so you can effectively engage them based on localization attributes.
In addition, you can apply segmentation based on office location, group, organization, team, building, city, and other location data points.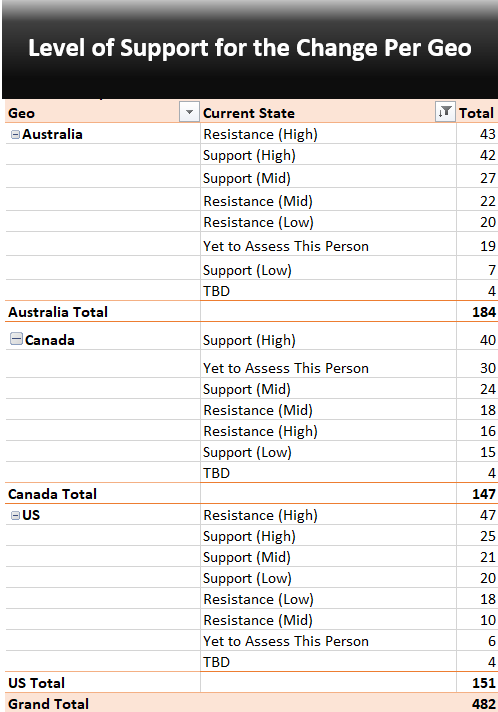 ---
Tracking Your Stakeholder Assessment & Engagement Using a Best Software Tool
With AGS's best stakeholder management software tool, you can easily see which tasks are coming due in the near future, which ones are past due, and which ones were recently completed.
With this visual view, you can quickly determine how much progress you or your team is making on the stakeholder assessment tasks and stakeholder management activities. You can also integrate this view with your project management reporting and change management status update reports to senior leadership.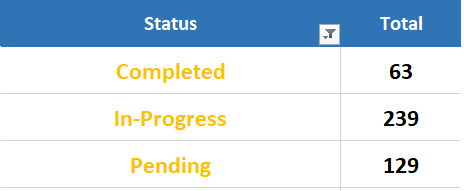 Don't miss out. Click here: Add to Cart to Get AGS' Best Stakeholder Assessment Software today.

---
AGS's Stakeholder Management Software Includes a Detailed Assessment & Engagement Database
AGS's stakeholder management and tracking tool comes fully equipped with a structured, easy-to-use Stakeholder Assessment & Engagement Database that provides you with a centralized matrix for capturing the key pieces of information from your stakeholder assessment, as well as your plans for engaging and managing stakeholders throughout the life cycle of the change program.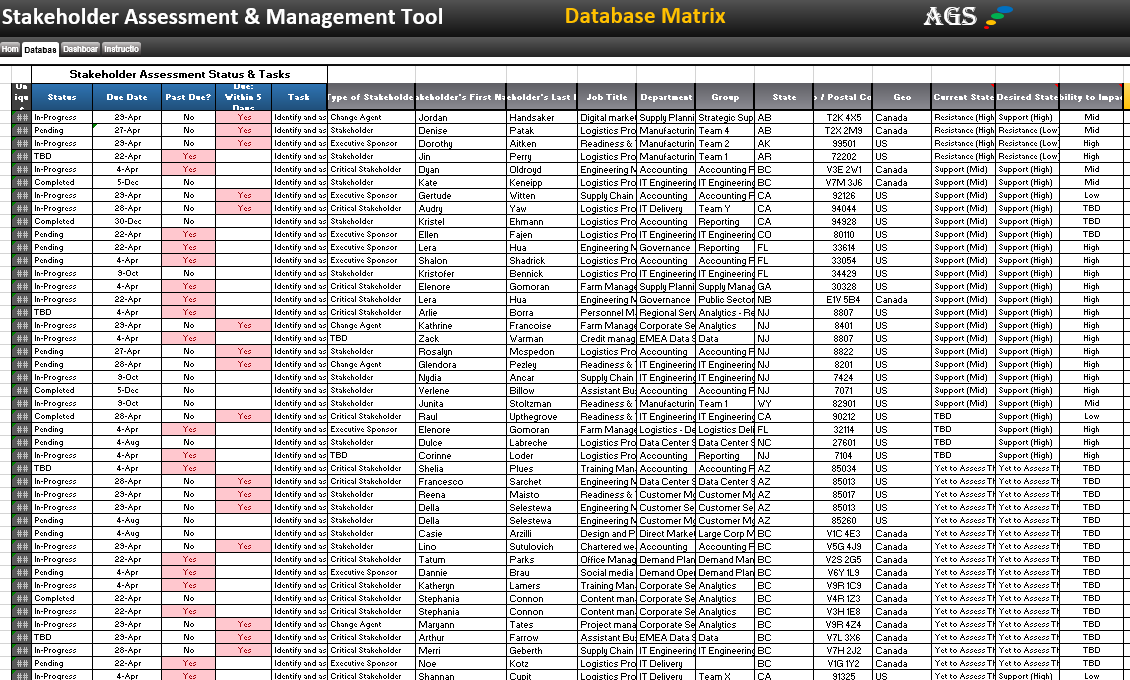 As you populate the database, your Stakeholder Assessment & Stakeholder Management Analytics and Reporting Dashboard (described above) updates automatically in real-time.
Click below today to obtain a copy of Airiodion Global Services' Best Change Management Stakeholder Assessment Template and Software Tool.
---
Conclusion
We hope you find this stakeholder assessment Excel tool very useful. Please, don't hesitate to let us know if you have any questions or input.
---
Author: Ogbe Airiodion | Senior Change Management Lead. 
I am always excited to connect with fellow change management practitioners and program/project management leads. My goal for this website is to grow it into the industry standard for best project and change management practices, tools, and templates. Ask me questions: Message Ogbe Airiodion or connect with me: Ogbe Airiodion - LinkedIn.
Content on Airiodion Global Services (AGS) website is copyrighted. Please review Airiodion Global Services' Terms. Contact Airiodion Global Services today.
---
External Sources: https://pixabay.com/photos/business-colleagues-communication-3605367/, https://www.pexels.com/photo/man-standing-near-of-wall-1391371/