STAKEHOLDER & SPONSOR ASSESSMENTS
---
A Top Guide to Help You Complete Your Stakeholder & Sponsors Assessment
OCM Phase 1 | By Ogbe Airiodion

---
First, What is a Stakeholder Analysis & Assessment?
Before discussing the steps, mapping, examples, matrix, tools, and templates needed to conduct your stakeholder analysis, let us first define what a stakeholder assessment really is.
A stakeholder analysis is a process used to identify key individuals that have a stake in a project, program, initiative or transformation change. Stakeholders are senior-level managers, leads, department heads, and business leaders of departments, divisions, groups or organizations that will be impacted by a change initiative.
These are the individuals that have a stake in the success of the program or change. In some industries, and companies, impacted end-users (front line employee and managers) are also referred to as stakeholders.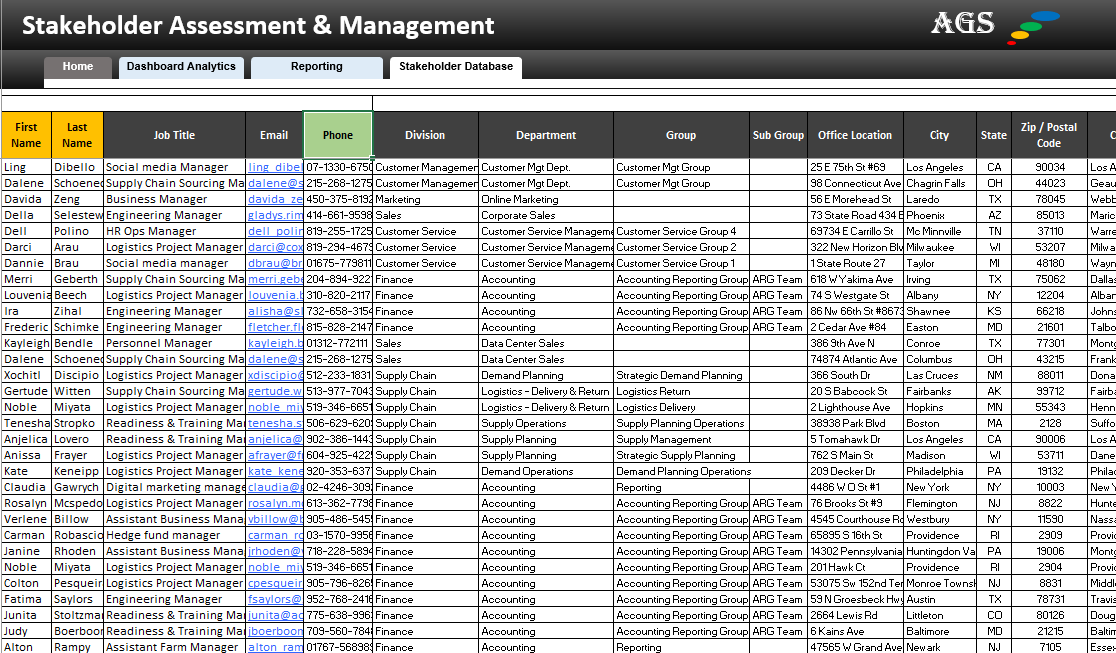 ---
Stakeholder Mapping and Matrix
During the first phase of an organizational change, an assessment needs to be performed to identify and map key stakeholders that will be impacted by the change, as well as those stakeholders that will be needed to sponsor (support) the program. 
Conducting a sponsor and stakeholder mapping assessment also allows you to determine each stakeholder's level of commitment to the change (negative or positive), so you can effectively plan on how best to enlist their buy-in and support.
In most cases, we need stakeholders, including impacted managers and heads of department to help sponsor the change in order for the change to be successful. Sponsorship, in this case, does not mean approving the budget and paying the bills for the project. There are many levels of sponsorship including being an advocate for the change, helping to reduce resistance, working with other senior executives to promote the program, helping to disseminate communications, and many more.
These types of stakeholders are generally referred to as "secondary sponsors". This is to differentiate them from the program's "primary sponsors," who own the overall delivery of the program and are responsible for approving and managing the program's budget.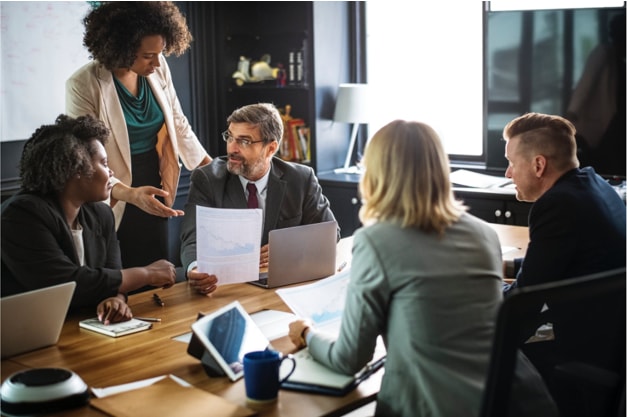 Complete the steps below to increase the success of your project stakeholder analysis. Each of these steps is explained in detail below.
Identify the universe of potential sponsors and stakeholders needed for the project

Develop a stakeholder analysis matrix & tool

Assess each sponsor and stakeholders' competency

Coach key stakeholders and sponsors
---
Identify the Universe of Potential Sponsors and Stakeholders Needed for the Project

Sponsors are the leaders that are advocating and supporting the change. Generally, they act as champions of the change, help to reduce resistance and work to increase buy-in. They have a stake in the

success of the program

, and so they are considered stakeholders, as well as sponsors.
Tasks and Examples of Steps to Perform:
Work with the project team, program managers, and the primary sponsor(s) to identify potential sponsors and stakeholders that can be added to your stakeholder matrix.

Review organizational charts and org structures to identify key managers and department managers

Conduct a change impact assessment to identify which groups are impacted.

After identifying impacted stakeholder group, the next step will be to identify the managers for those groups.

Work with subject matter experts and managers within impacted organizations to identify other individuals that will need to be added to the project management stakeholder matrix.

Add all the individuals identified above to a stakeholder matrix template (read more below about templates).

Determine which individuals should be solicited to sponsor the change, versus being just regular stakeholders.

In addition, you should identify which stakeholders currently support, or are resisting the change.
---
Develop a Stakeholder Analysis Matrix or Templates
After completing the stakeholder assessment tasks above, make sure to document your output in a stakeholder analysis matrix database. You can create this stakeholder mapping template by yourself from scratch based on the information presented on this page.
In addition, you can also review AGS' Stakeholder Mapping Tool & Management Matrix. This program management tool includes structured analysis tools, examples, mapping templates, charts, and an advanced dashboard to help you identify and manage project stakeholders.
---
Assess Your Sponsors & Stakeholders' Competencies and Support
As recommended by best change management practices, including Prosci, the next step after identifying your list of stakeholders and potential sponsors is to identify which stakeholders support or are resisting the change, as well as how much organizational change experience each one has.
When conducting this specific assessment, start out by meeting with project managers, leads, and primary sponsors of the program. Review the stakeholder matrix that you have developed, and ask for information on which individuals on the list are known to support or resist the change program.
Enter the gathered information into the stakeholder mapping and management template that you developed, or the tool that you obtained from AGS.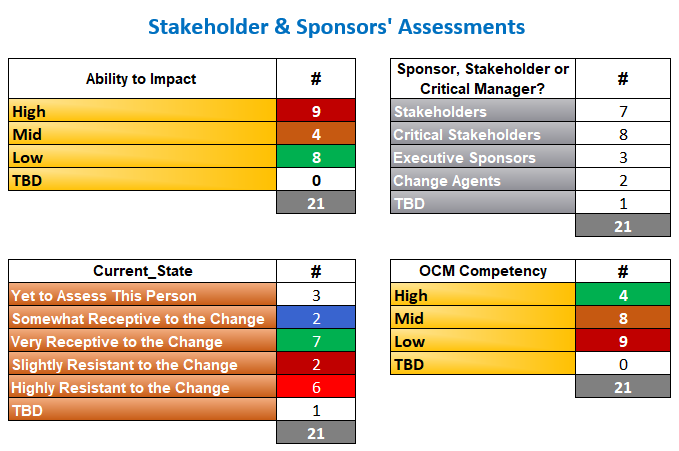 ---
Coach Key Stakeholders and Sponsors
Oftentimes, sponsors and key stakeholders have little to no experience with effective change management practices. Part of your role will then be to coach them in best change practices. Learn more about coaching stakeholders, sponsors, and managers.
To be effective sponsors, stakeholders need to understand how vital they are to the success of the change initiative, including understanding their role in helping with communications, resistance management, engagement, and reinforcing the change.
---
External source: https://www.pexels.com/photo/people-gathering-inside-room-1345085/
---
Author: Ogbe Airiodion | Senior Change Management Lead. 
I am always excited to connect with fellow change management practitioners and program/project management leads. My goal for this website is to grow it into the industry standard for best project and change management practices, tools, and templates. Ask me questions: Message Ogbe Airiodion or connect with me: Ogbe Airiodion - LinkedIn.
Content on Airiodion Global Services (AGS) website is copyrighted. Please review Airiodion Global Services' Terms. Contact Airiodion Global Services today.
---