STAKEHOLDER ANALYSIS, MAPPING, & ASSESSMENTS
---
2020 Stakeholder Analysis | Everything You Need to Know
This guide provides you with a step-by-step overview of everything you need to know for conducting and increasing the success of your stakeholder analysis, mapping, and assessment in 2020.
Stakeholder analysis is a very important part of effective business change management as it increases the success of your stakeholder engagement and management.
---
Illustration: Sample Stakeholder Analysis Template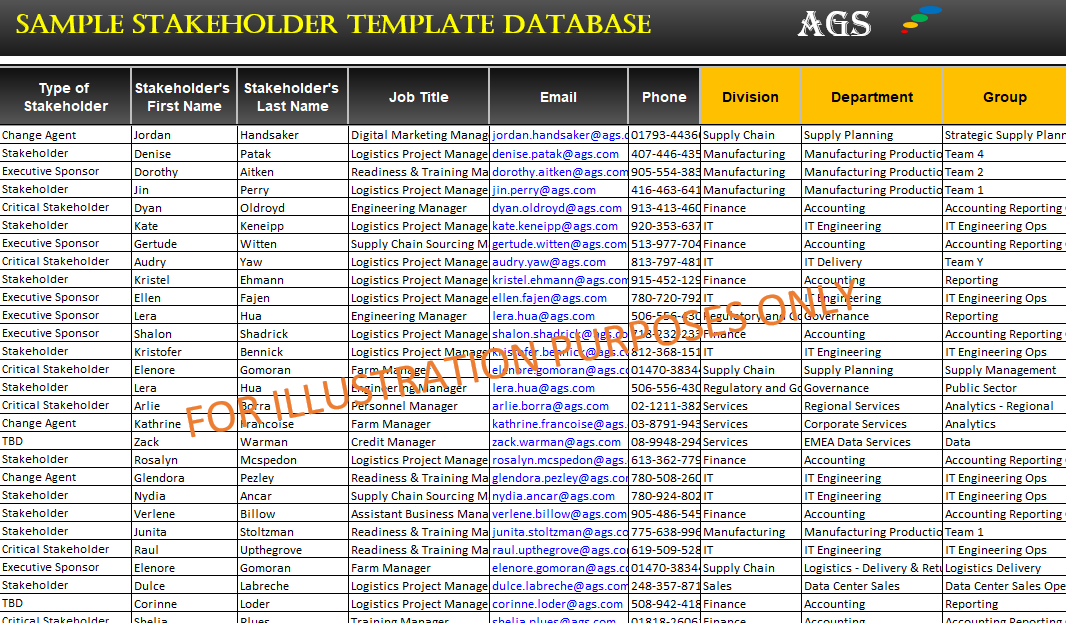 Illustration: Stakeholder Mapping Template – Sample
---
First, What is Stakeholder Analysis?
Stakeholder analysis is a process used to identify key individuals that have a stake in a project, program, or transformation change. Stakeholder assessment and analysis involves identifying managers, and business leaders that belong to groups that will be impacted by a change initiative. These individuals are referred to as key stakeholders, and stakeholder analysis involves identifying these individuals for engagement.
---
What is Stakeholder Mapping?
Stakeholder mapping is the process of mapping stakeholders to the respective impacted organizations and entering the stakeholder information into a stakeholder analysis template. Stakeholder mapping ensures that stakeholders and sponsors are identified across groups that will be impacted by a change.
In the sections below, we provide an overview of the stakeholder analysis process for assessing and mapping stakeholder groups.
Don't Miss: Template for Your Stakeholder Analysis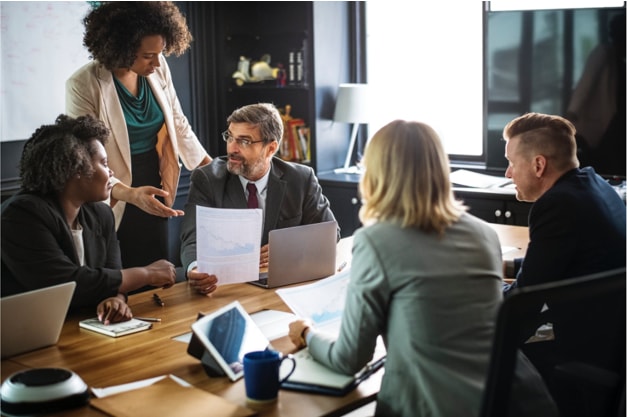 ---
Do You Actually Need a Stakeholder Assessment Template or Matrix?
A stakeholder analysis matrix is a structured spreadsheet that includes columns and fields for documenting the findings from your stakeholder analysis. 
But, do you actually need to take the time to create a stakeholder analysis matrix? Why is a stakeholder analysis template important? Is it sufficient to just have a few columns (stakeholder name, title, and project role)?
Or are there additional key fields that should be included in the stakeholder mapping template? Are there industry standard stakeholder analysis maps that you can use to maximize your stakeholder assessment activities?
Keep on reading to find out below.
---
Don't Miss: Stakeholder Mapping Templates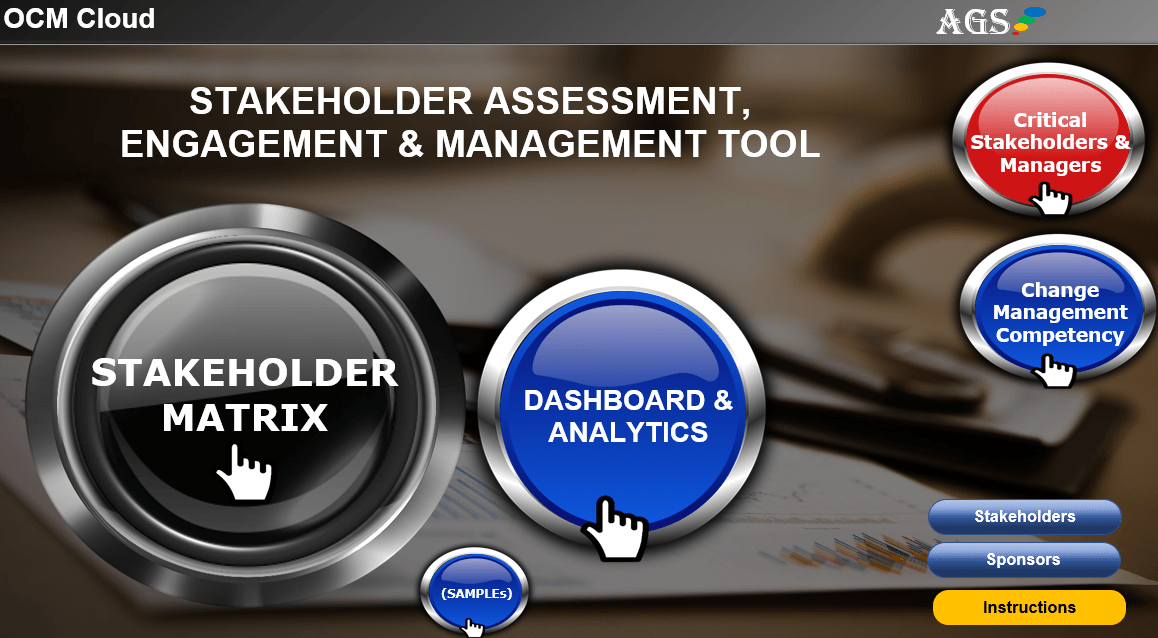 Stakeholder Assessment & Mapping Tool
---
Importance of a Stakeholder Assessment Template
Using a stakeholder analysis template is very important because it allows you to effectively coordinate all aspects of your stakeholder mapping and assessment.
You can quickly segment your stakeholder groups based on their geographical location, and easily glean a holistic view of overall receptiveness to the project. Quickly see which stakeholders are resisting the business change, and which ones are strong advocates of the change.
Using a stakeholder mapping matrix also allows you to identify impacted groups that have no stakeholders. Using this information, you can then engage program sponsors and other project stakeholders to help you solicit stakeholders for those impacted groups that do not have any.
Most importantly, a stakeholder mapping assessment template allows you to document and determine each stakeholder's level of commitment to the change (negative or positive), so you can effectively plan on how best to enlist their buy-in and support, or how to mitigate their resistance.
Something else to note is this: In most cases, we need stakeholders to help advocate for the project. Being an advocate involves wearing many hats including helping to reduce resistance, working with other senior executives to promote the program, helping to disseminate communications, and many more. As such, we also need to assess each stakeholder's change management knowledge and experience, and include that information in a stakeholder mapping matrix. We will discuss this in more detail below.
---
Process for Conducting Your Stakeholder Analysis
Click any of the links below, or keep on scrolling down this page, for an overview of the key steps to complete when conducting your stakeholder assessment.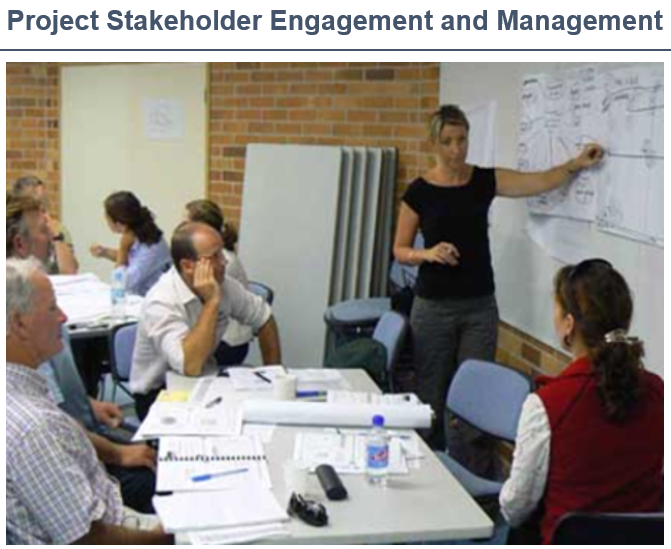 ---
Stakeholder Analysis Process: Key Steps
---
(1) Identify Stakeholders
When starting out your stakeholder analysis, your first step will be spent in gathering your list of stakeholders. This list will include managers, senior managers, business leaders and executives that have or might have a stake in the business or technology change.
This comprehensive list of stakeholders is often referred to as the "Universe of Project Stakeholder Groups."
Follow the list of tasks outlined below when gathering your Universe list of stakeholders:
Work with the project team, program managers, and the primary sponsors to identify stakeholders that can be added to your stakeholder matrix

Review organizational charts and organizational structures to identify key managers and department managers to add to your list

Conduct a change impact assessment to identify which groups are impacted. After identifying impacted groups, the next step will be to identify the managers for those groups that can be added to your list

Work with subject matter experts and managers within impacted organizations to identify other individuals that will need to be added to the project management stakeholder matrix
---
(2) Stakeholder Mapping Matrix Completion
Before or when completing the stakeholder assessment tasks above, you will want to develop your stakeholder analysis mapping template.
You can create this stakeholder mapping template by yourself from scratch based on the information presented on this page. In addition, you can review and leverage AGS' Stakeholder Mapping Tool & Management Matrix, which includes stakeholder analysis examples and samples, an industry-standard stakeholder mapping template, charts, and an advanced dashboard to help you identify and manage project stakeholders.
Use your stakeholder assessment mapping template to document your stakeholder mapping and analysis. Add the individuals identified during step 1 above to your stakeholder matrix template. 
---
Sample Stakeholder Analysis Matrix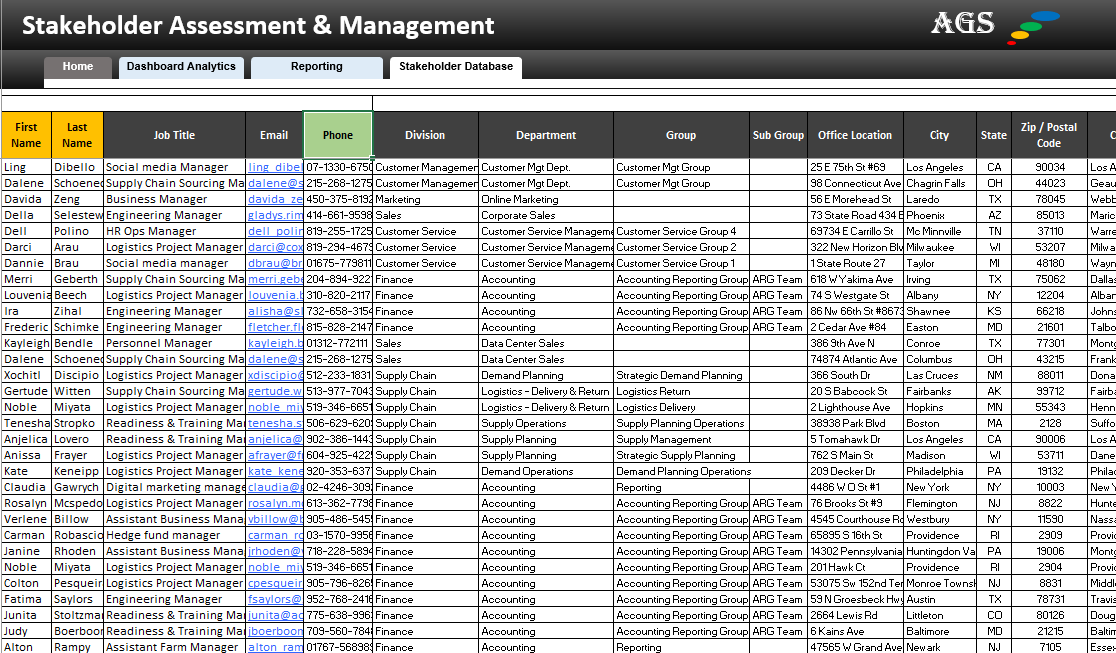 Stakeholder Analysis Map – Sample
---
Assess Your Stakeholders
The next step is to conduct a detailed analysis of your stakeholders, which will involve assessing each stakeholder's organizational change management competency. This needs to be performed and documented so that you can better understand which stakeholders need training, coaching or additional support to be good sponsors of the change.
Part of your detailed assessment should involve analyzing which stakeholders currently support, or are resisting the change.
When conducting your detailed stakeholder assessment, you should meet with project managers, leads, and primary sponsors of the program. Review the stakeholder matrix that you have developed, and ask for information on which individuals on the list are known to support or resist the change program.
Enter the gathered information into the stakeholder mapping and management template that you developed, or the tool that you obtained from AGS.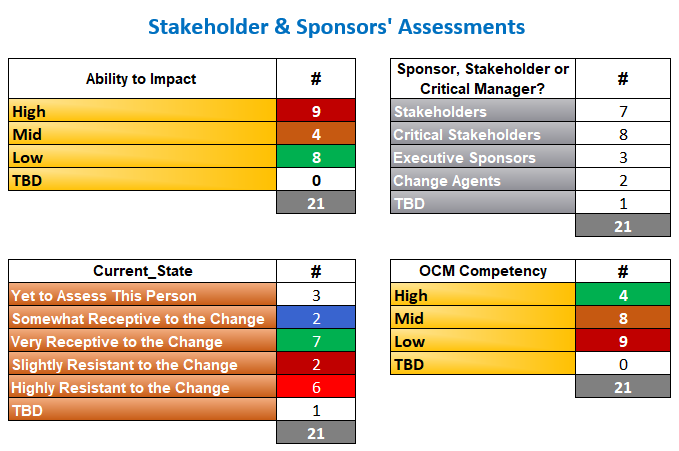 The influence that a stakeholder has on his or her employees and direct reports is immeasurable for reducing resistance and increasing end-user acceptance of the change, which is why change and program management practitioners need to implement an effective coaching strategy, as reviewed below.
---
Coach Key Stakeholders and Sponsors
Oftentimes, sponsors and key stakeholders have little to no experience with effective change management practices. Part of your role will then be to coach them in best change practices. Learn more about coaching stakeholders, sponsors, and managers.
To be effective sponsors, stakeholders need to understand how vital they are to the success of the change initiative, including understanding their role in helping with communications, resistance management, engagement, and reinforcing the change.
In coaching managers and supervisors to become effective managers of change, your change management coaching plan will need to apply a multi-step approach. Click here to a detailed coaching plan strategy that you can leverage for coaching stakeholders.
---
Engage and Manage Stakeholders
Click here to review a separate article that we published which covers the process for engaging and managing stakeholders.
---
Conclusion
We hope that our guide for conducting your project management stakeholder assessment is helpful and can give you a strong jumping-off point that will also help enhance your stakeholder management expertise, both during the process and for years to come.
---
External source: https://www.pexels.com/photo/people-gathering-inside-room-1345085/ , https://pixabay.com/illustrations/organization-chart-efficiency-cost-1989202/
---
Author: Ogbe Airiodion (Senior Change Management Leader and Founder of AGS).
---
Note: Content on Airiodion Global Services (AGS)'s Airiodion.com website is copyrighted. If you have questions, comments, or tips about this Airiodion Global Services content, please contact Airiodion Global Services today.
---