---
A Top Toolkit for Your Social Impact Analysis Needs.

---
A Tool to Easily Assess the Social Impacts of a Program, Project, or Policy Change 
The AGS Social Impact Assessment Toolkit (with template & dashboard) can be used to conduct an assessment when a project, program, plan, or policy is going to have a social impact on the population of a specific geographical area or a particular group.
Rather than trying to wrangle several spreadsheets to bring together data on the level of impact, public awareness and perception, category of impact, and more, this SIA template gives you one place to input and view all your data.
You'll find much of the information for your assessment laid out for you, such as dropdowns that include five common impact categories and inputs that give you reporting on the level of impact per project stage. We've taken the best practices of social impact assessments and put them into one comprehensive tool! 
---
SIA Template for All Your Project Inputs
Populate your project data into a customizable template designed to make your work fluid. You can save considerable time when doing a social impact analysis by using this Toolkit because it has all the standard columns necessary for your assessment.
Want to add another column? No problem! You can add one anywhere you like in the template as well as hide those you don't need.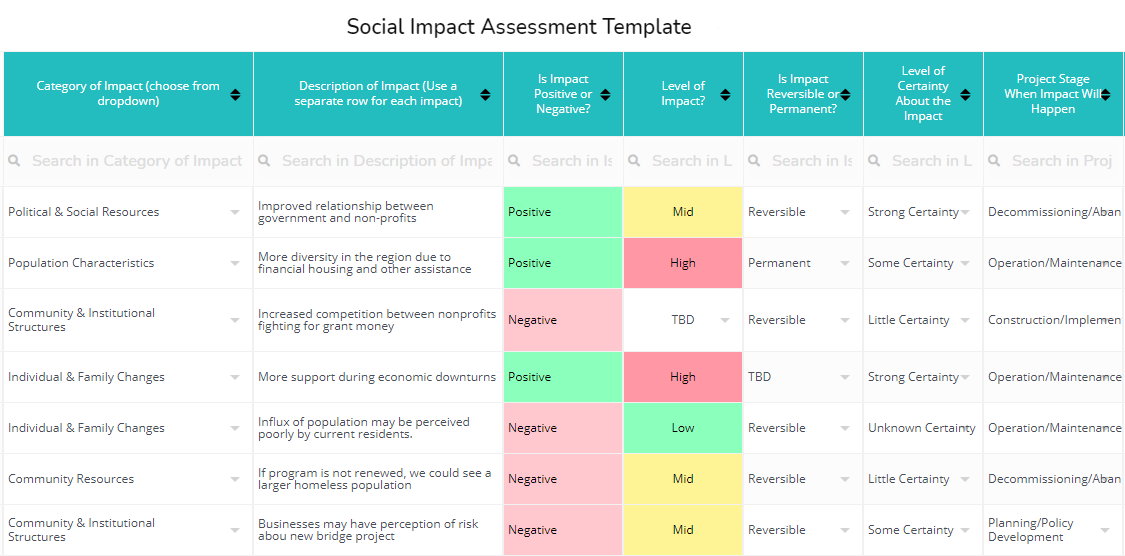 AGS Cloud Tool for Social Impact Assessments
Our template is one of the most extensive and flexible you'll find for conducting a thorough social impact assessment for any type of project or policy change.  
Just follow the template columns, which were designed based upon multiple social impact assessments. You can input data in the cloud from any device or upload your data from a spreadsheet export to populate your template.
This Social Impact Assessment Template is set up to capture the following types of data:
Category of Impact

Description of Impact

Impact Positive or Negative

Level of Impact

Impact Reversible or Permanent

Level of Certainty About Impact

Project Stage

Impact Start/End Dates

Type of Area Impacted

# of Impacted Population

Public Awareness

Public Perception

Mitigation Recommendations

And more!
Our Cloud Template Walks You Through the Data Needed for Your Social Impact Assessment.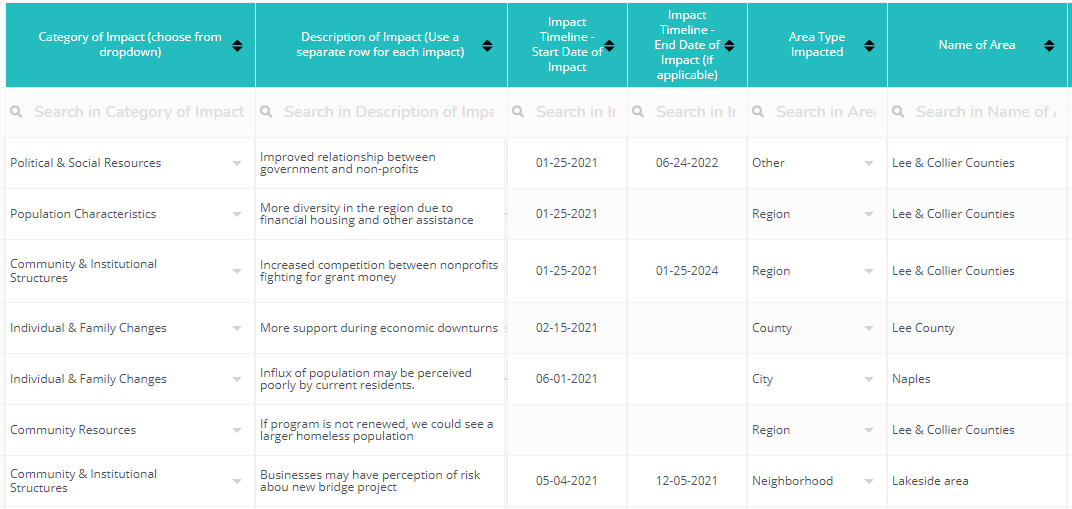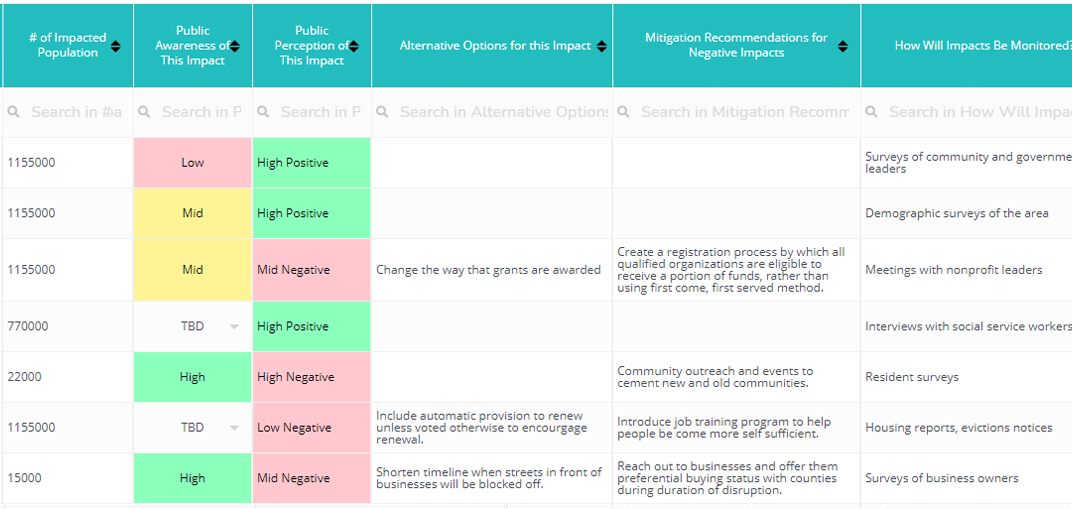 Template Database in AGS Social Impact Assessment Toolkit
---
Real-Time Reporting for Social Impact Analysis
You won't need to spend hours trying to put the data for your social impact assessment into a report. AGS Cloud's SIA tool gives you presentation-ready reporting. And it's updated in real-time as you enter data. You have a full range of analytics to facilitate your social impact assessment.
The Toolkit also allows you to export your analytics reports into a PDF at the click of a button!
Time-Saving Reporting Dashboard!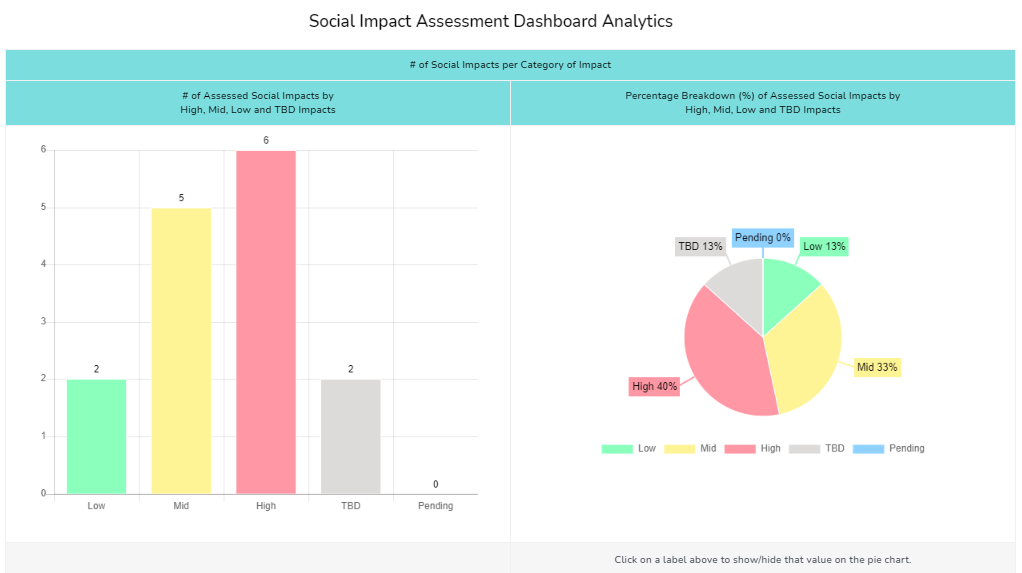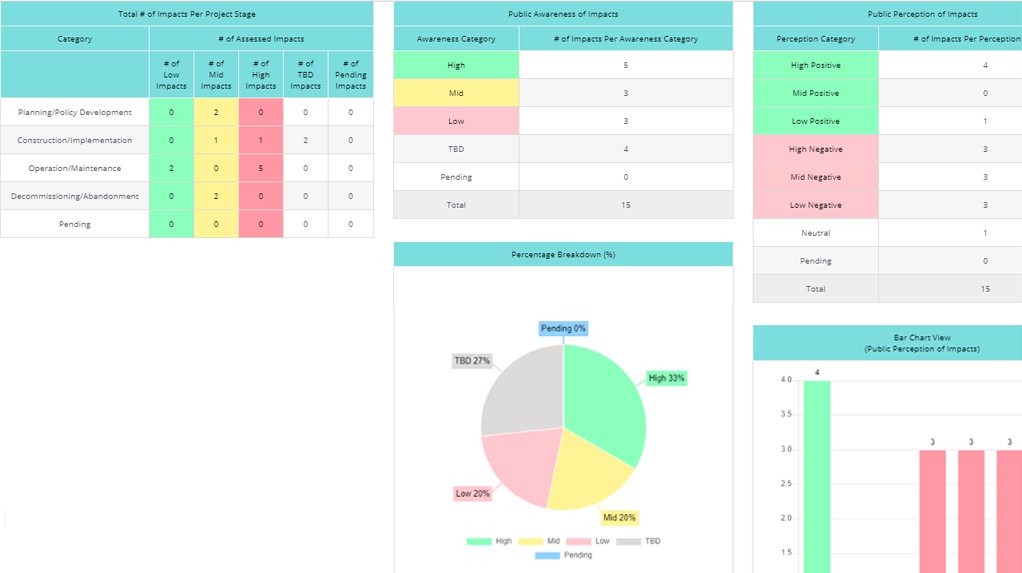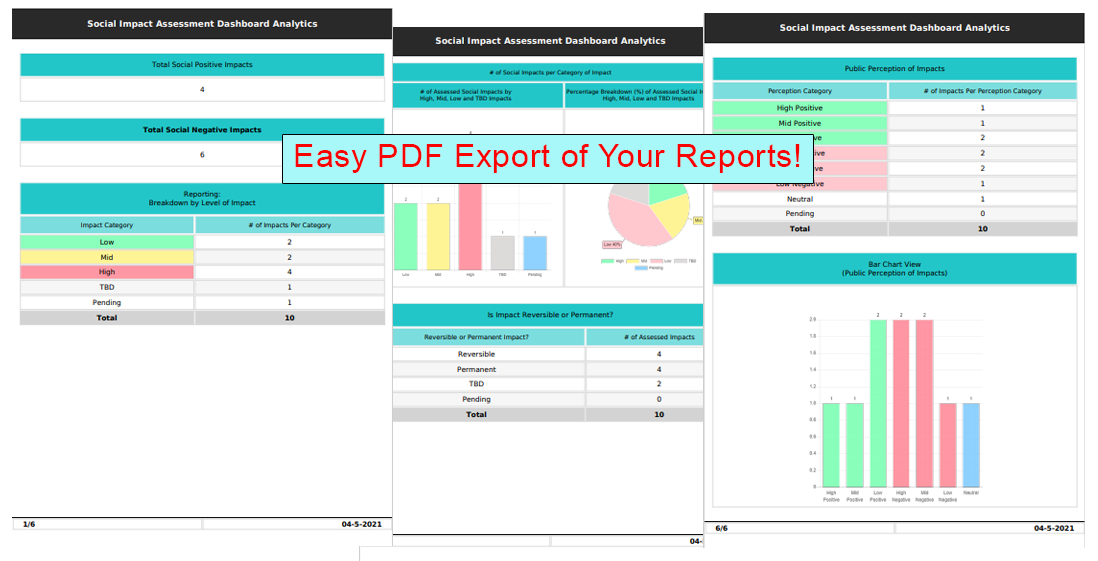 Reporting Dashboard & PDF Export for Your Social Impact Analysis
---
Pay for One & Get the Whole AGS Assessment Portfolio for Free!
This Toolkit is part of our Portfolio of Impacts & Assessments Toolkits, which is a collection of a variety of different assessment solutions for change management and other project types (social, data privacy, economic, etc.). 
You are paying one price for this Social Impact Assessment Toolkit, but we are giving you all the other assessment tools for free.
Our goal is to offer more value by providing several different types of impacts and assessment toolkits for the same price as we typically charge for just one. 
When you've purchased the cloud subscription for the Social Impact Assessment Toolkit, you'll access it from the Change Impacts & Assessments module of AGS Cloud.
Once you are logged in, from the Main Dashboard, click into Change Impacts & Assessments (It will be the only module enabled, unless you've purchased other toolkits or the All-in-One).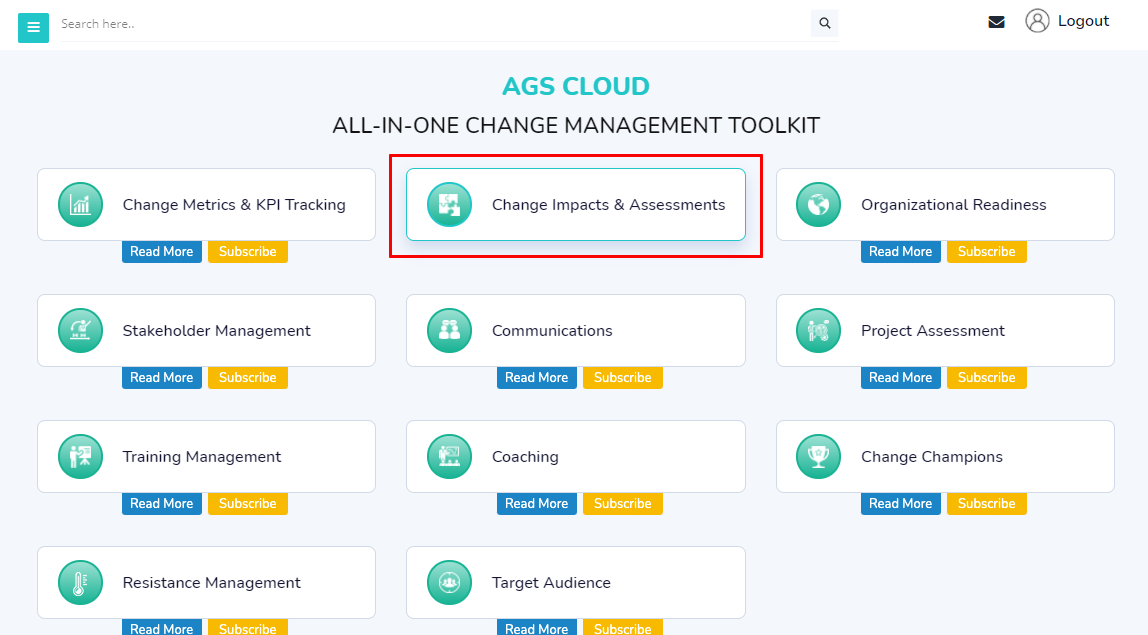 Then, scroll down to the Social Impact Assessment Toolkit and click the "plus" sign to open the toolkit's options.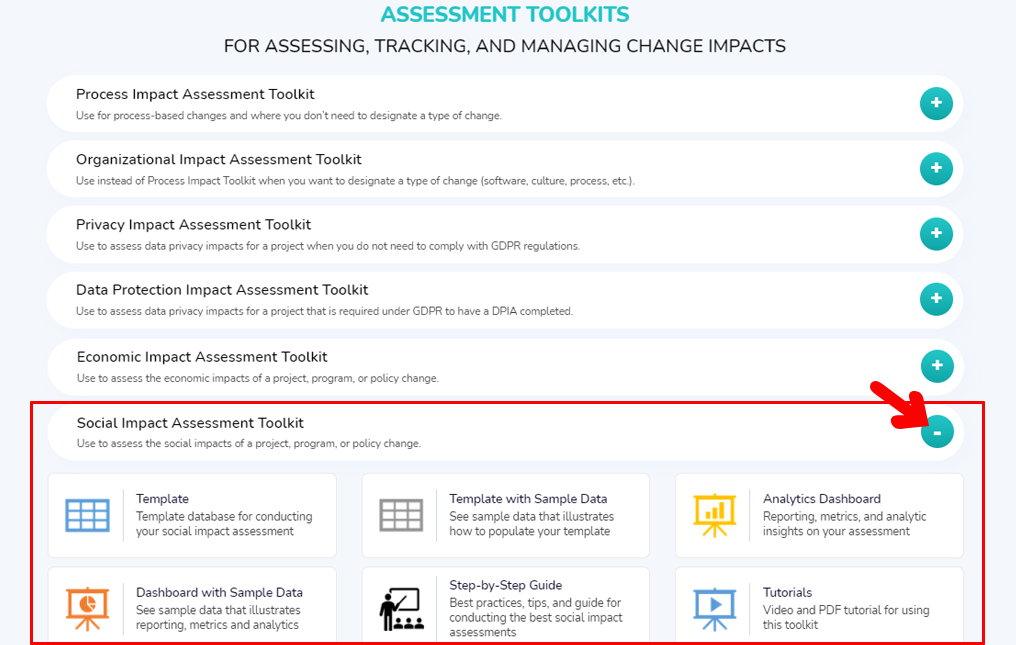 ---
Contact us if you have any questions about this product reviewed and offered on this page. 
---
Pricing
We've created the Social Impact Assessment Toolkit in the Cloud, which allows you to access the tool using any device. In addition, everything is saved in one place and available to come back to whenever required on any device you see fit. No more having to switch between tools! Or worrying about siloed spreadsheets or Excel limitations.
All-in-One Change Mgt Toolkit: If you are looking for more project and change management tools, we offer the All-in-One Change Management Toolkit, which includes a portfolio of impacts assessment tools, plus 10 other modules. You can decide which option fits your needs. The AGS All-in-One Change Management Toolkit is best for Change Management Teams, Change Leads, and Consultancies.
This Toolkit
(Cloud Version)
This Toolkit
(Downloadable/Excel Version)

$25 

 USD / user / month.
Cancel anytime before your next recurring billing. 

Includes all relevant templates, samples, reporting dashboards, and dashboards with sample data.

Ongoing enhancements. Because the Cloud version is in the Cloud and we own the technology, we're free to continuously innovate, enhance, and support the platform with new releases & free upgrades.

As we receive enhancement feedback from customers and identify new best-in-class change management practices, we integrate these into our Cloud versions, and upgrade existing users – free of charge – to increase their change performance and successes.

30-days money back guarantee | Recurring payment | Cancel anytime you want.

Fully automated process (As you input data, your reporting dashboards are updated in real time).

Easily export your data to Excel or PDF.

Enterprise-level Online Security & Cyber-Protection

Best for: Change Practitioners, Consultants, Project Managers, Communication Specialists, Trainers, Change Champions/Agents, and many more.

$159 

One-time payment only.
Sales of our downloadable toolkits are final.

Includes all relevant templates, samples, reporting dashboards, and dashboards with sample data.

Purchasing our Downloadable/Excel version does not  include free entitlement to future enhancements or improvements. Your purchase is a one-time purchase only. Sales are final.

Partial automation (1-2 clicks needed to refresh reporting dashboards to show updated reports).

You need to have Excel installed in your computer to use the Downloadable/Excel version.

Best for: Those who prefer Excel, and the ability to make their own customizations or technical changes to the toolkit. People who prefer to download and own the toolkit forever – without any future enhancements.

Subscribe

Recurring payment. USD / user / month.

Cancel anytime before your next recurring billing. 

Purchase & Download

One-time payment only.

Sales of our downloadable toolkits are final.
Don't Miss:
All-in-One Change Toolkit for Change Teams.
---
The Best Tool for Assessing Social Impacts of a Project/Policy/Plan
Are you juggling too many spreadsheets?
Get an online tool that can handle all your social impact assessment inputs and provide instant reporting, all in one place.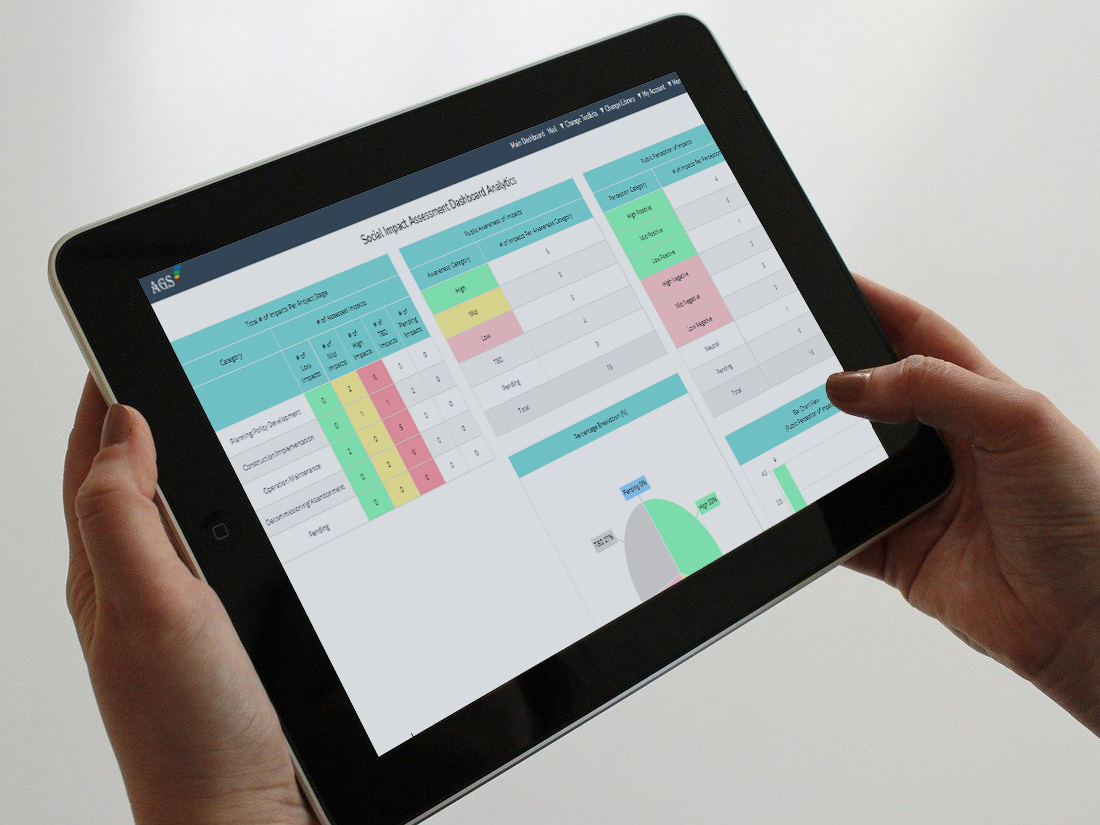 Get a full portfolio of different AGS Assessment Tools for the price of just one!
Social Impact Assessment Toolkit

Process Impact Assessment Toolkit

Organizational Impact Assessment Toolkit

Privacy Impact Assessment Toolkit (non-GDPR)

Data Protection Impact Assessment Toolkit (GDPR-focused)

Economic Impact Assessment Toolkit
BUY AGS – SOCIAL IMPACT ASSESSMENT TOOLKIT TODAY
(and Get Instant Access!)
Excellent ROI from the first month
---
Note: Content on Airiodion Global Services (AGS)'s Airiodion.com website is copyrighted. If you have questions, comments, or tips about this Airiodion Global Services content or product, please contact Airiodion Global Services today.
---
External sources: https://www.ls.graphics/free/free-pixel-4-and-pixelbook-go-mockup, https://pixabay.com/photos/ipad-tablet-online-app-ios-1758353/