MOST POPULAR CHANGE RISKS
& THE BEST CHANGE MANAGEMENT RISK ASSESSMENTS TO PERFORM
OCM Phase 1 | By Ogbe Airiodion
---
Change Management Risks and Everything You Need to Know for Resolving These Risk
This guide provides you with a complete step-by-step overview of the most popular types of change management risks that will impact your project. It also outlines how you can perform the best change risk analysis to mitigate these risks.
Don't miss the free change management risk assessment matrix template referenced in the sections below that you can use for your project.
Before doing a deep dive into the most popular types of change risks that will impact you, let us first discuss how you can assess and identify hidden and obvious risks that are most relevant to you and your organization.
What is a Change Risk Assessment? Why is it Important, and do You Need a Risk Analysis Matrix?
A change management risk assessment and management is the process involved in analyzing, identifying, understanding, managing and reporting on the risks that a change management program, business initiative, or project will face throughout the lifecycle of the change implementation. 
As a Senior Change Management Lead, I have delivered large scale change programs that impacted thousands of employees and stakeholders across Citigroup, Intel, HSBC, the Federal Reserve Bank, Apple, Cisco, and other firms. Throughout my tenure as a Change Manager, I have identified key change management risks that can derail business initiatives and change programs across any organization – if they are not effectively resolved or mitigated.
– Ogbe Airiodion (Sr. Change Management Lead)
Every change management program is unique. As such, it is important to conduct a change management risk analysis using a chart, matrix, or template. This will allow you to quickly plot and identify those change risks that can derail your change management program, and then develop plans to minimize these risks from becoming a reality.
Risk assessment in change management involves conducting a set of assessments to identify whether a change program has a Low, Mid, or High risk.
---
What are the Most Common Change Management Risks? 
One of the most common change risks is that the change program will run into severe resistance with end-users, impacted groups, and even managers resisting the change. Resistance to change is one of the most observed types of change risks.
There have been situations where an entire department or a large number of employees revolted against their senior leaders because they didn't buy into, or agree with changes mandated by the firm's leaders. It recently happened to Mark Zuckerberg when Facebook employees staged a virtual walkout to protest some company mandates. 
What are the main risks in change management? Key change management risks that can impact your project include:
High levels of resistance

Lack of awareness or desire to support the change

Lack of stakeholder commitment

Lack of mid-level and group leadership support

Budgeting risk for the entire project

Inadequate number of project managers, SMEs, and supporting talents

Employees are already overburdened with too much change

Lack of a structured governance

Discord between the change management team and the project team

Ambiguity about project milestones

Uncertainty

Change management resources not given a place at the table: in order words, project sponsors and program leads are not placing much value on change management deliverables. This then leads to reduced change management support which subsequently has a negative impact on change adoption and enablement. 

and many more…
---
How do You Identify Change Management Risks?
You can identify your project's change management risks based on the findings from your organizational readiness assessments, change impact assessments, audience analysis, and stakeholder assessments that you have performed.
Illustration – Change Impact Analytics Dashboard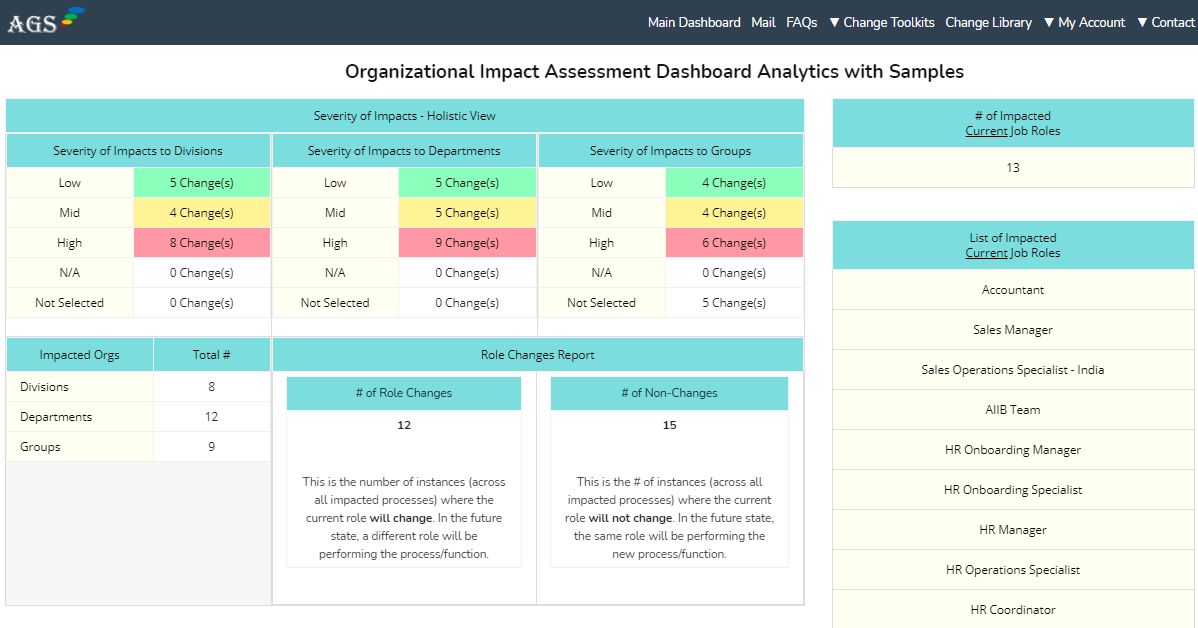 A Top Ranked Change Impact Tool
---
If you haven't performed your change management assessments, then I strongly recommend that you do so as part of driving an effective organizational change management program for the company.
Over the last decade in my role as a Senior Change Management Lead, understanding the risk for a program has allowed me to effectively develop change risk mitigation plans to quickly reduce resistance and overall risk to change management activities. Not understanding your change risk is similar to having blinders on. 
Change management risk and impact assessments are directly connected. From your change impact assessment, you can easily identify the severity and scale of impact to groups, processes, and tools.
The higher the impacts, the higher the risks to the change management program. Similarly, your stakeholder assessment will support your change management risk assessment. If the project's stakeholders do not feel their voice is being heard, or if they are not supporting the change, then you will have a much higher change risk.
---
Conducting an Effective Change and Project Risk Assessment
At the early stages of a project, it is essential for change practitioners to document the risks that the organization will face during this change. Part of this change risk assessment will involve identifying any known trouble spots or potential areas for resistance.
When you are done with your change management and project risk assessment, you should create a 4×4 risk and readiness chart.
---
Develop an Organizational Change Management Risks Matrix Chart
When developing your change management strategy, make sure to include a change management risk chart like the one illustrated below to provide program leadership with an understanding of the implementation risk for the program. 
Note: you can download our free Change Management Strategy (OCM Strategic Playbook), which includes a change risk assessment template, chart, and matrix slide that you can re-purpose for your needs.
Don't forget to conduct an organizational readiness assessment of impacted groups.
Why is this important and how does it impact your change risk analysis? A business readiness analysis is important because if impacted groups and departments are ready and receptive to a change, then the implementation will have a lower change risk. But if impacted groups are not ready for the change, then there is potential for increased resistance and a higher risk to change management deliverables.
Also, as mentioned above, the more severely a change will impact individuals, the higher the risk that the change program will run into resistance.
---
Risk Assessment – Change Management Risk Matrix
The very process of completing your risk assessment is actually a simple process. The heavy lifting will happen when you are conducting your change impact assessments, change readiness analysis, stakeholder assessments, and other change management reviews.
The output from this batch of assessments will be leveraged for determining the position of your change program's risk on the risk chart below.
Whenever we speak about risk in change management, change risk analysis, or a change management risk matrix, it all comes down to where your change risk will be placed on the risk assessment chart below.
The X-axis of the 4×4 Risk & Readiness chart below plots how ready and receptive the groups or organization is for a change. The Y-axis plots the severity of the change impacts.
If your change program has a low impact and is being rolled out to a group that is very receptive to the change, then your change management will have a Low-Risk Implementation. But if the change has major impacts and if it is being implemented to an organization that is not receptive to the change, then your change program will have a High-Risk Implementation score which will require an extensive level of change management risk mitigation activities. 
In our change management risk assessment example below, the change risk is a High Risk, which is why the star has been placed on the bottom right quadrant on the 4×4 risk chart. 
Program and Readiness Risk Chart (Illustration)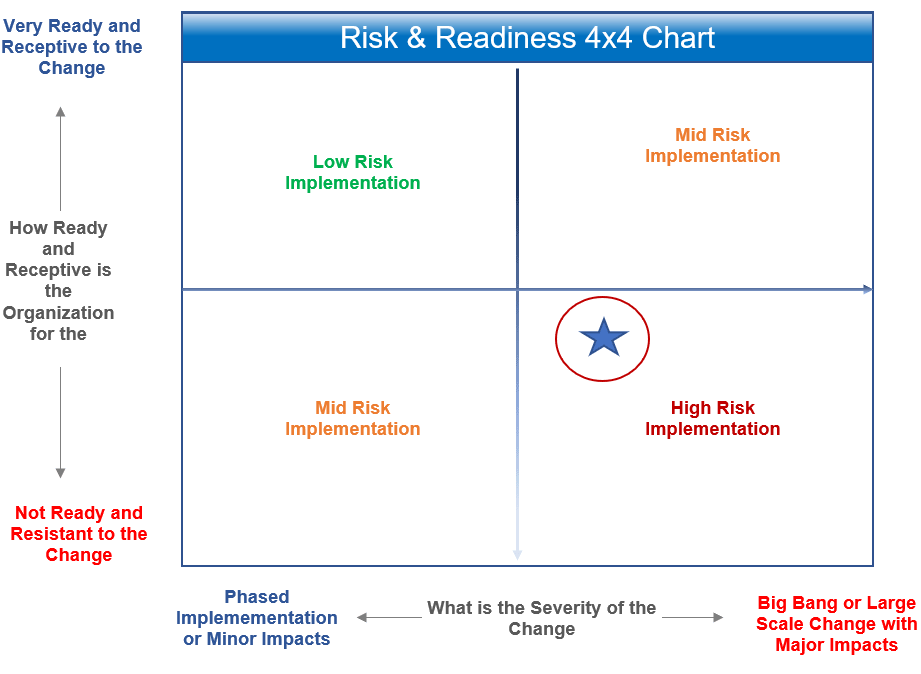 ---
The Position on the Change Risk Chart will Drive the Scale of Your OCM Plans
Where your program is on this risk chart will determine the type and scale of organizational change management (OCM) plans that will be needed.
An implementation that is "high risk" will require an extensive change management risk mitigation plan, which will involve broader change management. For example, your communication should be more frequent and you should use different communication channels (emails, newsletters, 3×5 leadership reports, FAQ pages, and blogs).
You will also want to implement a more extensive engagement outreach to reduce the higher organizational change management risks by using a multi-prong approach involving roadshows, town halls, 1-on-1 meetings, group meetings, video, podcast, open forums, and workshops to ensure that you are increasing end-user acceptance and willing to support the change.
You should communicate your change risk assessment to the primary project sponsor and project teams, and use this information to determine what special change tactics will be required from the project teams.
As mentioned above, your change and project risk matrix will be an output of the organizational readiness assessments, change impact assessments, audience analysis, and resistance management assessment that you have performed or need to perform:
What is risk assessment in change management?
Risk assessment in change management involves a set of assessments that are conducted to identify whether a change program has a Low, Mid or High risk.
What are the risks in change management?
Examples of risks in a change management implementation include experiencing a much higher resistance to the change, a general lack of awareness and desire to support the change, and low leadership support.
What is risk management matrix?
A change risk matrix is a 4x4 chart that plots the severity of the impacts of a change against employees' receptiveness to the change.
How do you write a risk assessment matrix?
You draft a 4x4 risk matrix, and on the X you specify how ready and receptive the groups are for a change. On the Y-axis you plot the severity of the change impacts. Read more above.
---
Authors: Ogbe Airiodion (Senior Change Management Lead) and Francesca Crolley (AGS Cloud Content Producer)
---
Content on Airiodion Global Services (AGS)'s Airiodion.com website is copyrighted. Questions? Contact Airiodion Global Services (AGS) .
---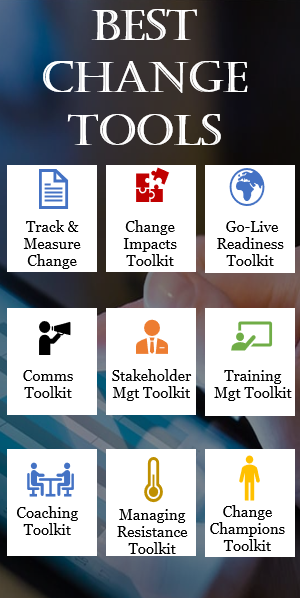 ---
Free Change Management Templates (Excel, PDF, PPT)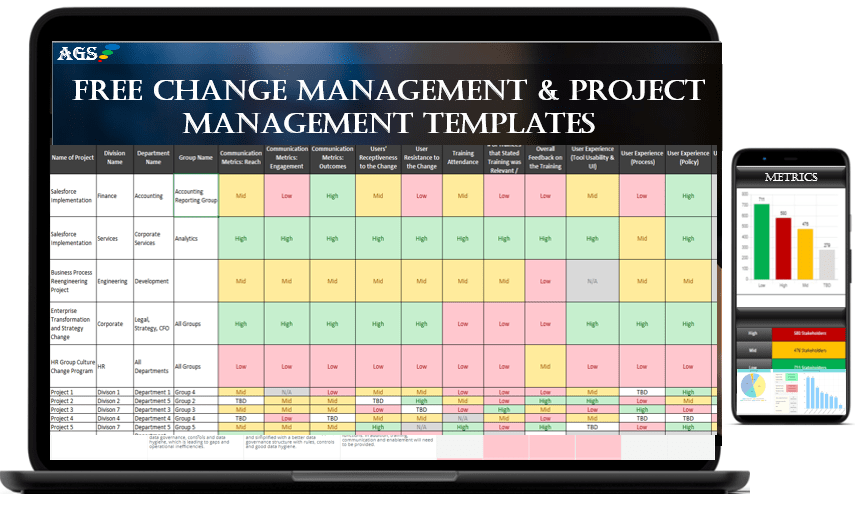 ---
►► FREE Change Mgt Strategy Playbook and Toolkit ◄◄
---
►► Change Impacts Assessment Toolkit ◄◄
---
►► Change Readiness Templates & Toolkit ◄◄
---
►► Change Management Toolkit | All You Need ◄◄
---
All-in-One Change Management Tools. 
---