TRANSITIONAL CHANGE MANAGEMENT RISK ASSESSMENTS
---
Developing a Project and Change Risk Chart & Matrix
OCM Phase 1 | By Ogbe Airiodion
---
What is a Change Risk Assessment? Why is it Important?
A change management risk assessment is the process involved in analyzing, identifying and understanding the risks that a transformation change program will face throughout the lifecycle of the change implementation. 
You can identify the change management risks based on the findings from your organizational readiness assessments, change impact assessments, audience analysis, and stakeholder assessments that you have performed. If you haven't performed these change assessments, then I strongly recommend that you do so as part of driving an effective organizational change management program for the company.
Over the last decade in my role as a Senior Change Management Lead, understanding the risk for a program has allowed me to effectively develop risk mitigation plans to quickly reduce resistance and overall risk. Not understanding the change risk is similar to having blinders on. 
---
Develop an Organizational Change Management Risks' Matrix Chart
When developing your Change Management Strategy (OCM Strategic Playbook), make sure to include a design and include a change management risk chart like the one illustrated below to provide program leadership with an understanding of the implementation risk for the program. 
If impacted groups and departments are ready and receptive to a change, then the implementation will have a lesser risk than if impacted groups are resistant to the change. Also, the more severe the change impacts, the higher the probability of resistance to the change.
Program and Readiness Risk Chart (Illustration)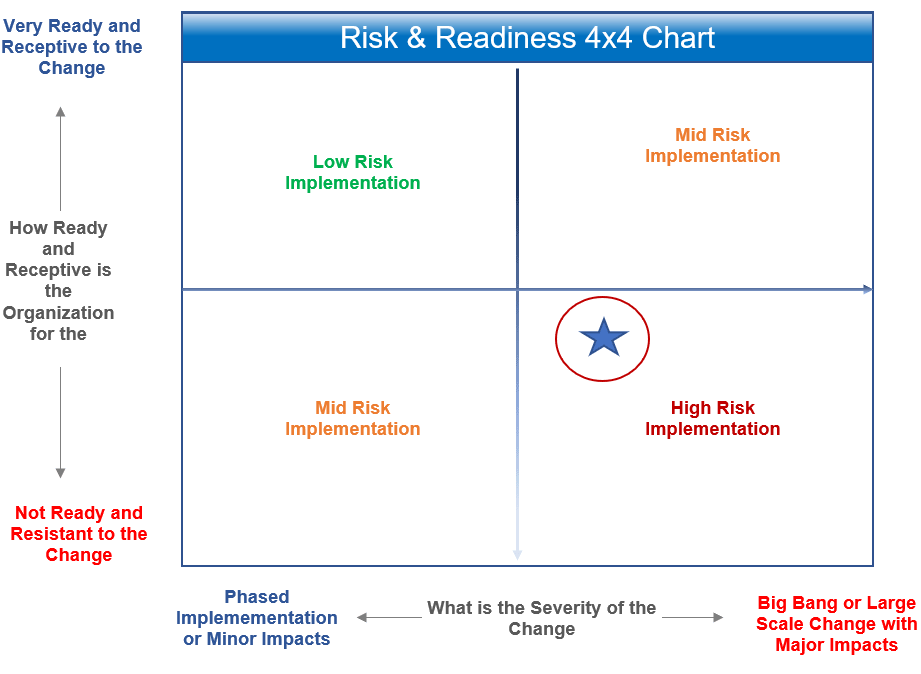 ---
The Position on the Risk Chart will Drive the Scale of Your OCM Plans
Where your program is on this risk chart will determine the type and scale of organizational change management (OCM) plans that will be needed. An implementation that is "high risk" will require a more extensive & broader scaled change management. For example, your communication should be more frequent and you should use different communication channels (emails, newsletters, 3×5 leadership reports, FAQ pages, and blogs).
You will also want to implement a more extensive engagement outreach using a multi-prong approach involving roadshows, town halls, 1-on-1 meetings, group meetings, video, podcast, open forums, and workshops to ensure that you are increasing end-user acceptance and willing to support the change.
---
Note: Content on Airiodion Global Services (AGS)'s Airiodion.com website is copyrighted. If you have questions, comments, or tips about this Airiodion Global Services content or product, please contact Airiodion Global Services today.
---