CHANGE RESISTANCE MANAGEMENT TOOL
for Identifying, Mitigating, and Managing Resistance
---
Resistance Management Plans, Templates, Checklist & Top Ranked Tool for 2020
Managing resistance to a change allows you to increase the success of the change implementation.
When organizations implement a new change, including business process re-engineering, new products, system integrations, expansion to new regions, M&A, technology implementation, and organizational culture changes, there is often resistance to the change.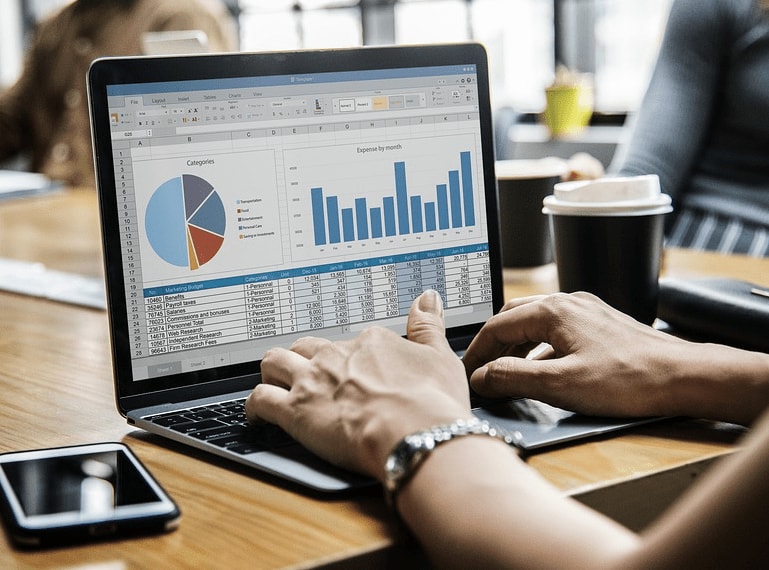 The section below presents a top resistance identification, assessment and management tool, which includes templates and plans that you can obtain and use to overcome stakeholder resistance and increase the success of the change.
---
Best-in-Class Resistance Management Plans
First, let's discuss the resistance management plans that are included in this Tool.
This change management resistance management tool comes with structured step-by-step proactive and reactive resistance mitigation plans that guide you through every step of the way to effectively identify resistance, engage with Stakeholders, and remediate the different levels of resistance.
Watch the Video Tutorial of this Resistance Management Tool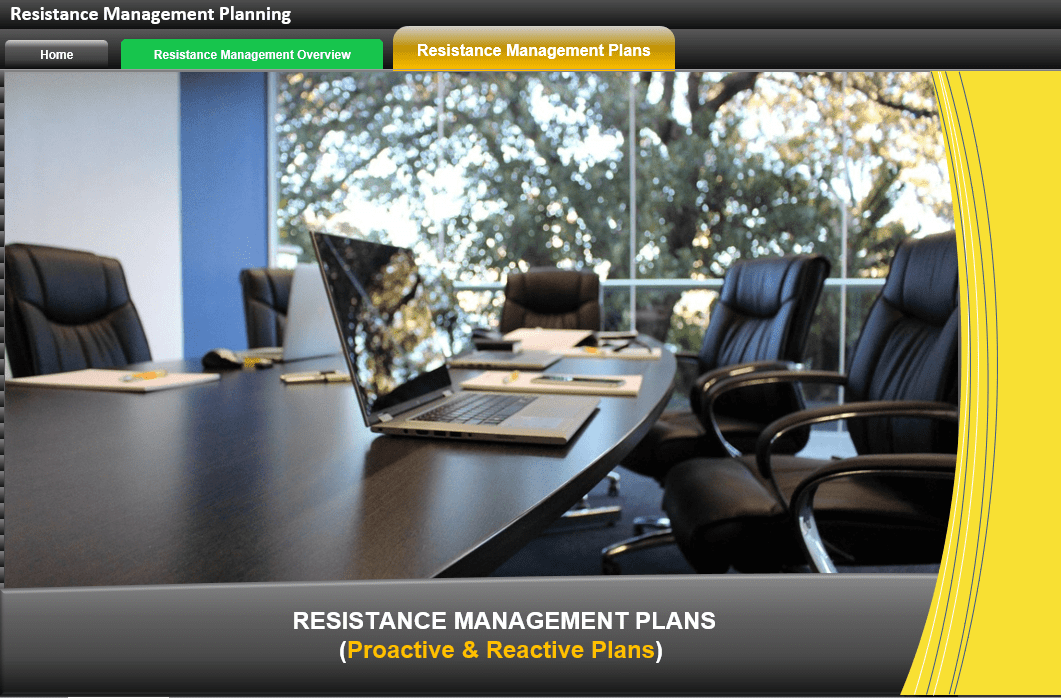 Use the Proactive Resistance Management Plan for identifying and assessing potential points of resistance, as well as identifying existing levels of resistance, and then addressing these upfront.
Leverage the Reactive Resistance Management Plan for a list of steps that will allow you to identify unanticipated and unexpected resistance throughout all phases of the change implementation.
These plans allow you to eliminate the guesswork on who is resisting and why they are resisting. You are able to quickly identify and document each impacted stakeholder's level of resistance to the change. 
See also: Download a Summary Checklist for Managing Resistance.
---
Resistance Management Template Database
Next, let's discuss the template matrix that comes with our Resistance Assessment and Management Tool. The template includes a well-structured database matrix that allows you to gather the right levels of information.
Do you know all the pieces of resistance information that need to be gathered and assessed?
If not, no worries, this template database includes a simplified structure with pre-defined fields. You'll spend less time trying to figure out what you need to assess, which will allow you to better focus your time in planning and implementing your activities to reduce resistance.
Video Tutorial: Resistance Management Tool
Sample Illustration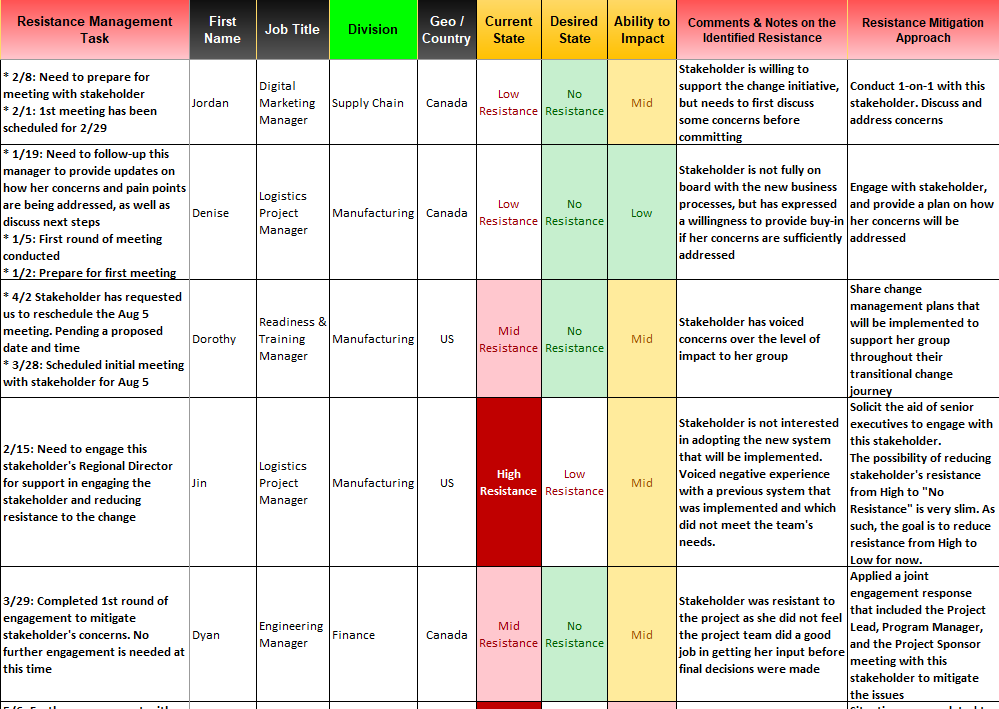 ---
Resistance Management Analytics & Reporting Dashboard
Our resistance management Excel-based Tool also comes with a dashboard analytics page for monitoring, analyzing, and reporting your resistance management activities.
This allows you to get faster insights that you can use in developing, revising, and optimizing your activities to overcome the various levels of resistance.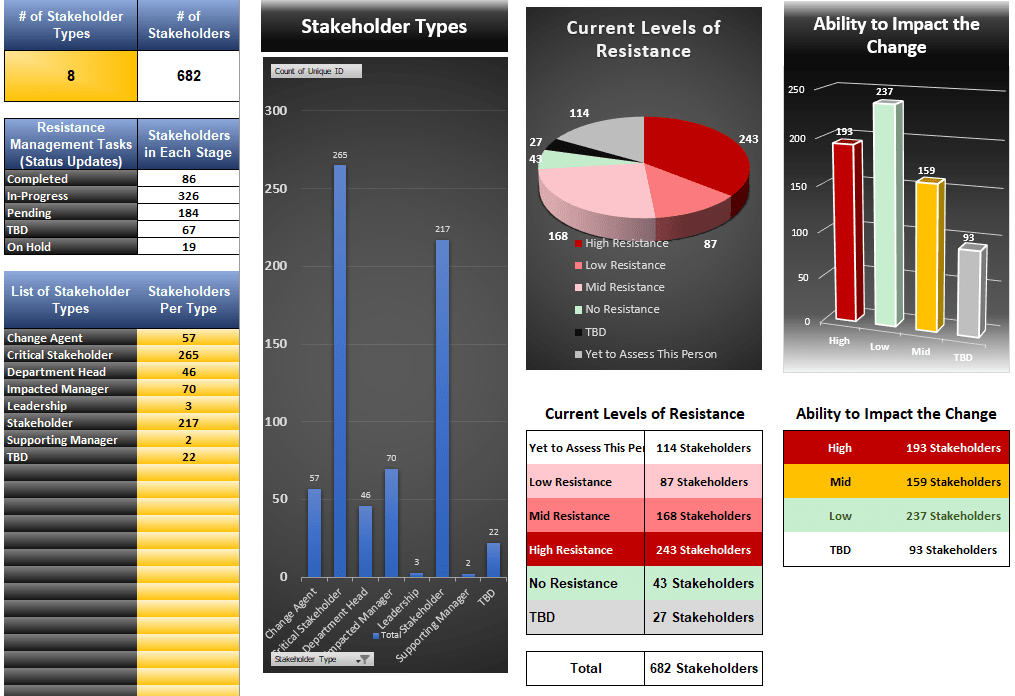 ---
Watch the Video Tutorial of this Resistance Management Tool
Two Options
We decided to build this resistance management planning and management software tool using Excel to increase its flexibility and usability. This is because most change managers, program leads, change practitioners, and project leads are already familiar with Excel. 
"We created two options to match everyone's budgeting needs."
The 1st option is the Resistance Assessment, Planning and Management

Tool

. It includes the template database for gathering and entering details on impacted users/stakeholders resistance, and it includes the Proactive & Reactive Plans. It also includes the analytics dashboard for insights and monitoring. It is automated to simplify your activities.
The 2nd option is the

Resistance Assessment, Planning and Management

Tool PLUS 90. With this option you get Option 1 plus a 90-Day Priority Support & Customization Service. This option is similar to an insurance policy in the event that you need customization done to your tool in the future to meet particular needs. It gives you up to three separate customization requests within 90 days of purchase, as well as priority and prompt support entitlement. A customization can include requesting additional enhancements, added features, additional pivot tables, more charts, additional reporting analytics, etc.

Click below to purchase the Resistance Management product version that best meets your needs.
---
Don't hesitate to contact us if you have any questions or requests about any AGS product. AGS offers a wide range of change management and project management products, including templates and tools.
---
Video Tutorial of Resistance-to-Change Management Tool
Click below to view an end-to-end video review of our coaching tool.
Resistance Management Tool Video Review
Click below to purchase the Resistance Management product version that best meets your needs.
---
---
Content on Airiodion Global Services (AGS)'s Airiodion.com website is copyrighted. If you have questions, comments, or tips about this Airiodion Global Services content, please contact Airiodion Global Services today.
---
External Sources: https://pixabay.com/photos/business-colleagues-communication-3605367/, https://www.pexels.com/photo/man-standing-near-of-wall-1391371/