READINESS ASSESSMENT TOOL, TEMPLATE & SOFTWARE
for Assessing, Tracking,  & Managing Readiness
---
Change Readiness Assessment Template & Tool for 2020
An organizational readiness analysis enables you to identify and document how ready each impacted group is for a business, process or technology change. When conducting your assessment, you will need a tool or a spreadsheet to document and assess your findings.
Readiness Assessment Template – Illustration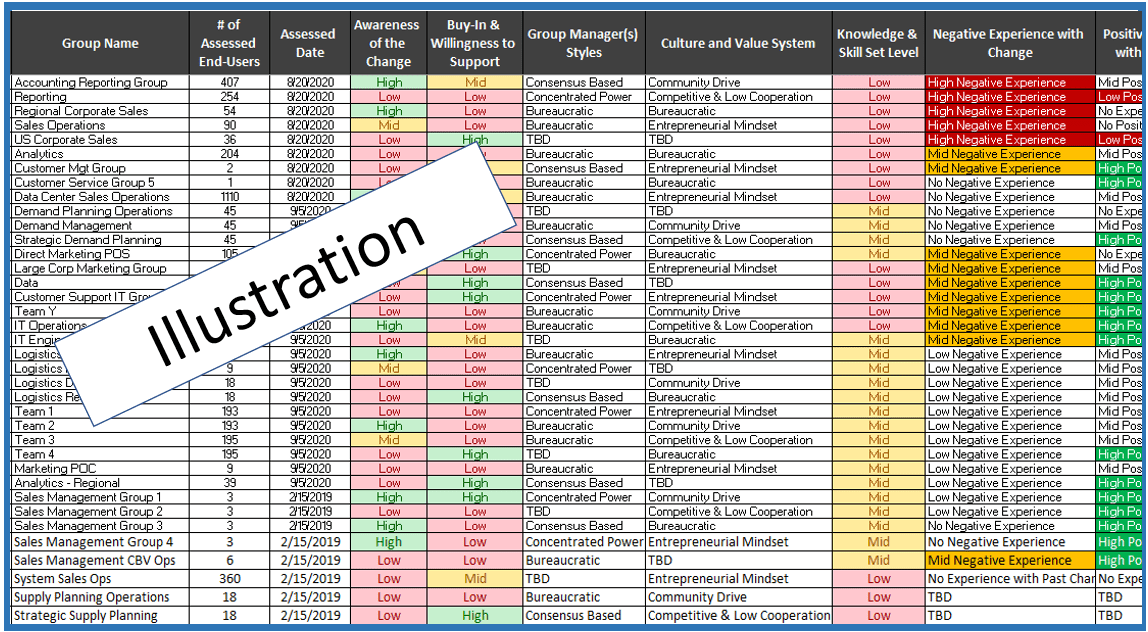 The change readiness tool and template presented below is offered by AGS, and was designed by our Senior Change Management Lead specifically for organizations, program managers, change practitioners, and project resources that are looking to optimize their respective organizational readiness assessments.
---
Organizational Readiness Assessment Template & Tool
Our readiness assessment and tracking tool provides you with a best-in-class assessment template that allows you to gather the right levels of readiness criteria factors.
Do you know all the readiness factors that need to be assessed? If not, no worries, this template includes a simplified and optimized structure with pre-defined columns and data fields. Spend less time trying to figure what you need to assess. This allows you to better focus your time in conducting the assessment itself.
Using the first four columns (see Figure 1.2), you can easily capture the Business Units / Divisions, Departments, Groups and also the number of people that were assessed as part of the questionnaires, surveys, meetings, or other assessment delivery vehicle that you used to access the readiness of your target audience groups.
Figure 1.2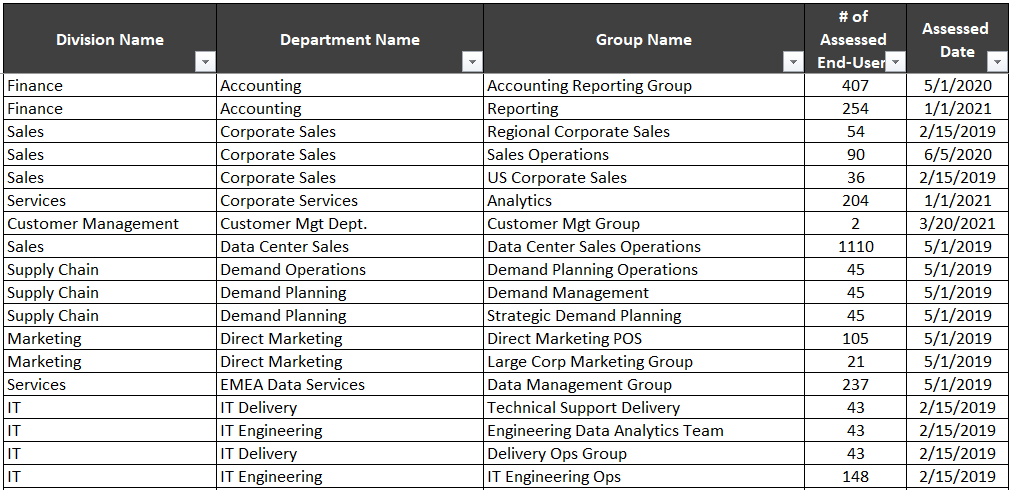 It is also important to input the date when the assessment was completed. This is essential as it allows you to better track "readiness progress" of each group over time. Readiness assessment is not a one-time-and-be-done exercise.
You want to assess each group multiple times over a period of time to see whether there is improvement or deterioration in their readiness for the change. See figure 1.3 and 1.4 below for examples.
Figure 1.3


Illustration 1.4


Knowledge, Skills and Proficiency Levels
A key goal of a structured change management program is to increase impacted user readiness and adoption. This includes knowledge and skills needed so impacted individuals can be ready for the change. Providing training and coaching will help boost people's proficiency levels. However, as part of your readiness analysis you'll need to assess how impacted users are progressing in their transition.
Document your findings on the Knowledge, Skills and Proficiency Levels' fields in the readiness assessment template, and track this over time. See Figure 1.5 below for an example.
Illustration 1.5

Past Change Experiences
The levels of negative or positive experiences that a group has experienced in the past can greatly impact the group's receptiveness or resistance to the change. As such, it is essential that you assess the group's historical experiences (negative AND positive) to previous changes.
Illustration 1.6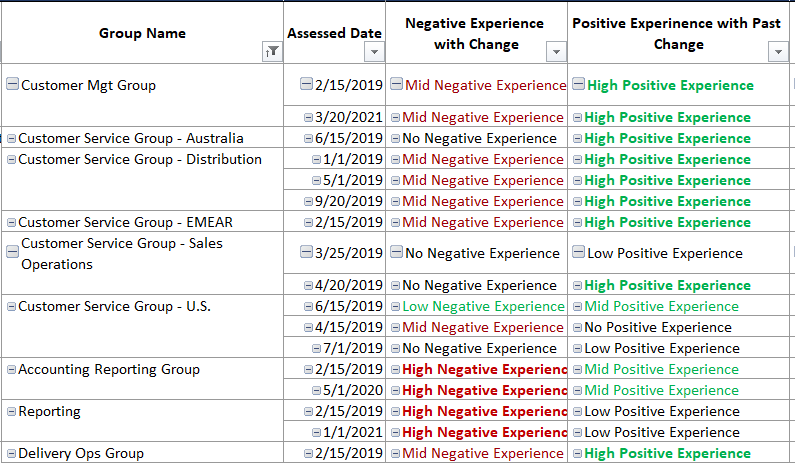 ---
Three Options: Change Readiness Assessment Tools
We decided to build this readiness assessment tool using Excel to increase its flexibility and usability. This is because most people are already familiar with Excel. 
"We created three options to match everyone's needs."
The 1st option is the Change Readiness Assessment

Template

. It does not include the analytics, automation or dashboard capabilities. 
The 2nd option is the Change Readiness Assessment

Tool

, which includes the template for your assessment, a real-time analytics dashboard for insights and monitoring, and detailed samples. It is automated, and includes more features and also a guide.
The 3rd option is the Change Readiness Assessment

Tool PLUS 90

. With this option you get a 90-Day Support, Features & Enhancement Service (90 days from date of purchase you can get support if you run into issues when using the tool. In addition, you can request up to three enhancements or features to be added to your readiness assessment tool (For example, additional pivot tables, charts, reports, columns, etc.).
If you are low on budget, then you can go with just the Template.
However, if you believe in value over cost, then obtain the 2nd or 3rd option.
Click below to purchase the change readiness tool version that best meets your needs.
---
---
Real-Time Organizational Readiness Assessment Template Dashboard
Our organizational readiness software tool also includes a Readiness Assessment Tracking and Management Dashboard, which provides you and your team with analytical insights. Easily see which groups are willing to support or resist the change. Get a holistic view of current vs future state knowledge and experience gaps. 
This allows you to quickly tackle the most pressing groups first.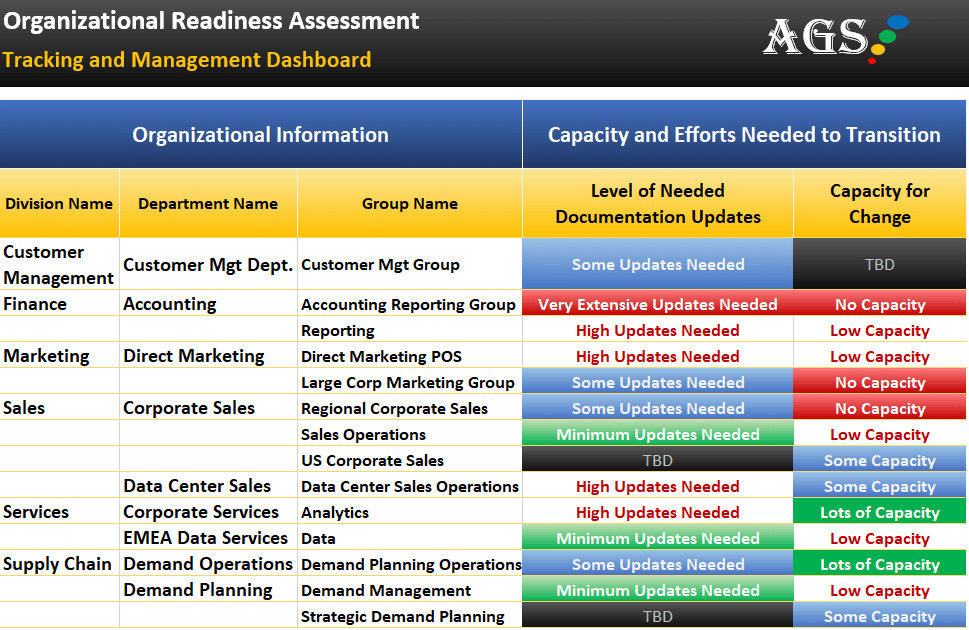 ---
BONUS
Our Readiness Assessment Tool also comes with a Workshops & Meetings Planning Itinerary" Template. This template is an added bonus for when you need to conduct workshops for large scale change. You don't need to use it, but at least it's there if ever you need it.
This Template provides you with proven steps that you can use to maximum engagement and receptiveness from the people you will be engaging with. It also includes step-by-step plans for scheduling, preparing for, conducting and following up on your change readiness assessment workshops, meetings and other engagements with end-users.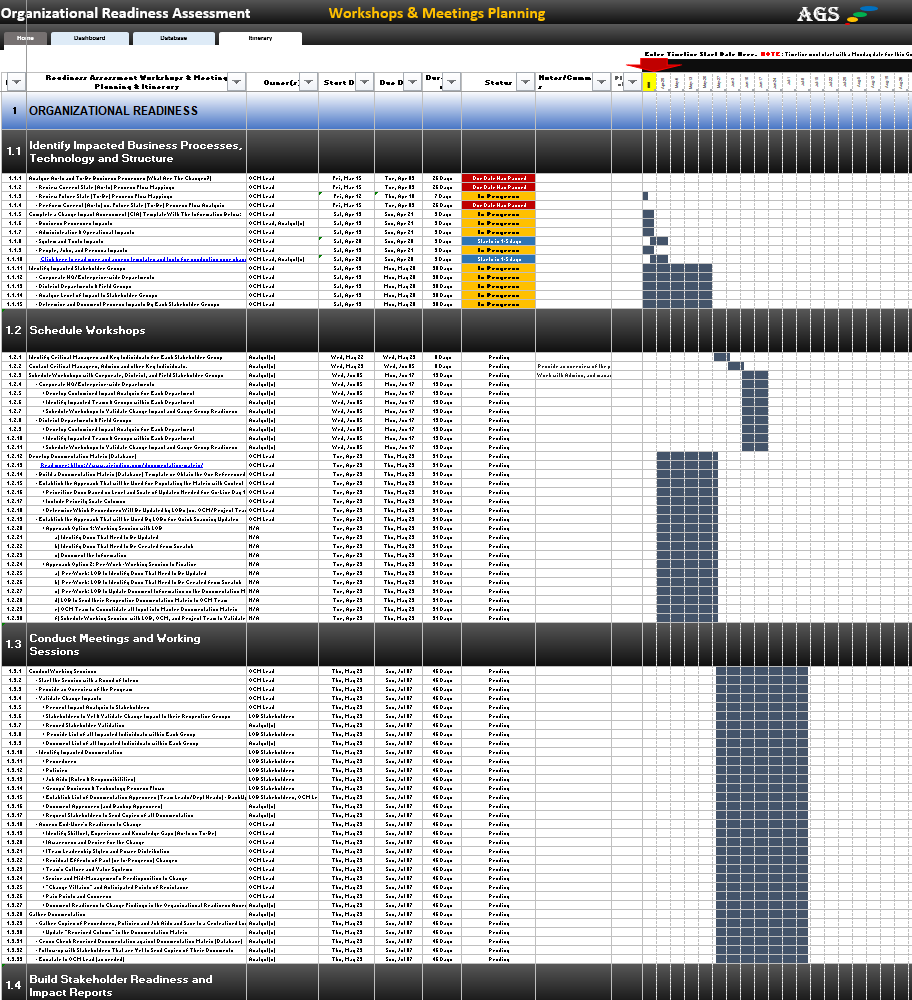 ---
---
Content on Airiodion Global Services (AGS)'s Airiodion.com website is copyrighted. If you have questions, comments, or tips about this Airiodion Global Services content, please contact Airiodion Global Services today.
---
External sources: https://pixabay.com/photos/business-colleagues-communication-3605367/