Organizational Change Readiness Assessment

---
A Top Change Readiness Toolkit with Seamless Assessment Templates and Reporting Dashboards
There are many moving parts to change management and doing an effective readiness assessment. You have to assess change awareness, buy-in for the change, impacted users' capacity for change, readiness for go-live and cutover, severity of impacts, and more! You have to determine which groups need more engagement to get them ready for the change, and which ones need less enablement. 
The AGS Business Readiness Tool provides you with everything you need to plan and implement a successful organizational readiness assessment to get your organization or groups to successfully adopt a change, and transition through go-live.
AGS Cloud's Organizational Change Readiness Templates are equally suited to newbies and experienced change managers. These comprehensive tools and templates are designed to help those new to change management ramp up the learning curve with expert guidance as well as give seasoned change managers tools that are truly time-saving.
---
Figure 1.1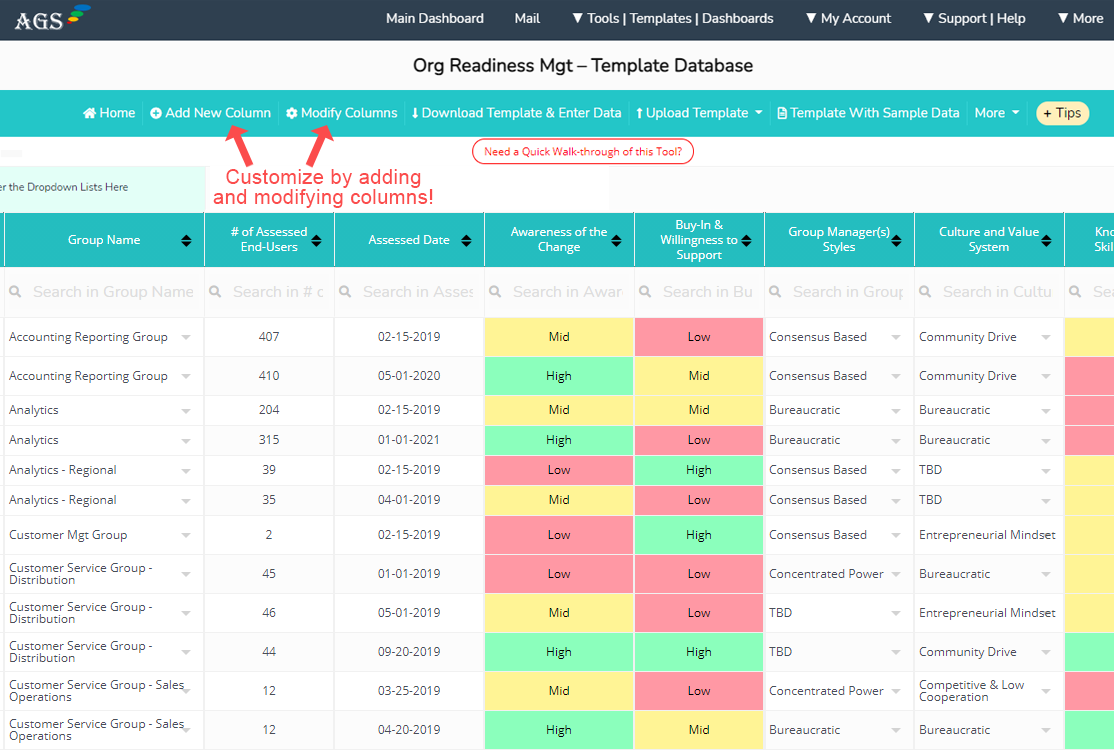 ---
Organizational Readiness Assessment Template & Tool
AGS' #1 Change Readiness Tool and Template is a toolkit that you can use to conduct and manage all aspects of your organizational readiness assessment and preparation. It provides you with a best-in-class assessment template that allows you to gather the right levels of readiness criteria factors.
Do you know all the readiness factors that need to be assessed? If not, no worries, this template includes a simplified and optimized structure with pre-defined columns and data fields. Spend less time trying to figure out what you need to assess. This allows you to better focus your time in conducting the assessment itself.
Using the first four columns (see Figure 1.2) of your change readiness assessment reporting template, you can easily capture the pertinent Divisions, Departments, Groups, and also the number of people that were assessed as part of the questionnaires, surveys, meetings, or other assessment delivery vehicle that you used to access the readiness of your target audience groups.
Figure 1.2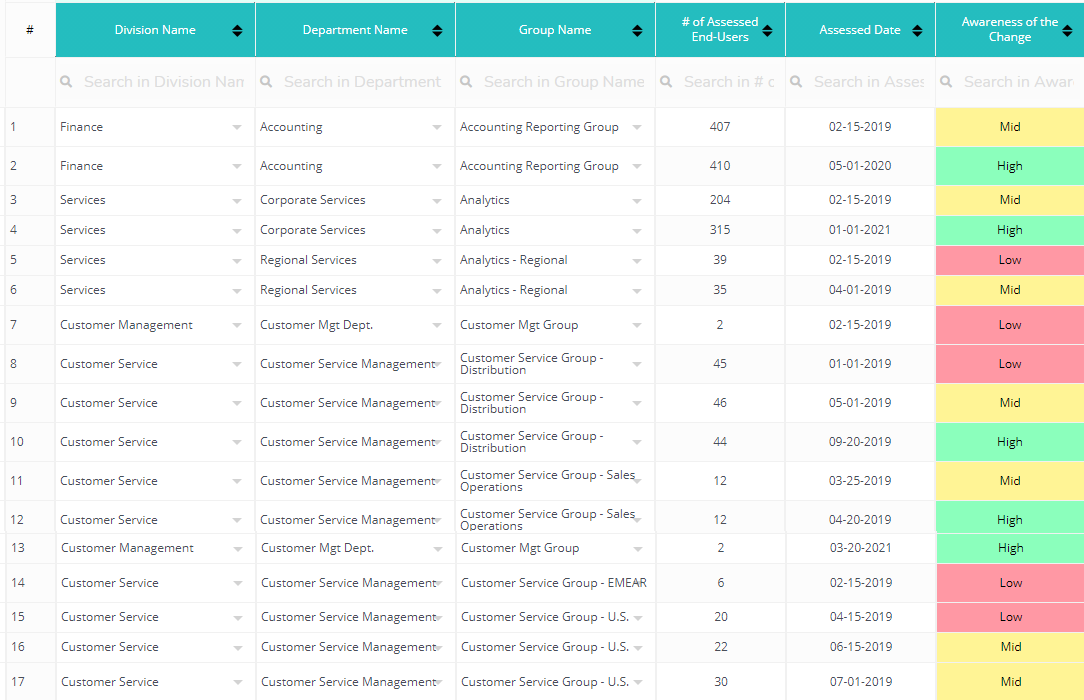 Use the date column to document when the assessment was conducted. This is essential as it allows you to better track "readiness progress" of each group over time.
---
What are Customers & Users Saying About AGS Change Management Toolkits?






2Top5AustraliaConsultingFirm1
6GlobalSemi-ConductorTechnologyFirm1
---
Questions? Contact us anytime.
---
Affordable & Flexible Pricing
Whether you have a small consultancy with just one user or an enterprise company with a team of 30 in your HR or change management department, you can find a plan that
fits your change management needs and project budget perfectly. Subscribe to exactly the Toolkits you need today. You can downsize or upsize anytime!
---
Toolkit Pricing
We've created this Toolkit in the Cloud, which allows you to securely access it using any device. Everything is centralized in one place. No more having to switch between tools! Or worrying about siloed spreadsheets or Excel limitations.
For those interested in Excel based tools, you can still subscribe and use our online version. When needed, easily export to Excel to share with your stakeholders.
---
Change Manager

(Individual User)

Change Management Group

(Multiple Users)

Toolkit Price

$30 per month

Toolkit Price

$30 per month 

User License

1 free user license

1 free guest license (view only rights)

Add additional user licenses to your account at any point, even after creating your account today

-

User Licenses

1 free user license

1 free guest license (view only rights)

Add additional team members' user licenses during checkout ($15 per user)

Add additional user licenses to your account at any point, even after creating your account today

Subscribe with a 12 months billing and get a 30% discount

Just one invoice for everyone – Simplify your purchase

Set Admin, User and Guest roles for your team

-Questions? Support?

Questions? Support? Team Onboarding & Enablement?

We provide group accounts with one or more 1-on-1 onboarding Zoom call session

Get a personalized walkthrough and demos of our toolkits for you and your group

We assign a dedicated AGS Customer Success Manager for you and your group to help increase your successes in adopting and using AGS toolkits

You and your team are also assigned a dedicated AGS Support Specialist

And more...

-

Checkout Process

Click "Subscribe" below

Enter your details on the next page, and click continue

You'll see a list of our change management toolkits. Scroll down and select just the ones you need.

Add additional user licenses (skip this step)

Click to pay

Checkout Process

Click "Subscribe" below

Enter your details on the next page, and click continue

You'll see a list of our change management toolkits. Scroll down and select just the ones you need.

Add additional user licenses

Click to pay

Subscribe
---
---
A readiness assessment is not a one-time-and-be-done exercise. You want to assess each group multiple times over a period of time to see whether there is improvement or deterioration in their readiness for the change. See figure 1.3 and 1.4 below for examples.
Figure 1.3


Illustration 1.4


Knowledge, Skills and Proficiency Levels
A key goal of a structured change management program is to increase impacted user readiness and adoption. This includes knowledge and skills needed so impacted individuals can be ready for the change. Providing training and coaching will help boost people's proficiency levels. As such, your readiness analysis should involve an assessment of how impacted users are progressing in their transition.
The AGS Readiness Assessment Template makes it easy to document your findings and track this information over time for an easy snapshot of progression over several KPIs.
Past Change Experiences
The levels of negative or positive experiences that a group has experienced in the past can greatly impact the group's receptiveness or resistance to the change. As such, it is essential that you assess the group's historical experiences (negative AND positive) to previous changes and enter this information into your AGS change readiness assessment template.
Illustration 1.5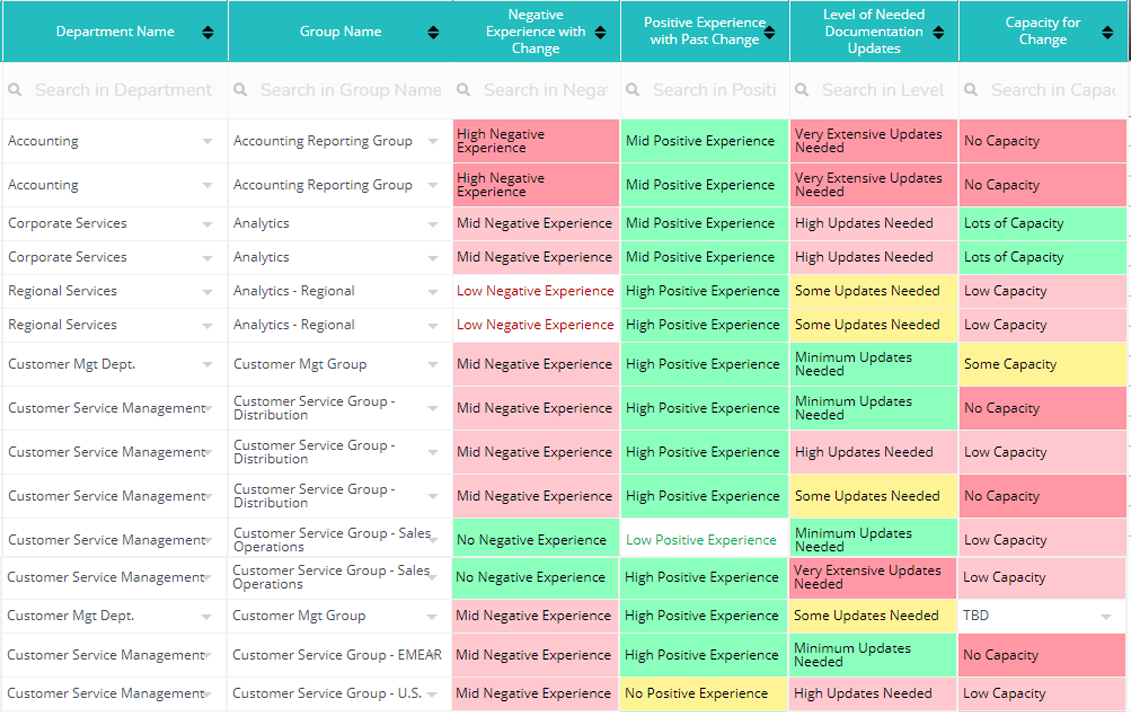 ---
Flexibility & Scalability
Your AGS change readiness assessment software's template is scalable, meaning you can use it for any type of program, from small projects that will impact only a few groups to large transformations that will impact thousands of employees, managers, customers, and external users.
Analytics & Reporting Dashboard
Your business readiness assessment tool comes with an analytics dashboard for monitoring and reporting on your readiness analysis progress.
Easily see which groups are willing to support or resist the change, get a holistic view of current vs future state knowledge and experience gaps, see how users are progressing through proficiency with new processes, and much more.
Your Change Readiness Assessment Tool Dashboard is always up-to-date with the progress you or your team are making as you complete the steps and tasks needed for your readiness analysis and assessment exercises.
This is going to save you tons of time when it comes to analyzing and presenting your data. Instead of having to spend hours pouring over your inputted information and trying to chart it into comprehensive insights – AGS Cloud's Business Readiness Tool has done it all for you!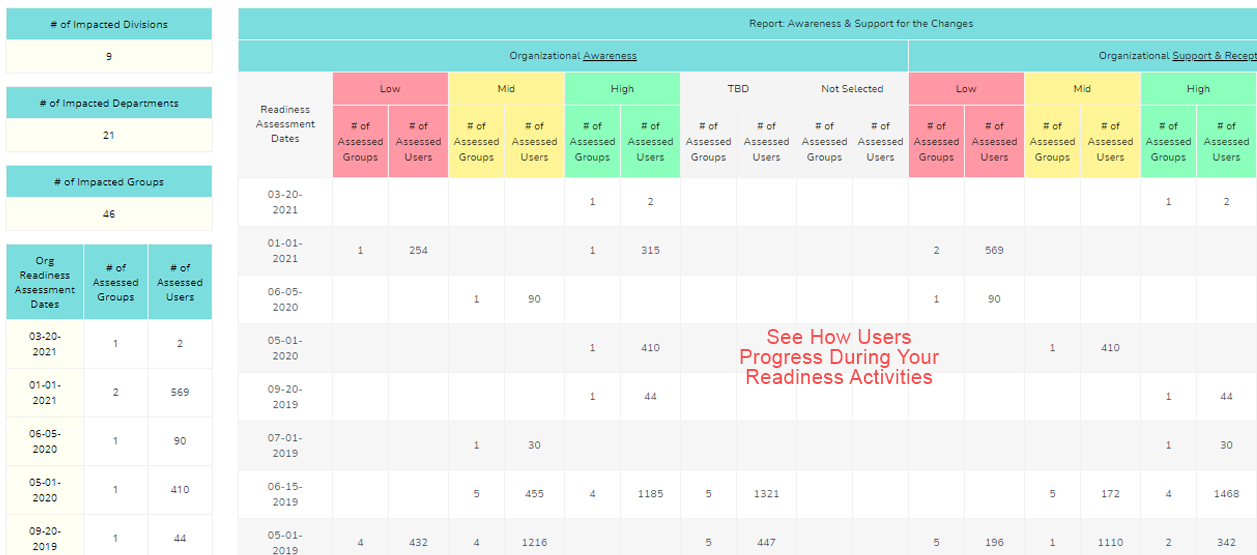 ---
Change Readiness Surveys You Can Use
One of the time-saving features of the AGS Change Readiness Assessment Toolkit includes the organizational change readiness assessment questionnaires. There are two surveys you can use. One is designed to be given for multiple readiness assessments of the same group and captures variables that will change (support, awareness, proficiency, etc.). The other is given one time and captures things that will not change, such as past experience with a change project.
The organizational readiness for change survey options you'll find include editable copies in MS Word and MS Forms (cloud survey tool).

Edit these surveys to fit your needs and leverage the existing questions about change readiness to save time.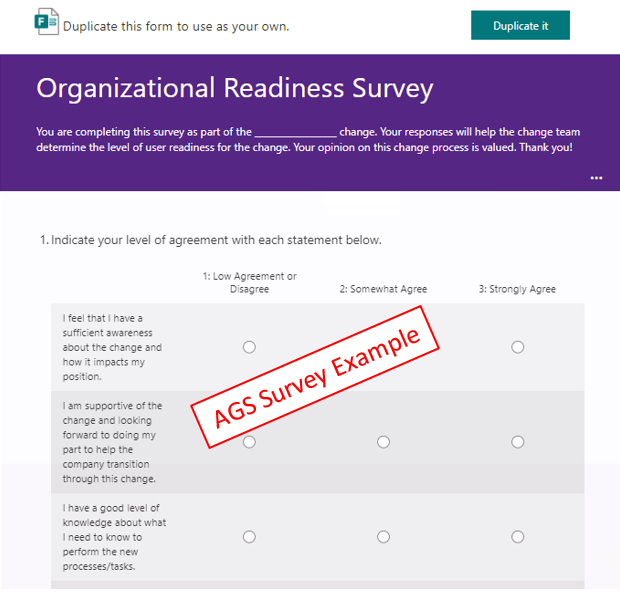 The change readiness survey questions in our Toolkit are designed to match up with the assessment factors you'll be gathering in the Template. (Click below for larger image.)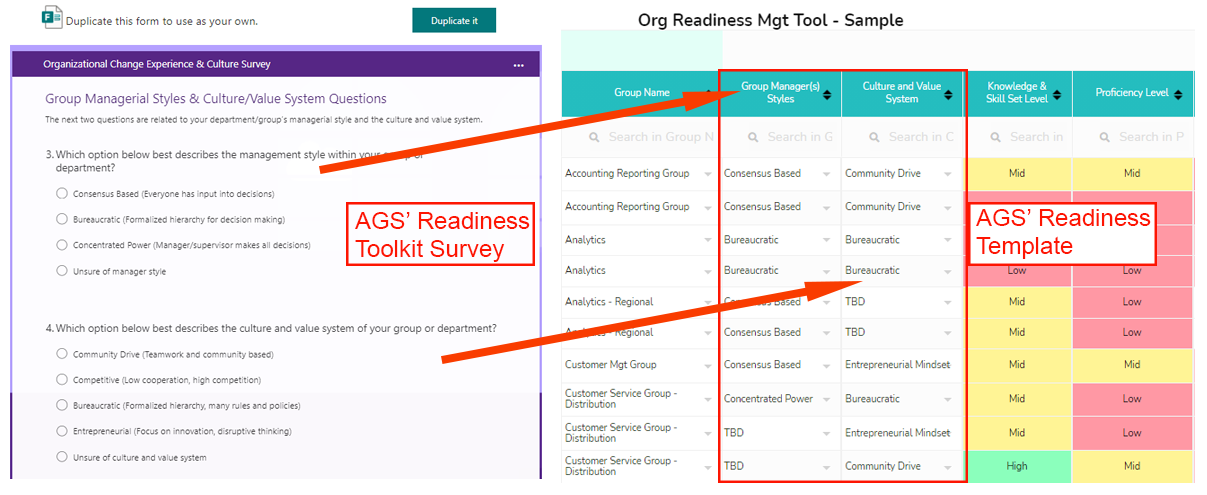 Read more at airiodion: https://www.airiodion.com/organizational-readiness-assessment/
---
Don't hesitate to let us know if you have any questions.
---
Video Review: AGS Change Readiness Toolkit
---
Why Use AGS Business Readiness Toolkit for Your Change Project?
Saves you tons of time on all aspects of your readiness deliverables: assessments, readiness preparation, and management

Based on industry-standard change methodologies

Can be used by both beginners and experienced change managers

Change teams can collaborate together online

Automatic reporting that is always current with your data

You can access AGS Cloud from any device

Keeps you from dropping any balls 

Makes you look good with smart analytics!
What's Inside the AGS Cloud Change Readiness Assessment Module?
Free change management templates & roadmaps

Readiness workshops planning itinerary (and samples that you can follow to improve your change readiness success)

Instant analytics as you input data (no spending hours trying to create reports)

Ability to upload your data from a spreadsheet or key it into the cloud interface

Master organizational lists that populate into all modules as dropdown options

Ability to add on special features like knowledge library access or a live dedicated Senior Change Manager as a resource, for you to bounce ideas or use as a sounding board

and More!
---
DON'T MISS THIS BONUS FEATURE!
Our Readiness Assessment Tool also comes with a Workshops & Meetings Planning Itinerary. This template is an added bonus to help guide you through planning and conducting workshops. It also includes a sample itinerary you can follow as a guide.
This bonus feature provides you with proven steps that you can use to maximize engagement and receptiveness. It also includes step-by-step plans for scheduling, preparing for, conducting, and following up on your change readiness assessment workshops, meetings, and other engagements with end-users.
See Also: Video Tutorial of AGS Change Readiness Tool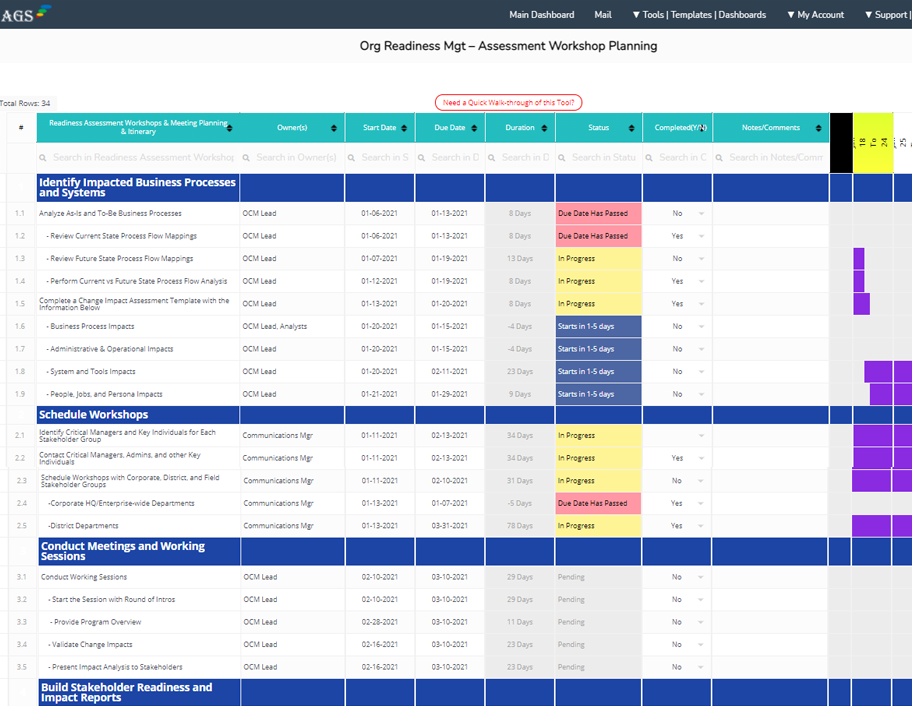 BUY AGS CLOUD's READINESS TOOL TODAY
(and Get Instant Access!)
---
FAQs
Do you have a money-back guarantee on the Change Readiness Mgt Toolkit?
Answer: Absolutely! We'd hate to see you go, but we understand things come up. We don't have any locked-in, long-term contracts! You can cancel at ANY point (even before your renewal date), and we'll issue a prorated refund —no hoops for you to jump through.
Multi-prong question about sharing the Change Readiness Mgt Toolkit with other team members
Questions: Can I share this Change Readiness Mgt Toolkit with others? What are the requirements for the single-use license? If I have a colleague on the same project, can we use it separately and work on the project separately, or do we need to buy 2 licenses?
Answer: Our Change Readiness Mgt Toolkit is offered on a per user basis. You can add users to your account to collaborate with you, but they need to subscribe. Subscribing gives them their own single-user license. After you purchase the Change Readiness Mgt Toolkit, we will follow-up with additional details on the 3 quick steps for adding teammates and other users to sharing the tool with you.
Can I cancel at any time?
Answer: Absolutely! We'd hate to see you go, but we understand things come up. Subscription plans for our Change Readiness Mgt Toolkit are recurring but can be canceled anytime, and you'll get a prorated refund—no hoops for you to jump through.
Does the Change Readiness Mgt Toolkit include guides and tutorials?
Answers: Yes, it does. And more. It also includes video tutorials that provide you with a step-by-step walkthrough on using the Change Readiness Mgt Toolkit.
Can I upload (import) data into the Change Readiness Mgt Toolkit's spreadsheets. For example, can I upload employee rosters vs having to re-enter the data?
Answer: Yes, you can. We've made it easy with a simple click to import existing data into your Change Readiness Mgt Toolkit. Automatically import your data from other databases or spreadsheets in minutes and instantly bring your team together.
I am in a different region, will this Change Readiness Mgt Toolkit still work for me?
Answer: Yes. This tool was developed for the U.S., as well as for change managers in Australia, the U.K., Canada, Philippines, India, Africa, Europe, LATAM, Middle East, APAC, and in any region. It is truly a global Change Readiness Mgt Toolkit platform.
Can I remove AGS branding and use my branding or firm's logo?
Answer: Yes, you can replace AGS branding on your purchased Change Readiness Mgt Toolkit when you add a customization or a value-add service plan to your order.
If acquiring the Excel version of the Change Readiness Toolkit, add our Customization Service plan.
If acquiring the Cloud version of the Change Readiness Tool, add the "Value-Add Service – Premium" plan. Let us know if you have any other questions.
Can I upgrade at any time? Can I add more products later on?
Answers:
You can add products or upgrade at any time, but some products may need to scale together with this Change Readiness Mgt Toolkit. Check out our All-in-One Toolkit for more details
How are future enhancements/changes handled for this Change Readiness Mgt Toolkit?
Answers:
• Future upgrades and changes to your Change Readiness Toolkit will be done periodically. Upgrades and future enhancements will always be free to customers
• If you decide to go with the Excel version of this Change Readiness Toolkit, please note that our Excel products are considered final sales, meaning there are no upgrades, refunds, or changes to them after purchase. See also: Which Version Should I Go With? Cloud or Excel?
GET THE READINESS TOOL TODAY
(and Get Instant Access!)
---
Note: Content on Airiodion Global Services (AGS)'s Airiodion.com website is copyrighted. If you have questions, comments, or tips about this Airiodion Global Services content or product, please contact Airiodion Global Services today.
---
External sources: https://pixabay.com/photos/business-colleagues-communication-3605367/, https://www.ls.graphics/free/free-pixel-4-and-pixelbook-go-mockup