PROSCI CANADA CERTIFICATION
Everything You Need to Know
By Ogbe Airiodion | Senior Change Management Leader
---
Everything You Need to Know About Getting a Prosci Certification in Canada, Including the Pros and Cons.
Large and mid-sized organizations in Toronto, Montréal, Vancouver, Ottawa, Calgary, Edmonton, Mississauga, and other cities across Canada are beginning to require more of their change practitioners to get a Prosci Canada change management certificate.
Why has Prosci Canada become so popular? Why are many organizations in Canada now requiring Canadian change practitioners to get a change management certification? Is the Prosci Change Management Certification (Canada) really worth spending the high cost of $3,000-$4,300 per person to attain?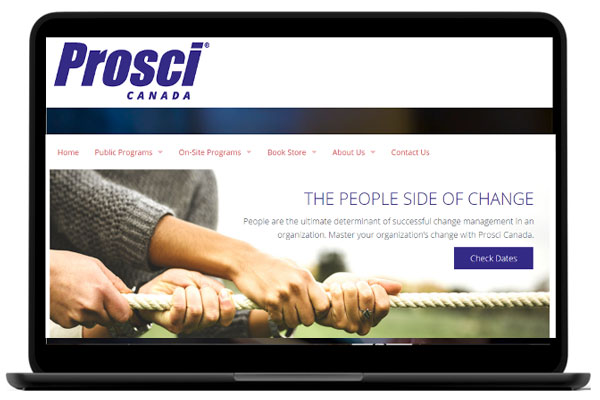 Prosci Canada Review
Although there is a wide range of Canada change practitioner certifications that change practitioners can be certified in, the Prosci Canada change management training program is one of the most popular because of two key factors:
Decades of proven research on how employees and managers go through change, and

Simplicity, and a focus on the individual versus focusing on the organization as a whole. Individuals are the ones that need to change how they do their work for an organizational or business change to be successful.
But, is it really worth the cost – when compared to other less costly Canada change management certifications?
As stated by Prosci Canada:
"Over the last few decades, Prosci has conducted extensive levels of change implementation research to identify the success factors for why projects were successful and why others were not – in the process we established the Prosci methodology and processes for practitioners to effectively implement successful change."
Prosci often trumpets its rate of success for training and certifying change practitioners, including the news that they have trained and certified 75,000 individuals across the world.

Prosci Change Management Certification (Canada)
This free guide provides you with a step-by-step overview of everything you need to know to get Prosci certified in Toronto, Montreal, Calgary, Ottawa, Edmonton, Mississauga, North York, Winnipeg, Scarborough, Vancouver, Quebec, Hamilton, or in any region within Canada.
In addition, we also outline the pros and cons.
See Also: Should You Get a Prosci Certification in Australia or NZ? What You Need to Know
---
This Guide has Been Designed for Which Canadian Audience?
The AGS Change Management Team has researched and published this end-to-end Prosci Canada Certification guide for the below practitioners:
Those based in Canada

Those based outside of Canada (in other countries) but are planning to work remotely with organizations within Canada

Those looking to travel to Canada to deliver business transformations, and change management projects

Change management individuals who plan to relocate to Canada

Anyone interested in getting change management training and certification in Canada.
Irrespective of where you are currently located: within or outside of Canada, if you are interested in getting Prosci certified in Canada, then this guide aims to answer all your questions about the process, including whether there is value in getting Prosci certified in Canada.
Don't Miss: Should You Use the Prosci Portal & Toolkits? Pros & Cons
---
Free Change Management Templates (Excel, PDF, PPT)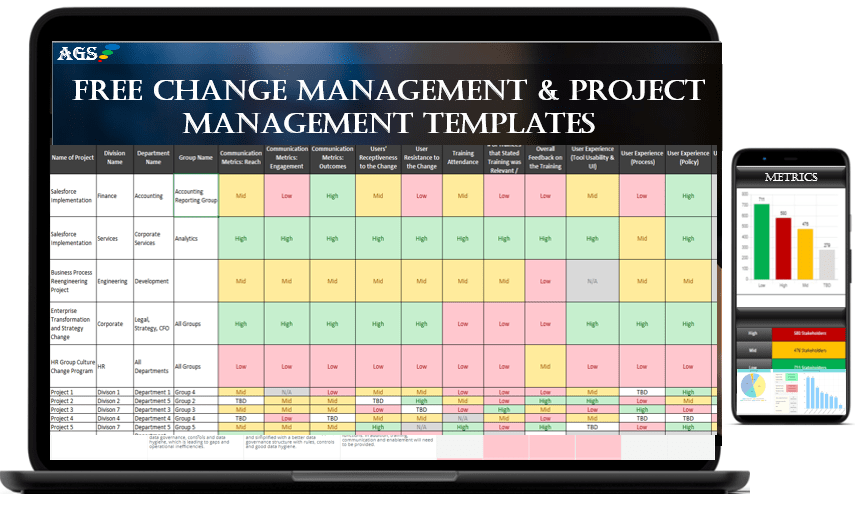 ---
Prosci Canada Certification Program
The Prosci Canada Change Management Certification Program is an online, as well as an in-person, instructor-led, three-day training event, followed by examination and certification on Day 3.
However, Prosci Canada is currently only offering its Virtual training program due to increased levels of COVID pandemic cases.
Who can attend?
Prosci Canada offers specialized change management certification training to a wide range of job roles, and functions, including:
New change management practitioners

Project managers

Program leads

Change management champions and leaders

Project team members

Continuous improvement specialists

IT professionals

HR professionals

Executives/sponsors

Managers

Employees
Prosci Canada training topics:
On the first and second day of the Prosci training in Canada – for both the Canadian virtual and in-person training – Canadian practitioners will be trained on the following topics.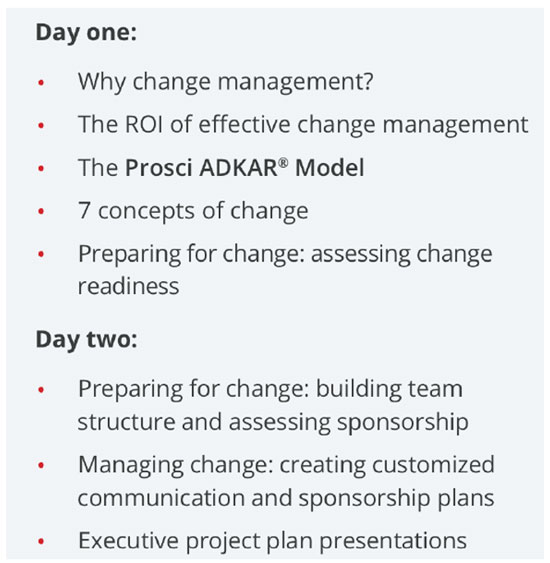 On Day 3, practitioners will be trained on how to manage ongoing change within their organizations, and how to reinforce changes after they have been implemented.
Day 3 training will conclude with practitioners taking the Prosci Canada examination and obtaining their Canada Change Management Certificates.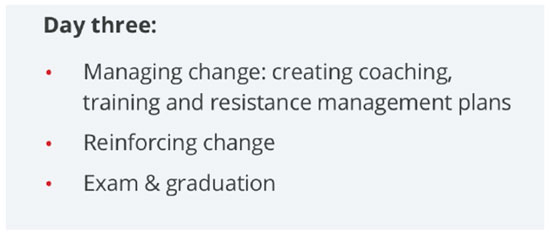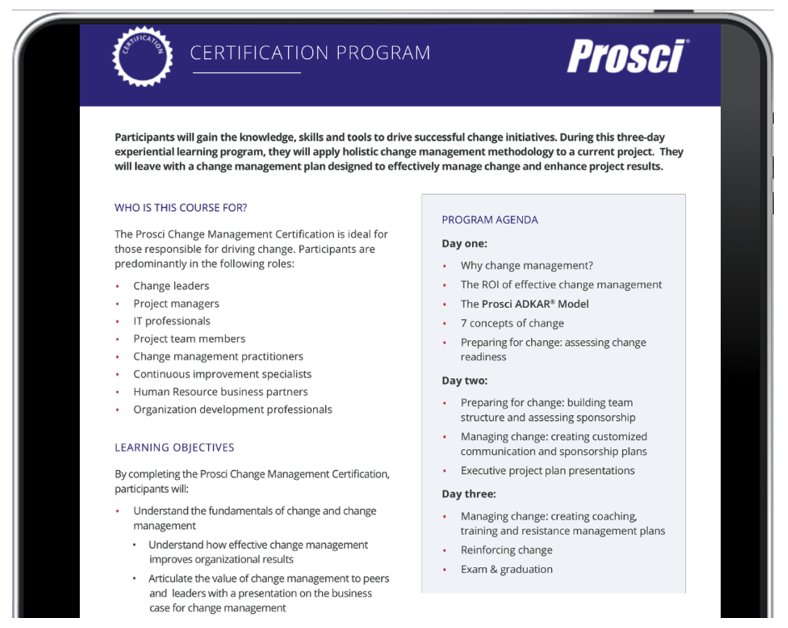 Prosci Change Management Certification (Canada)
Related: Should You Spend $4,400 for a Prosci Certificate? Is it Worth it?
---
---
Prosci Training – Canada Learning Objectives
The learning objectives for the Canadian Prosci training are referenced below. After reviewing this section, scroll to the section below for an overview of the Prosci Canada certification costs.
Program duration:
In total, the Prosci Canada training program is 25 hours in length. This includes 21 hours of hands-on training, and an additional 4 hours of self-practice assignments.
For the additional 4 hours of self-practice, you should expect to spend 2 hours between days 1 and 2 and 2 hours between days 2 and 3 outside of class completing assigned studies.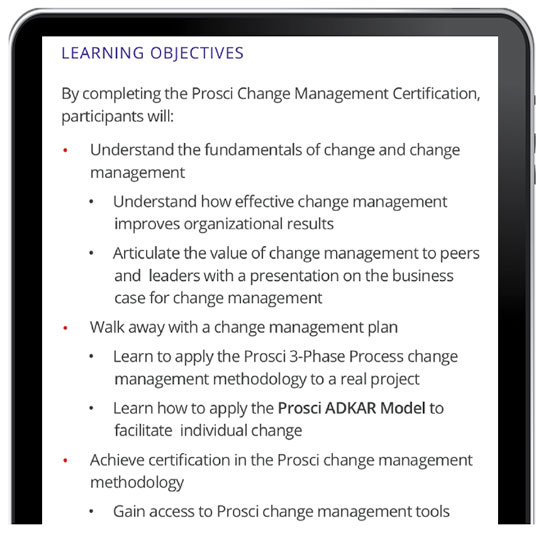 Course materials: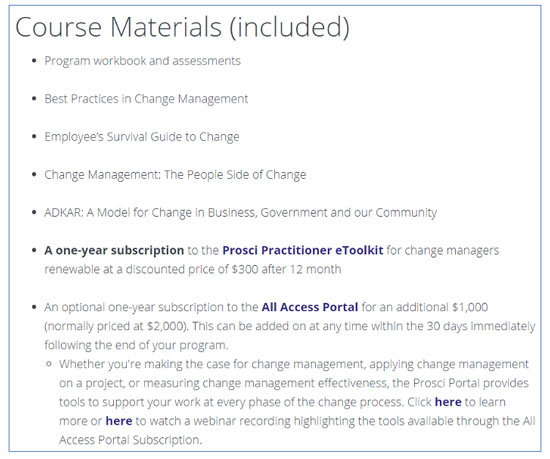 What is included with your Prosci Canada Certification Cost?
---
Prosci Canada Certification Cost
Irrespective of whether you live in Toronto, Montreal, Calgary, Ottawa, Edmonton, Mississauga, North York, Winnipeg, Scarborough, Vancouver, Quebec, Hamilton, or in any region within Canada, the cost for attaining the Prosci training is the same.
Prosci Canada Certification Costs
The Prosci Canada training and certification cost is $3,300+tax for individuals, $3,000+tax for individuals that are part of a team, and $1,000+tax for Prosci's All-Access Portal Subscription for one year.
Popular Article: Prosci ADKAR Change Management Model – Still Relevant?
---
---
Where Can You Register for the Canadian Classes?
To see which Canada-based Prosci classes are available for you to register to, click on the Prosci Canada Program Training Dates link at the bottom of this section.
When you land on the Prosci Canada Program Training Dates make, scroll down to the Program Schedule section: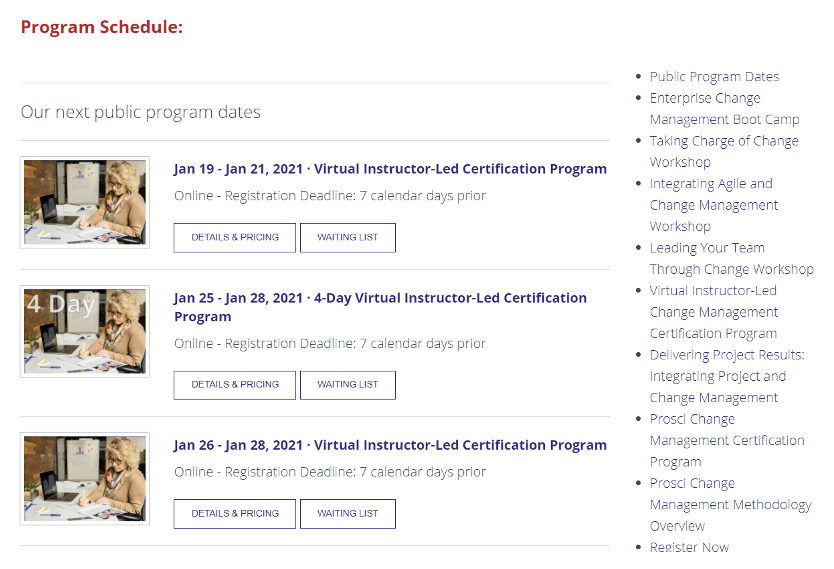 Identify which dates you are interested in registering for and if needed, click on Details & Pricing for more information.
When a class is full, you will see a Waiting List button. When a class has available seats, you will see a Register button.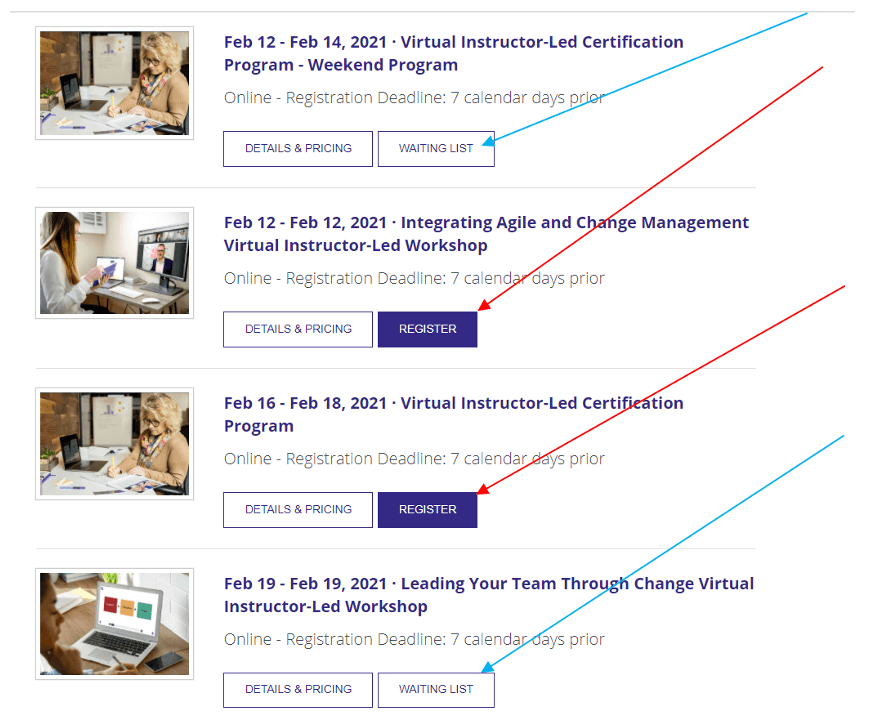 Clicking on Register will take you to the Prosci Canada Register Now page, where you will select your program. This is also the page you will land if you click on the Wait List option for classes that are full.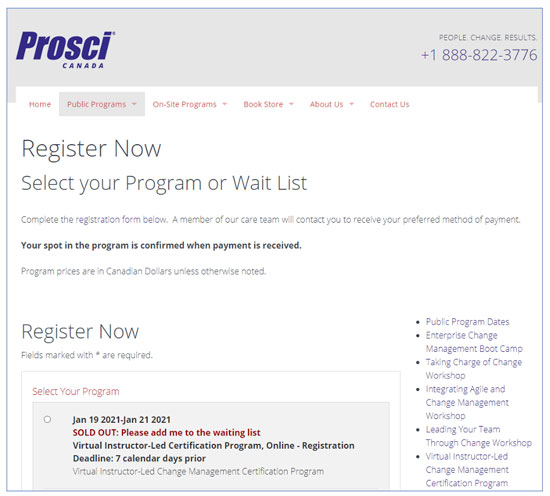 Next, select the class you need, and then enter your Participant details.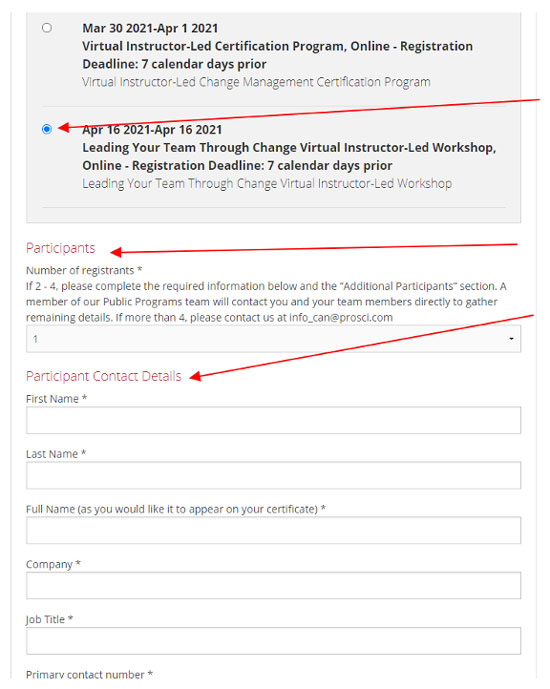 When you are done, click on the Submit button.
Prosci Canada Program Training Dates
---
---
Prosci Canada Reviews: Pros and Cons
Pros
You'll receive the well-known, and renowned Prosci change management practitioner certification

More

Canada change management job opportunities

become available to you

The Prosci training is designed for you to leave with a

 change management plan

All course materials are included with the Prosci training fee

The Prosci Canada ADKAR training is only a 3-day event. This is great because it does not require the level of extensive time commitment that a 3-month change management semester curriculum would require at any Canadian 4-year university, or other Canadian change management certification institutions
Cons
The biggest Prosci Canada training disadvantage expressed by change practitioners is the high cost that you pay to get the 3-day Canada training and certification

At a cost of $3,300 for individuals, it costs about $1,100 per day for a Canada Prosci change management training! And $1,000 per day for additional participants working on the same project!

Other limitations to the Canadian Prosci certification identified during our Prosci Canada training review are as follows:

Limited change management toolkits for Canada practitioners. As part of the Prosci training, you are not provided with end-to-end free toolkits with fillable change assessment templates and reporting dashboard analytics for managing all aspects of your change management programs in Canada.

Best methodologies for conducting key change management deliverables like delivering training to impacted users, tracking training successes, and engaging with impacted users (employees, customers, vendors, etc.) are not adequately covered during the Canada Prosci training and certification program.
Read More: Is the Prosci Training Worth it in 2021? All You Need to Know
---
---
Conclusion | How to Provide us with Your Prosci Canada Certification Feedback.
Do you live in Toronto, Montreal, Calgary, Ottawa, Edmonton, Mississauga, Winnipeg, Vancouver, or in other cities in Canada, and have completed the Prosci Canada training program?
If so, the AGS Editorial Review Team would love to know your feedback and reviews: negative or positive.
Click here to contact us with your reviews: Contact AGS Review Team.
---
---
Authors: Ogbe Airiodion (Senior Change Management Lead) and Francesca Crolley (AGS Cloud Content Producer)
---
Content on Airiodion Global Services (AGS)'s Airiodion.com website is copyrighted. Questions? Contact Airiodion Global Services (AGS) .
---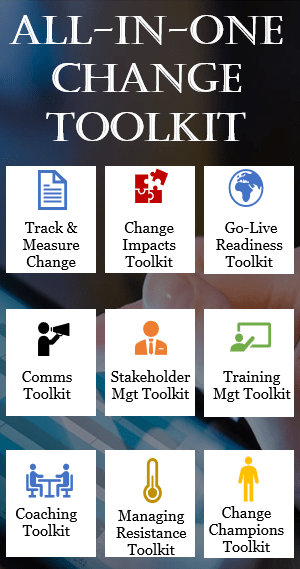 ---
Free Change Management Templates (Excel, PDF, PPT)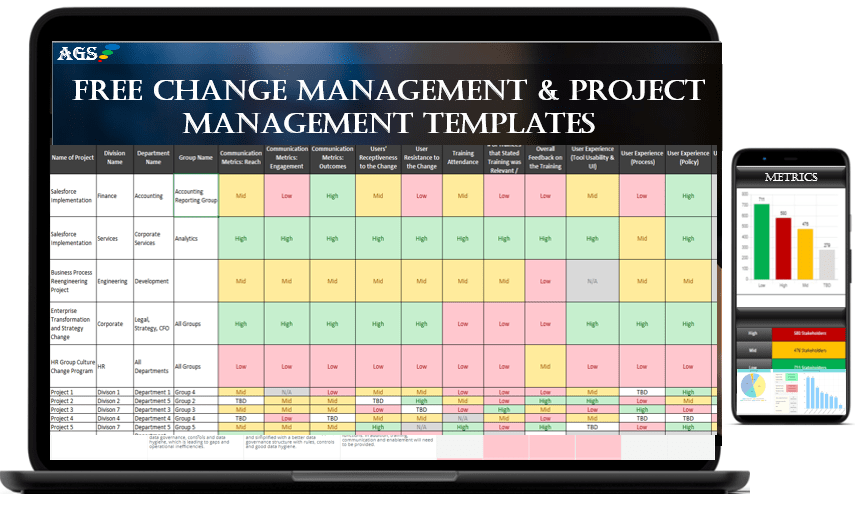 ---
►► FREE Change Mgt Strategy Playbook and Toolkit ◄◄
---
►► Change Impacts Assessment Toolkit ◄◄
---
►► Change Readiness Templates & Toolkit ◄◄
---
►► Change Management Toolkit | All You Need ◄◄
---
Images: https://www.prosci.com/