---
Free Project Plan Template for Project & Program Managers
By Ogbe Airiodion, Sr. Program Lead, Change Management
---
As a Senior Change Program Manager, I have spent over a decade leading, managing and delivering a wide range of projects and transformation changes across Intel, Cisco, Goldman Sachs, Berkshire Hathaway, AHQ, AIG, HSBC, Bank of New York Mellon, Capital One, and other organizations.
I am also very good with Excel, and one of the best Excel templates I have developed has been an Excel project management template. Scroll below to download a copy of this project management plan template.
This free project plan template (Excel) has enabled me to plan better, coordinate, track, and manage large scale program implementations, as well as change management implementations.
---
I Tried Various Excel Project Management Tracking Templates But None Met My Needs
Before I developed this project plan template in Excel, I had used a wide range of paid and free Excel project management tracking templates in the past, and each one had its own pros and cons. But I realized that I needed something that was very easy-to-use and scalable depending on the type of project I was managing.
Some projects are very simple to implement, and these often have short timeframes, for example 6-12 weeks or a few months.
Others are more complex. These are often multi-year, cross-functional and large-scale projects. And, so I needed this project tracking template to be flexible enough to be used on any type of project, small or large.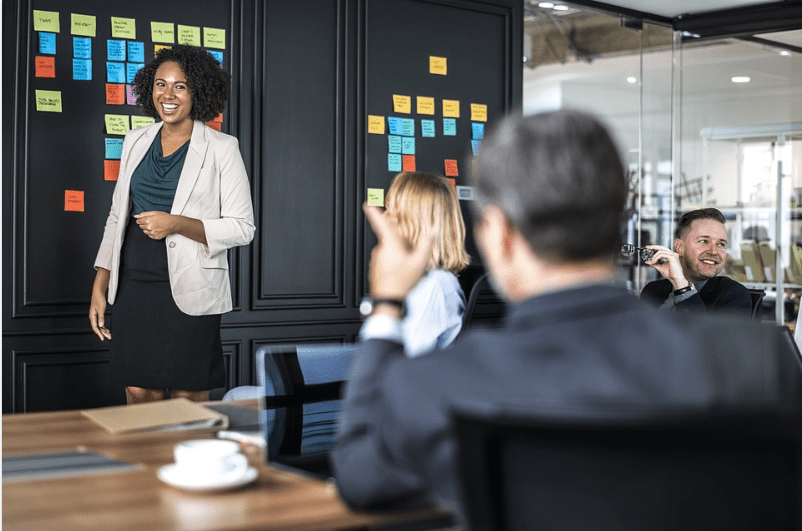 Project Manager Presenting to Stakeholders
---
I Needed the Excel Task Tracker Template to Include a Gantt Capability
I also needed the template to be a project management plan template with a built-in Gantt chart so I could see project timelines for the various project deliverables, activities, and tasks that I needed to track.
Project tracking Excel templates don't often have Gantt chart capabilities because Gantt is not a built-in Excel feature, and so I had to get some help from a few "Excel gurus" to develop an Excel configuration workaround.
These gurus were Senior Business Analysts I had worked with when I was at Deloitte Consulting, and their level of Excel experience and knowledge far surpassed mine.
They helped me to develop the Gantt chart feature that is on the free project management template.

If your existing project management software doesn't have a Gantt chart, or a milestone tracking chart, then I strongly encourage you to get this free project plan Excel template.
Your team and stakeholders will thank you for it. Most importantly, your job will be that much easier with this feature.
---
Project Plan Template Excel – Click to Download Your Copy
Click below to download your copy of the Excel project management template.
Managing a project has its challenging moments, and so there is no need for creating a template from scratch if you don't have to.
Project Plan Template Excel (Download Link)
Would You Like to Share Other Excel Project Templates?
If you have any Excel-based project management templates that you have created in the past, and which you don't mind sharing with other project managers and change management practitioners, please let us know, and we can share it with our readers. 
---
Project Dashboard Template
Note: The free Excel project management template provided on this page includes a Dashboard that you can use for drop-down options. Let us know if you have any questions about this project dashboard template feature.
---
Project Plan Template Excel (Download Link)
---
---
Author: Ogbe Airiodion (Senior Change Management Leader and Founder of AGS).
---
Note: Content on Airiodion Global Services (AGS)'s Airiodion.com website is copyrighted. If you have questions, comments, or tips about this Airiodion Global Services content, please contact Airiodion Global Services today.
---