CONDUCTING THE BEST PROGRAM & PROJECT ASSESSMENTS
---
Complete Guide to Project Assessments | What You Need to Know
This guide provides you with a step-by-step overview and everything you need to know for conducting the best project assessments. It includes key questions that you need to ask when analyzing a project and also references AGS Cloud's best program assessment templates & samples.
Note: Project and program are used interchangeably across this article. A project represents a single, focused business initiative, while a program is a collection of projects. A project analysis is focused on one project, while a program analysis is focused on multiple projects.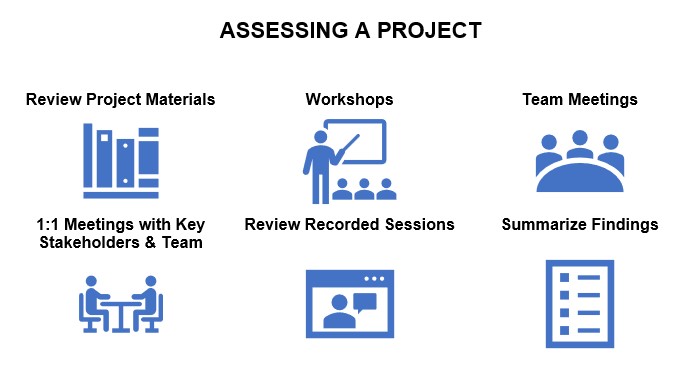 ---
Why is it Important to Conduct a Project Assessment in the Beginning?
When you initially join a project or business program as a Change Manager, Program Manager, or Project Manager, your first priority will be to conduct a thorough review of the project or program. This needs to be done before (or in parallel) to conducting a stakeholder assessment, a change impact analysis, and a change readiness assessment.
The goal of conducting a project analysis is to understand the scope, scale, timeline, and overall objectives of the program. This knowledge then allows you to better develop and implement the project management deliverables or the change management deliverables that are critical to support the project and make it successful.
Without doing a program assessment, you will always be one step behind, and will always be playing catch-up, including during meetings. This is not an ideal state for you if you are a Project Manager, Lead, Program Manager, or Change Manager that has been assigned to a new or an existing project.
Don't Miss: End-to-End Tool for Conducting Best Project Assessments
---
High-Level Best Practices for Conducting a Project and Program Assessment
Conducting an assessment of a project involves understanding and documenting the nature of the change that the project is looking to implement.
This involves assessing the project scope, scale, designs, program objectives, and factors driving the need for the company to implement the change now. It also includes assessing the program's:
Deliverables (design-build-test-deploy)

Milestones

Problem statements

Statement of work (SoW)

The expected solutions

The risks of not changing now
Conducting a project analysis also includes understanding the project's implementation governance (the "who's who"?).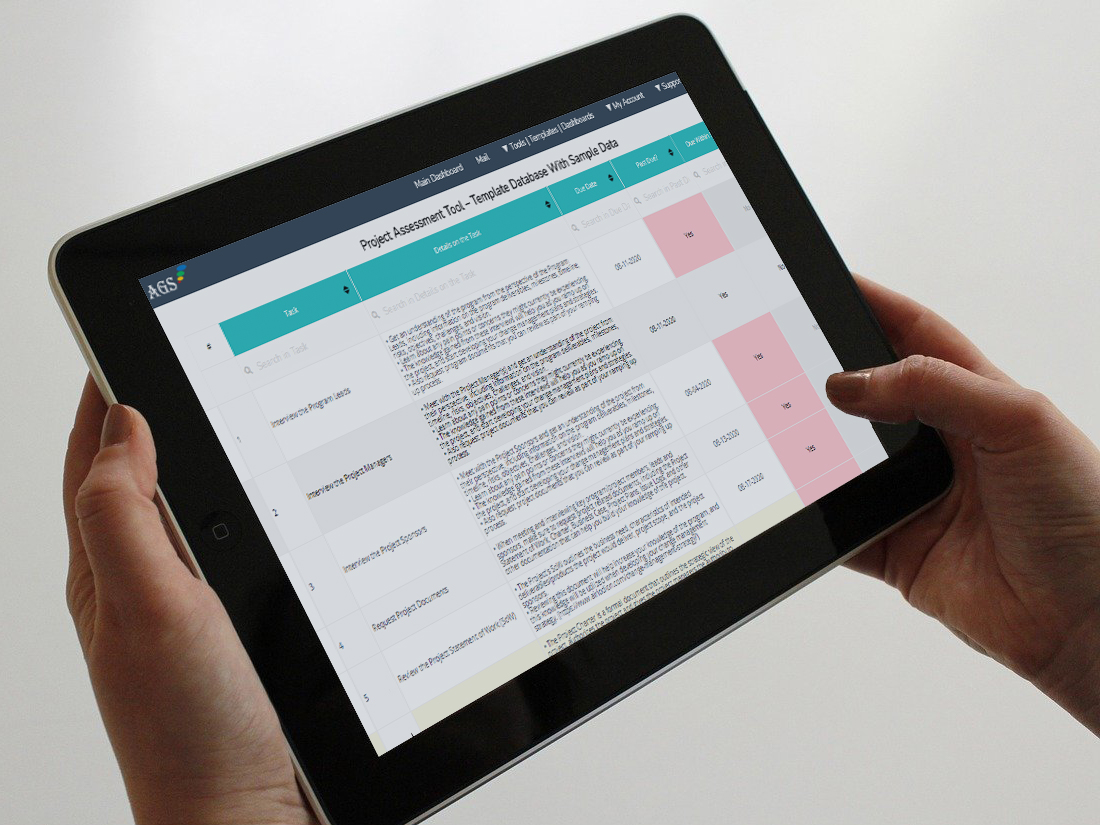 ---
How to Perform Your Project/Program Assessment
Follow the steps below to conduct your project assessment:
Schedule meetings with the project sponsor(s), existing project/program managers, project team members, and any relevant stakeholder or SME that is supporting the project.

Try to meet each person separately (1-to-1 meetings) versus via group meetings as this allows you to get a more objective and honest assessment of the project from each person's perspective. If it is not possible to do 1-to-1 meetings, then schedule group meetings with the relevant parties.

The agenda for the meetings will be for them to help you understand the background, scale, deliverables, and scope of the project.

During the meetings, also ask them about any pain points, concerns, or challenges they might be experiencing. In addition, ask them for a recommended list of other individuals they believe you should meet with as you ramp-up on the project.

Schedule additional meetings and meet with the individuals on the recommended "meet with" list.

When meeting with key project leads, make sure to request essential project documents (e.g., project charter, scope/objective documents, business cases, work breakdown structure (WBS), project schedule, RACI Matrix, and functional decomposition documents).
As part of your project analysis, review all documents with a goal of answering the questions listed at the bottom of this page.

Summarize and enter your program analysis findings into a project assessment spreadsheet, tool, or readout document. At a minimum, the tool or document you use for documenting your findings should include the problem statements, proposed solutions, business cases for the project, severity of the impacts, the scale of the change, and key next steps.
---
You can use AGS' #1 Ranked Project Assessment Tool, AGS Cloud to help. This tool is an online change manager that is designed to help you plan, manage, and execute a successful change project. Choose from a Cloud or Excel version that includes real-time analytics and program assessment samples, as well as simplified templates for gathering your project analysis information. 
Click here to obtain AGS' Program Assessment Toolkit with Templates and Samples which includes best practices for increasing your program assessment successes. As an alternative, you can create your own tool or templates from scratch.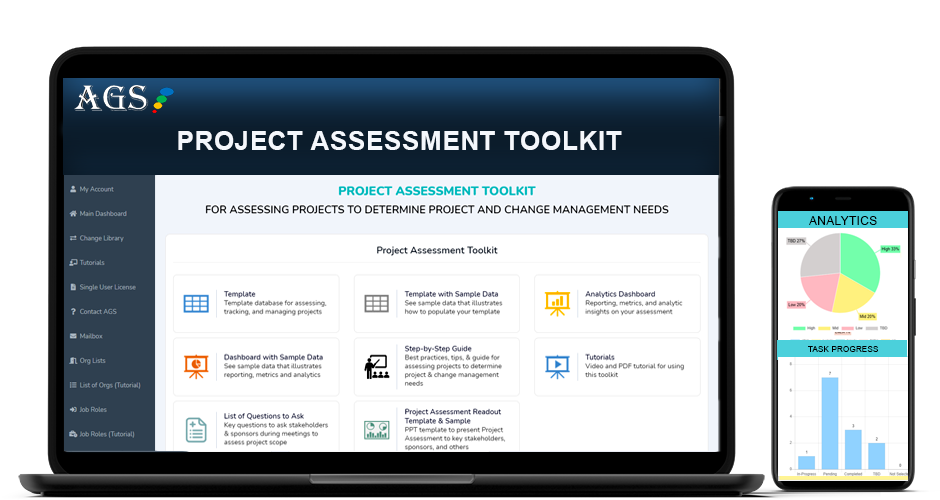 Project Assessment Template & Tool
---
Let us know if you have any questions about this best program assessment and project analysis guide.
---
Gathering the Needed Information for your Project Assessment
When meeting with the primary sponsor(s), project managers, and other key stakeholders for your project analysis, the list of questions below will guide you in asking the pertinent questions needed to understand the type of change, the size of the change, what is changing, and other critical project scope questions.
►► Project Toolkit and Template for Project Assessments ◄◄
---
Program Assessment Questions to Ask Project Resources and Stakeholders
What type of change is this? Is it a process change? Systems change? Organizational culture change?

What are the goals, objectives, and key aims of the project?

What are the key milestones and project deliverables?

Who are the main stakeholders and impacted groups?

Are there any known resistance or change villains?

What are the program risks? Is there an existing risk/issues log?

Are there any lessons learned since the program was initiated?

What are the known pain points, challenges, concerns?

Who else should I speak to as I ramp up on this project?

Are there any existing or potential resistance points?

and many more …
---
Output from Your Project Assessments
The information you gather as part of your program analysis will be used extensively in your awareness, communications, and engagement campaigns. This information will also be leveraged in getting you up to speed very quickly when you start planning and delivering your project-based deliverables.
When gathering your project assessment information, use the AGS Project Analysis Toolkit template for inputting key pieces of project-level information. The Toolkit also includes a BONUS: A time-saving PowerPoint Project Assessment Readout Template for summarizing and presenting your program assessment findings to senior leaders, project teams, program sponsors, and other stakeholders.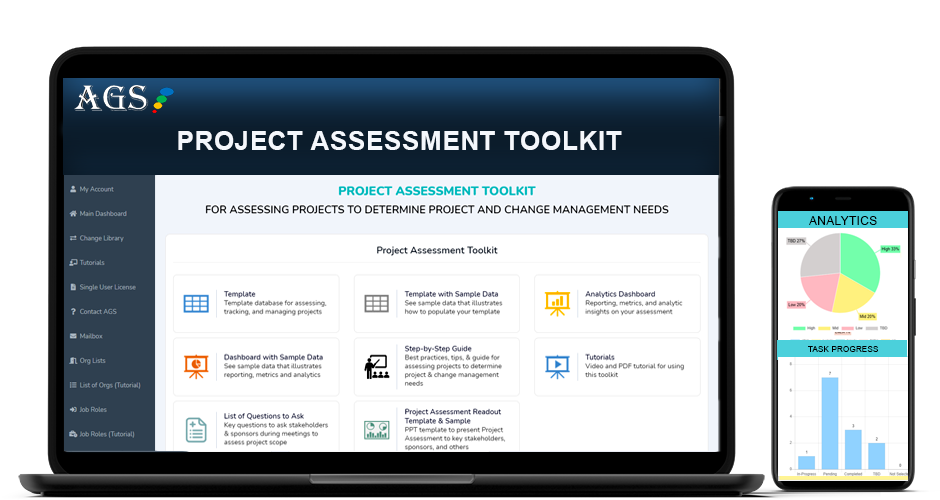 Project Assessment Toolkit – Get Yours Today
---
What is a Project Assessment?
A project assessment is an end-to-end analysis of a project's scope, scale, deliverables, objectives, and impacts. It also involves assessing the project's stakeholders, risks, timeline, and impacted groups and processes.
What is a Program Assessment?
A project represents a single business initiative, while a program is a collection of projects. A program assessment is focused on assessing the scope, scale, objectives, risks and deliverables of multiple projects.
Project Assessment vs Program Assessment
A project assessment is focused on assessing one project, while a program assessment is focused on analyzing multiple projects.
External source: Pixabay: https://pixabay.com/photos/computer-laptop-technology-office-3368242/, https://www.ls.graphics/free/free-pixel-4-and-pixelbook-go-mockup

---
Authors: Ogbe Airiodion (Senior Change Management Lead) and Francesca Crolley (AGS Cloud Content Producer)
---
Content on Airiodion Global Services (AGS)'s Airiodion.com website is copyrighted. Questions? Contact Airiodion Global Services (AGS) .
---
Free Change Management Templates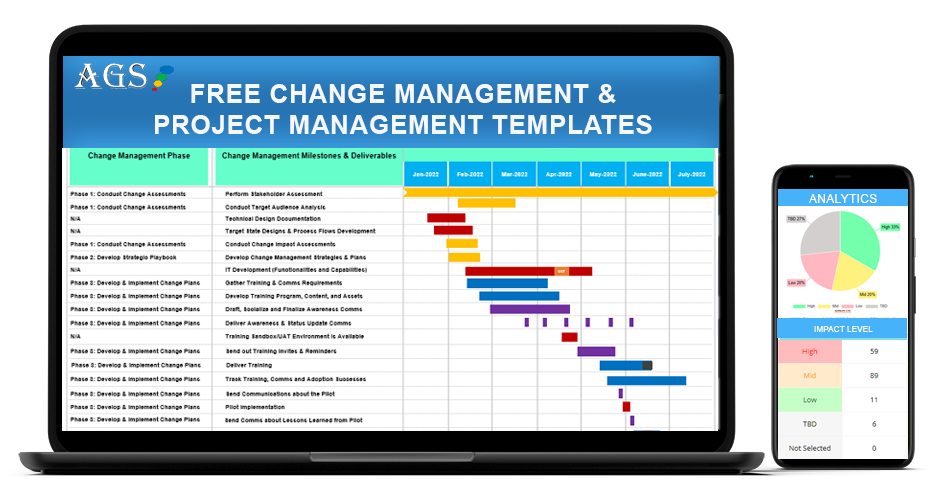 Get Your Free Change Management Templates Today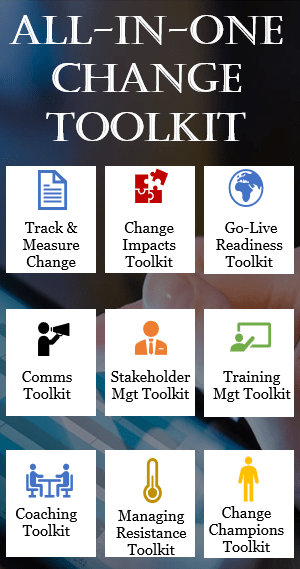 ---
FREE Change Management Templates (Excel, PDF, PPT)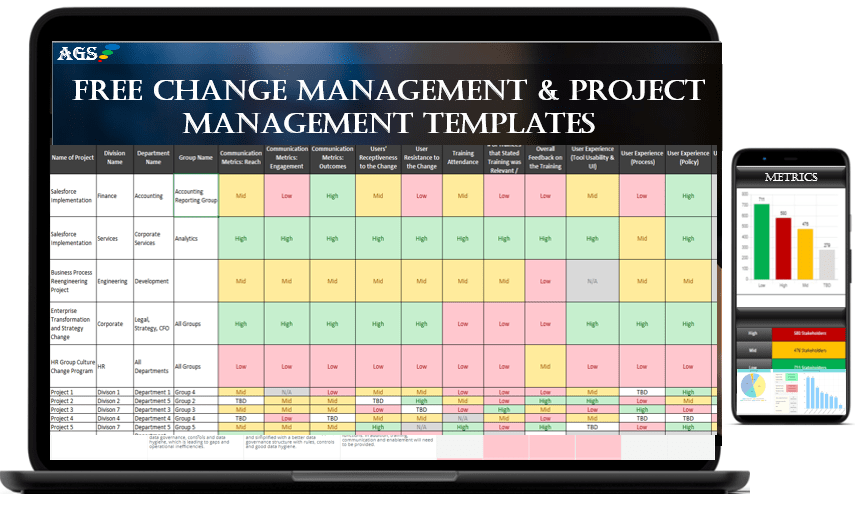 Get Your Free Change Management Templates Today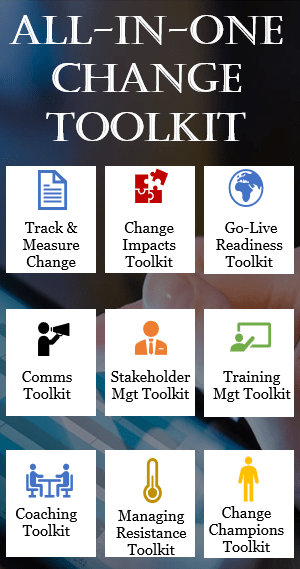 ---
►► FREE Change Mgt Strategy Playbook and Toolkit ◄◄
---
►► Change Impacts Assessment Toolkit ◄◄
---
All-in-One Change Management Tools. 
---