PROGRAM ASSESSMENT TOOL
For Assessing a Project's Scope, Objectives, and Deliverables – Outputs for Developing an Effective Change Program
---
Assessing the Change Program
As mentioned in our Program Assessment Review article, the first step in implementing an effective change management process involves conducting an assessment of the program itself.
This involves working with Program Managers, Project Leads, sponsors and other project team members to understand the scope, scale, objectives, and components of the program.
When conducting your program assessment it is essential that you use a structured process, including a defined template for conducting and documenting your findings, as well as a reporting document to share your findings with key members of the program.
---
Using AGS's Program Assessment Tool for Your Assessment
Airiodion Global Services' Program Assessment Tool comes with a real-time dashboard for monitoring and reporting your progress. It also includes a checklist of the materials you need to review for your program assessment, as well as who you need to interview or speak with to gather the information you need.
---
Real-Time Dashboard
Your Program Assessment Dashboard is always up-to-date with the progress you are taking to complete the steps and tasks needed for your program assessment exercise. Easily monitor completed, in-progress, and pending tasks; as well as tasks that are past due. Instantly see how your tasks and team are progressing with the program assessment dashboard.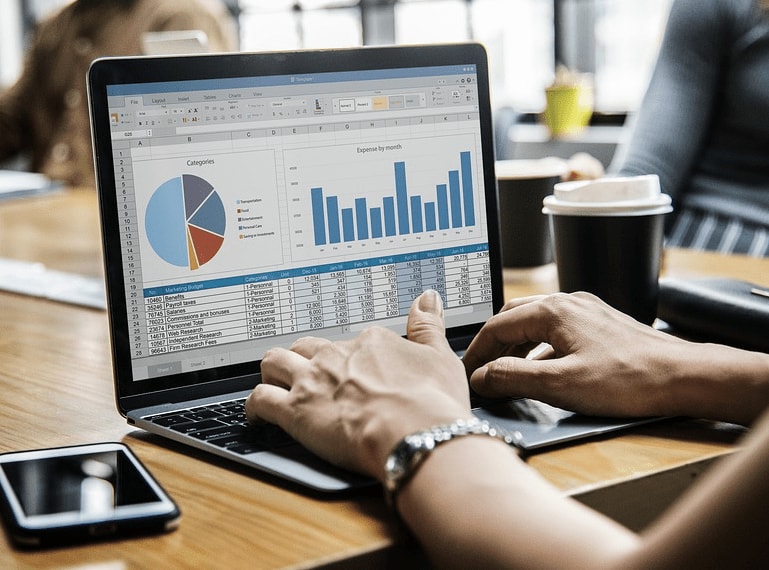 ---
Holistic 360° View
Your Program Assessment Dashboard provides you with a holistic view that allows you to track all your tasks in one view. So you always know if you or your team members are on track, and you can also use this for reporting your progress.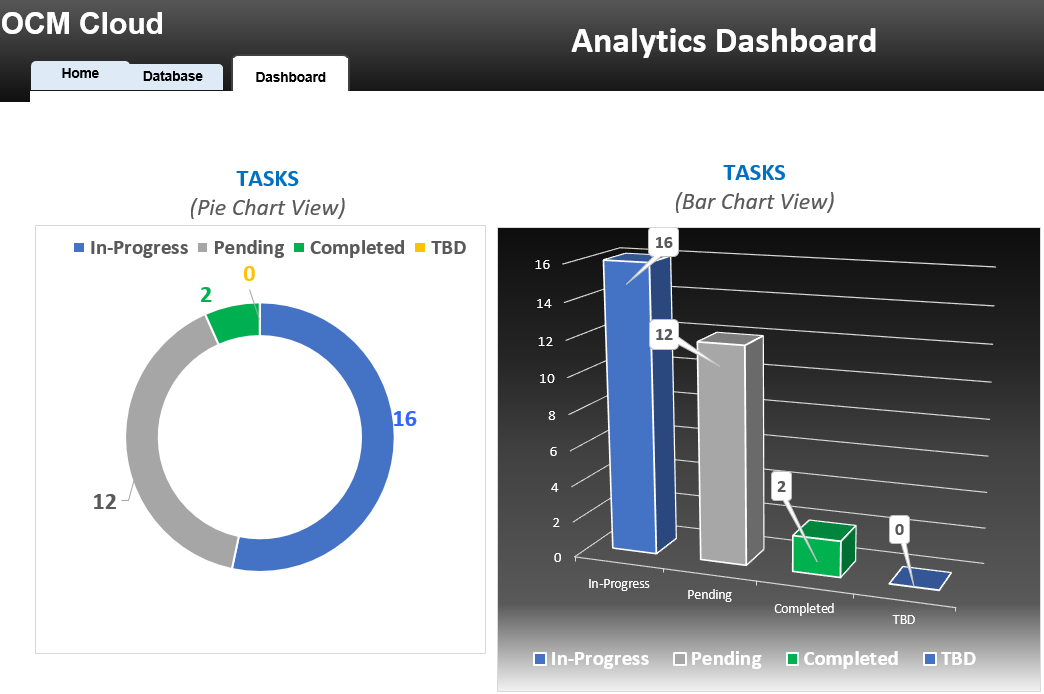 ---
Task Checklist Workload
The Tasks Checklist database provides you with a detailed list of the project materials you need to review, as well as people you need to interview or speak with to gather the information you need.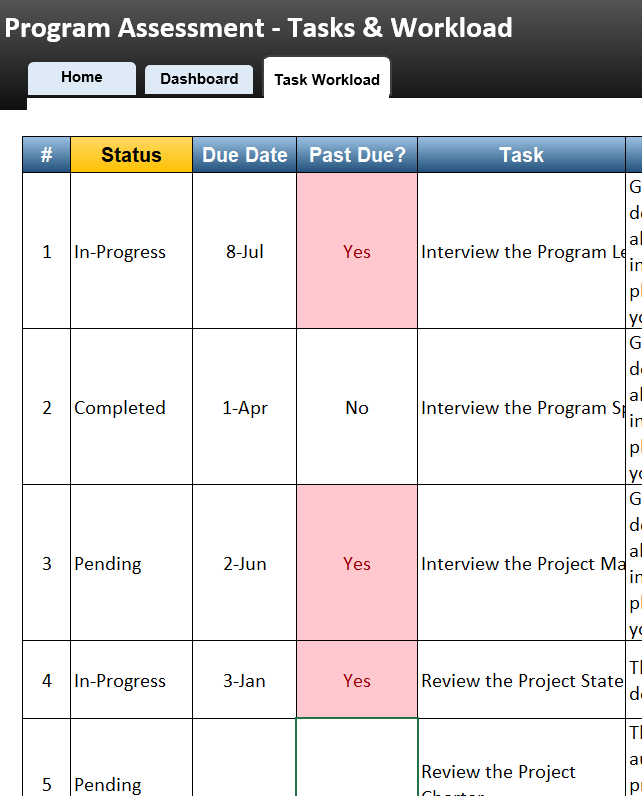 As you complete your program assessment tasks, your Program Assessment Dashboard updates automatically in real-time.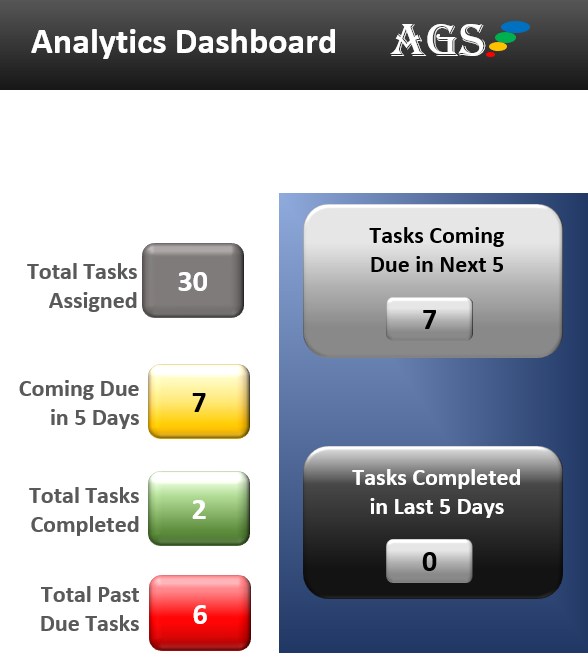 ---
Gathering the Needed Information
When meeting with the primary sponsor(s), project managers, and other key stakeholders, there are key sets of pre-determined questions that will guide you in asking the pertinent questions needed to understand the type of change, the size of the change, what is changing, and other critical project scope questions.
The Program Assessment Tool includes a set of these questions.
---
A Simplified Readout Template & Sample
You will also have access to a simplified and succinct leadership reporting PowerPoint template that you can easily populate with key pieces of information that can be presented when you meet with key stakeholders and other managers that will be impacted by the program.
Included will also be a sample Readout Document that you can reference.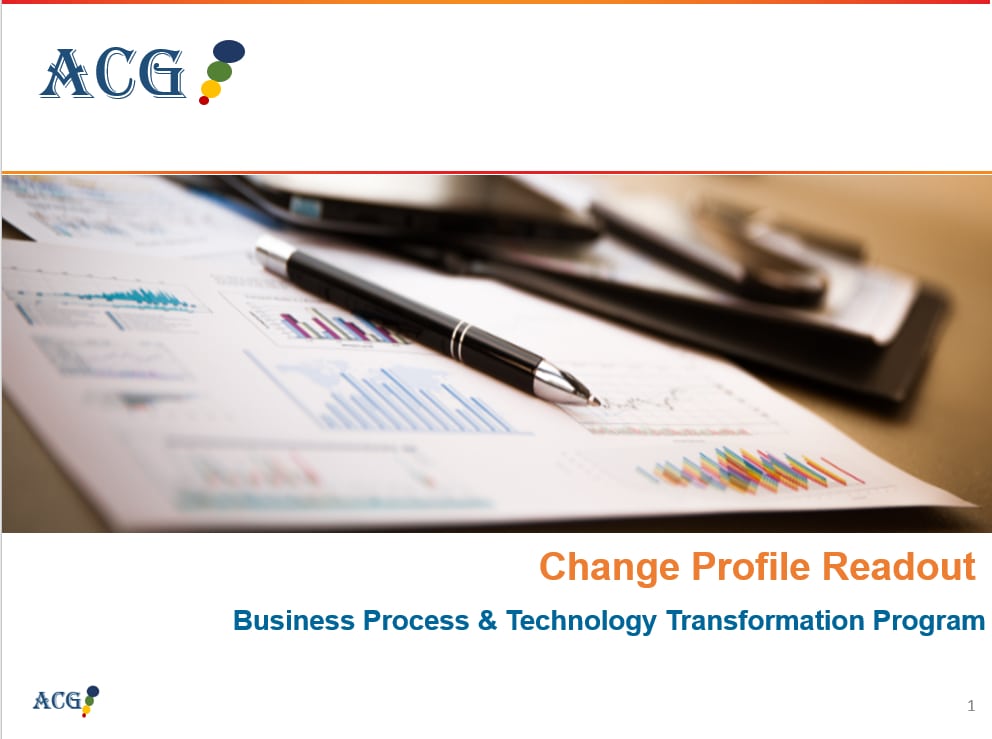 ---
---
External sources: https://pixabay.com/photos/business-colleagues-communication-3605367/