PROJECT ASSESSMENT TOOLKIT, TEMPLATES & SAMPLES 
For Assessing a Project's Scope, Objectives, and Deliverables – Outputs for Developing Effective Project and Change Deliverables
---
A Top Project Assessment Toolkit for Understanding a Change Program
As mentioned in our Project Assessment Guide, the first step to implementing an effective project or change management process involves conducting an assessment of the project as soon as you join the project team.
The section below presents a top project analysis toolkit and templates that you can obtain and use for your project assessment needs.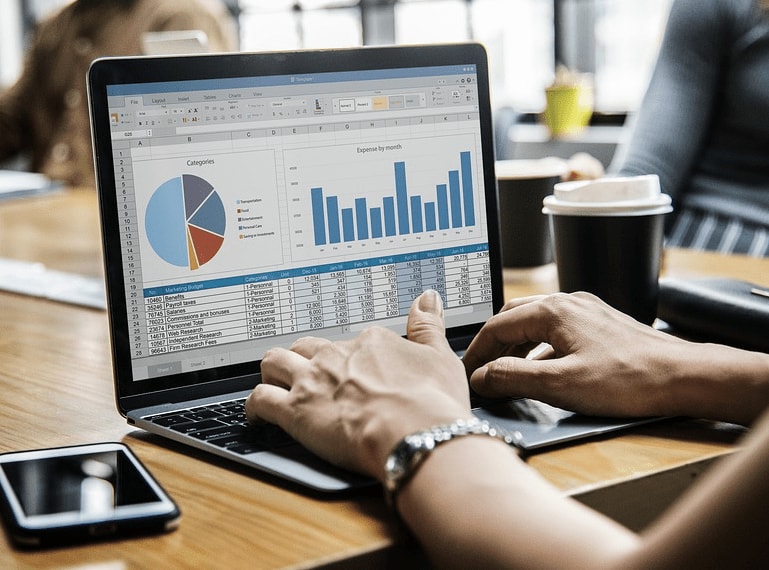 The project review toolkit presented below is offered by Airiodion Global Services (AGS), and was designed by our Senior Change Management Lead specifically for program managers, change leads, and project resources.
---
Using AGS's Program Assessment Tool for Your Assessment
Our project assessment and tracking toolkit provides you with a best-in-class assessment "Tasks Template" that allows you to gather the right levels of criteria factors.
Do you know all the project related factors that need to be assessed? If not, no worries, this Tasks Template includes a simplified and optimized structure with pre-defined tasks. Spend less time trying to figure out what you need to assess. This allows you to better focus your time on conducting the assessment itself.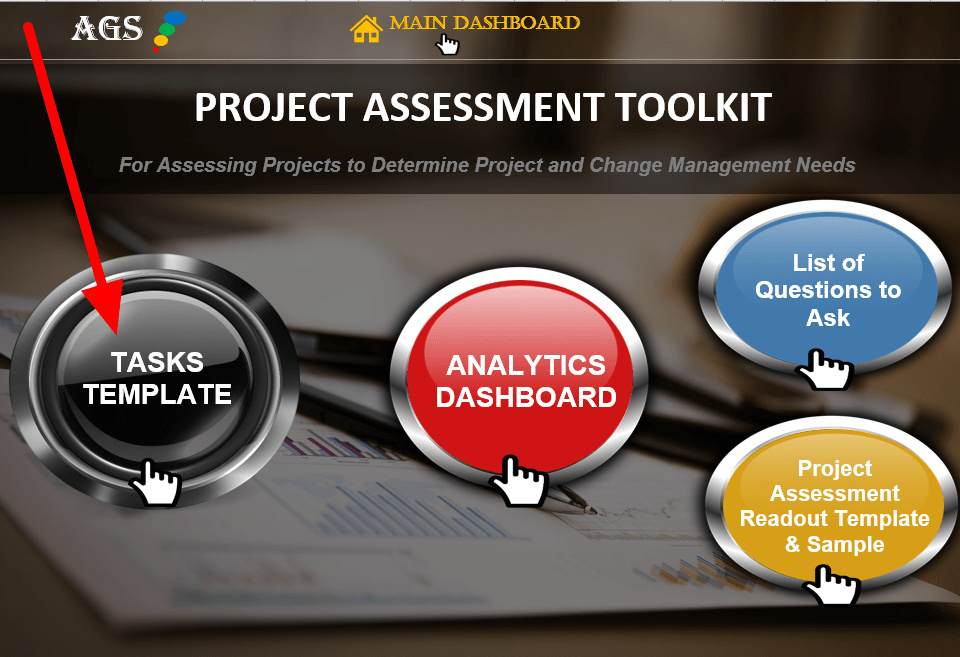 The Tasks Template includes a checklist of the materials you need to review for your program assessment, as well as who you need to interview or speak with to gather the information you need.
This process involves working with Program Managers, Project Leads, sponsors and other project team members to understand the scope, scale, objectives, and components of the program.
When conducting your project assessment it is essential that you use a structured process, including a defined template for conducting and documenting your findings, as well as a reporting document to share your findings with key members of the program.
---
List of Questions – Gathering the Needed Information
When meeting with the primary sponsor(s), project resources, and other key stakeholders, there are key sets of pre-determined questions that will guide you in asking the pertinent questions needed to understand the type of change, the size of the change, what is changing, and other critical project scope questions.
The Program Assessment Toolkit includes a full list of questions that you can leverage when meeting with key stakeholders, project sponsors, and other program resources.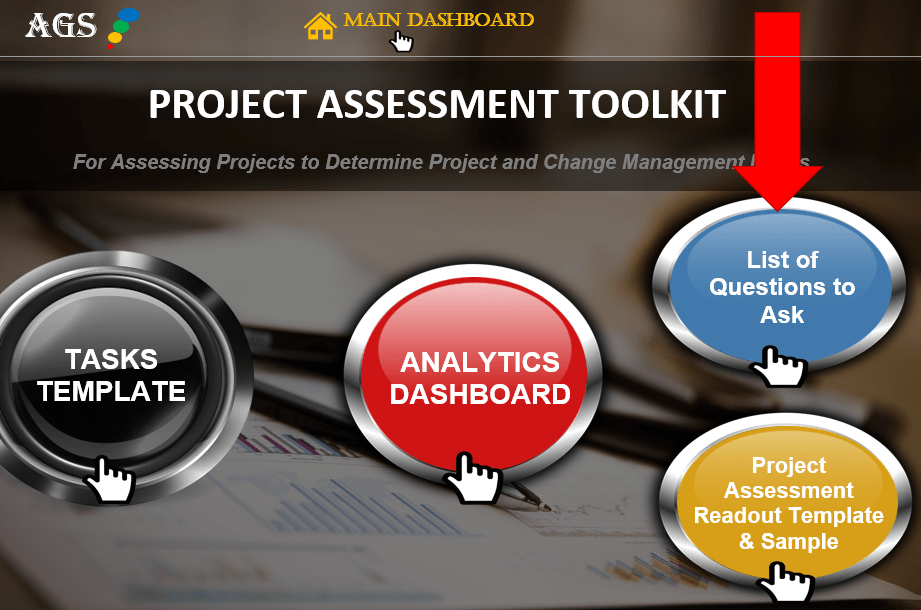 ---
Real-Time Dashboard
Airiodion Global Services' Program Assessment Toolkit comes with an automated dashboard for monitoring and reporting your progress.  The dashboard is always up-to-date with the progress you are taking to complete the steps and tasks needed for your program assessment exercise.
Easily monitor completed, in-progress, and pending tasks; as well as tasks that are past due.
Instantly see how your tasks and team are progressing with the program assessment tasks.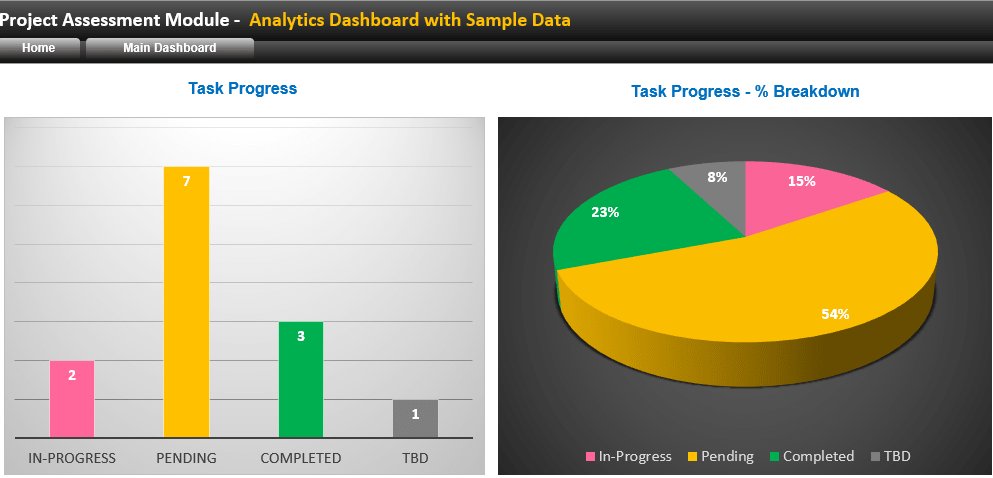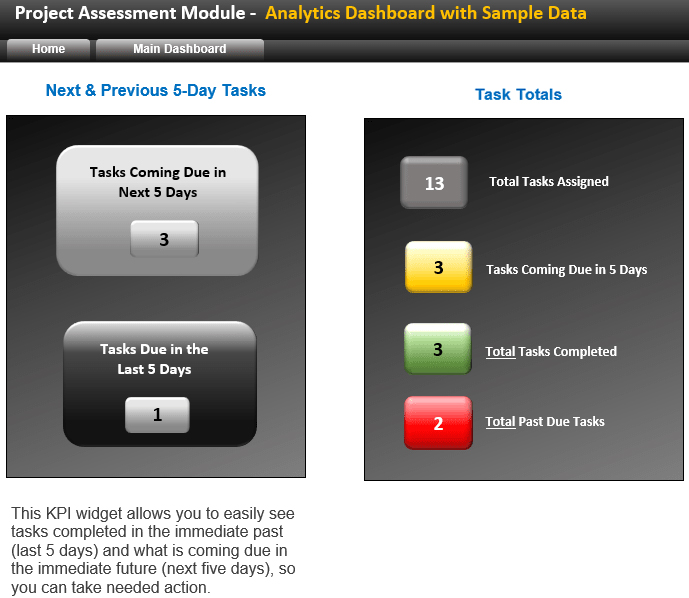 ---
Program Assessment Readout – Template and Sample
After completing your review of the project, the next step is to present your findings to key stakeholders. During this meeting you will want to educate them on how your findings will enable you to better develop the project or change management deliverables needed to support the project.
The Project Assessment Toolkit includes a PowerPoint Template and also a PDF sample for performing your project assessment readout.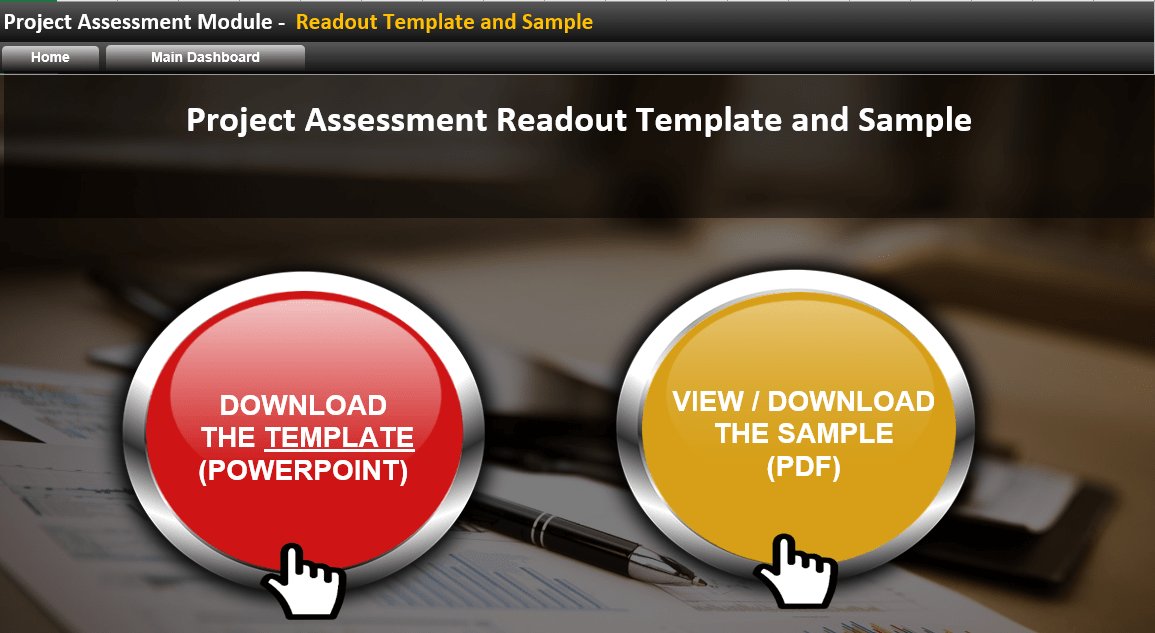 The simplified and succinct leadership reporting PowerPoint template can easily be populated with key pieces of information that can be presented when you meet with key stakeholders and other managers that will be impacted by the program.
---
Two Options for You to Choose from – Get Yours Today!
We decided to build this Toolkit using two options to increase its flexibility and usability. 
"We created two options to match everyone's needs."
Option 1: The 1st option is the Project Assessment

Toolkit

, which includes the templates, database, samples, list of questions, guide, and automated dashboard.
Option 2:  The 2nd option is the Project Assessment

Toolkit + Customization

.

With this option you get Option 1 plus a 90-Day Priority Support & Customization Service. This option is similar to an insurance policy in the event that you need customization done to your tool in the future to meet particular needs. A customization can include requesting additional enhancements, added features, additional pivot tables, more charts, additional reporting analytics, etc.
Click below to purchase the version that best meets your needs.
---
---
Authors: Ogbe Airiodion (Senior Change Management Lead) and Francesca Crolley (AGS Lead Writer)
---
Content on Airiodion Global Services (AGS)'s Airiodion.com website is copyrighted. If you have questions, comments, or tips about this Airiodion Global Services content, please contact Airiodion Global Services (AGS) today.
---
RELATED AIRIODION GLOBAL SERVICES (AGS) STORIES & VIDEOS:
---
---
►► Change Management Tasks for All Change Managers | (Step-by-Step)
---
---
---
---
---
---
External sources: https://pixabay.com/photos/business-colleagues-communication-3605367/