BUSINESS CHANGE READINESS GUIDE

---
Best Guide for Readiness Assessments & Getting Organizations Prepared for a Change
A change readiness assessment helps you gauge how ready your organization is for a change. It looks at things like awareness, receptiveness, and capacity as it relates to an upcoming business transition. A change readiness analysis is a critical component of change management. It increases the success of the business change by providing guidance on what needs to be done to ready impacted organizations for the project.
This guide is designed for Organizational Change Management Practitioners, HR, Project & Program Leads, Business Readiness Consultants, Organizational Readiness Analysts, and other practitioners for conducting the most effective readiness assessments for a business change.
We've also included steps for getting the impacted organizations ready to successfully transition through the change. 
"As a Senior Change Consultant, I have implemented global transformations that have impacted over 100,000 users across Intel, Apple, Cisco, Capital One, the Federal Reserve Bank, Accenture, HSBC, and Deloitte. Something I have discovered is that applying the business readiness best practices described below increases the success of a business change by an additional 78% on average."
Ogbe Airiodion
Senior Change Management Consultant
---
This free guide provides you with a step-by-step overview of best business change readiness assessment practices.
Change management, as well as business readiness analysis practices, are fast-paced and ever-changing fields. It can sometimes be frustrating to get through a project if you're relying on outdated organizational change readiness assessment templates and frameworks that no longer work, are "offline only," or are cumbersome to use.
That's why it's crucial for you to stay well-informed on the most updated tools and best practices. To support you and other change practitioners and project leads in their business readiness assessment activities, this guide also references AGS's best-in-class #1 Change Readiness Assessment Toolkit with Templates and Sample Data that you can leverage to enhance your change management readiness assessment performance and save time.
---
Illustration: AGS 360° Change Readiness Template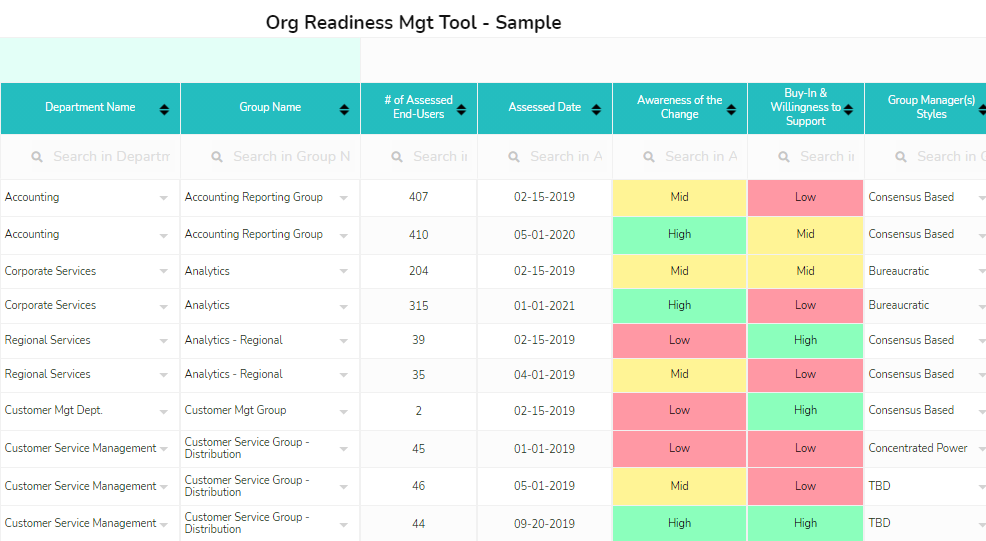 ---
First, What is a Change Readiness Assessment?
An organizational change readiness assessment is the set of tasks that you complete to identify how prepared an organization is for a particular change. The level of change readiness that is assessed will be based on the scale of the change itself, as well as the severity of the impacts.
In a readiness assessment, several factors are reviewed to get an understanding of how prepared the impacted organizational groups are for the upcoming change project. A few of the items that groups are assessed for include:
Awareness of the change

Support for the change

Knowledge & proficiency level with the new process/tool

Level of documentation (guides, handbooks, etc.) needed

Capacity for the activities needed to make the change successfully
When a business goes through change, the impacted audience groups need to be prepared and ready for that change. A large change with severe impacts will involve a more comprehensive business change readiness assessment and more work to prepare the groups than a change with minor impacts.
Do the impacted employees and departments know about the change? Do they support the change? How much training will they need on the new processes and procedures?
These are just a few of the important data points you'll be gathering during a change readiness assessment. If you're using the AGS 360° Readiness Assessment Toolkit you'll be able to leverage a change readiness survey you can use to gather this important information.
---
Illustration: AGS 360° Organizational Readiness for Change Survey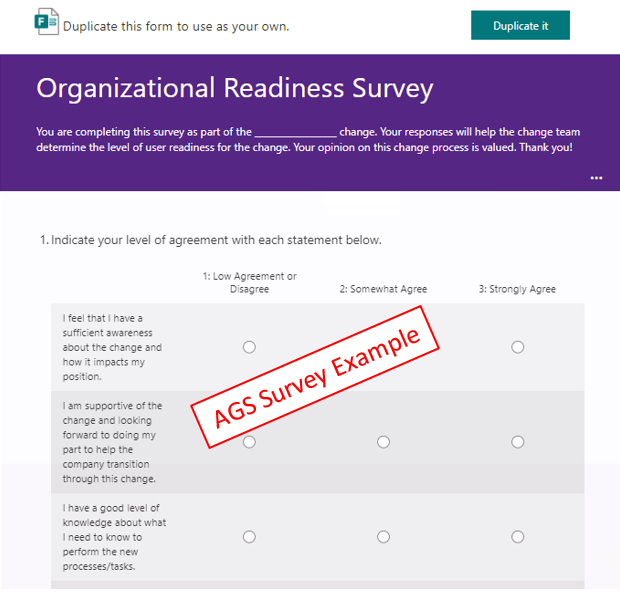 Example of some AGS 360° change readiness survey questions.
---
How Do You Improve Readiness for Change?
Every group has its own unique characteristics that make the change either easy or challenging to implement for that organization.
When conducting your business transformation readiness assessment (outlined in the sections below), it is important that you understand these unique organizational attributes, so that you can effectively conduct the best readiness assessments that will help prepare each impacted organization for the change.
What could some of those unique attributes be? It could be whether or not the organization has any past experience with change management. If not, then more awareness efforts may need to be made to get the staff ready for the change process. 
Another unique organizational attribute that could impact change readiness could be whether or not a department has "change fatigue" from going through too much change in the past. In this case, the project team may need to adjust their approach for this specific group.
You improve organizational change readiness by understanding what barriers there may be to the change implementation and addressing them. For example, if you learn that some departments don't know much about how the upcoming change will impact them, you can schedule a workshop to explain the process, thus improving the readiness of those departments.
Doing a detailed organizational readiness assessment is how you know what readiness items you need to address for each assessed group.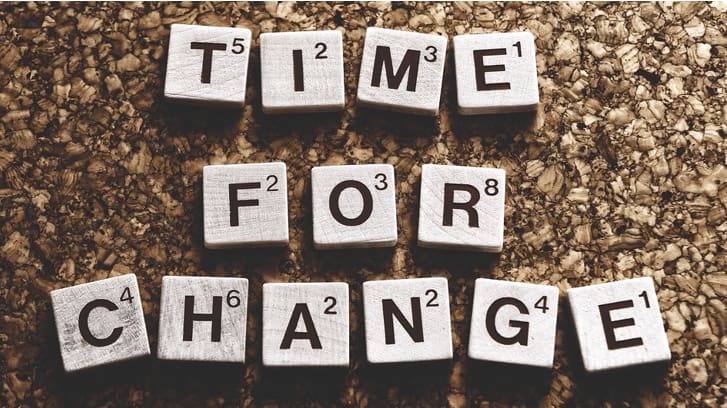 Readiness Assessment for a Change 
The findings from your business transformation change readiness assessment will allow you to better plan your change management activities, including communications, engagement, and any needed training that need to be delivered.
A group that is already resistant to a change or a group that feels overwhelmed with too much change will require a lot more change management support than a group that is very receptive to change, which is one important reason for conducting a readiness analysis.
---
What Do You Assess When Conducting Your Change Readiness? (How to Conduct a Readiness Assessment)
What are the best ways for conducting an effective readiness assessment that will increase your success?
Based on industry best practices and decades of change management experience, when conducting a readiness assessment you should analyze and document the factors listed below.
This list is discussed in further detail in the sections below.
List of Change Readiness Factors to Assess:
Group culture

Capacity for change (how much change is already taking place or has just taken place within the group)

Managerial styles of managers within the group

Future state knowledge, skill set, and proficiency of group members

Positive or negative effects of previous projects or changes

The group's awareness and willingness to support the change

The group's documentation readiness for the transition (how much effort will be needed to update job aids, procedures, policies, etc.)
One of the most efficient ways of assessing group readiness for a change is by sending out a change readiness survey. Using a detailed organizational change readiness assessment questionnaire allows you to gather all the standard information as well as any details unique to your organization that can help you assess how ready groups are for the change (more details on surveys below).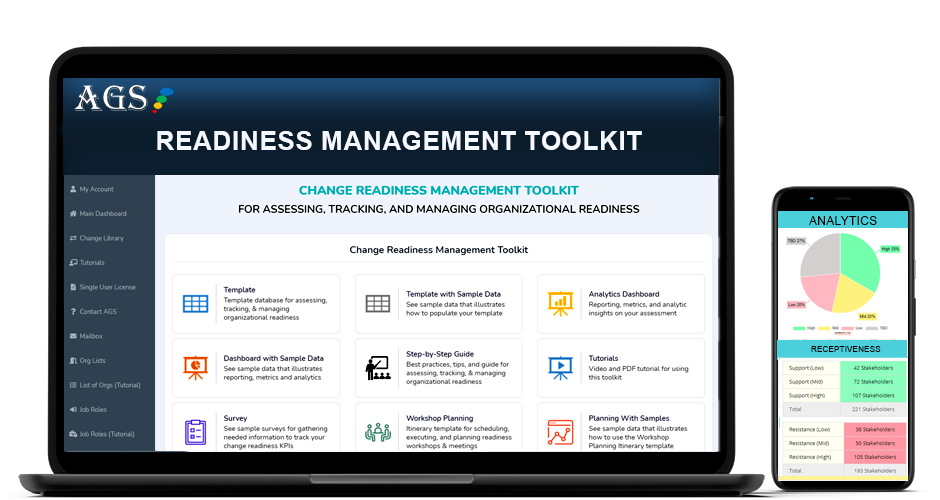 AGS Business Readiness for Change Assessment Template
---
DETAILED REVIEW OF EACH READINESS CRITERIA TO BE ASSESSED
---
This section provides you with a detailed overview of each change readiness criteria listed above. If you're just looking for the steps to take, you can skip directly to the Step-By-Step Process for Conducting the Best Readiness Assessments.
Criteria 1: A Group's Culture
A group's culture comprises the values, behaviors, and cumulative traits of the group. Some groups work together in a collaborative team-based manner, with employee participation on all levels, and they often cite collaboration as a key part of how they function. Such a group is known as having a collaborative culture. That's their identity.
Other groups have a winner-takes-all culture and value, where collaboration is the exception, and individualism is the norm. Such a group is known to have a cut-throat culture.
Types of Group Culture

Factors that contribute to a group's culture and value system include the group's vision, norms, assumptions, beliefs, and leadership habits. By considering culture and value when conducting your change readiness assessment, you can better predict how a group will act to the transformation, and plan accordingly to deal with such reactions.
Document your findings related to group culture in your AGS Change Readiness Assessment Template.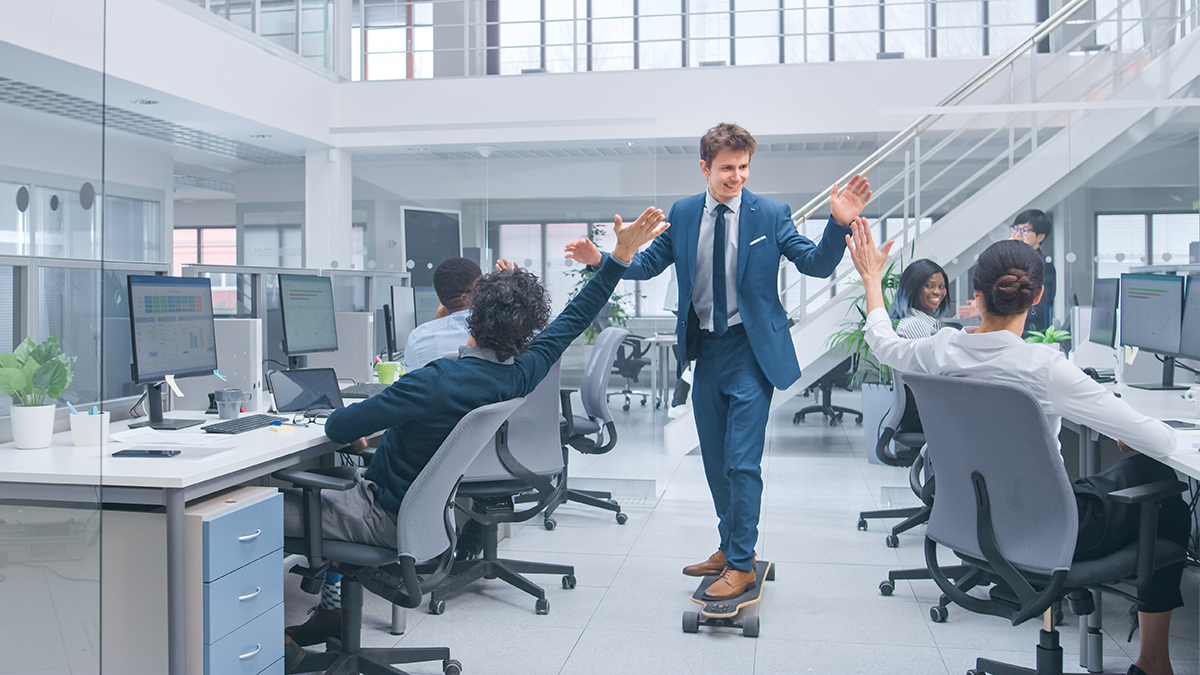 Criteria 2: Assess Each Group's Capacity for Change
At any point in time, a group might be undergoing a lot of change, not much change, or in a state of having "no change at all". Groups that have undergone a lot of recent change or that are already overwhelmed may be in danger of "change burnout" with an upcoming change.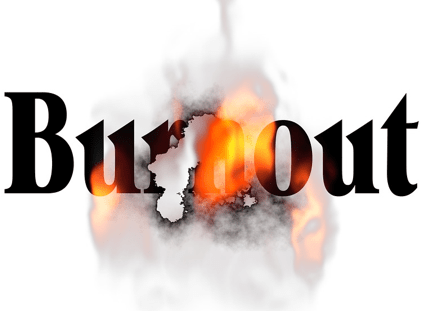 The state that a group is in will impact that group's receptiveness or resistance to the change that your program is implementing. As such, when conducting your group, leadership, and individual change readiness assessment, you need to assess each group's capacity for "one more change."
Criteria 3: Assess Managers' Styles
The leadership style observed within a group will play a key role in the group's readiness to change, including how that business unit rallies around the change.
If the group has key managers that are more vocal than others, and have concentrated power, then engaging all managers, but focusing on these key managers and getting their buy-in will increase the probability that the whole group will end up supporting the change.
If on the other hand, power is more evenly distributed across the group, then you'll want to adjust your engagement plans accordingly. As such, it is important that you take the time to conduct a managerial and leadership readiness assessment.
Illustration: AGS 360° Toolkit Change Readiness Survey & Template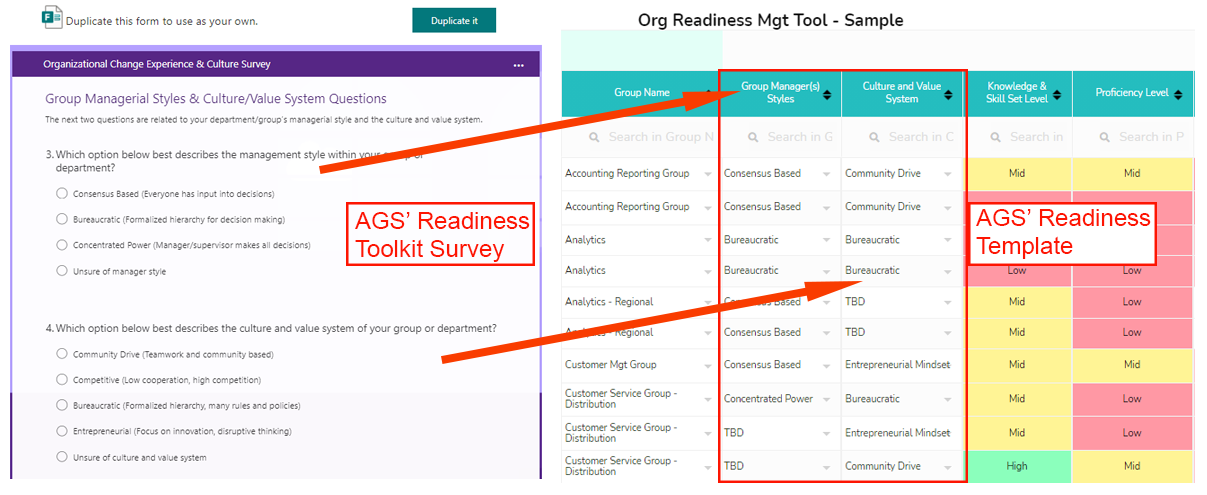 Example of AGS 360° organizational readiness for change survey for managerial style and group culture.
Criteria 4: Assess Positive or Negative Effects of Previous Change
The effects of previous transformations, projects, and changes will also have an impact on a group's readiness for a business change.
A group that has prior negative experience with changes will be less receptive to this new change, and a group with a positive change history will be more receptive to, and more ready for the change.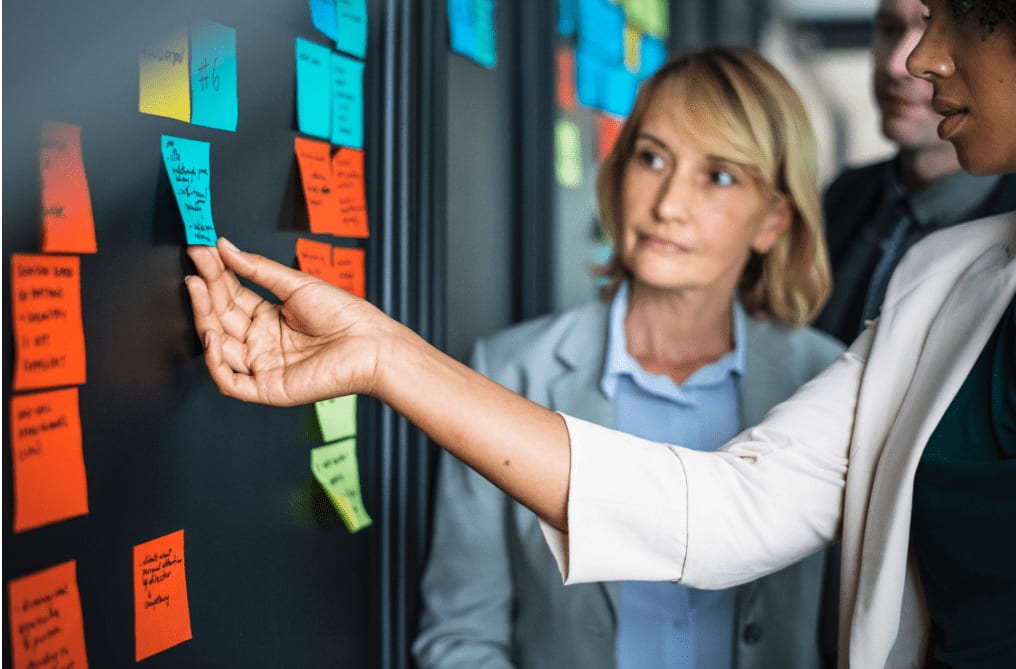 As part of your organizational, leadership, or ADKAR readiness assessment, make sure to assess the effects of previous changes. For those groups that are less receptive to the change, you will need to utilize more change management engagement to get them on board. For example, frequent meetings with the group to educate them on the benefits of the change as well as what's in it for them (WIIFM).
Criteria 5: Assess Awareness and Willingness to Support the Change
Over the last decades, ongoing change management studies have shown that a lack of awareness is the number one reason why end-users including employees, managers, leaders, and external users resist a change.
Having awareness, and an understanding of the driving factors behind a change (for example: why now, what are the risks of not changing, what are the benefits, and "how am I impacted by the change?") helps to increase the willingness of impacted and potentially impacted end-user to support the change, which subsequently helps to reduce resistance.
As such, a key component that you need to assess when conducting your organizational readiness assessment is the level of end-user awareness of the program/initiative/project and their willingness to support the change (stakeholder & end-user "buy-in"). Part of this process will involve assessing how ready and willing the managers within the groups are for the change.
Criteria 6: Analyze Knowledge Gaps
For an end-user to successfully transition from their current state ("As-Is") to the target future state ("To-Be"), they need to have the necessary knowledge and skills. The current state is how a person performs his or her job today using the existing systems, tools, processes, and procedures.
With a transformational change, one or more of these components (job role, system, skills, tool, process, policy, and procedure) will be changing. The company might be moving to a new system, new tools, changing its operational business process, expanding to new locations or new products, transforming its existing job procedures, etc.
The people that will be impacted by this change, and who need to change how they do some or all of their daily job functions will need to be educated, trained with the right skill set, and given the opportunity to practice their new knowledge to develop proficiency.
To increase how ready each organization is for the transition, you need to also assess the current versus the future state knowledge and proficiency for each group. This is known as the knowledge and proficiency gap. The wider the gap, the more training, education, and end-user practicing needs to be performed.
Criteria 7: Analyze Documentation Gaps
The level of effort needed to update a group's documents (job aids, procedures, policies, process flows, and other operational documentation), as well as the level of training needed to educate a group's employees on the updated and new documents will factor into each group's readiness for the change.
If a group has an extensive number of documents that need to be updated or created from scratch, then from a documentation perspective, that group's organizational readiness score will be lower than another group that does not have as many documents that need updating.
As part of your organizational readiness assessment, you should spend some time identifying the number of existing documents that need to be updated or created from scratch, and this needs to be done for each impacted end-user group.    
Document all your findings here: AGS Change Readiness Assessment Template.
---
STEP-BY-STEP PROCESS FOR CONDUCTING YOUR CHANGE READINESS REVIEWS
---
A lack of awareness about a change and a lack of desire to support a change are the top two factors why people resist a change, and why changes fail to achieve their objectives.
As such, the first stage in the business readiness assessment process will be to gauge leadership, manager, and employees' awareness of the change, and their willingness to support the business change.
Depending on the scope of your initiative, that audience may also include customers, vendors, suppliers, and other 3rd parties. 
---
Stage 1: Assess Awareness and Stakeholder Buy-In
► Send out change readiness survey questionnaires to impacted internal users (employees and managers), external users, or to your targeted audience to assess awareness and willingness to support the change.
You can save time by using a tool like the AGS 360° Readiness Assessment Toolkit because it already has two change readiness surveys included and set up to capture the details you need.

The organizational readiness for change survey options you'll find include editable copies in MS Word and MS Forms (cloud survey tool).

Edit these surveys to fit your needs and leverage the existing questions about change readiness to save time.
Illustration: AGS 360° Change Readiness Survey Questions & Responses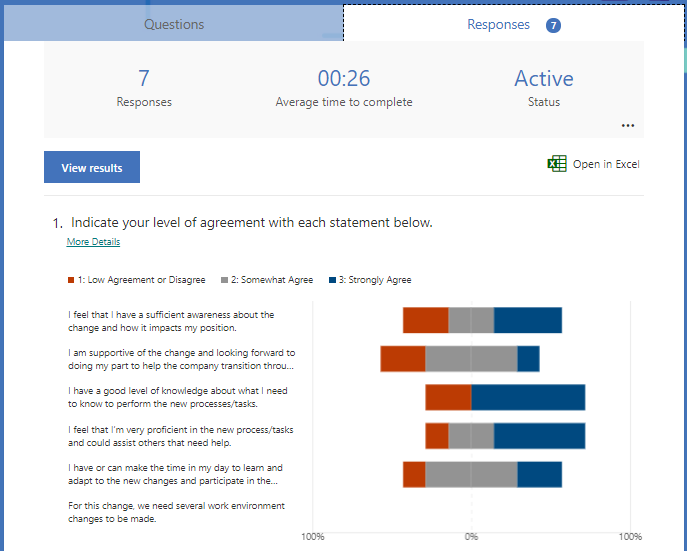 AGS makes its change readiness survey questions available in Microsoft Forms, which allows real-time data capture. Your results are also already collated for you, saving you tons of time!
► Conduct 1-on-1 meetings or group meetings with managers and employees.
As part of your meetings, you can directly ask people how aware they are of the change, how willing they are to support the change, how much knowledge they have of the future state, etc.

As an alternative, or in addition, you can email them the change readiness questionnaires or a link to the online change readiness surveys, and have them send you their responses.
► Interview project managers, program leads, key managers, stakeholders, change agents, SMEs, and other identified resources who can provide insights into an organization's culture and readiness for change.
While conducting your readiness analysis, it is essential that you use a change readiness assessment template. Preferably, the change readiness matrix you use should also come with a dashboard that allows you to easily glean insights and trends from your assessment.
You can use AGS' #1 Ranked Change Readiness Assessment Tool, AGS Cloud to help. This tool is an online change manager that is designed to help you plan, manage, and execute a successful change project. It includes real-time analytics and readiness assessment samples, as well as simplified templates for gathering your organizational change readiness information.
AGS offers a hybrid experience so you can work the way you like. Work completely in the cloud (no software to install) or export your template to Excel and work offline in your spreadsheet program of choice. When ready, you can upload your template back into the cloud interface to get instant and helpful analytics reporting.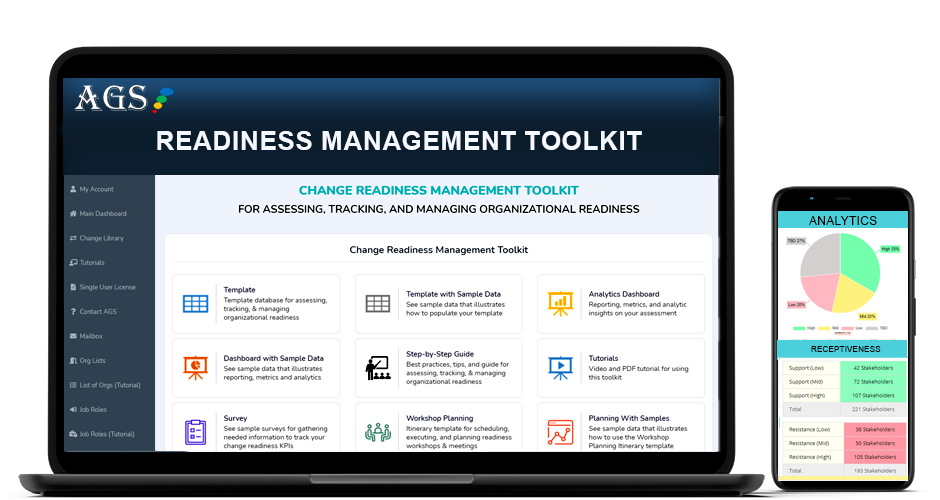 Change Readiness Assessment & Management Tool
► Next, you should analyze your data, as well as the feedback you are gathering. Assess this information for trends, change readiness progression, and pockets of resistance.
► Use your readiness assessment findings to develop your change management strategy. In a situation where a lot of the impacted groups are not ready for the change, your change strategy (including your communications, engagement, resistance management, coaching, and training) will need to be very comprehensive.
Documenting Your Findings Using Your AGS Change Readiness Template
Using the first four columns on your AGS Readiness Assessment Template, you can easily capture the targeted audience information including the names of the assessed Divisions, Departments, and Groups and how many users are included.
Illustration: AGS 360° Organizational Change Readiness Template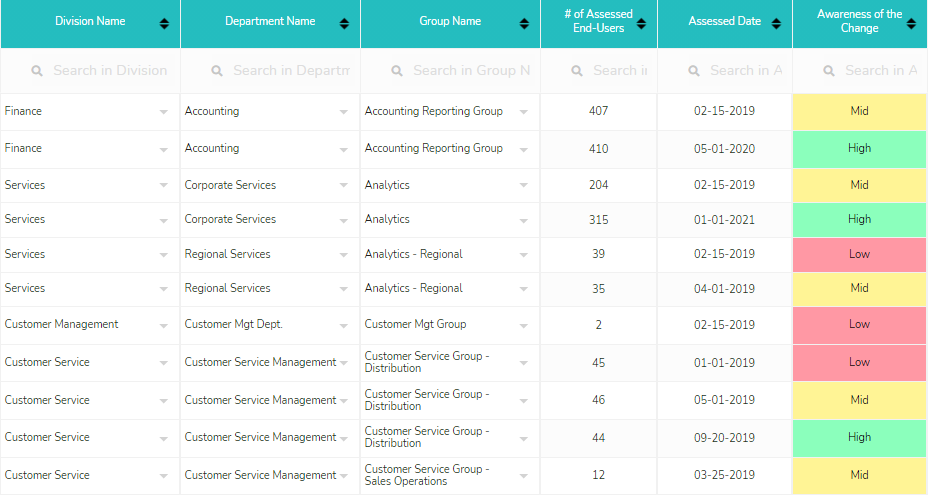 As part of your organizational readiness assessment, you also want to track the "readiness progress" of each group over time to see whether there is improvement or deterioration in their readiness for the change. The figures below provide illustrative samples.
Save time tracking these important KPIs with a simple snapshot of each group's assessment date and how their data points (awareness, buy-in, proficiency, etc.) changed during subsequent assessments.
Illustration: AGS 360° Change Readiness Template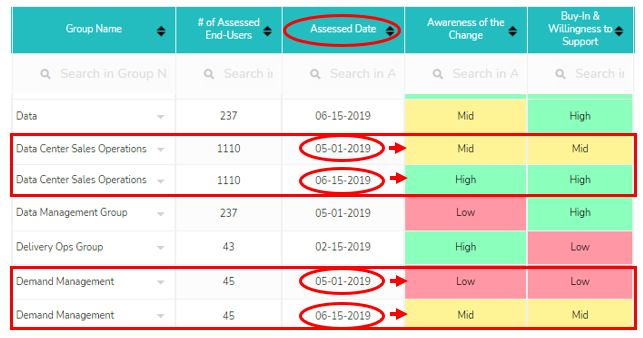 Screenshot from AGS Readiness Assessment Template. In this example, the Data Center Sales Operations group improved awareness and support from a "Mid" to a "High" on the second assessment, and Demand Management improved scores from "Low" to "Mid."
Knowledge, Skill Sets and Proficiency
For a change to be successful, impacted individuals need to learn how to use the target state processes and tools. As such, your readiness assessment should include assessing how impacted users are progressing with their transition.
Document your findings on the Knowledge, Skills, and Proficiency Levels' fields on your AGS Readiness Assessment Matrix (see example below).
Past Change Experiences
A group could have had both negative and also positive experiences with previous change programs. The level of negative and/or positive experience can greatly impact the group's receptiveness or resistance to the change. As such, it is essential that you assess a group's historical experience with changes.
Illustration: AGS 360° Toolkit for Assessing Business Change Readiness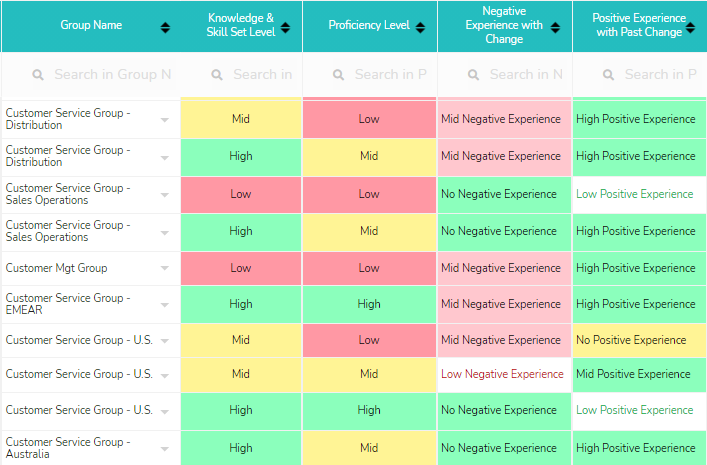 Org Readiness Assessment Toolkit
---
Itinerary & Readiness Assessment Workshops' Planning
---
Stage 2: Conduct Readiness Assessment Workshops & Meetings
In a lot of cases, you might be faced with a large scale change that has global or nationwide impacts.
In this case, it might be necessary that you host workshops and meetings for different geographic locations to conduct your business readiness analysis. They may be done in person or you and your team can also conduct these meetings via webinars using Zoom, Microsoft Teams, Cisco Webex, Jabber, etc.
The best ways to engage with people, and get the answers you need is via in-person or virtual workshops. This allows you to efficiently engage with end-users across different geographical locations, and across the organization to assess their readiness for change.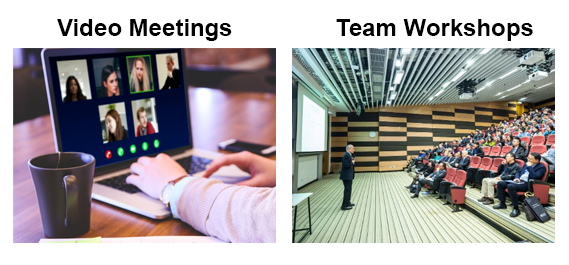 Each workshop/meeting should be broken into different sessions (each session can be 30 mins to 2 hours in duration). The sessions should include the agenda items below:
► Change Impacts Review
Impacted groups want to know how they will be impacted by a change that they need to get ready for. And so you will need to conduct a "Walk-the-Flow" or "Walk-the-Wall" review, where you or a subject matter expert provides an overview of the impacts and the change delta (the difference between the current state and the future state process flows).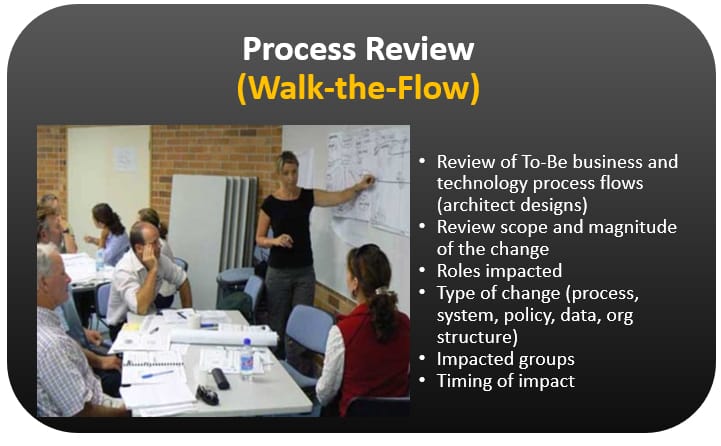 Additional key factors to discuss during your readiness assessment meetings:
The scope and magnitude of the change

Impacted roles

Impacted locations

Type of change (process, system, policy, data, and org structure)

Impacted groups

Timing of impacts
► Discuss Org Readiness Gaps
As part of meeting with impacted groups to gauge business readiness, you should spend some time asking questions to identify skill set, knowledge, and documentation gaps:
Understand what people currently know versus what they need to know in the future. This is known as a knowledge gap assessment

Identify each group's documentation (i.e. job aides, business procedures, policies, etc.) that need to be updated

Discuss each group's preferences for training, communications, and other change management delivery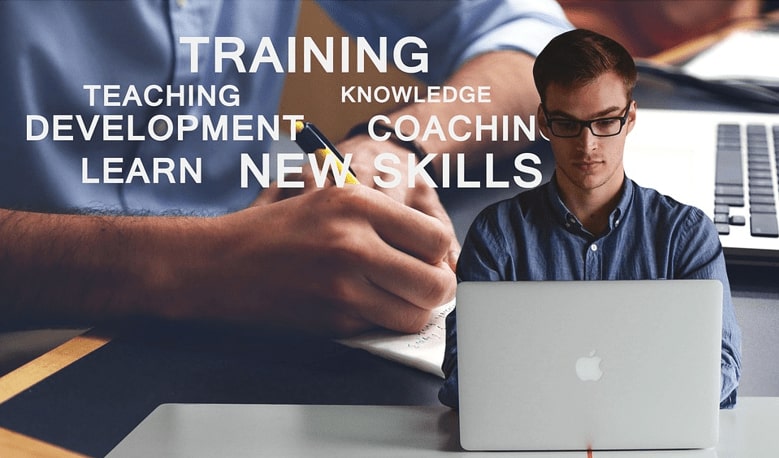 ► Assess Leadership & Employee Readiness Criteria
When meeting with these impacted groups, ask them about their culture and styles. Most managers will be glad to tell you about their group's culture. Your questions should be focused on:
Culture of the group

Capacity for change

Group manager(s) styles

Positive or negative effects of previous projects or changes
The AGS Cloud Readiness Assessment Tool includes multiple aides designed to help those new to change management ramp up the learning curve with expert guidance as well as give seasoned change managers tools that are truly time-saving.
It includes aids, such as:
Discussion topics

Step-by-step cheat sheet to help you drive meetings with impacted groups

A Readiness Assessment Meeting Planning Page With Samples

Surveys for collecting important readiness metrics

Real-time analytics & reports to reference and share
Illustration: AGS 360° Readiness Toolkit's Workshop Planning Itinerary

---
Use your AGS change readiness assessment template and tool for capturing all aspects of your readiness assessment and planning. Also, leverage the tool's analysis dashboard.
The Analytics dashboard is going to save you tons of time when it comes to analyzing and presenting your data. Instead of having to spend hours pouring over your inputted information and trying to chart it into comprehensive insights – AGS Cloud has done it all for you!
Illustration: AGS 360° Change Readiness Assessment Analytics Reports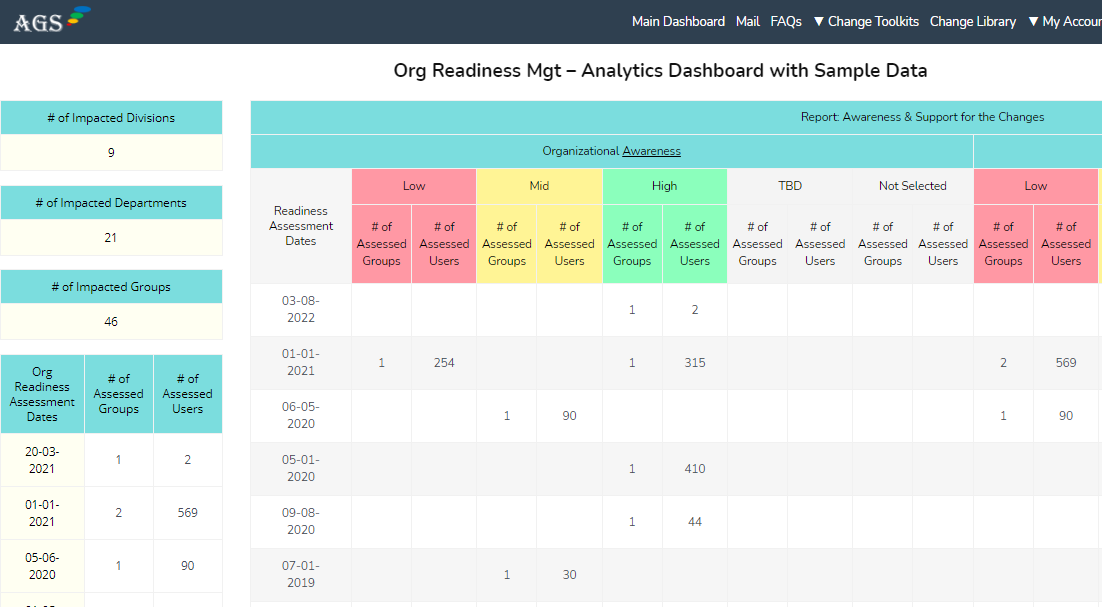 Click below to obtain a copy of the top-ranked Business Change Readiness Management Toolkit.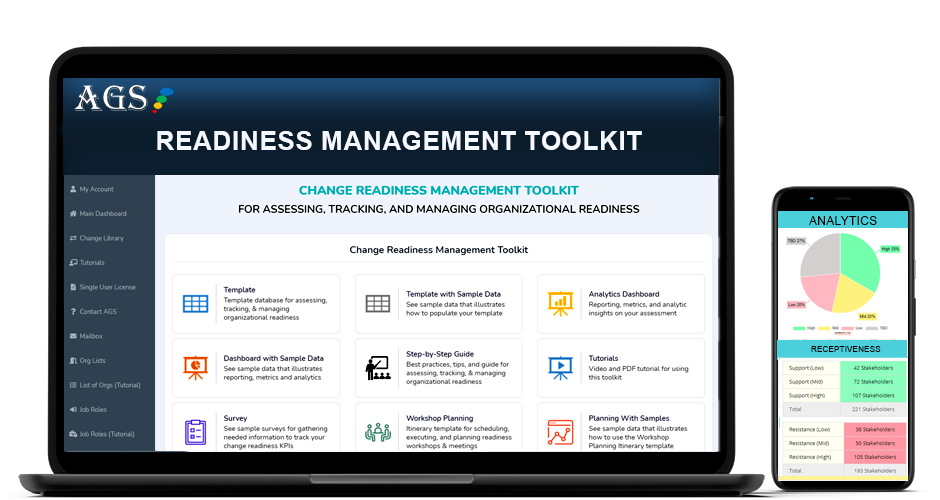 Change Readiness Assessment Template & Tool
---
What is a change readiness assessment?
A change readiness assessment is the process used to assess how ready and prepared a group is for a change. When a business, government, or group goes through change, the impacted audience groups need to be prepared and ready for the change.
How to assess readiness for change?
How do you assess change readiness? The best process for assessing readiness for a change involves assessing each group's culture, capacity for change, knowledge gaps, positive or negative effects of previous changes, as well as assessing the impacted audience's awareness and willingness to support the change.
What is change readiness?
Change readiness is the process involved in getting an impacted audience ready for a business, social, government or organizational change.
What is readiness assessment?
Readiness assessment is the process of analyzing how ready impacted audience groups are for a particular change. Readiness assessment is critical to ensure that groups can be effectively prepared for a change./
---
Note:
Content on Airiodion Global Services (AGS)'s Airiodion.com website is copyrighted. If you have questions, comments, or tips about this Airiodion Global Services content or product, please contact Airiodion Global Services today.
---
Image source(s): https://pixabay.com/illustrations/burnout-depression-depressed-lonely-90345/, https://pixabay.com/photos/time-for-a-change-new-ways-letters-3842467/, https://pixabay.com/illustrations/laptop-notebook-man-businessman-1071781/, https://pixabay.com/illustrations/video-conference-skype-webinar-5162927/, https://www.pexels.com/photo/man-standing-in-front-of-people-sitting-on-red-chairs-1708936/, https://www.ls.graphics/free/free-pixel-4-and-pixelbook-go-mockup, https://stock.adobe.com