FREE ORGANIZATIONAL CHANGE MANAGEMENT ROADMAPS & PLANS

---
Free Change Management Roadmaps, Templates & Samples – Excel & PPT | Everything You Need
This guide provides you with a step-by-step overview, including everything you need to know about the best change management plans, roadmaps and project management roadmaps for 2021. It includes free samples and templates for you to use for your change management and project management programs. 
As Pioneers in best change practices, AGS strives to support change and project management communities across the globe with streamlined, easy-to-use, and industry-standard change tools and templates, including the change roadmaps on this page.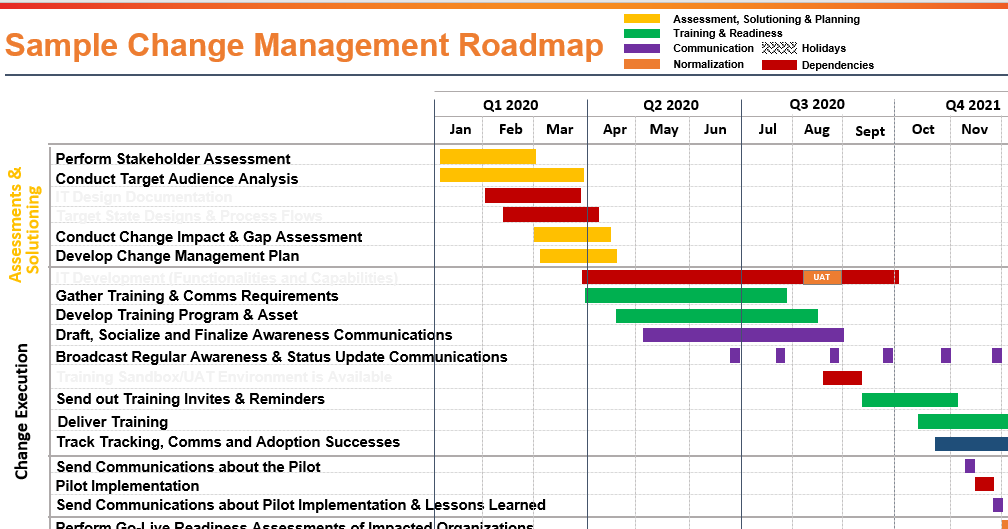 ---
First, What is a Change Management Roadmap?
A change management roadmap is a graphical, end-to-end overview of the change management deliverables and milestones that need to be delivered in support of a business change. A change management roadmap is presented on a timeline with a sequenced flow of the change deliverables.
Note: Oftentimes, change managers refer to change roadmaps as change plans.
Examples of questions being asked by our change management and project management readers have included questions like: Where can I find a change management roadmap sample? What is the purpose and benefit of a change management roadmap? And, what is included in the change roadmap?
These are all great questions. Keep on reading to find out answers to the most frequently asked organizational change management roadmap questions.
We've included downloadable PowerPoint change management roadmap examples (ppt), that you can download, and use for your change management needs. We've also included an Excel change roadmap that you can also download and use.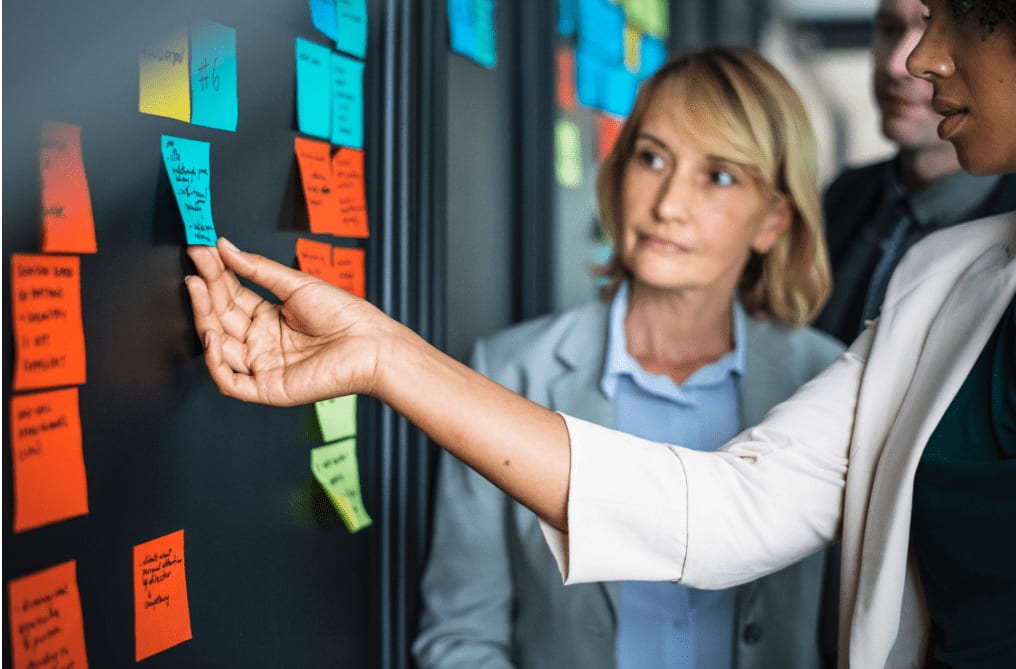 ---
Benefit of a Change Management Roadmap – Excel & PowerPoint
A key benefit of a change management plan roadmap is that you can use it to present a holistic view of change management deliverables to senior leaders, project team members, project leads, sponsors and other key stakeholders.
Leaders, in particular, like to see a high-level view of what will be delivered, without all the extensive details. And, so using a high-level organizational change management roadmap plan enables you to better present and engage with senior executives.
Another benefit of a business change deliverables roadmap plan is that you and the change team can easily see what change management deliverables have been completed, which ones are pending, and which ones are pending. Being able to view these deliverables along a timeline helps a lot with visual memorization.
See Also:
---
Best Change Management Roadmap Examples & Samples
Outlined below are this year's top AGS best change management roadmaps that illustrate a timeline view against change deliverables. 
Below each roadmap sample is a link for you to get the change management roadmap (PPT) PowerPoint template for that particular roadmap plan.
Note: all the links lead to the same location. You only need to click on one of the links and you'll get all of the change plans outlined below.
---
Change Management Roadmap Example (PPT) – With 3 Swim lanes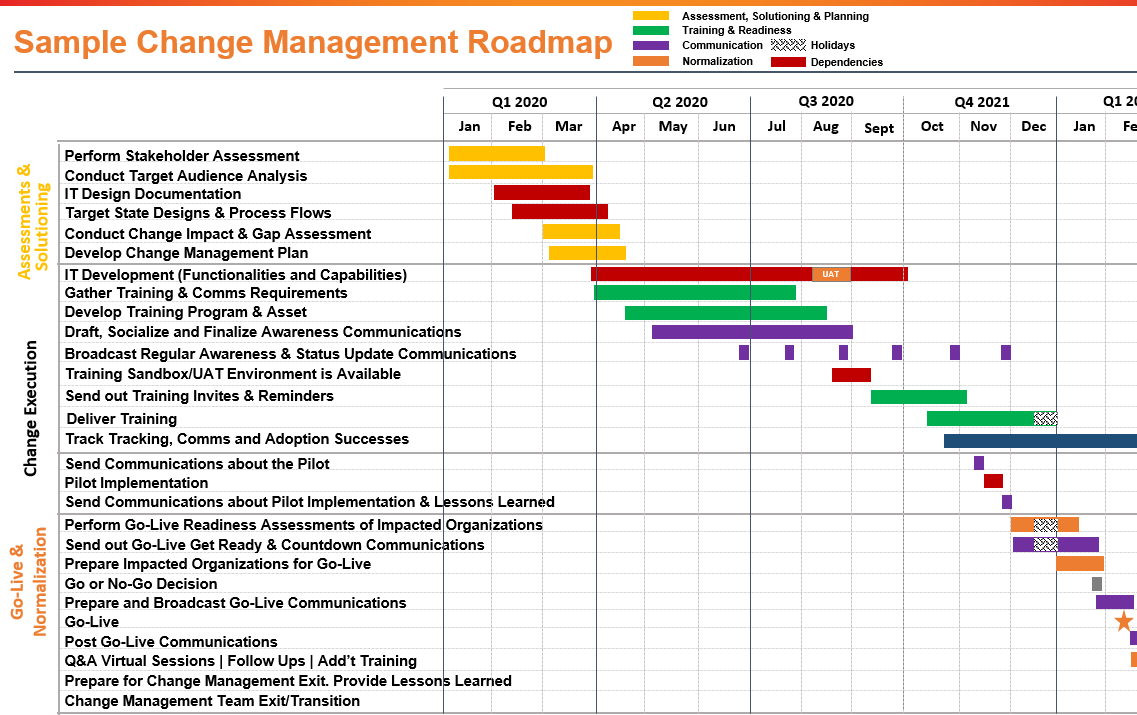 Click here to get this free Change Roadmap Sample & Template (PPT) and all the other change plans outlined on this page.
The organizational change management roadmap presented above is broken down into multiple swim lanes. The first swim lane that you will see when you open the roadmap template includes change management deliverables that are part of the Change Management Assessment Phase. This phase is the first phase of the change management process.
The second swim lane outlines change management execution deliverables. This includes deliverables like training, coaching, communications, change management tracking and stakeholder engagement.
The 3rd swim lane on the change management roadmap deck outlines pre-Go-Live, Go-Live and post Go-Live change deliverables.
Don't Miss:
---
End-to-End OCM Roadmaps vs. 12-16 Weeks Excel Roadmaps
You need an end-to-end OCM roadmap (presented above) that outlines all your change management deliverables that will be delivered during the life cycle of the project. But you should also get a 12-16 weeks Excel change management plan.
The end-to-end change roadmap discussed above generally includes the milestones, as well as the scheduled timeline for your change management assessments (impact assessments, readiness assessments, stakeholder analysis, etc.) and your communications, engagement, training, coaching, Go-Live activities, and post Go-Live change sustenance activities.
However, communicating or engaging with stakeholders and impacted employees too far in advance will often cause people to tune you out. On the other hand, communicating or engaging too close to Go-Live will often increase resistance to the change.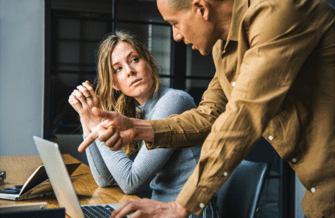 Stakeholders and end-users generally react negatively when you wait too long to engage them: "Why are we just finding out about this change, now?!!!" "There is not enough time for us to prepare or update our processes and job aids!" "You mean my team has to change their favorite tool/software in 4 weeks time!! Forget about it. Not going to happen.". 
So, there has to be a balance as to when you communicate and engage with certain groups.
The standard practice is to communicate and engage with most end-users starting 12-16 weeks before Go-Live. See the change management roadmap (Excel) below for a downloadable copy of the Excel version.
Free 12-16 Weeks Holistic Change Roadmap Sample/Template
Below is a free holistic change plan in Excel that presents the change management tasks and activities that can be implemented within 12-16 weeks before Go-Live. You can leverage this free change plan template for implementing change within your organization.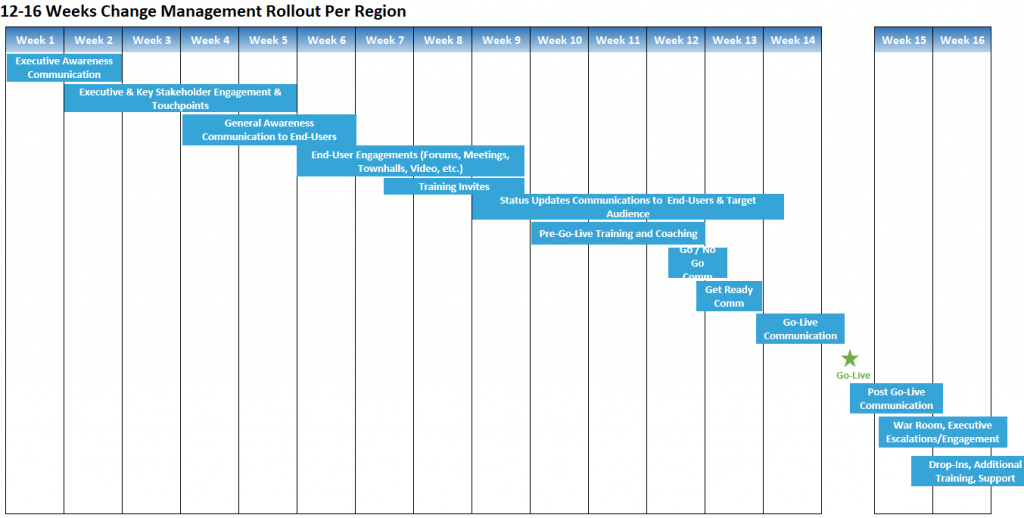 Click on the image to enlarge
Click below to get the Excel change plan document PLUS all the other plans outlined on this page
OCM Roadmap Change Management Template – 12-16 Weeks Timeline.
---
Don't Miss:
Change Impact Assessment – Everything You Need to Know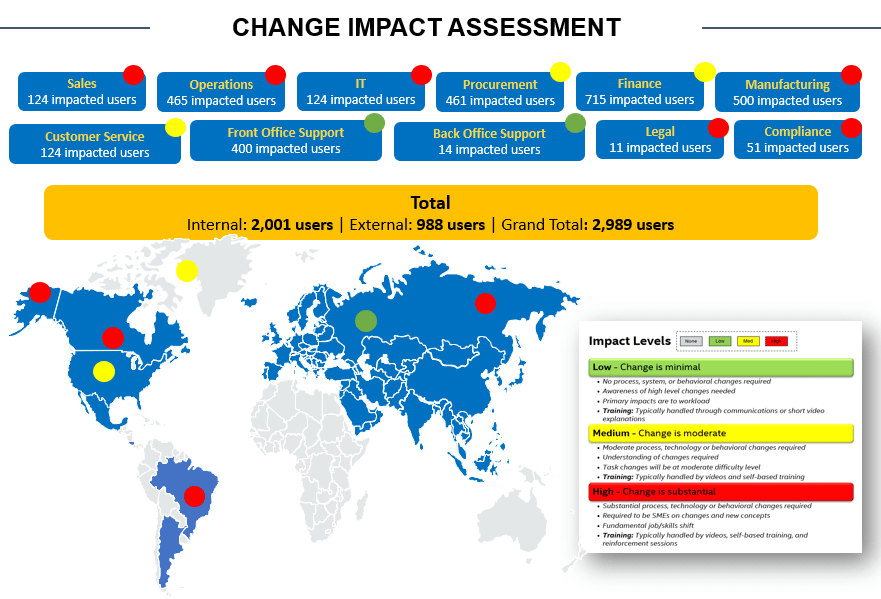 ---
Additional Free Change Management Plan Roadmaps – Excel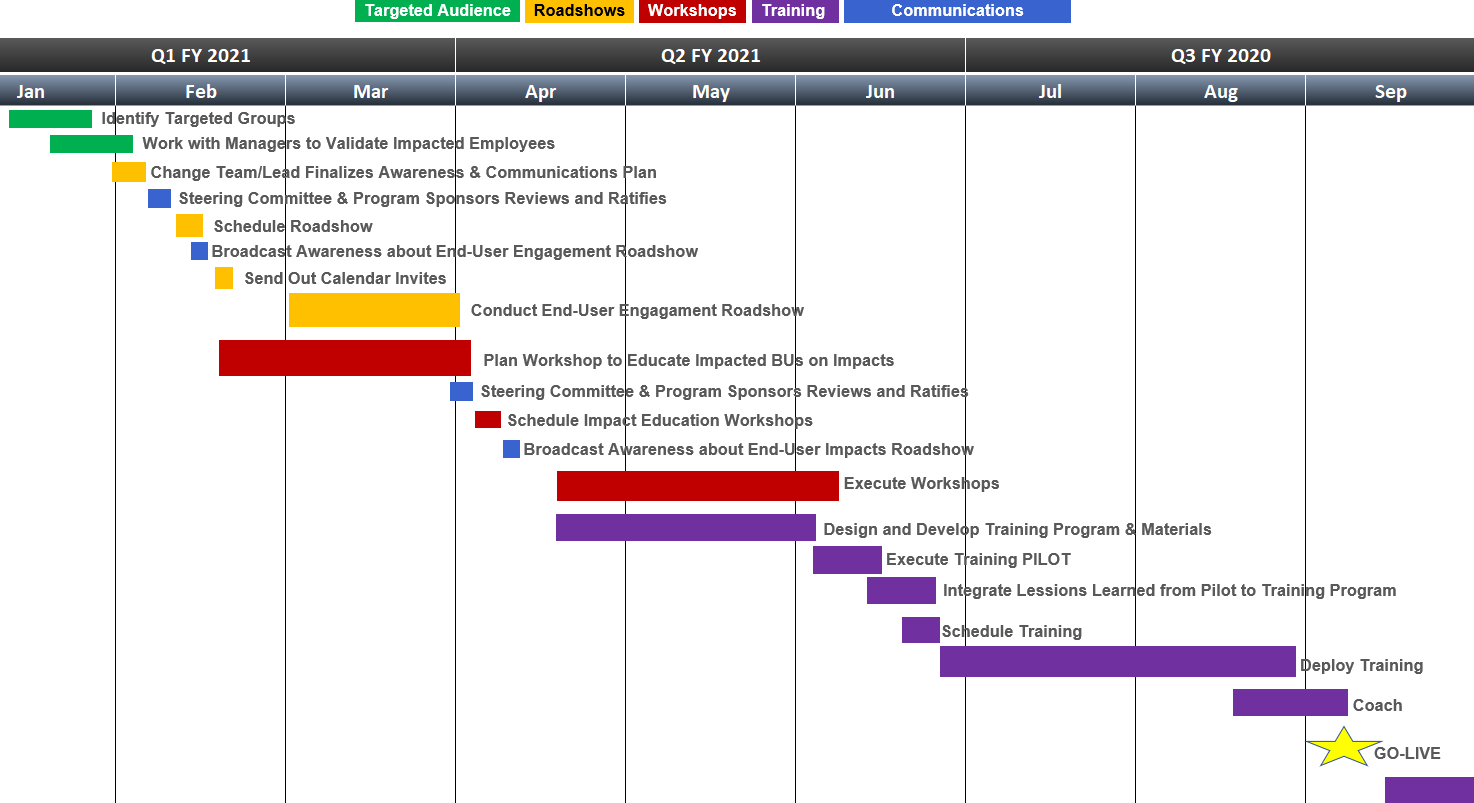 Click on the image to enlarge
Click below to download the Excel source template outlined above:
E2E Free Organizational Change Roadmap Template – Excel Sample
---
Free Change Roadmap & Holistic PowerPoint Change Plan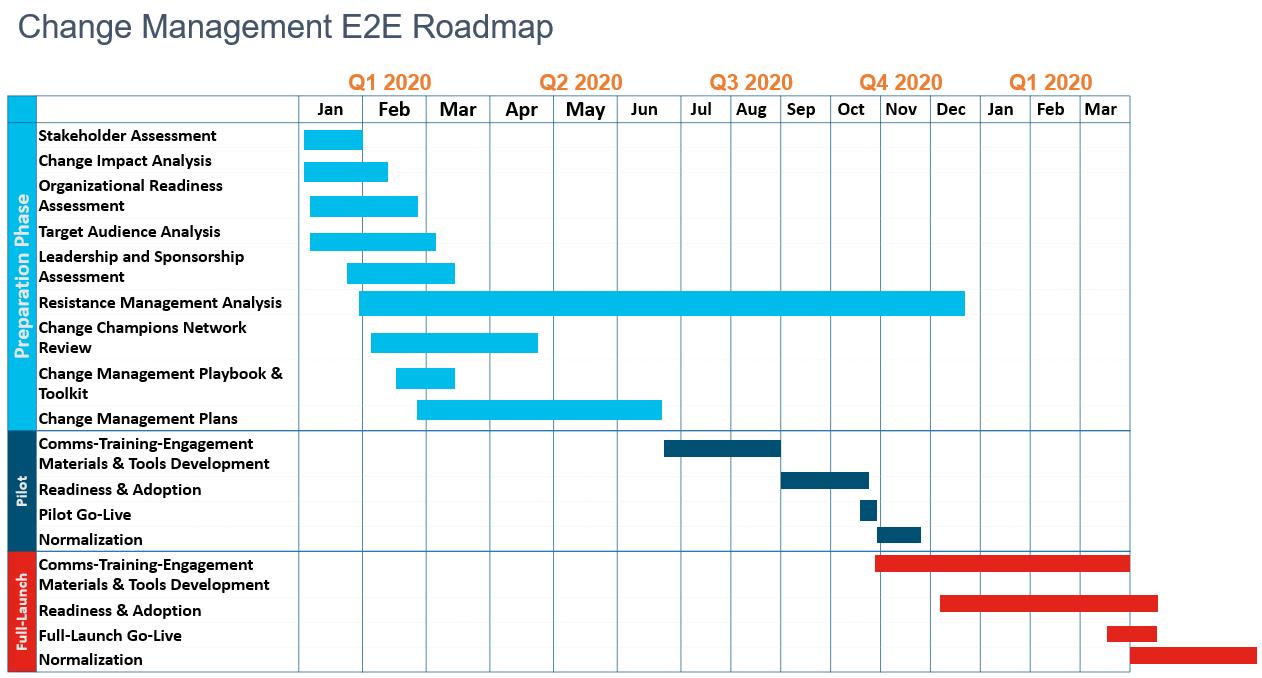 E2E Change Management Roadmap Template (PDF & PPT)
---
Don't Miss:
Organizational Change Readiness Assessment – All You Need to Know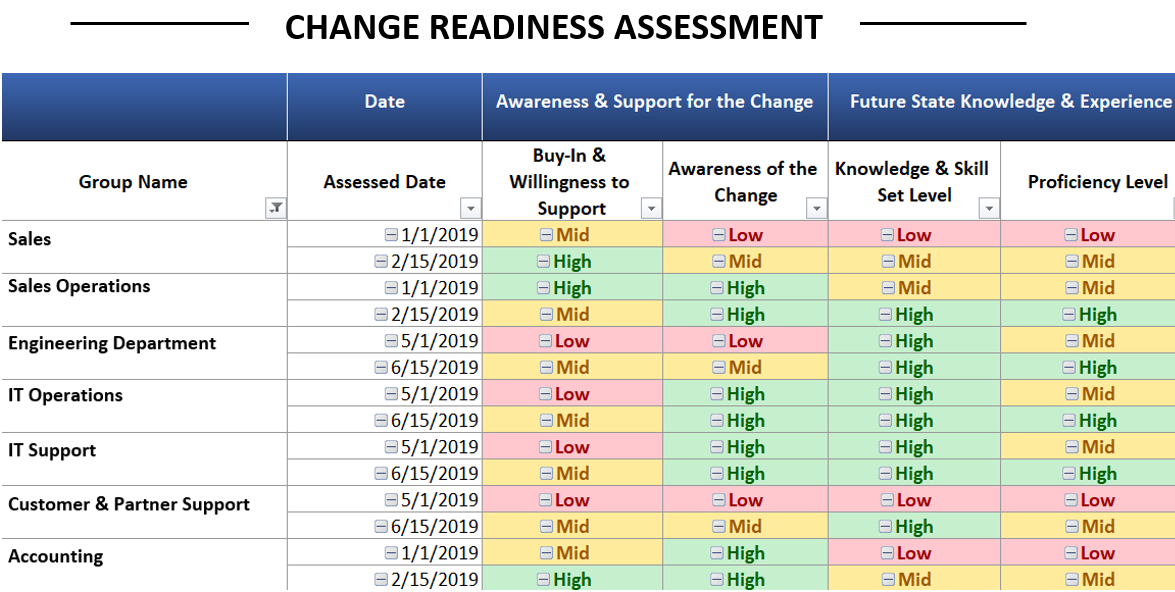 ---
---
The Three Phases of Organizational Change Management
Implementing a transformation change generally involves a three-phase approach, and each phase includes multiple change deliverables and milestones that need to be planned for and executed.
In addition to the change management roadmaps, samples and templates presented above, below is a sample holistic change roadmap that presents the three phases (and associated deliverables) which you can leverage for implementing change within your organization.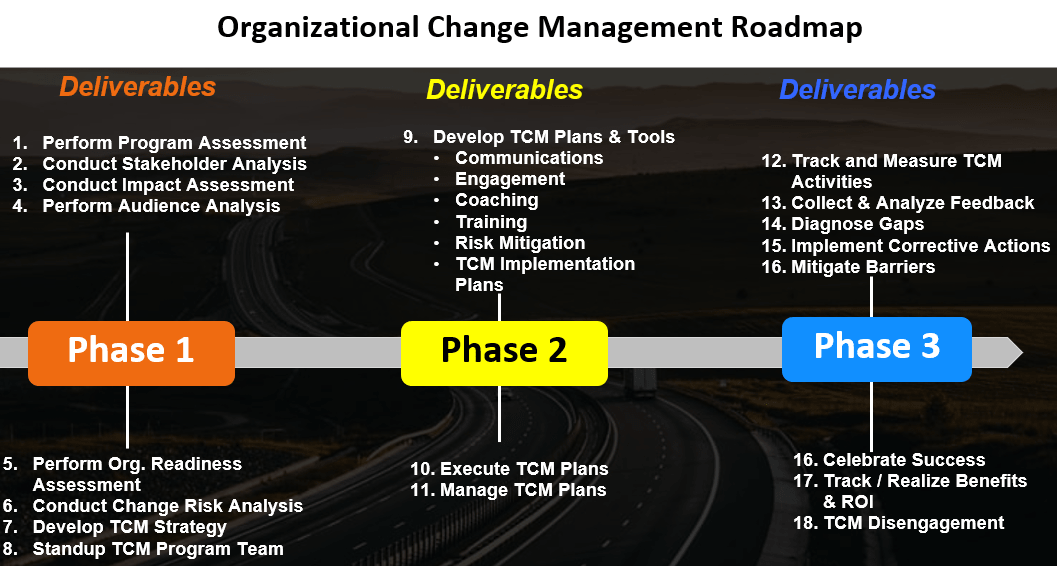 ---
Next:
Change Champion Networks | Everything You Need to Know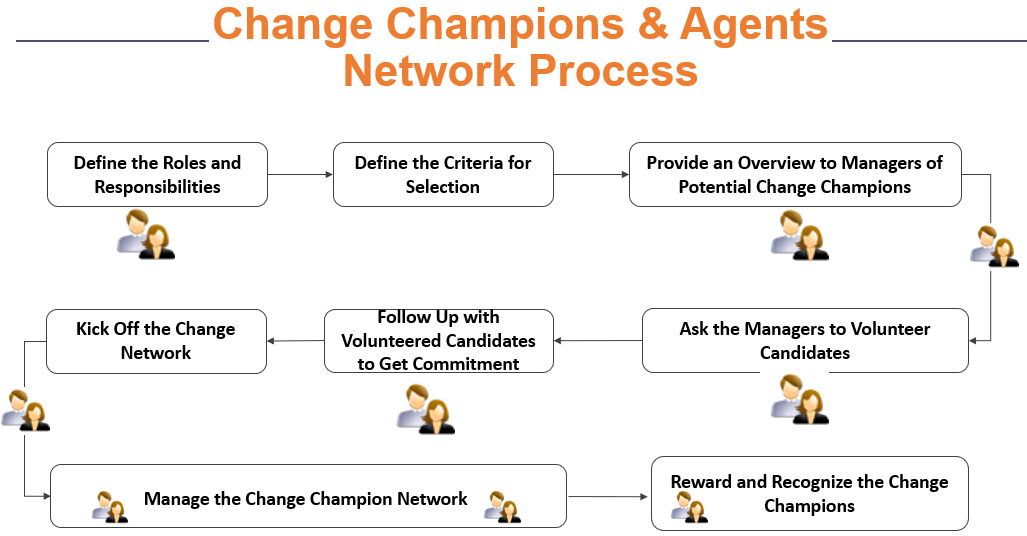 ---
Note: Content on Airiodion Global Services (AGS)'s Airiodion.com website is copyrighted. If you have questions, comments, or tips about this Airiodion Global Services content or product, please contact Airiodion Global Services today.
---