ORGANIZATIONAL CHANGE MANAGEMENT MODELS.  
---
Everything You Need to Know About Change Management Frameworks, Models, & Methodologies
By Ogbe Airiodion
---
First, What is Change Management (OCM)?
Organizational change management, which is the people side of change, is a structured approach used to transition employees, managers, leaders, customers, and partners that are impacted by an organizational change.
Change management models are used to implement the processes for moving people through their individual change curves so that they can successfully accept, embrace and adopt an organizational change program.
Examples of organizational change programs include technology changes (systems/software/tools), business process transformations, merger, and acquisition integration, industry-wide changes, regulatory compliance or legal changes, organizational restructuring, business expansion, new products, new management, or operational changes within a group.
Don't Miss: The Importance of Change Management (Everything You Need to Know)
Irrespective of the factors driving the change, when organizations experience change, it is the impacted end-users who ultimately need to change how they do their jobs.
If these individuals are unsuccessful in their transitions, for example, if they don't embrace, learn and adopt the new way of working, the initiative will not be successful, nor it will achieve its expected return on investment (ROI).
---
Organizational Change Management Methodologies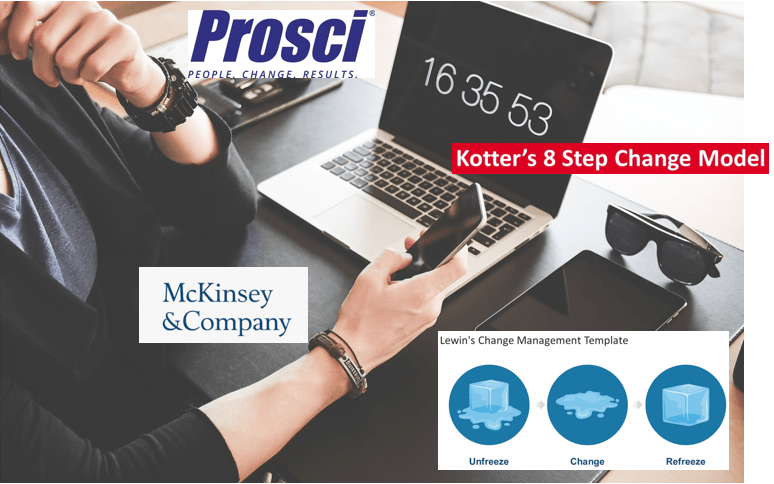 There is a wide range of different change management models and methodologies that can be applied to drive the people side of change.
Consulting firms like Deloitte, Accenture, and McKinsey have their versions of change management methodologies. There are also best in class industry standard methodologies including Prosci ADKAR change model, Accelerating Implementation Methodology (AIM), John Kotter's change model, Kübler-Ross' change curve, Bridges' transition model, and many more.
---
Not All Change Management Methodologies are Created Equally
Companies are always faced with a limited amount of resources and budget, and it's rare to find an organization that will have the full complement of resources needed to perfectly design, develop, implement, and manage any major transformational initiative.
Based on this, it is essential that every resource and transformational plan is targeted to have the maximum impact in the shortest amount of time. As stated by IMA (Implementation Management Associates), "any approach to change management that prescribes the activities of Change Agents and Sponsors without continuously weighing the relative impact and risk of that activity is completely missing the boat."
Why is this important to you?
It is important because when analyzing, researching and identifying the best change management models, methods, and frameworks that are currently available, you want to make sure that you select the one that is best for you, and for your program. 
---
An Overview of the Different Change Management Models
---
What is the AIM Change Management Methodology?
AIM stands for "Accelerating Implementation Methodology."
The AIM model is a flexible, but business-disciplined change management framework that is both systematic and systemic. AIM is driven by data, which increases its appeal to the sciences and technology sector as well as to human resources (HR) professionals.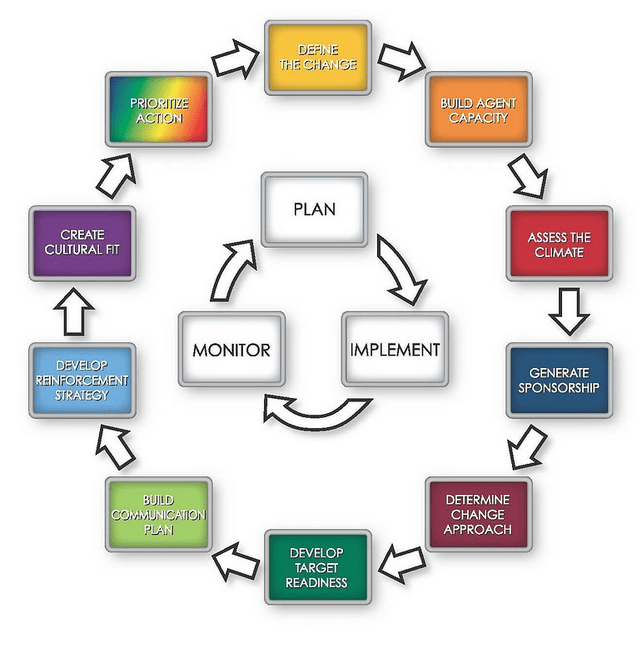 Based on its flexible structure, the AIM change method can be applied to any kind of transformational program, from small to large scale initiatives.
A key benefit of the AIM model is that it involves an integrated system of operationalized strategies, tactics, techniques, analytics and tools that can be applied across the life cycle of a change program, all the way from inception through the "post-implementation phase" where the return on investment is realized.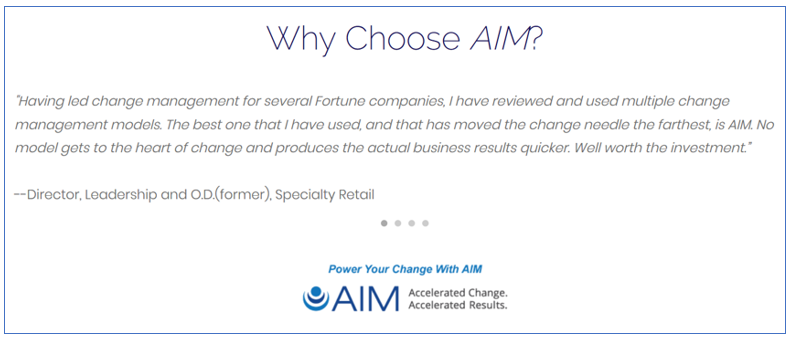 ---
What is the Prosci ADKAR® Model?
The Prosci ADKAR® Model is often considered best-in-class change management methodology by organizations across every industry. This is due to the ADKAR model's flexibility and goal-oriented framework that guides individual and organizational change.
The Prosci ADKAR® Model is a goal-oriented change framework that was created by Jeff Hiatt, Prosci's founder. ADKAR is an acronym that represents five key milestones that users need to achieve for lasting change. In spending decades studying change leaders and programs, noting what worked and what didn't, and establishing how to effectively implement change and measure results, Prosci has been able to create a repeatable, scalable change management method for managing the people side of change.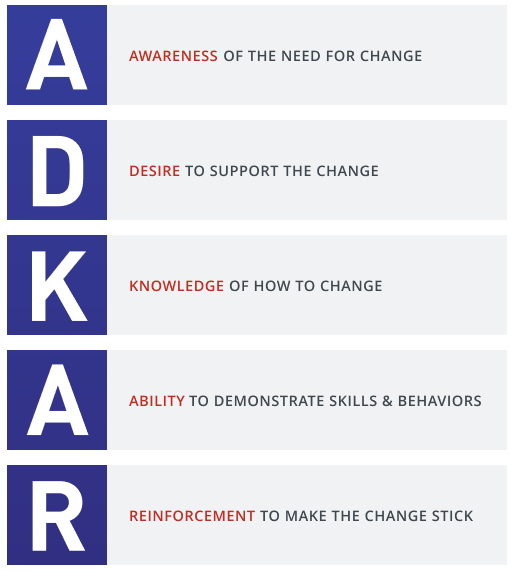 When an organization implements a new solution, it is the employees and managers who eventually need to learn and use the new solution. If individuals are not successful in their individual transformations, then the solution will not achieve success. The ADKAR model is widely used because it is structured specifically for transiting the individual employee, which makes it a great change model for:
Planning change management activities

Diagnosing gaps

Developing corrective actions

Supporting managers and supervisors

---
Top 8 Change Management Models & Methodologies
Lewin's change management model

The McKinsey 7-S model

Kotter's theory

Nudge theory

ADKAR

Bridges' transition model

Kübler-Ross' change curve

The Satir change management model
To learn more about the change models listed above, click here: 8 Critical Change Management Models. Also, see below.
Check out the below change management, budgeting and personal finance tools for you to use…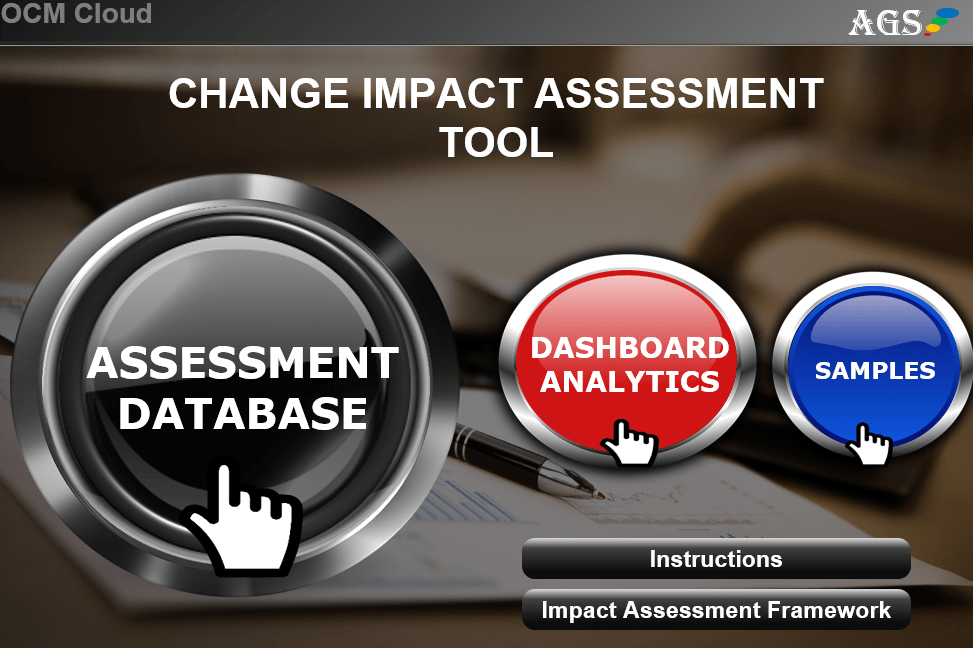 ---
---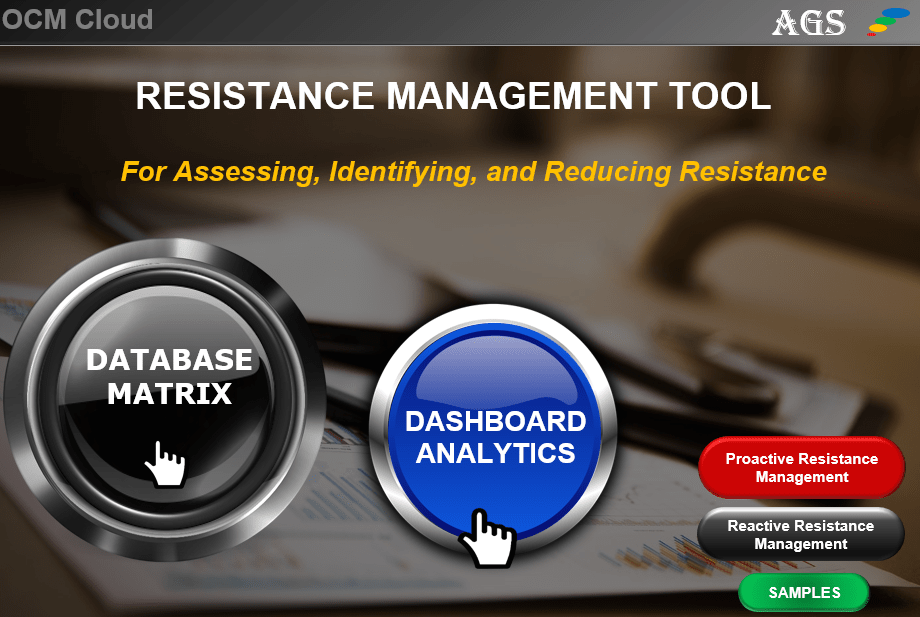 ---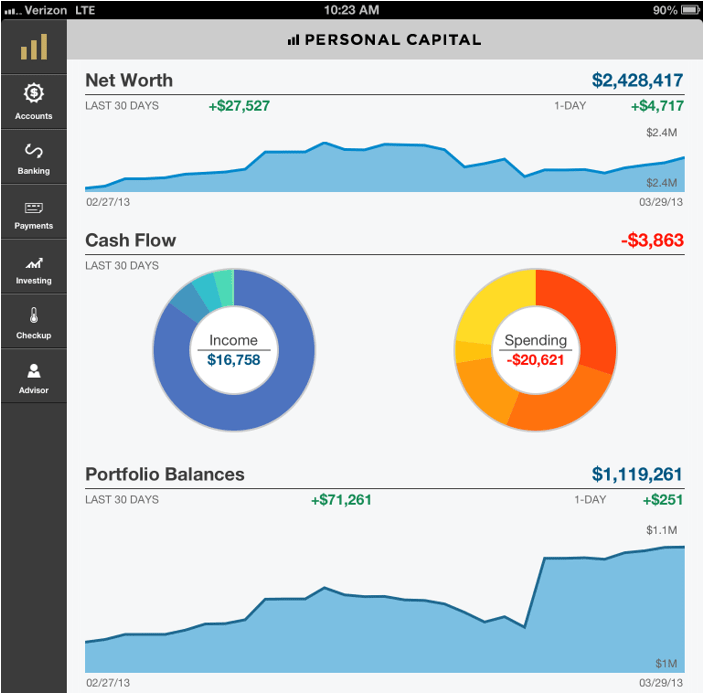 –
---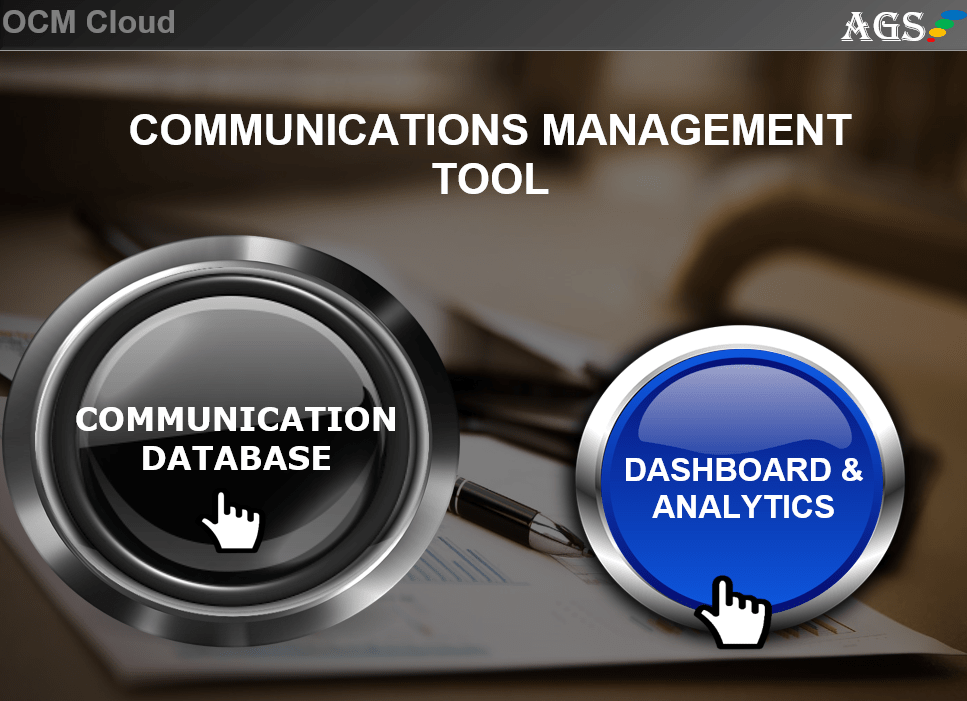 ---
---
External sources: https://www.prosci.com/adkar/applications-of-adkar, https://www.imaworldwide.com/aim-change-management-methodology, https://www.imaworldwide.com/blog/the-value-of-aim-change-management-certification
---
Note: Content on Airiodion Global Services (AGS)'s Airiodion.com website is copyrighted. If you have questions, comments, or tips about this Airiodion Global Services content or product, please contact Airiodion Global Services today.
---