ALL-IN-ONE
ORGANIZATIONAL CHANGE MANAGEMENT (OCM) TOOLS

---
The 1st Ever, All-in-One, 360o Change Management Toolkit for Change Practitioners (From New Change Management Individuals to Very Experienced Change Managers)
AGS' All-in-One Change Management Toolkit (AGS Cloud) is a game-changer, especially because it provides Experienced Change Managers, New Change Practitioners, Change Management & Training Teams, Consulting Firms, Project Management Teams & Leads, Communications & HR Teams, and other Organizational Change Management Business Individuals across any organization with a consistent set of standardized change tools, templates, reporting dashboards, and built-in best change frameworks and practices.
This All-in-One Change Management Tool is more than just a set of tools, it's a 360-degree platform to help you, and your team assess, plan, manage, and execute successful change management projects, end-to-end, whether this is your first change project or your one-hundredth. 
---
Self-Service Portfolio of Change Toolkits
The All-in-One Change Solution has options to fit any project perfectly.
Change Practitioners can choose from a full portfolio of change management tools and templates using a "self-service" approach. Use as many (or few) of the tools as you need for a specific change program.
If you'd like help determining the best options to drive your project, we are happy to schedule a Zoom call to show you how to effectively use this Self-Service Portfolio of Change Tools.
Try it for 30 days. Money back guarantee.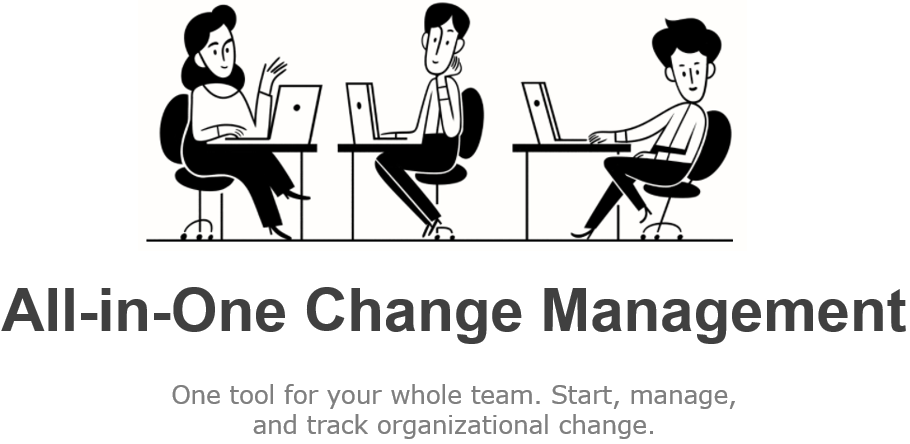 Before we do a quick deep dive, let's hear from our founder.
---
AGS Founder's Note
Ever since I launched AGS to empower change practitioners with the best change management guides and templates, we have received hundreds of questions from organizational change practitioners, project managers, HR personnel, and program managers.
These questions all revolved around the need for a set of standardized change management tools for managing change projects.
A few of these questions include:
"Is there an industry-wide standardized change management toolkit for managing communications, training, stakeholders, change champions, resistance mitigation, and other change activities?"
"Does an end-to-end change management tool exist to help me conduct all aspects of my change management activities, including impact assessments, readiness assessmen

ts, risk assessments,

training impacted users, and stakeholder analysis?"
"Where can I find one centralized holistic change portfolio that includes ALL the various change templates, guides, and tools that I will ever need?"
As of early 2020, there were no industry-standard set of change management tools… and so we decided to build a complete end-to-end solution.
I have been a Sr. Change Management Lead & Program Manager for 15 years. A former U.S. Marine, I started my business change management career on Wall Street and have delivered business transformation and change management for a wide range of companies, including Intel, Cisco, Apple, the US Federal Reserve Bank, Accenture, Deloitte, HSBC, Goldman Sachs, State Street, and many more. 
During my 15+ year tenure, one major pain point that has been voiced by the change management community has been the inefficient use of a wide range of siloed spreadsheets and documents for conducting change management. 
"With the AGS Cloud All-in-One Change Management Tool, our goal is to place a globally consistent set of tools at the hands of change managers and project leads across every organization to empower them to effectively drive change"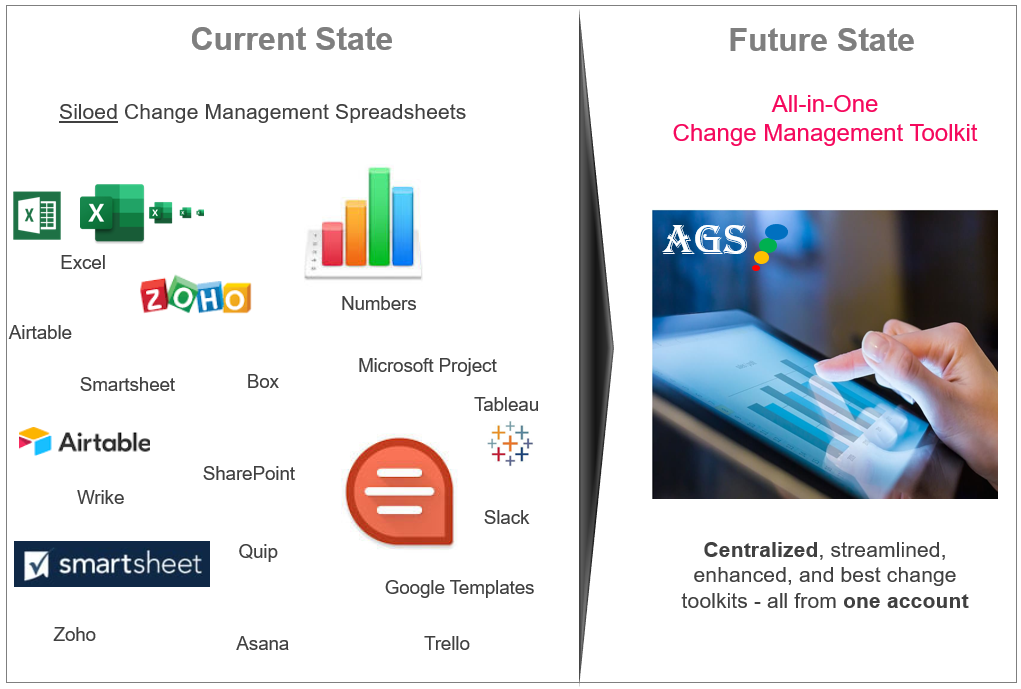 Ogbe Airiodion
Senior Change Management Lead
---
What are Customers and Users Saying about Using AGS' Change Management Toolkits?
"I have been doing change management for a while and have never ever seen a comprehensive set of tools like the AGS All-in-One Change Tool. I love the fact that I can see everything in one place."
Change Management Director (Large US Banking Firm)

"Saves me a lot of time. No one else has the full package like AGS"
Consulting Partner (Top 5 Australia Consulting Firm)
"I appreciate all the capabilities the toolkit has and impressed that it has everything my team and I need. We don't have to try to find other tools or spreadsheets to fill in the blanks. I like how easy the Organizational Readiness survey looked for gathering the data."
Change Consultant (Change Management Team – Global Semi-conductor Organization)
"This toolkit provides me with a great way to share data with stakeholders and senior executives in real time. As I input data, the analytics reporting dashboard automatically refreshes."
Project Manager (UK Government Agency)
"I've been doing change management for years and have never seen a comprehensive set of tools like these before. This is a great way to share data with stakeholders in a real-time and collaborative way."
Business & Change Consultant (Consulting Firm Partner)
"I certainly love having all these change templates and dashboards at my team's disposal, rather than re-inventing the wheel every time we start new project, or using some of the ones we created on Excel for other projects"
HR Director and Senior Change Manager (Global Semi-Conductor Technology Firm)
---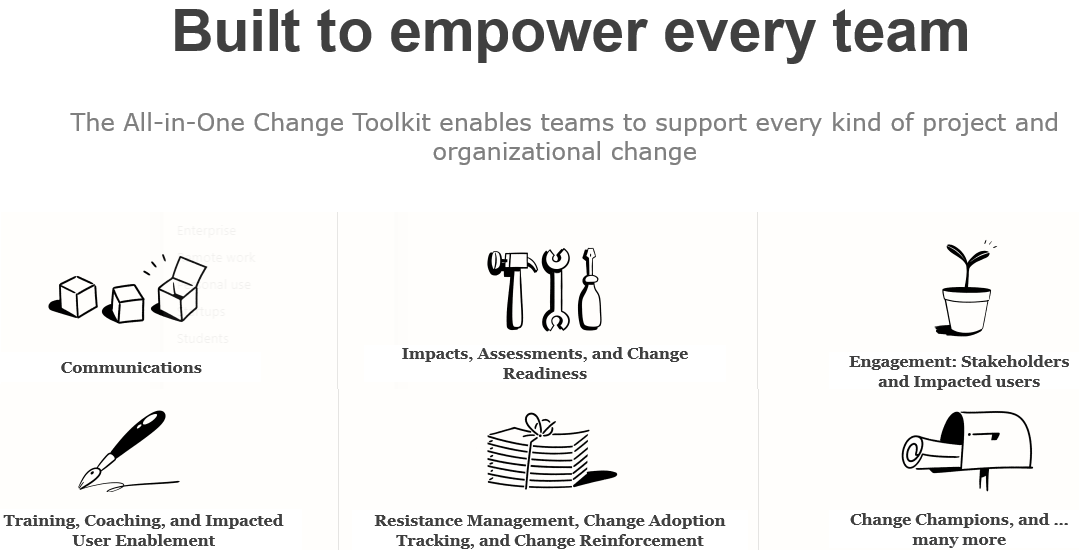 Try it out today – no risk.
---
Are You in a Different Region?
This toolkit was developed for change practitioners in the United States, Australia, the U.K., Canada, Philippines, India, Africa, Europe, Latin America, the Middle East, Asia, Asia Pacific (APAC), and in 152+ different countries. It is truly a global change management platform for change managers and project managers irrespective of your current geographical location.
---
OCM – Change Management Made Easy
There are many moving parts to change management. You have to conduct impact assessments, perform change readiness, identify stakeholders, coach leaders, and change champions, manage resistance, and more! AGS' All-in-One Change Management Tools provides you with everything you need to plan and implement a successful change project.
AGS Cloud is equally suited to newbies and experienced change managers. These comprehensive change management tools and templates are designed to help those new to change management ramp up the learning curve with expert guidance as well as give seasoned change managers tools that are truly time-saving.
Video Review: AGS All-in-One Change Management Tool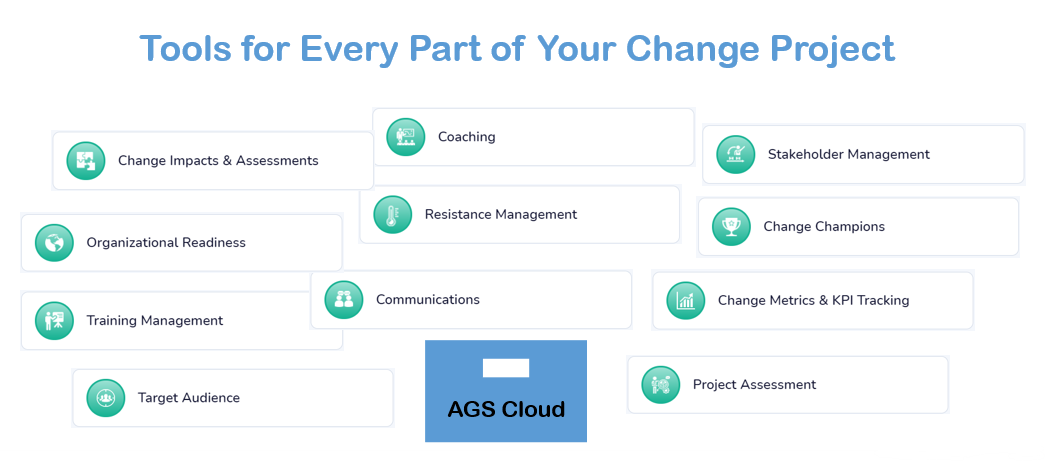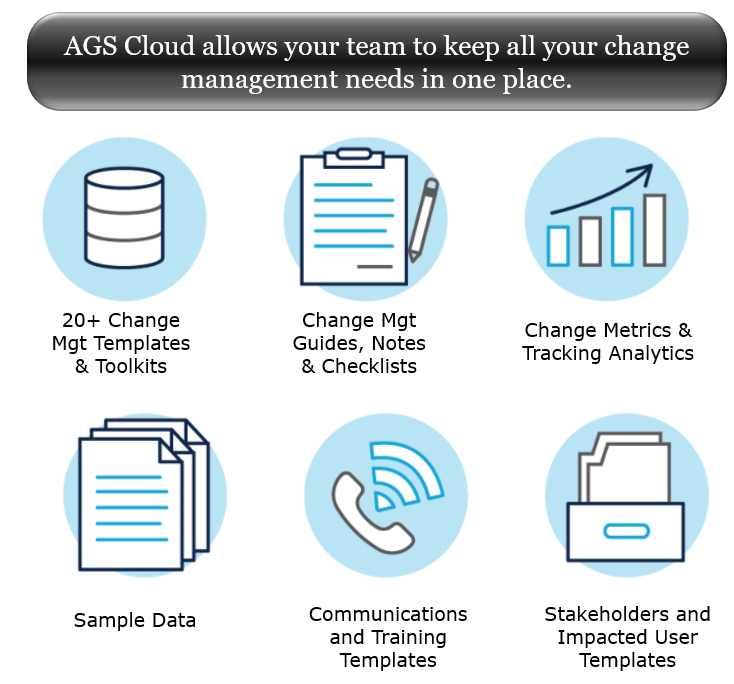 ---
Integrated & Powerful Change Modules are a Game Changer for Change Management.
This single suite of best change management tools provides a holistic framework for managing all aspects of your business change management activities, and for all sized projects, small and large. It includes templates and analytics for the following:
Change Metrics & KPI Tracking (Get a bird's eye view of your entire change project. Track, measure, and gauge success and effectiveness of change management activities and efforts)
Change Impact Assessment (Identify how end-users will be impacted by a change and detail the type of change: process, tools, people, skills, culture, and/or policies)
Process Impact Assessment (Simplified toolkit for process-based changes)
Stakeholder Management (Step-by-step practices to assess, engage and manage stakeholder groups)
Organizational Readiness Assessment (To assess how impacted organizations are ready for cutover/Go-Live, and help groups get better prepared)
Communications Planning & Management (To assess, deliver, organize, and manage effective communications with target audience groups)
Coaching (To manage the whole process of coaching managers to empower them to become better change agents and advocates of the change)
Training Tracking & Management (Three options for planning and tracking your training activities)

Training Tracking & Management (Simplified Template Version for more streamlined management)
Organizational-Level Training (Track training by organizational group or job role, rather than by individual)
Training Management (Split-Template Version for more detailed training management activities)

Resistance Management (Proactive and reactive mitigation of resistance to change)
Project Assessment (Understanding the scope, scale, and objectives of a project when you initially join it for the first time)
Change Champion Networks (Step-by-step practices, template, samples, and toolset for planning, launching, and managing effective change champions)
Target Audience Assessment (Assess, manage, and track specific target audience groups two ways)

Internal Target Audience Assessment (for change projects, and other internal audience assessment needs)
External Target Audience Assessment (for marketing, SEO, social programs, and other external audience assessment needs)

Privacy Impact Assessment (Use for non-GDPR privacy impact assessments)
Data Protection Impact Assessment (Created according to GDPR requirements for a DPIA)
Economic Impact Assessment (Assess the economic impacts of a project or policy change)
No Risk
30-Day Money Back Guarantee

---
Video Review: All-in-One Change Management Platform
Click below to watch the video tutorials of our All-in-One Change Management Tool
AGS Cloud All-in-One Overview
AGS Cloud All-in-One Main Dashboard
---
Email us if you have any questions.
---
Pricing Options
---
All-in-One Change Solution
AGS 360o Portfolio
All-in-One Change Solution


Download/Excel


Complete Suite – Cloud Version

Download/Excel Version

Use for One or More Projects at the Same Time

Single Project
(Add entitlement to more projects at checkout)

Single and Multiple Users
(Work alone. Or add team members. Work together or separately.)

Single User


Best for Change Practitioners, Consultancies, Change Management Teams, COEs, Project Management Teams, Business Change Groups, and others.

Best for Change Practitioners who are Very Experienced with Excel, and Prefer to Download and/or Apply Technical Customizations to Their Excel Toolkits
(Office 360 Excel Needed)

Bank-level Security Protocols (AGS Security Policies and Processes.)

N/A


Cancel Anytime

Sales are Final

Recurring Payment. Cancel Anytime

One-time Purchase

Centralized | All your Change Programs in One Platform.


(Use this Toolkit for multiple projects)

N/A




Streamlined | Enhanced | Upgraded | Latest Version

---

(Because the Cloud version is in the Cloud and we own the technology, we're free to continuously innovate, enhance, and upgrade the platform)



No Entitlement to Free Future Enhancements or Upgrades

360o Free Onboarding & Enablement

We provide you and/or your team with free enablement support
In-person led virtual / zoom call sessions to help you successfully adopt our toolkits and increase your change performance.
Months of ongoing customer success touchpoints to ensure you and/or your team continue to be fully supported, and successful.




Periodic Check-Ins

We conduct periodic check-ins to ensure your success in using our toolkits

$25 / Month

(Starting Price Per Toolkit) 

USD/user/monthly recurring payment

$799 / One-time

(All Toolkits)

USD/user/one-time payment

Only purchase what you need.

Click below to get started. View all our toolkits, and decide which one you need.

Customize & Complete Your Order

–

OR

–

Purchase & Download

–

OR

–
Excellent ROI from the first month!
---
Change Management as Simple as 1-2-3
Use AGS Cloud's All-in-One Change Management Main Dashboard as your command central to each of the most popular organizational change management tools and templates

Enter or upload data into the change management templates

See change management analytics and reporting on the Toolkit's Analytics Dashboard
Plus, get sample data so you can see how to enter your own change assessments and management data, change management guides, templates with Gantt charts, and more!
---
Why Use AGS' All-in-One Change Mgt Tools for Your Change Project?
Saves you tons of time on all aspects of your organizational change activities

Helps to increase your change management productivity

Based on industry-standard change methodologies

Can be used by both beginners and experienced change managers

Saves you time, minimizes your costs, and optimizes your resources

Change teams can collaborate together online

Automatic reporting that is always current with your data

You can access AGS Cloud from any device and any platform – Excel version and online version

Keeps you from dropping any balls 

Makes you look good to senior leaders and clients with smart change management analytics!
No Risk
Try it for 30 days. Money back guarantee.
What's Inside AGS Cloud – Excel & Online Change Management Tools?
15+ Modules all based upon industry best practices (see below)

Free change management templates & roadmaps

Create reports & dashboards specific to your business

Guides, presentation templates, scheduling itineraries

Instant analytics as you input data (no spending hours trying to create reports)

Ability to upload your data from a spreadsheet or key it into the Cloud interface

Master organizational lists that populate into all modules as dropdown options

Ability to add on special features like knowledge library access or a live dedicated Senior Change Manager as a resource

…and more!
Pricing: All-In-One Change Toolkit
---
Illustrations – 
Examples of Some of the Toolkit Input Templates & Reporting Analytics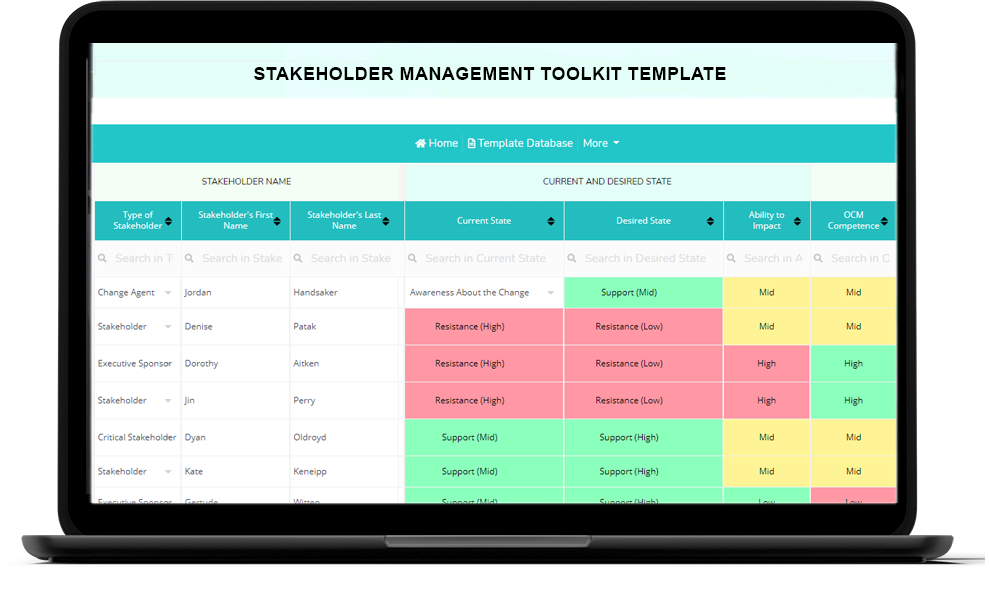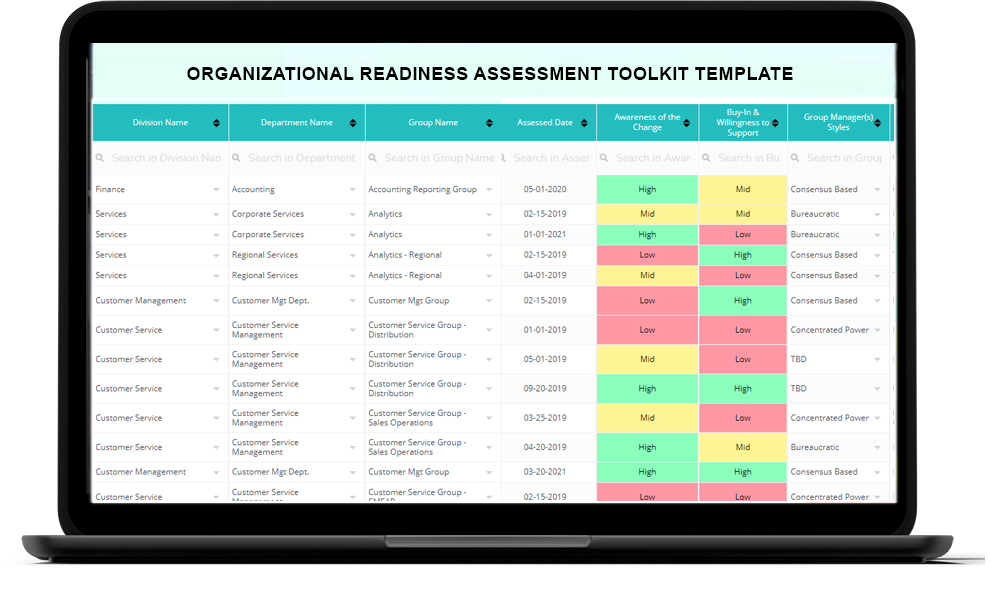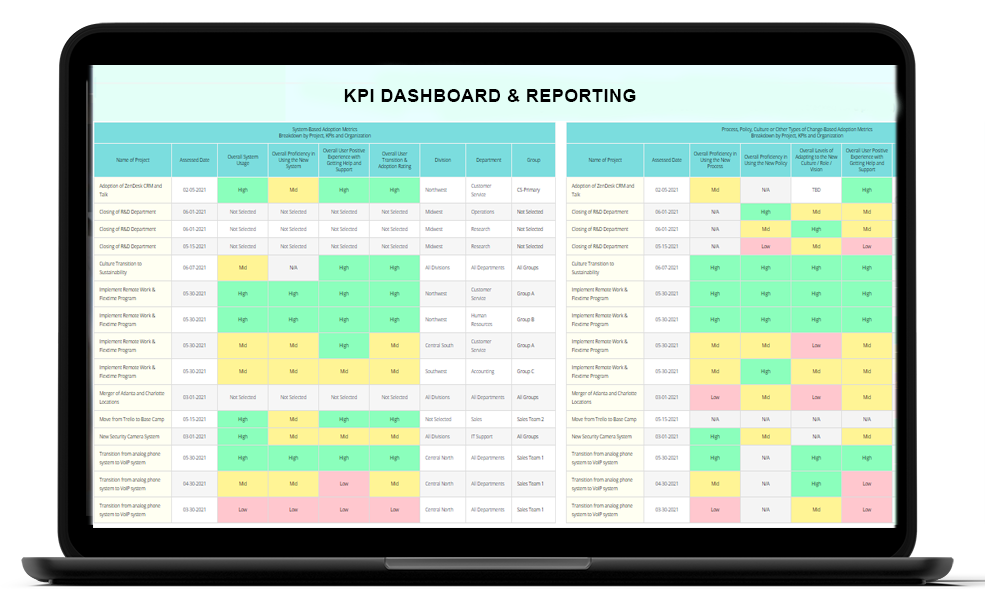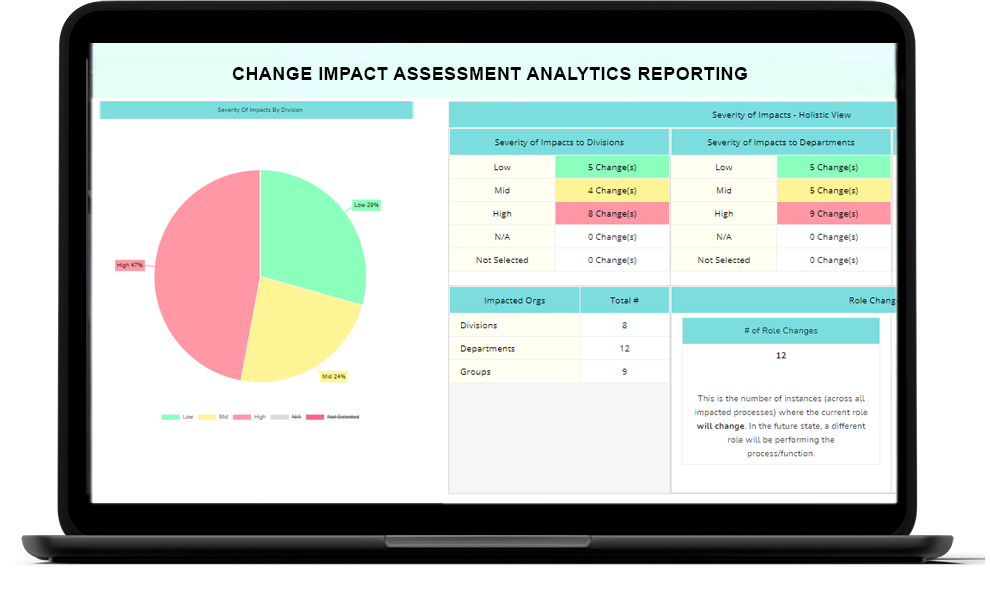 Real-time Analytics Dashboards for Instant Reporting!
---
BUY AGS CLOUD TODAY
(and Get Instant Access!) 
View a Video Tutorial: All-in-One Change Mgt Software Tool
---
We Built an All-in-One Change Toolkit for The Change Community
Because our core audience includes full-time change practitioners, consultants, HR, project leads, and organizational change management community of excellence (CoE) groups, we knew we needed to build something that could be used by anyone, in any geographical location, including the United States, Australia, United Kingdom, India, Canada, Philippines, South Africa, Malaysia, Singapore, New Zealand, Germany, Hong Kong, Sweden, UAE, France, Saudi Arabia, and 150+ different countries.
After a lot of research and engagement with members of the change community, we built this toolkit around a standardized, and flexible blend of top change methodologies, including the Prosci ADKAR® Model, Kurt Lewin Change Model, John Kotter 8-Step Change Process, Bridges' Transition Model, McKinsey 7S Framework, and others.
Basically, we took the best of what works best from these methodologies and developed a practical toolkit.
Pricing: All-In-One Change Toolkit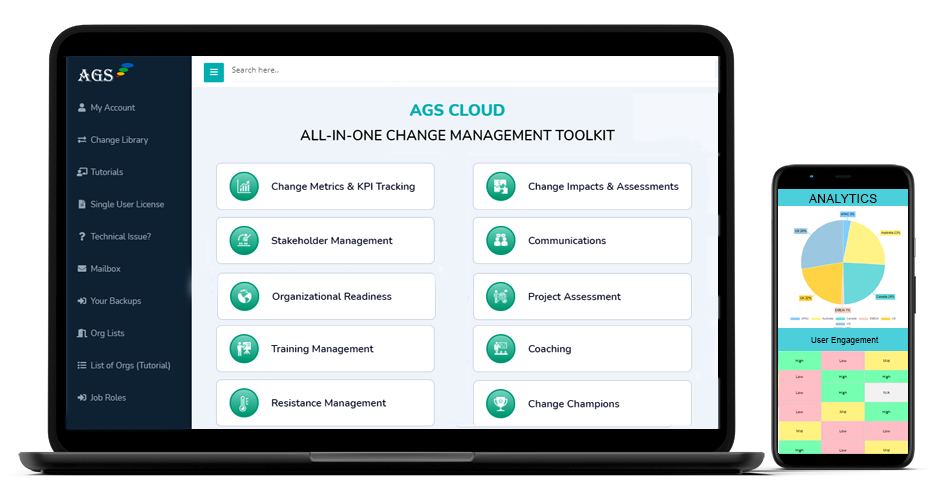 ---
FAQs
Can I try the All-In-One Cloud Tool?
Answer: Most definitely. We have a 30-day money back guarantee on the Cloud version of our All-in-One Change Mgt Tool. Meaning if you don't like the tool, just let us know and we'll refund you – no questions asked.
Sharing this tool with teammates or other users
Questions: Can I share the All-in-One Tool with others? What are the requirements for the single-use license? If I have a colleague on the same project can we use it separately and work on the project separately, or do we need to buy 2 licenses? Also, can the project be shared across multiple users?
Answer: Our All-in-One Change Management Toolkit is offered on a per-user basis. You can add users to your account to collaborate with you, but they need to subscribe. Subscribing gives them their own single-user license. After you purchase the tool, we will follow up with additional details on the 3 quick steps for adding teammates and other users to share the tool with you.
Can I cancel my subscription at any time?
Answer: Absolutely! We'd hate to see you go, but we understand things come up. Subscription plans are recurring but can be canceled before the next renewal period on your My Account > Subscriptions page. We have a no-questions-asked simple-click cancellation policy. No hoops for you to jump through.
Can I use my branding or firm's logo?
Answers:
Yes, you can replace AGS branding, when you add a customization or a value-add service plan to your order. 
If acquiring the Excel version of the All-in-One, add our Customization Service plan.
If acquiring the Cloud version of the All-in-One, add the "Value-Add Service – Premium" plan. Let us know if you have any other questions.
Does the All-in-One Change Tool include guides and tutorials?
Answer: Yes, it does. And more. It also includes video tutorials that provide you with a step-by-step walkthrough on using all the modules within the AGS Cloud All-in-One Tool.
Can I upload / import data
Questions: Can I upload (import) data into the All-in-One Change Management Tool's spreadsheets. For example, can I upload employee rosters into the training management module or into the communications tool vs having to re-enter the data?
Answer: Definitely. We've made it easy with a simple click to import existing data into any of the spreadsheets that are within the All-In-One Cloud Tool. Automatically import your data from other databases or spreadsheets in minutes and instantly bring your team together.
I am in a different region, will this tool still work for me?
Answer: Yes. AGS Cloud was developed for change practitioners in the United States, Australia, the U.K., Canada, Philippines, India, Africa, Europe, LATAM, Middle East, APAC, and in any region. It is truly a global All-in-One Change Management software platform.
How are upgrades/changes handled?
Answers:
Future upgrades and changes to your All-in-One Change Management Cloud software toolkit will be done periodically. Upgrades and future enhancements will always be free to customers
If you decide to go with the Excel version of the All-in-One Change Toolkit, please note that our Excel products are considered final sales, meaning there are no upgrades. See also: Which Version Should I Go With? Cloud or Excel?
---
BUY AGS CLOUD TODAY
(and Get Instant Access!) 
---
The Change Management Software Tool for a Changing World!
Scalable for any Project, Program, and Business Implementation
---
Note: Content on Airiodion Global Services (AGS)'s Airiodion.com website is copyrighted. If you have questions, comments, or tips about this Airiodion Global Services content or product, please contact Airiodion Global Services today.
---
External sources: https://pixabay.com/photos/business-colleagues-communication-3605367/, https://pixabay.com/photos/office-business-colleagues-meeting-1209640/, https://www.ls.graphics/free/free-pixel-4-and-pixelbook-go-mockup, https://www.notion.so/, https://pixabay.com/vectors/tablet-ipad-screen-computer-touch-431647/, https://pixabay.com/illustrations/web-map-flat-design-pin-world-3120321/, https://pixabay.com/illustrations/avatar-clients-customers-icons-2191918/, https://pixabay.com/illustrations/avatar-clients-customers-icons-2191932/