Frequently Asked Questions & Answers about Using AGS Tools
---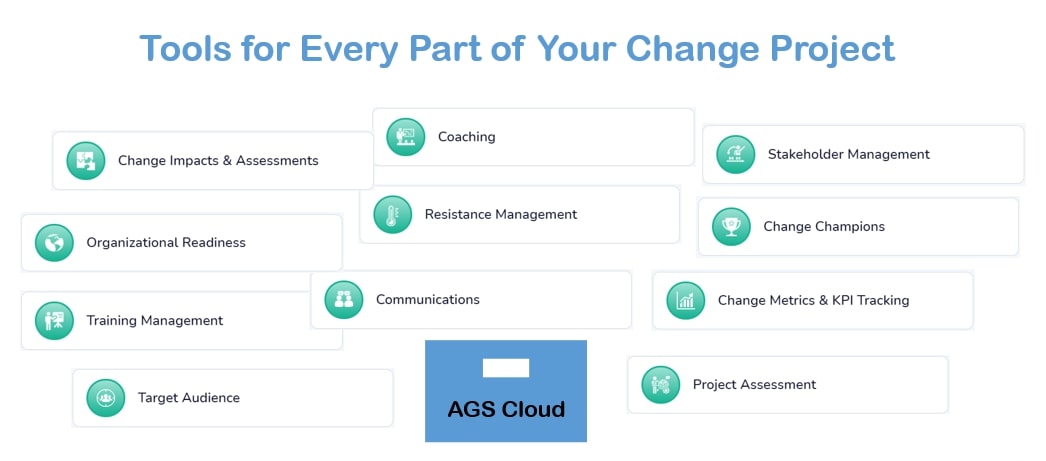 ---
Below you can find commonly asked questions that provide more information about AGS change management solutions.
If you have a question that you can't find the answer to, please use the contact us page.
---
Customer Question
AGS Response
Account & User Management

Is the owner the only one who can add projects? 

No. Both account owners & admins can create new projects.

Can admins manage users? 

Yes.

Who can create and manage projects?

Account Owner and Admin member roles can create and manage projects. User member role can work on toolkits, but cannot create new projects or close/reopen projects.


Note: There can be multiple Admins and Account Owners. But only an Account Owner can set another User/Admin's permission to Account Owner


If I sign up, can I add additional users? 

You get 1 user when you first sign up. You can add additional users for $10/user per month.

Is it possible to run multiple projects for multiple clients under the same account?


Yes. AGS 360° is a multi-project, multi-user change management platform.

When I upload my logo, will it default for all projects? 

Yes.

Are you able to edit the closed project content? 

Closed projects remain non-editable until they're made active again. We recommend that you export your project before closing them.

What's the pricing?

You can find our Global Pricing List here: https://www.airiodion.com/wp-content/uploads/2021/08/AGS-Global-Price-List.pdf

Do you offer group rates? 

Yes, we offer group discounts. Request group pricing here:
https://www.airiodion.com/request-pricing/
Tools & Services

What change management methodology are you following? 

AGS utilizes several of the industry's leading methodologies in combination with change management best practices.

Do you offer free trials?

We can provide a showcase account that allows you to take a look at our platform's toolkits, templates, and analytics dashboards. If you're interested, you can reach out to us directly.

How do I start using my toolkits?

To start using your toolkit(s), you'll first need to create a project.


Click on the "Create a New Project" button on your 360° Dashboard and select the toolkits you want to add to your new project.
Are the project settings the same for all projects?


Yes. For all projects, you'll be able to add start/end date, risk status, progress, budget, etc.

Are the tools dependent on one another? 

No. You can use as few or as many of our tools as your project needs.

Do your tools come with guides?

Yes, each tool comes with a step-by-step guide and our

PDF and video tutorials

.

How long are video tutorials on average? 

On average, our video tutorials are about 30-40 minutes long as they provide an in-depth overview of each toolkit. However, we also have Quick Tips videos that are much shorter and go over specific platform functions.

Is there an area where someone who's new to change management can go to just to get started and to learn about change management?

Each of our tools comes with a comprehensive step-by-step guide. In addition, we have an expansive and ever-growing Change Management Library designed for beginners and seasoned Change Management Practitioners that can be accessed for only $5/user per month.

Is the Change Management Library regularly updated? 

Yes, we add new content on a weekly basis. It's an ever-growing library of change management guides, best practices, and informative articles.

If I only need a tool for a short period of time, can I cancel after I'm done with it?

Yes, absolutely! You can cancel at any time and we'll issue you a prorated refund.

Can we actually export the data from the template to the Excel sheet and email it to other people working on the project? 

Yes. You can export your data from the template to an Excel spreadsheet by clicking on the "Export Your Data" button in the "More" menu within the template. 
Can I manually add columns to all my toolkits?


Yes. However, any columns you add won't be feeding into your Dashboard Analytics.

Can column headers be modified?

All column names are fixed, however, you can simply create your own column and then select a name. We also allow you to choose whether that column will be a Text, Date, or a Dropdown column.

Will my tools come with sample data?

Yes. Your AGS tools will have the Template with Sample Data and Dashboard with Sample Data.

Are analytics responsive to newly added columns? 

Only our native (pre-established) columns are responsive to the Dashboard Analytics. The user-added columns won't be feeding into the analytics.

Does the data immediately feed into Dashboard Analytics? 

Yes. Dashboard Analytics are updated in real-time.

Can we customize the Dashboard Analytics and remove what we don't need? 

No.

What is the end deliverable report? 

You can export a PDF report directly from each tool's Dashboard Analytics.

Will stakeholder information from one toolkit be reflected in another toolkit?


No, currently there is no universal database for stakeholder details. However, anywhere there is Division, Department, Group, and Job Role/Job Title, these feed into a master database that can be used on all toolkits.

Do you have API? Does AGS integrate with other systems?

No. AGS is in the process of developing APIs that can be integrated to other applications, including SAP, Oracle Cloud, Microsoft, and more.

Security

Where is the data stored? Is it secure?

All the data is securely stored on a US-based server. You can find out more about our security here:

https://ocm.airiodion.com/360/ags/ags-security/#Customer-Data-Privacy-and-Security

Is my data being shared with anyone?

AGS will never sell any personal information or customer data to third parties. Read more about our Security Policies and Processes here: https://ocm.airiodion.com/360/ags/ags-security/
---
Note:
Content on Airiodion Global Services (AGS)'s Airiodion.com website is copyrighted. If you have questions, comments, or tips about this Airiodion Global Services content or product, please contact Airiodion Global Services today.
---