COMMUNICATIONS ASSESSMENT & MANAGEMENT TOOL
For Managing all Aspect of Your Communications for Organizational Change
---
AGS' Communications Assessment, Tracking & Management Tool
To increase the success of your communications for an organizational change, project, program or company initiative, it is essential that you apply a structured communications process. An interactive communications assessment and management process enhances your ability to engage with targeted audience groups to fulfill your communications' objectives.
Increase change adoption, program awareness, and support for a change by assessing and understanding communication segments, and your target audience.
Quickly identify insights for intuitive planning and reporting. Eliminate the guesswork on what communications need to be sent, and when. Easily share key communication insights with senior leaders using graphical visuals.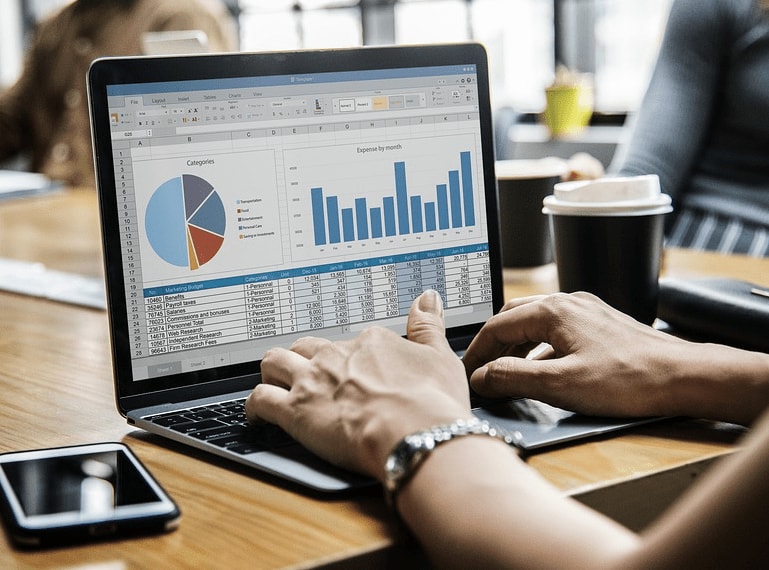 Airiodion Global Services' Communications Assessment & Management Tool is great for conducting all aspects of your communications strategies and plans, including assessing your communication audience, tracking, and engagement activities.
It includes a structured database matrix for capturing key communications information, as well as a 360-degree analytics dashboard for quick and fast insights.
---
---
Real-Time Communications Analytics Dashboard
Your Communications Analysis & Management Tool comes fully equipped with a real-time analytics dashboard for a 360-degree view of your communications efforts. You and members of your team can quickly view communication target audience segments, including localization breakdown of your target audience.
This helps you get straight to what matters most: better communication engagement with your audience, optimized customer experience, and more effective communication governance.
Easily assess your communication strategy based on priority communications, type of communication and objectives. Effectively track the number of communications messages that are scheduled or planned for the change program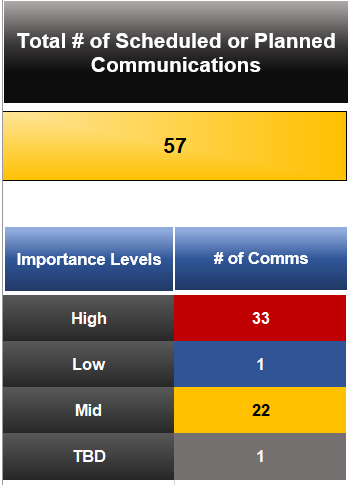 Track the communication team's efforts based on the type of scheduled and planned communications, as well as knowing how many communication audience groups are targeted to receive the communication messages over a specific period of time or throughout the duration of the change project.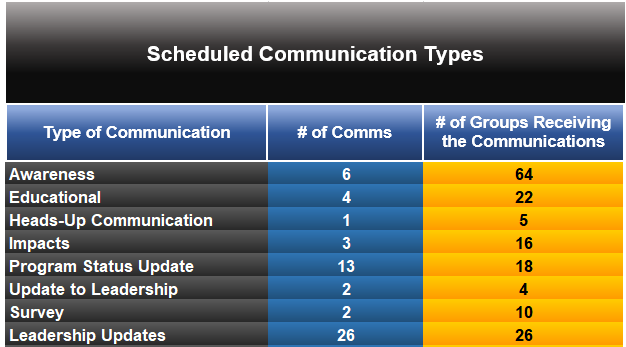 Get key insights based on the importance of the various communications the team is planning to send.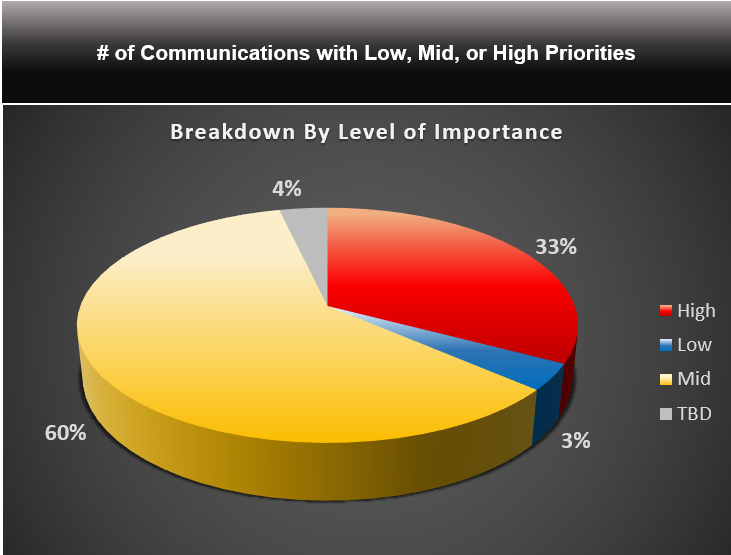 Effectively and efficiently track all aspect of the team's communications strategy and plans, by year, month, date, communication type and the number of target audience groups.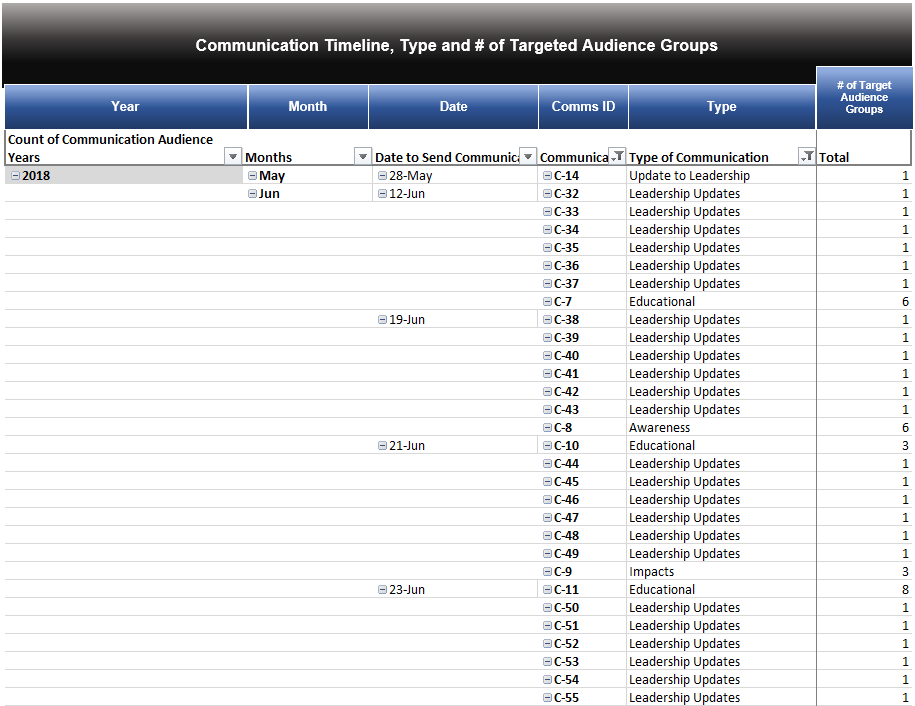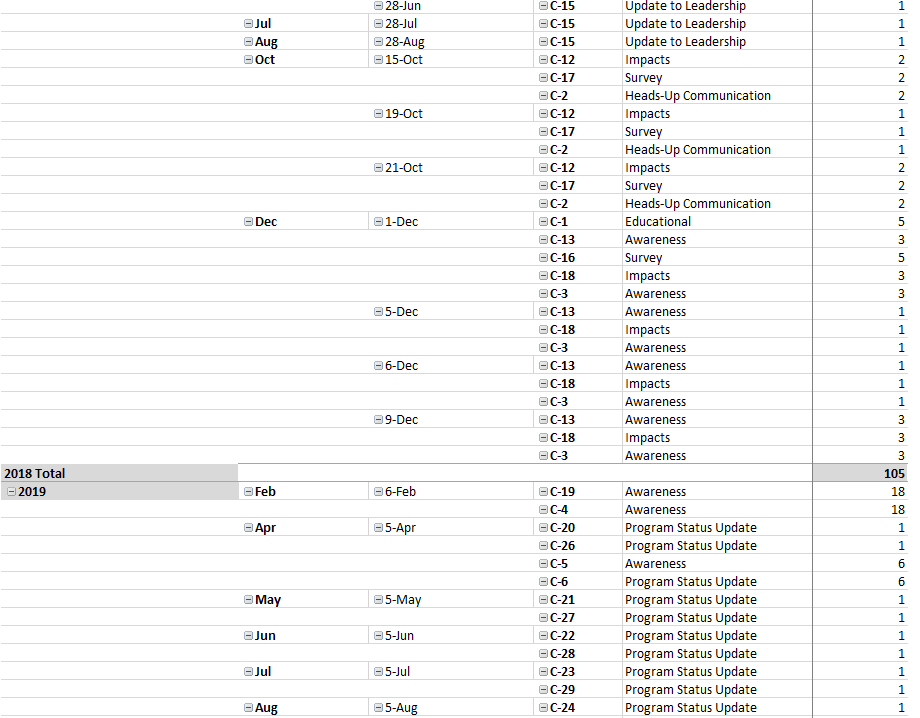 Get your AGS Communications Management Tool today, and start managing all aspects of your communications.
Increase your communication assessment and management productivity using a structured approach with interactive analytics.
---
---
Content on Airiodion Global Services (AGS)'s Airiodion.com website is copyrighted. If you have questions, comments, or tips about this Airiodion Global Services content, please contact Airiodion Global Services today.
---