CHANGE MANAGEMENT COMMUNICATION MANAGEMENT TEMPLATE & TOOL
for Planning, Tracking, and Managing all Aspects of Your Communications
---
Change Management Communication Planning, Delivery and Management Tool for 2020
An effective communication strategy, planning, and management tool allows you to manage all aspects of your communication campaigns for a business change, project, program, organizational change management, system implementation, marketing, and stakeholder engagement.
The section below presents a top change management communication tool that you can use for your change management, project management, and internal or external communication needs.
---
Communication Target Audience Groups – Illustration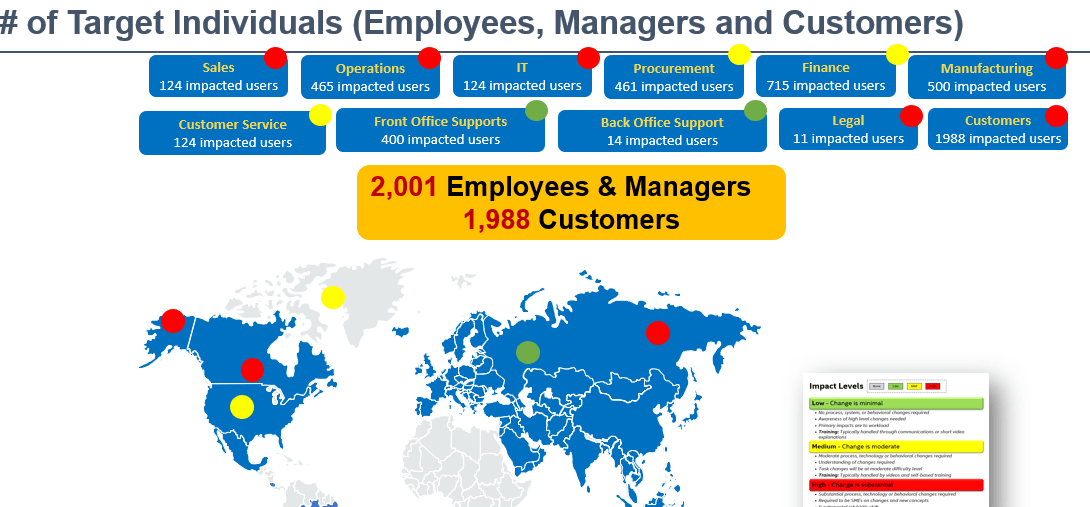 ---
Project Management & Change Management Communication Tool
Our communication management plan tool provides you with an easy-to-use, simplified, and scalable communication matrix template that you can use to gather the various communication data points including the who, what, when, where, and how. 
Watch the Video Tutorial of this Communication Tool
To increase the success of your communication efforts, our 360-degree communication tool guides you as you gather and input key pieces of communication data including: Who are your communication target audience? What do they need to know? When should they know it? How should the communication be delivered? Who should deliver the communication? And many more…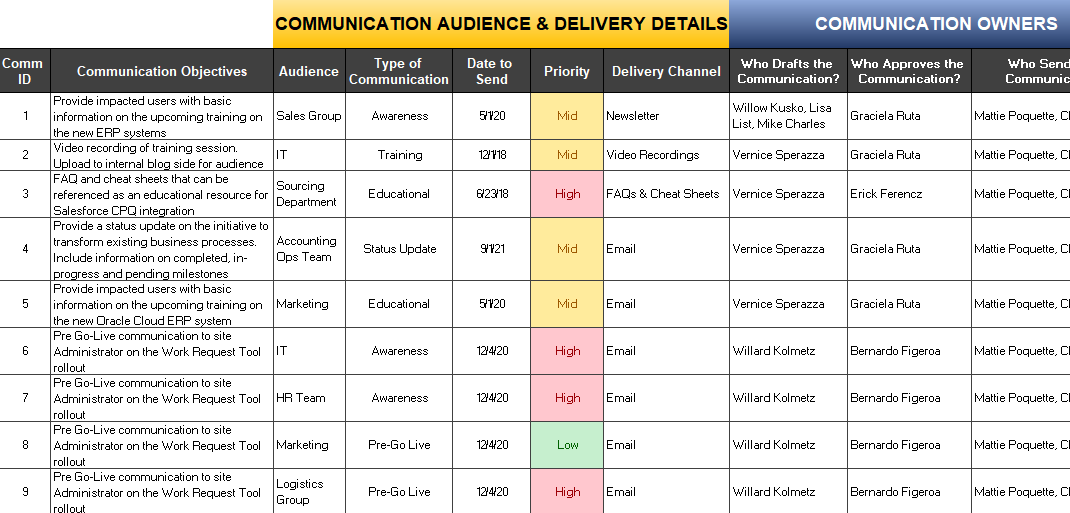 Using this multi-pronged communication strategy template matrix, you can effectively increase organizational change adoption, awareness about a project, program or business change, as well as customer and end-user engagement. This allows you to increase the ROTI (Return on Time Investment) on your communication activities.
Also, this communication tool allows you to quickly identify end-user insights that can be used for planning and reporting your communications. Eliminate the guesswork on what communications need to be sent and when. Easily share key communication insights with senior leaders using graphical visuals.
Watch the Video Tutorial of this Communication Tool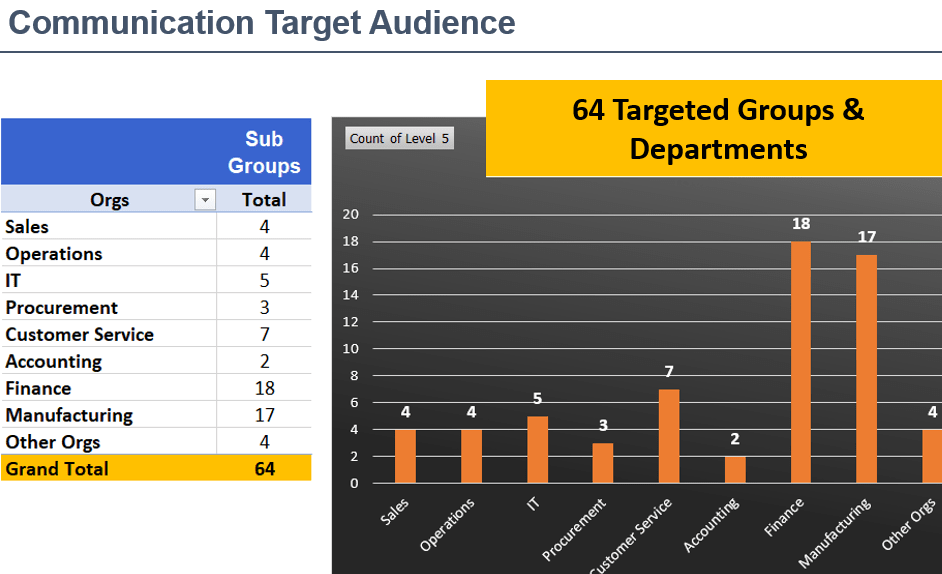 ---
Communications Analytics Dashboard
The communications management tool also comes with an analytics dashboard that you can use if you want. It provides powerful visual charts, tabular views, graphs, and analytics that illustrate trends in target audience data for particular communication correlations.
This helps you get straight to what matters most: better communication engagement with your change management and project target audience, optimized customer experience, and more effective communication governance.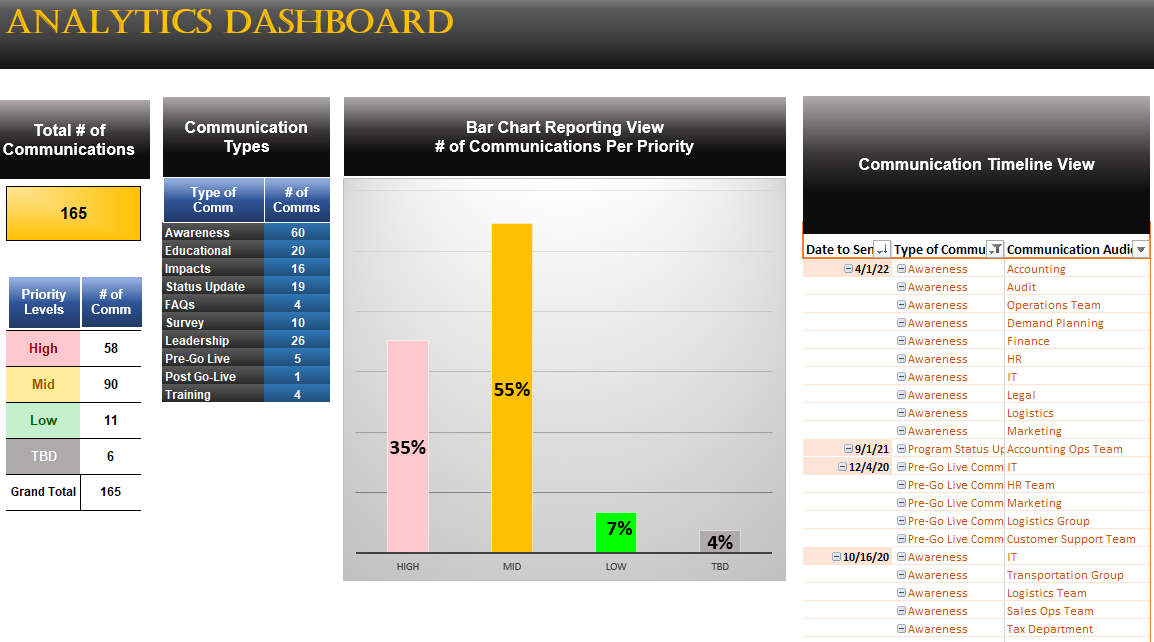 Track the communication team's efforts based on the type of scheduled and planned communications, as well as knowing which communication audience groups are targeted to receive specific communication messages over a specific period of time or throughout the duration of the change project. 
Watch the Video Tutorial of this Communication Tool
Using this project management communications tool, you can effectively and efficiently track all aspects of the team's communications strategy and plans, by year, month, date, communication type, and the number of target audience groups.
---
Two Options
We decided to build this communication management software tool using Excel to increase its flexibility and usability. This is because most communication specialists, change managers, and project leads are already familiar with Excel. 
"We created two options to match everyone's budgeting needs."
Option 1: The 1st option is the Communication Management

Tool.

It includes the template matrix for your communication data points, plus an analytics dashboard for communication insights and monitoring, and also includes samples that you can use as a guide. It is automated to simplify your activities
 

Option 2:

The 2nd option is the Communication Management

Tool PLUS 90

.

With this option you get Option 1 plus a 90-Day Priority Support & Customization Service. This option is similar to an insurance policy in the event that you need customization done to your tool in the future to meet particular needs. It gives you up to three separate customization requests within 90 days of purchase, as well as priority and prompt support entitlement. A customization can include requesting additional enhancements, added features, additional pivot tables, more charts, additional reporting analytics, etc.



If you are very low on budget, then you can go with just the Template.
However, if you believe in value over cost, then obtain the 2nd or 3rd option.

Click below to purchase the version that best meets your needs.
---
---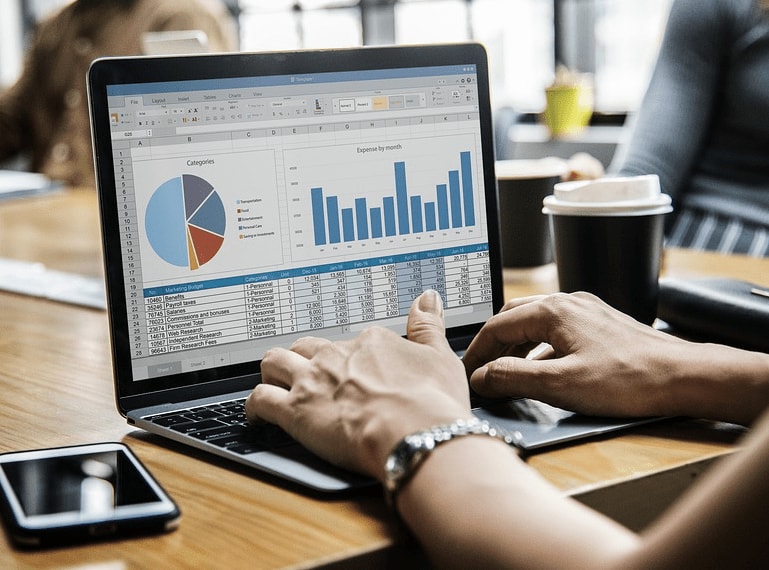 Airiodion Global Services' Communications Assessment & Management Tool is great for conducting all aspects of your communications strategies and plans, including assessing your communication audience, tracking, and engagement activities.
It includes a structured database matrix for capturing key communications information, as well as a 360-degree analytics dashboard for quick and fast insights. 
---
Video Tutorial of AGS Communication Management Tool
Click below to view an end-to-end video review of our communications tool.
---
Watch the Video Tutorial of this Communication Tool
---
RELATED STORIES & VIDEOS:
---
Content on Airiodion Global Services (AGS)'s Airiodion.com website is copyrighted. If you have questions, comments, or tips about this Airiodion Global Services content, please contact Airiodion Global Services today.
---
Change Management Tools | All-in-One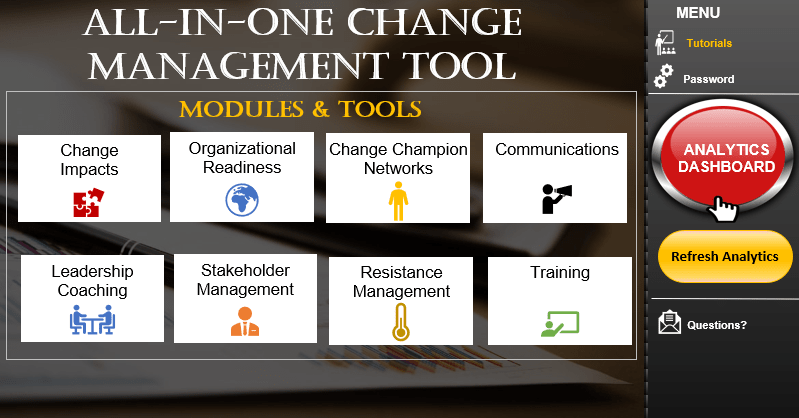 Top Rated Change Management Tool for Change Managers.
---

---
►► FREE Change Mgt Strategy Playbook and Toolkit ◄◄
---
►► Change Impacts Assessment Toolkit ◄◄
---
►► Change Readiness Templates & Toolkit ◄◄
---
►► Change Management Toolkit | All You Need ◄◄
---