---
BEST COMMUNICATION PLAN & PRACTICES
---
Complete Guide | The Best Communication Plan & Practices with Examples and Templates

Communications planning during a time of change is key. An effective communication plan helps you stay on top of all your communications that you'll be pushing out for awareness, scheduling, updates, milestone announcements, and more.
This guide is designed for internal and external Communications Strategists, Communications Managers, Change Management Practitioners, Corporate Communication Specialists, Program & Project Managers, HR, Employee Communications Directors, and anyone interested in the best communication strategies and plans.
"As a Senior Change Management Consultant and Communications Manager, I have developed and implemented successful communication plans to deliver key messages to over 100,000 employees and customers across Intel, Apple, HSBC, The Federal Reserve Bank, Cisco, Accenture, and Deloitte. Something I have discovered is that applying the communication planning and strategic best practices described below increases the success of a communication campaign by 89% on average."
Ogbe Airiodion
Senior Change Lead & Communication Consultant
---
This simple-to-use communication plan and strategic guide provides you with a step-by-step overview of the best communication plan practices that will help increase the success of your communication strategy and delivery.
Communication strategies and practices are ever-changing. This can be frustrating, especially if you're relying on an outdated communications plan template and framework that no longer work.
That's why it's crucial for you, as a communication practitioner to stay well-informed and learn continuously. To support you and other communication practitioners and project leads in their communication campaigns and planning, this guide also references AGS' best-in-class #1 Communication Toolkit with Plan Templates, Matrix, and Sample Data that you can leverage to enhance your communication development, delivery, and success tracking.
---
First, Let's Quickly Define What an Effective Communication Plan Should Be
Best Communication Plan:
The best types of communication plans are those that completely capture the who, what, when, how, and where of a communication campaign. Such plans adequately outline who the communication target audience is, what they need to know, when they need to be communicated with, how they will be communicated with, and where.
To be effective, a strategic communication plan should include a detailed overview of the target audience groups and individuals, as well as the delivery channels, communication objectives, timing, prioritization, and the approach that will be used.
Best Change Management Communication Plan:
The best types of change management communication plans are similar in nature to the communication plans discussed above. The difference is that change project management communication plans are focused on the who, what, when, how, and where – from a change management perspective. They include an overview of the project stakeholders and impacted end-users that will be communicated with, as well as the project communication delivery channels that will be used to communicate with the impacted audience groups.
To be effective, a change communication plan should include an overview of the change communication objectives (What do you want your project messages to achieve? What do you need project stakeholders to do? What do your impacted users need to be aware of? etc.). It should also include the timing and prioritization of your various change project communication campaigns.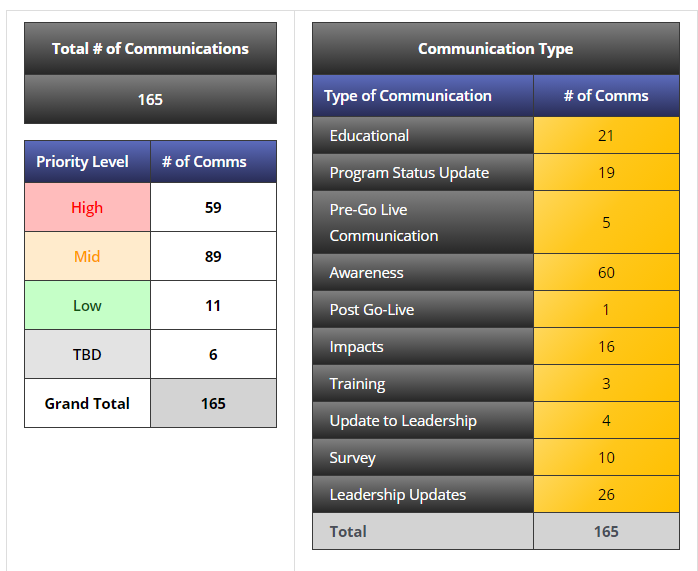 AGS Communication Plan Toolkit – Sample Communication Types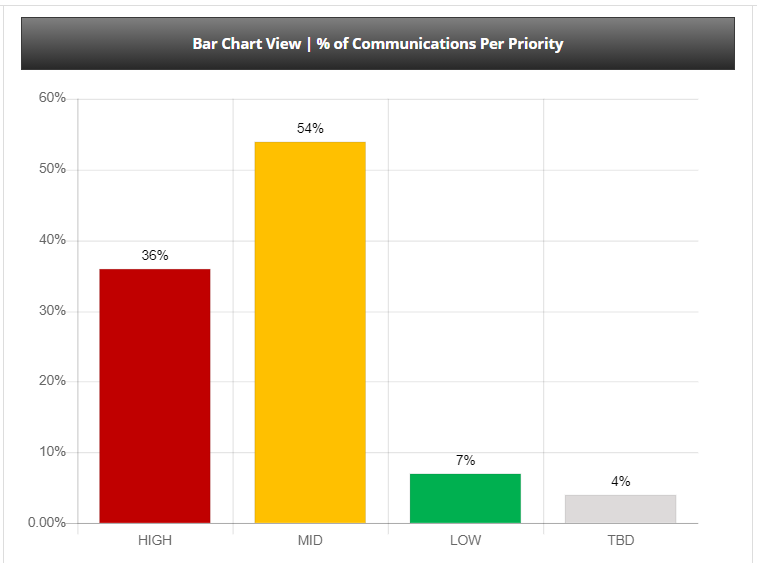 AGS Communication Plan Toolkit – Sample Communication Type By Priority
Continue reading for a more detailed overview of the best communication strategies, plans, and templates that you should be aware of.

---
Table of Contents: Communication Plan Guide
---
Best Ways to Identify the Complete Target Audience List for Your Communication
Most communication practitioners only have to deal with only one target audience type: internal audience groups (employees, managers, and executives). Others have to engage with both internal and external (customers, clients, suppliers, vendors, leads, etc.).
Determine your communication objectives and use the steps below to identify a complete target list for your internal or external communication audience groups, or for both.
Identifying Internal Communication Target Audience Groups
New employee groups

Terminating employee groups

Stakeholders for a project. Conduct a stakeholder audience assessment to identify who will be impacted by the project or by the change, and add these individuals to your list.
Teams and groups that will be impacted by a business change, new processes, new company policies, new technology solutions, or any kind of business change. Perform a change impact assessment to identify how they will be impacted, and what they need to do, and include these individuals to your communication audience list.

For a communication that is driven by a business change, meet with project sponsors, key stakeholders, project managers, and other project resources to gather additional information on who else will be impacted by the change, and also gather a high-level summary of what these additional individuals and groups need to know. Review project documents including the project charter, work breakdown structure, and project plan to see if you can identify any additional groups that need to be communicated with.

For company information or business crisis information, the target audience will involve any group that needs to be aware of this information.

For marketing, promotional, or other internal campaigns, the audience will be the managers and employees for groups that need to be aware of the campaign's messaging.

The target audience for communications from firm leaders will be those groups that need to be aware of such leadership communications. Such communications can be communication broadcasts to motivate staff, increase productivity, or promote a change in the company's culture.
After completing your assessments and identifying your complete communication target list, you can enter that information into AGS' Communication Plan – Matrix Template.
---
Illustration: Sample Communication Plan Matrix Template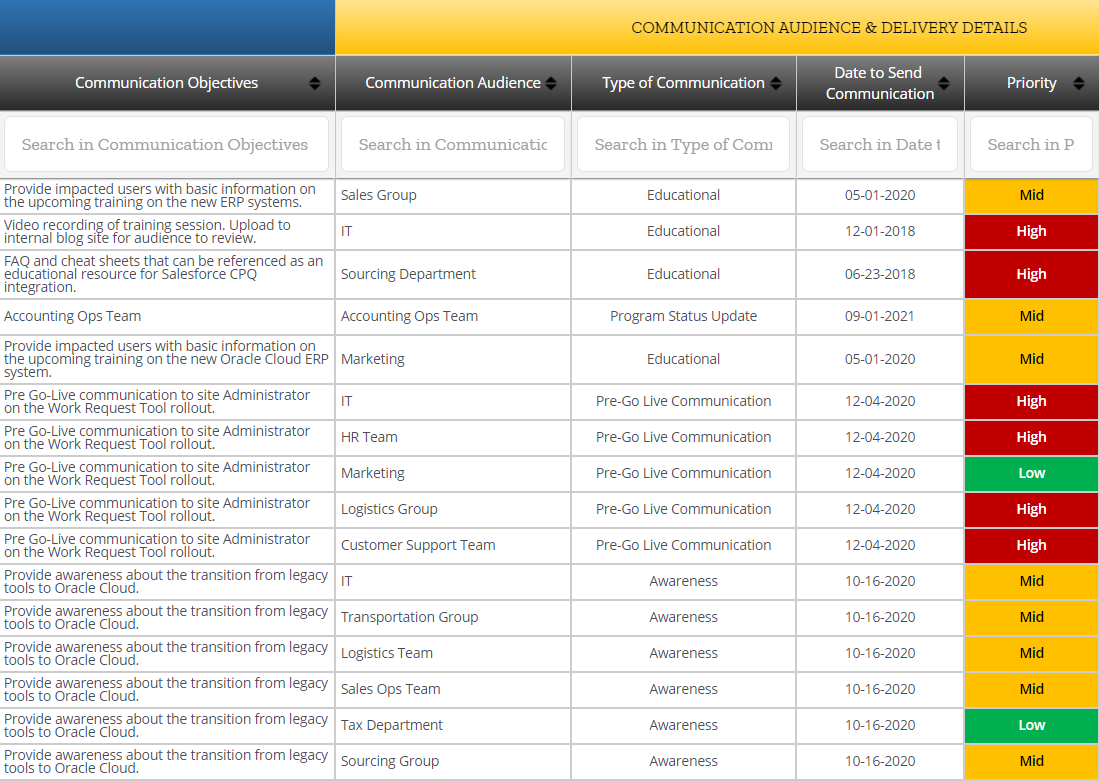 Watch this Communication Plan Video for a clearer view of the above image
---
You can use AGS' #1 Ranked Change Communications Planning Tool, AGS Cloud to help with communication planning. This tool is an online change manager that is designed to help you plan, manage, and execute a successful change project.
Choose from a Cloud or Excel version that includes real-time analytics and communications scheduling by priority, as well as simplified templates for reviewing your change communications, delivery dates, and delivery channels.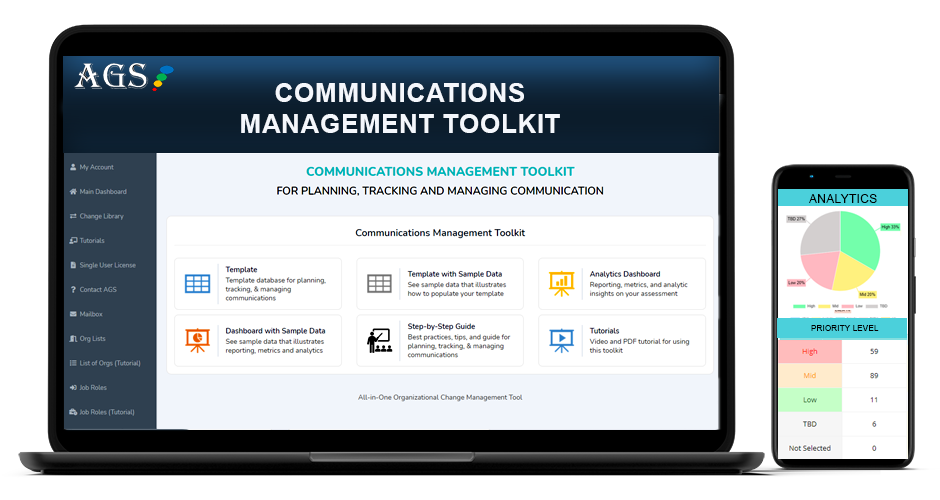 Top Ranked Communication Management Template & Tool
---
Identifying External Communication Target Audience Groups
Depending on what your organization needs to communicate, your external communication audience groups will include the below list of communication audience types:
Existing customers that have purchased your firm's products

Existing clients that are using your firm's services

Leads (potential new customers and clients)

Vendors

3rd parties

Suppliers

Consultancies providing services to your organization

Partners

Shareholders

Investors
► ►  Top Ranked Communication Planning & Mgt Tool.  
---
What Needs to be Communicated?
What needs to be communicated and how this will be communicated will be determined as part of your communication objectives. In order words, what do you want your communication audience to do? What actions do you want them to take?
Is this just a simple awareness or are there things you need your audience to do?
How to communicate? See the below sections for a detailed overview of the various communication channels you should leverage for your communication plan and strategies.
What to communicate? This varies across organizations and is on a case by case basis. What you will be communicating will be driven by your communication objectives. 
Sample Communication Objectives:
Provide awareness about the changes

Targeted to identified audiences and distributed at pre-determined dates

Interactive to maintain interest, participation and opportunities for learning

Based on known rhetoric tools and adapted to each impacted organizations' "tone of voice"

Consistent tone & style across communications

Consistent messaging
---
Your Communication Plan Should Include These Key Channels
You should include a multi-prong communication strategy when developing your communication plan and ensure that you are applying at least 4 of the communication channels listed below.
Communication Channels
---
FREE Change Management Templates (Excel, PDF, PPT)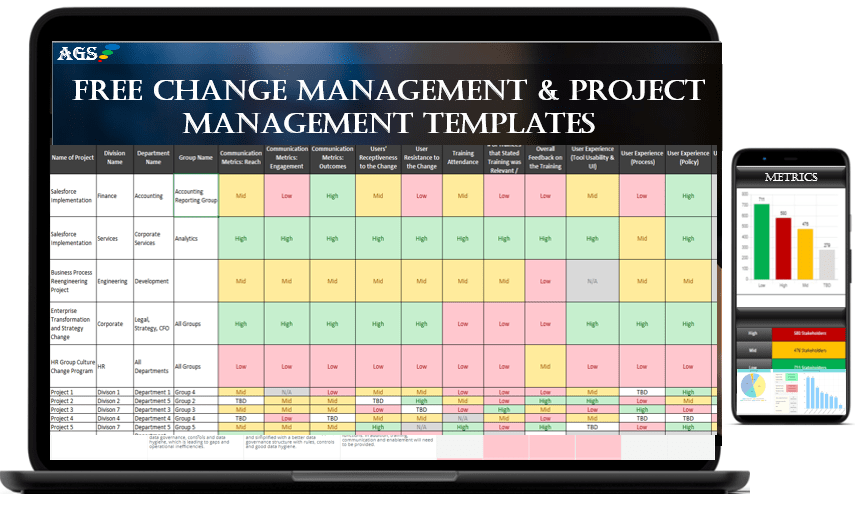 ---
Communication via Email | Sample & Template
► Tool & Excel Template to Manage Your Communications
Depending on the global or regional scope of your target communication audience, email will be the primary communication channel you will use to broadcast your communications.
Outlook has a feature that allows you to track when someone opens and reads the email. However, the reader has to first click "Yes" on a pop up asking them to allow tracking. Unfortunately, most people will click no.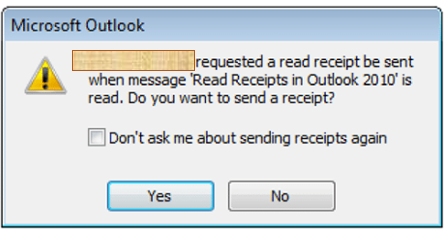 To more effectively track the success of your email communications, it is recommended that you use a 3rd party tool or an Outlook extension.
Your company (e.g., your HR department or Corporate Communications) most likely already has such a tool you can use to broadcast email communications, plus track metrics like open rates, number of people that "clicked on links within the email", how much time people are spending reading the email, number of times the email was forwarded, and other trackable metrics.
These metrics can also be tracked by using cloud email delivery tools (MailChimp, Constant Contact, etc.) or by using specific features of certain CRM programs.
Structure & Format to Use for Your Email Communication 
How should you structure and format your communication broadcast message?
We recommend that you break up your email message into segments – paragraphs and bullet points. People don't like to read long lines of text messages in an email. Bullet points and short paragraphs are best practices.
It's also helpful to include a consistent header image and signature for each communication, so recipients can immediately identify it as being from the relevant organization and related to the organizational change project. 
This consistency can extend to the "From" address for emails as well. Keeping email communications consistently from the same email sender is helpful if users would like to set up email rules that will flag incoming messages from that address. You might want to make this suggestion to your internal audience, so messages don't go to spam folders.
Sample Email Communication Template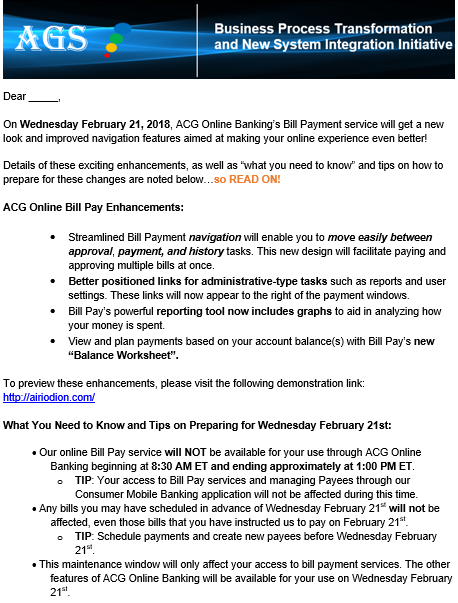 Benefits of Email Awareness Communications
Regular email awareness communications and status update emails are essential for engaging with communication groups. It is a vital way to communicate with your internal audience (company employees and managers) or external audience (customers, suppliers, vendors, etc.), especially those that are directly impacted by a business change.
Awareness and status-update email communications are effective for providing employees and customers with a good understanding of what is changing, what are the benefits, and what's the risk of not changing, as well as keeping end-users engaged throughout the duration of a change.
Click here to download an email communication template that you can use for your project:
Free Email Awareness Communication Sample Template.
---
Communication via Newsletter | Sample & Template
► End-to-End Tool to Manage Your Communications
People generally skim through communications, without really taking the time to read every word. As such, using a newsletter format, which involves succinct messages and images is an important communication delivery channel that should be part of your communication plan.
When available, also add embedded videos or video links to your newsletters.
Leveraging newsletters as one of your communication delivery channels will greatly increase your ability to engage with readers and stakeholders. You should draft, socialize with selected people for feedback, and then broadcast your newsletters using a set cadence (i.e., weekly, bi-monthly, monthly, every 2 months, etc.). 
This sets an expectation in people's minds to expect your newsletters on a regular basis, which is important because people like to feel that they are "in the loop."
Sample Newsletter Communication Message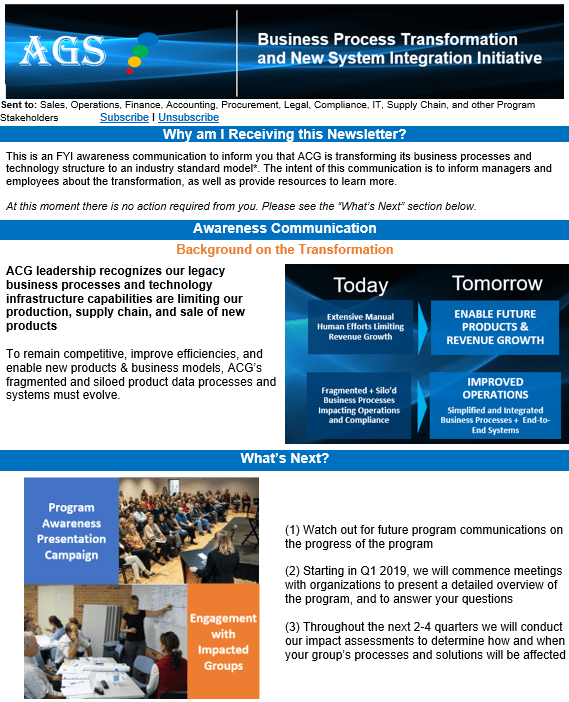 What Kinds of Messages Can you Communicate Using a Newsletter?
Sample communications include:
Quarterly/monthly/annual/periodic business update communication

Product releases

New system/tool

Change to business culture or direction

Program kick-off

Program status updates

Implementation roadmap

Awareness

Impacts

Completed milestones

Kudos & recognition

Heads-up / what's next

How and where to get help

Training communications

Go-Live & post Go-Live messages
Where possible, make sure to customize your newsletter based on the targeted audience that you plan to send the change communication newsletter communication to. For example, verbiage and wording used in newsletter communications to Sales, Finance, and Accounting will be slightly different from communication broadcasts sent to IT or Operations.
You want to include verbiage that the reader can relate to. If you send a communication to Sales that is filled with technical jargon, your audience will not relate and will quickly disregard your communication.
Click here, Free Newsletter Template, to download a template that you can use for your project.
---
Two-Way Communication Strategy
As part of your communications plan, you should include a two-way communication strategy that involves both "Telling" and "Listening."
Telling is communicating to people
Listening is hearing what these same people have to say
Change Managers, Program Leads, and Communication Specialists often communicate using a Telling strategy where all they do is communicate to their target audience. They don't often involve the Listening component which involves hearing what people at the grassroots level are saying about what is being communicated.
By applying a Telling and a Listening strategy, you are communicating and also getting valuable input that will allow you to gauge the success of your communications.
Your Listening strategy should involve meeting with Change Champions, Super Users, Managers, and other stakeholders to gather what they are hearing from people at the grassroots level. What are front-line employees saying, and how are they reacting to what was communicated? How are customers reacting to communication? Is there support or resistance to what is being communicated?
---
3×5 Leadership Communication | Sample & Template
► Communication Plan Template – Cloud or Excel
Your communication strategy and plan should also include 3×5 regular updates to key stakeholders, impacted managers, senior executives, and any other senior project resources.
As the name implies, a 3×5 communication strategy involves providing a succinct update using three columns (what you achieved, what you are working on, and what you plan to do next).
Each of these three columns will list five achieved, in-progress, and planned activities, respectively.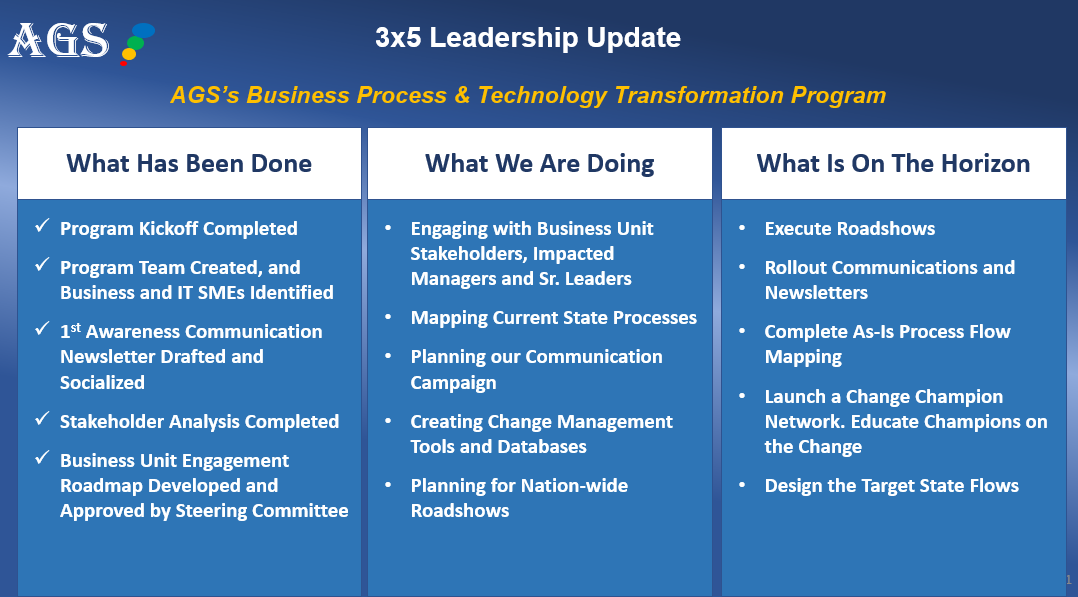 Click to download: Free Sample Template – 3×5 Leadership Communication
When communicating a change to senior leaders, and project management leads, they generally like to receive communication that is succinct and presented from a high-level perspective. When leaders desire more detailed information, they prefer to be the ones asking for such details versus you sending them a very detailed first communication.
You will immediately lose the attention of most senior leaders if you send them communication that has too many details, which is why including a 3×5 as part of your change management communications plan or project communication strategy is highly recommended.
---
FAQs Communication Strategy
► Spreadsheet & Analytics Tool for Managing Your Communications
To address frequently asked questions about the change, you should include FAQs as part of your communication strategy.
You can have one FAQ page that includes all frequently asked questions and answers or you can have individual pages. Irrespective, this page(s) should be maintained regularly, and kept up to date with frequently asked questions and provided answers.
Also, the best project communication practice is to include a link at the bottom of every communication that you send out that points people to your FAQs.
This will help drive end-user traffic to the FAQ page(s).
Sample FAQ Page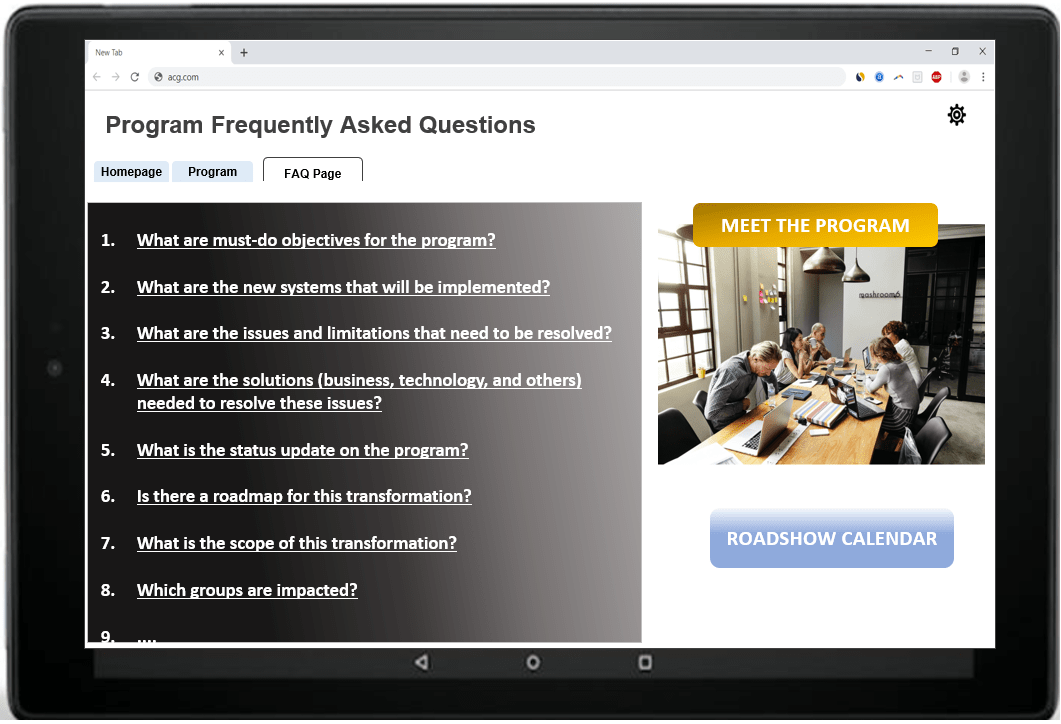 The FAQ page(s) should be published and maintained on the firm's internal or external blog and should be accessible to all target audience groups. Using SharePoint or another internal platform that requires special access and approvals will not be ideal.
Open access provides the broadest level of access to all target audience groups.
If you need to ensure exposure to customers and external parties, then post it on the company's public site (you might need to work with Corporate HR or legal to get approval for this). Confidential level information should never be posted on an FAQ page, irrespective of whether the page is a public or an internal page.
---
Intranet/Blog Communication | Sample & Template
► Communications Planning and Management Tool
In addition to, or separate from an FAQ page, you should also have an internal page or site where content can be posted that focuses on the project or initiative.
Use this dedicated project site to communicate progress and awareness. Upload communication videos, project documents or artifacts that end-users can view or read. You can also upload training content and use the page as a repository for presentation and training documents. 
Alternatively, you can also use SharePoint, Dropbox, or other collaborative platforms as your centralized program repository. However, as mentioned in the section above, if you need all impacted end-users to be able to quickly access the repository without having to go through approval hoops, then effective communication strategies call for using a platform that is easily accessible by all impacted end-users.
---
Videos & Recordings Strategy to Include on Your Project Management Communication Plan
► Spreadsheet Matrix for Managing Your Communications
Where possible, you should record your team's end-user meetings, training, coaching, workshops, and other touchpoints, and post the recordings on the firm's website, on your FAQ page, or on the project page for stakeholders to view.
If you are using video and audio tools (Skype, Microsoft Teams, Cisco Webex, etc.) these platforms generally come with recording features. You should record your meetings and post the information on the project site.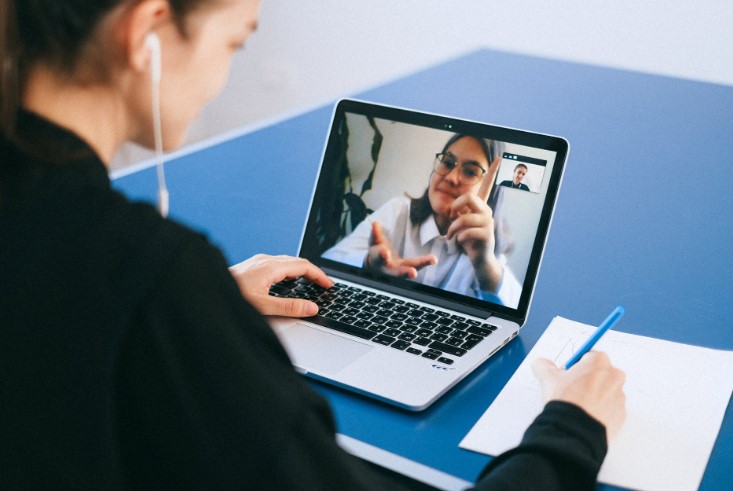 All of the channels and strategies outlined above are effective communication strategies that when implemented will help you increase the success of your communication activities.
---
Conclusion – Developing an Effective Communication Plan for a Project or Business Change
Over the last decade in my role as a Senior Change Management Program Manager, I have delivered end-to-end change management capabilities for large, complex business transformations. Something I have identified again and again is that different groups and individuals have different preferences for how they consume communication.
By applying a multi-prong approach as part of your project and change management communication plan, you drastically increase the success of your communication efforts.
The aim of this communication plan and strategic guide presented above is to provide you with a step-by-step overview of the best communication plan practices that you need to be aware of, to help increase your communication successes.
Best of luck in your communication planning and delivery. Let us know if you have any questions or comments.
---
Get your copy of our #1 Ranked Communication Planning Toolkit
The AGS Communications Management Tool includes a best-in-class communication database template, samples, a 360-degree analytics view of all your change communications activities, and much more that you can leverage to simplify and optimize your communications management.
Click below to purchase this tool and for instant access that will allow you to get started right away.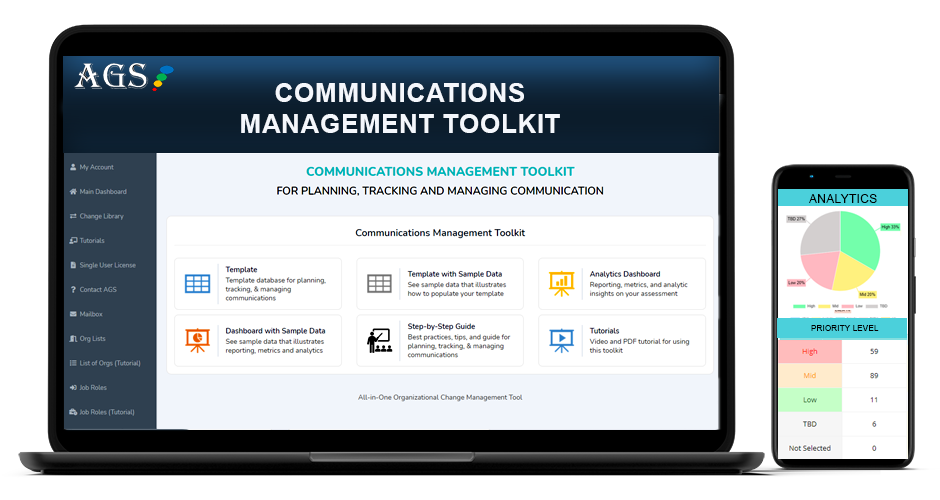 Change Management Communication Software Tool
What is a Communication Plan?
A communication plan is a document that outlines the communication strategies, activities, and deliverables that will be used to communicate with a targeted audience including employees and managers. The best communication plans include the list of targeted communication audience groups, as well as the success matrix and indicators that will be used to track the communication successes.
What Should be Included in a Communication Plan?
The purpose of a communication plan is to document the approach that will be used to design, develop, implement and track the effectiveness of a communication program. As such, a communication plan should include the who, what, when, and how of the communication campaign.
How does a Communication Plan Look Like?
The initial step to creating the best communication plan is to first determine your communication objectives. And next, you will want to identify the list of communication audience, what they need to know, how they need to be communicated with, and what KPIs you will use to track the success of your communication campaigns.
How to Write an Effective Communications Plan
The initial step to creating the best communication plan is to first determine your communication objectives. And next, you will want to identify the list of targeted internal and external communication audience groups, what they need to know, how they will be communicated with, and what KPIs you will use to track the success of your communication program.
---
Note: Content on Airiodion Global Services (AGS)'s Airiodion.com website is copyrighted. If you have questions, comments, or tips about this Airiodion Global Services content or product, please contact Airiodion Global Services today.
---
External sources: https://products.office.com/en-us/sharepoint/collaboration, https://www.ls.graphics/free/free-pixel-4-and-pixelbook-go-mockup, https://www.pexels.com/photo/people-on-a-video-call-4226256/