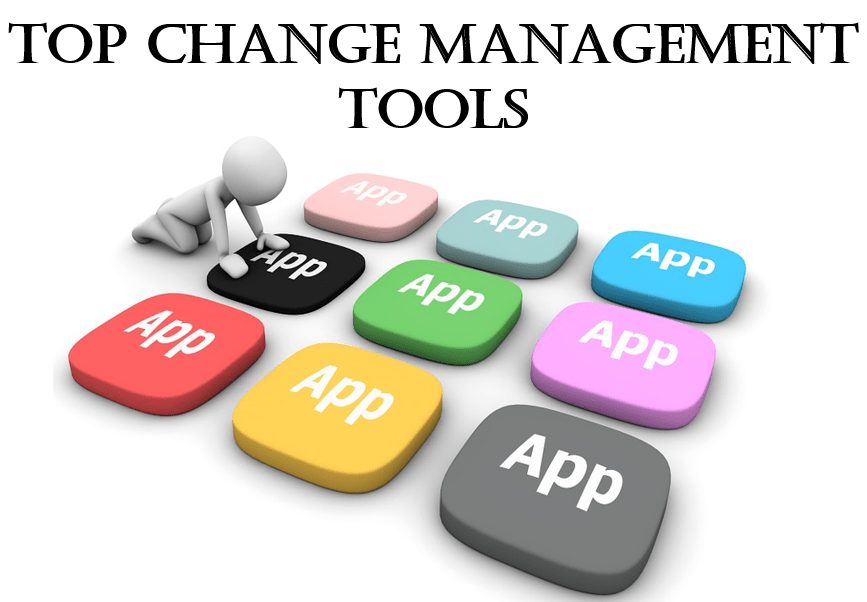 ---
CHANGE MANAGEMENT TEMPLATES, SOFTWARE & TOOLS
---
Rating the Top Change Management Tools, Systems, & Software for 2020
As a Senior Change Management Lead and a Management Consultant for top banking, technology, and media companies, I understand the feeling of overwhelmingness that people often experience when trying to navigate the tremendous number of change management tools and software to determine which product is best for their needs.
Some of the best change management tools have simple-to-use features, while others have more advanced capabilities.
This situation is further complicated because there are "IT change management tools" which are used to track and manage software, hardware, and product change requests.
Often referred to as IT Change Requests & Implementation Tracking Tools, these software products are completely different from "organizational change management tools," which are used to manage the people side of change for a transformational project or initiative.
---
Top Rated Change Management Tools
Click below for additional information on the type of top change management software that you are interested in: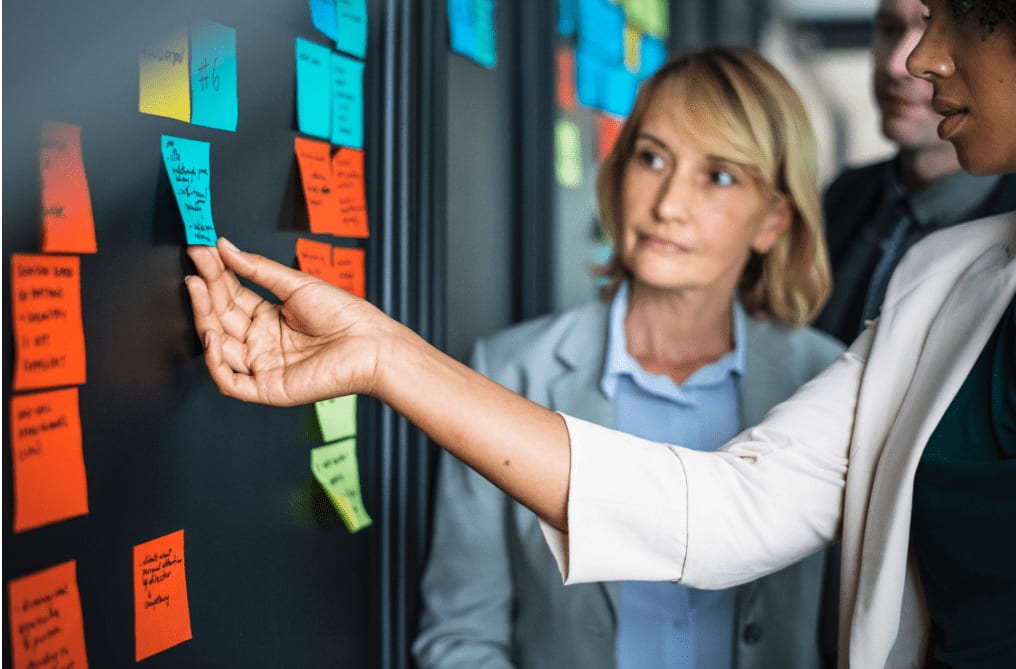 ---
Best IT Change Management Software Tools
As mentioned above, there are two categories of change tools. This section covers the best IT change management tools on our list for managing your product, software, or development change requests and implementation workflows. 
Before reviewing this year's top IT change management tools, let us very quickly provide an overview of the importance of having a structured change management process for your program. You can skip this overview by going directly to the Best IT Change Management Tools section
Importance & Overview
IT change management is a critical component of IT service management, and involves a structured, systematic and efficient methodology to managing changes.
This allows development and other IT teams to more effectively control the impact of any iterations, configurations and changes.
Changes to software development, hardware, or other IT infrastructure can arise from a wide range of factors including hardware changes, end-user software change requests, changes to business or IT processes, requested changes to software configuration, etc.
Applying a structured change management methodology ensures that a streamlined and consistent approach, procedure, standard, and process is applied for all levels of change related to software or hardware development and upgrades.
This structured methodology facilitates efficient, centralized and fast responses to managing technical changes, while ensuring a balance between the need for software and hardware change requests, and the potential impact of the requested changes.
---
Top 2019-2020 Best IT Change Management Software Tools
Our top rated and best IT change requests and management tools for 2019-2020 include:
ManageEngine ServiceDesk Plus

Solarwinds IT Change Management Software

ServiceNow Change and Release Management Tool
---
ManageEngine ServiceDesk Plus Review
ManageEngine provides one of this year's top ranked best IT change management software.
With ManageEngine's ServiceDesk Plus IT change management software you can easily streamline change requests, planning, approval, design, development, and roll outs. You don't have to worry anymore about unplanned outages.
This change tracking tool allows you to effectively handle standard, emergency, and critical changes separately with unique and customizable workflows.
Make informed decisions to reduce unauthorized, failed, and emergency product changes.
What about creating impact, roll out and back out plans? Check! With this IT change management tool you can easily use Change Advisory Board (CAB) to configure systematic workflows for every stage right from submission through to closure to ensure that nothing is missing.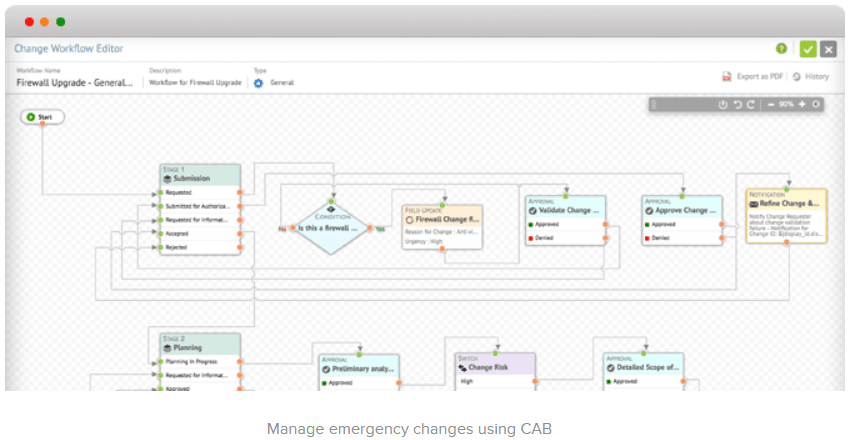 ---
Solarwinds IT Change Management Software Review
Solarwinds' IT Change Tool, named Web Help Desk,  is another one of this year's top rated best IT change management software.
This ITIL-ready tool allows you to effectively simplify and automate all levels of your IT change management program, including change requests and change approvals by providing simple-to-use, CAB-based, advanced, and highly customizable tools. ITIL (Information Technology Infrastructure Library), is a set of structured IT service management (ITSM) practices that focuses on aligning IT services with business needs.
This top IT change management tool integrates robust IT ticketing with an easy-to-use change requests, execution, and tracking process.
It offers simplicity and flexibility, and lets you manage change control through automated approval workflows. This tool also comes with a free trial which allows you to test it out before purchasing.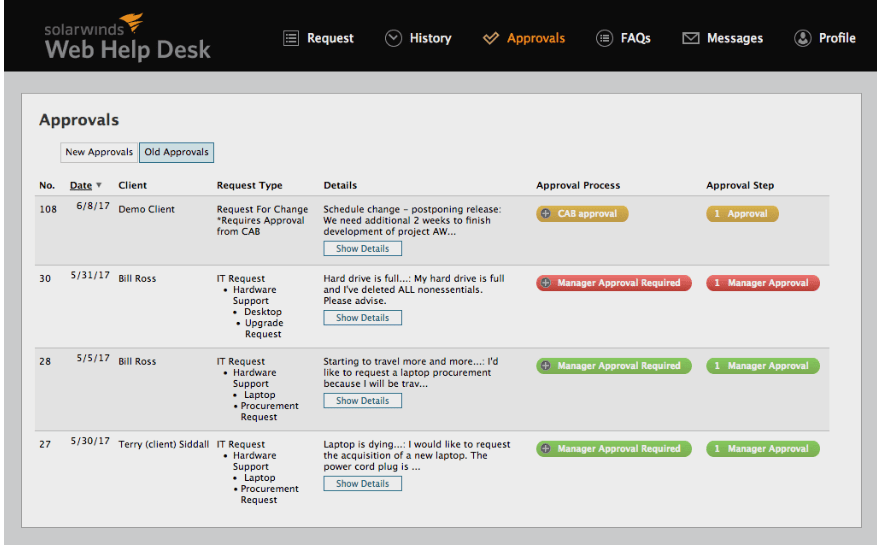 ---
ServiceNow Change and Release Management Tool Review
No top rated list of IT change management software should be considered complete if it doesn't include ServiceNow's Change and Release Management software.
With ServiceNow's change tool, you can effectively control all aspects of your IT change processes, starting from the first step of creation, through risk‑assessment, conflict detection, approval, implementation and monitoring.
This top rated change and release management tool allows you to schedule requests easily, analyze implementation risk with dynamic impact calculations, and use the Change Advisory Board (CAB) Workbench to schedule, plan, and coordinate.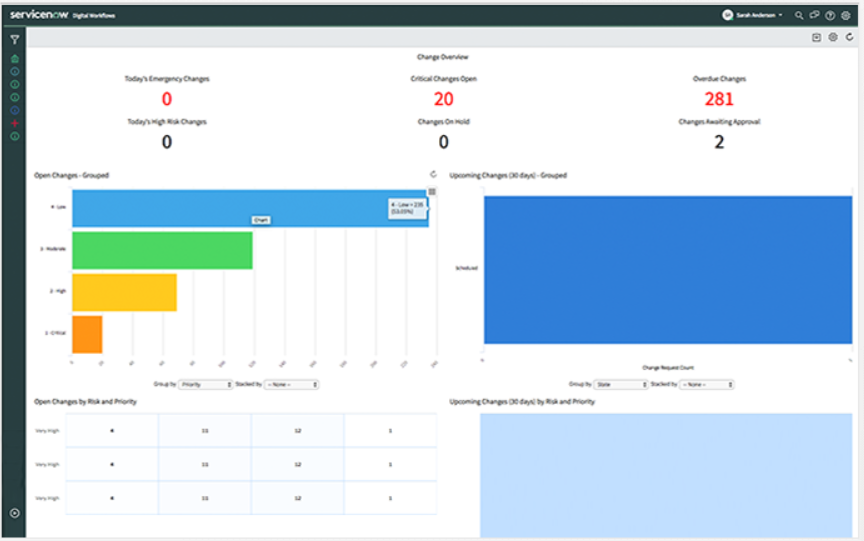 ---
Conclusion | 2019-2020 Top IT Change Requests & Management Tools
As previously mentioned, there is a wide range of best IT change management software tools that can be found on the market today.
In the sections above, we have provided you with information on some of the top rated tools.
If there are other highly recommended IT change requests and management software that you strongly believe should be included and reviewed on this page, kindly email us with additional information on these products.
Click here to contact us today: Contact AGS.
---
List of AGS' Best Organizational Change Management Tools & Software
Below is a list of our 2019-2020 top transformational change management software tools for managing the people side of change for a project, initiative or program, including people, process, skill set, merger and acquisition, new technology integration, and other types of business changes within a company.
Applying one or more of these tools will allow you to increase the success of your organizational change management activities.
Additional overview of each of these software products is provided in the sections below.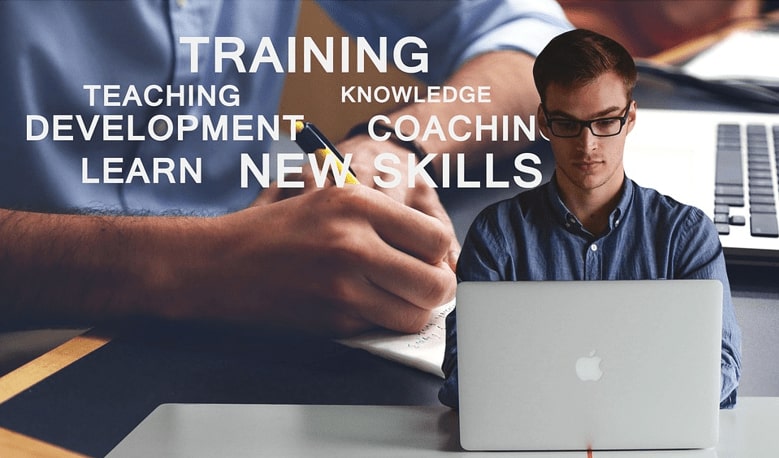 ---
Review of Top AGS Organizational Change Management Software
---
Top Communications Management Tools
Airiodion Global Services' communication assessment, management, and tracking tool allows program managers, change practitioners, change champions and other project practitioners to eliminate the guesswork on what communications need to be sent, and when.
This communication change management tool includes a structured database matrix for capturing key communications information, as well as a 360-degree advanced tracking and analytics dashboard for gleaning key insights on your communications campaign.
With this organizational change management software tool, you can quickly share key communication insights with senior leaders using graphical visuals. Click here to read more: Change Management Communications Tool.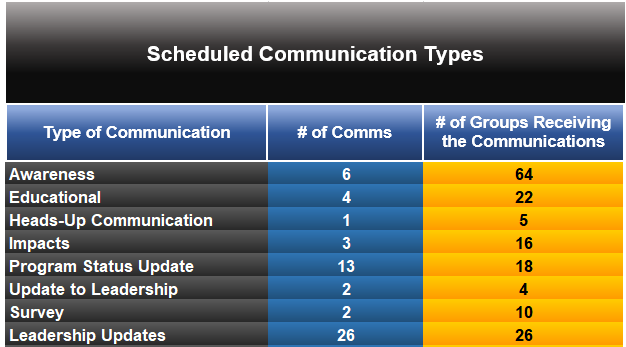 ---
Top Stakeholder Assessment & Management Tools
Using one of the best rated, defined and well-structured stakeholder change management tools allows you to increase the success of your stakeholder assessment, engagement, and management.
Click here to learn more about Airiodion Global Services' Top Stakeholder Tool which allows you to manage all aspects of your stakeholder management, and holistically see which stakeholder groups are receptive to the change, which ones are resisting the change, and which groups need additional engagement to increase their receptiveness to the change.
2019 Best Stakeholder Assessment Tool & Stakeholder Mgt Software
---
Best Change Impact Assessment Tools
Conducting a change impact analysis using one of the top ranked change assessment tools that can be found on the market today will allow you and your team to more effectively identify the processes, technology solutions, groups, divisions, departments, teams, segments, and people that will be impacted by the change.
AGS' change impact assessment and management software tool allows change practitioners and program managers to get faster insights for their stakeholder and end-user planning.
It empowers you to quickly eliminate the guess work on who is impacted, as well as the severity of the various impacts.
Easily share segmentation impact views with senior leaders, steering committee members, and other program team members using easy to understand graphical visuals.
Click here or below to learn more.
---
Audience Assessment & Management Tools
When conducting your target audience analysis to identify those front line employees and managers that will be impacted by a change, it is critical that you leverage an audience assessment, management, and tracking software tool.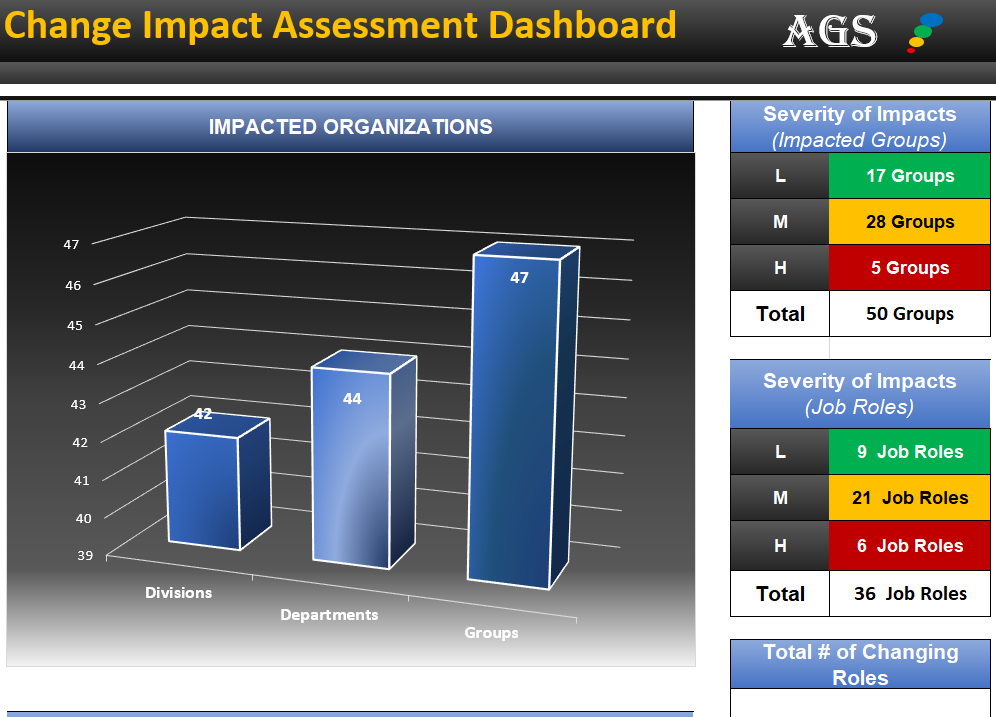 Airiodion Global Service's audience assessment and engagement tool has been developed for leaders, program managers, change practitioners and other change resources.
It allows you to effectively assess, track, report, and manage targeted internal and external audience groups, and impacted end-users.
Click below for additional information on this top change management tool.
---
Organization Readiness Assessment Change Management Software Tools
To enable impacted end-users to more effectively embrace and adopt a small, medium or large-scale change, it is imperative that you leverage a structured and well-proven interactive process.
An interactive assessment process allows you to better determine how ready impacted groups are to transitioning from their current state to a defined future state.
Click here to learn more about AGS's Readiness Assessment Change Management System.
---
Change Network Management Tools
Creating and launching a change champion network is one of the most critical deliverables you can deliver when implementing a medium-scale or large-scale transformational change.
A change network that includes key individuals from impacted groups allows you to move ownership of the change to the impacted business units, which decreases the overall level of resistance and increases the long-term sustenance of the change.
Click here to review Airiodion Global Services' Change Network Management Tool which provides you with step-by-step procedures for developing, launching, and managing a top-performing change network.
This highly rated organizational change management toolkit includes defined and easy-to-use templates, talking points, and an advanced implementation itinerary for managing all aspects of your change network.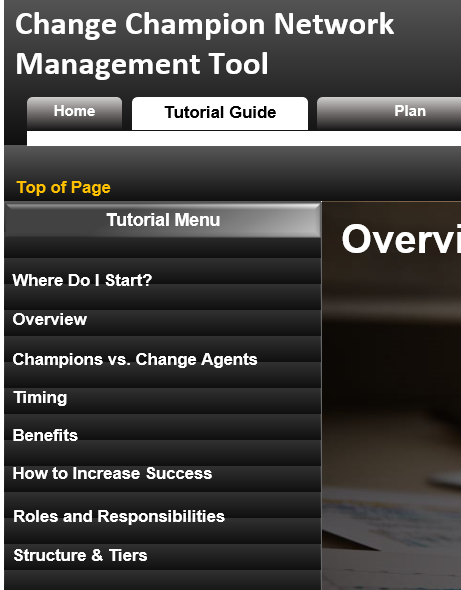 ---
Program Assessment Business Change Tools
The first step in rolling out an effective transformational change program is often to conduct an analysis of the initiative itself.
Educate yourself on the importance of this process by clicking below for a detailed overview of an assessment tool that can be used to assess a program or initiative.
Best Program Assessment Software Tool for Organizational Change Management
---
Impacted Documents' Management Business Change Tools
Best Documents' Tracking & Management Tool for Transformational Change
---
Author: Ogbe Airiodion (Senior Change Management Leader and Founder of AGS).
---
Note: Content on Airiodion Global Services (AGS)'s Airiodion.com website is copyrighted. If you have questions, comments, or tips about this Airiodion Global Services content, please contact Airiodion Global Services today.
---
External image sources/attributes: https://pixabay.com/illustrations/laptop-notebook-man-businessman-1071781/, https://www.manageengine.com/products/service-desk/itil-change-management.html,