CHANGE MANAGEMENT STRATEGY, TOOLKIT, & PLAYBOOK
For End-to-End Organizational Change Management
---
A change strategy is a documentation of the strategy that you will use to design, develop, implement and track your organizational change management deliverables and activities. The change impact assessment, organizational readiness analysis and other change assessments that you perform will provide output that will be used to create your change strategy (or strategic playbook).
Continue reading below for additional information about our free change management strategic playbook that has been downloaded by thousands of change management practitioners, project managers, program leads, and HR staff.
Click here to signup and download the Change Management Strategic Playbook
---
Free AGS Change Management Strategic Playbook
A change management strategic playbook provides an overview of the various strategies that will be used for your communications, stakeholder engagement, end-user engagement, coaching, UAT readiness, Go-Live, leadership engagement, training, and change management activities.
What's the difference between a change management strategy and a change management plan?
Strategy is stating what you will do.
A change management plan is a documentation of exactly how you will do what you stated you would do
Here are examples:
Change Team: "When we roll out the change we will provide weekly communications to provide awareness and status update." (This is a strategy)
Change Team: "We will create detailed communications plans, as well as training plans to educate Sales, Finance, Operations, and Manufacturing teams in the US, Canada, India, UK, Europe, Africa, and Asia." (This is a strategy).
Developing and completing any of these plans above that the Change Team has stated (strategized) they will do is an example of a "change management plan."
A change strategy document should start with a table of content that outlines the various strategies that the change practitioner will use in driving the people side of change for a transformational change program.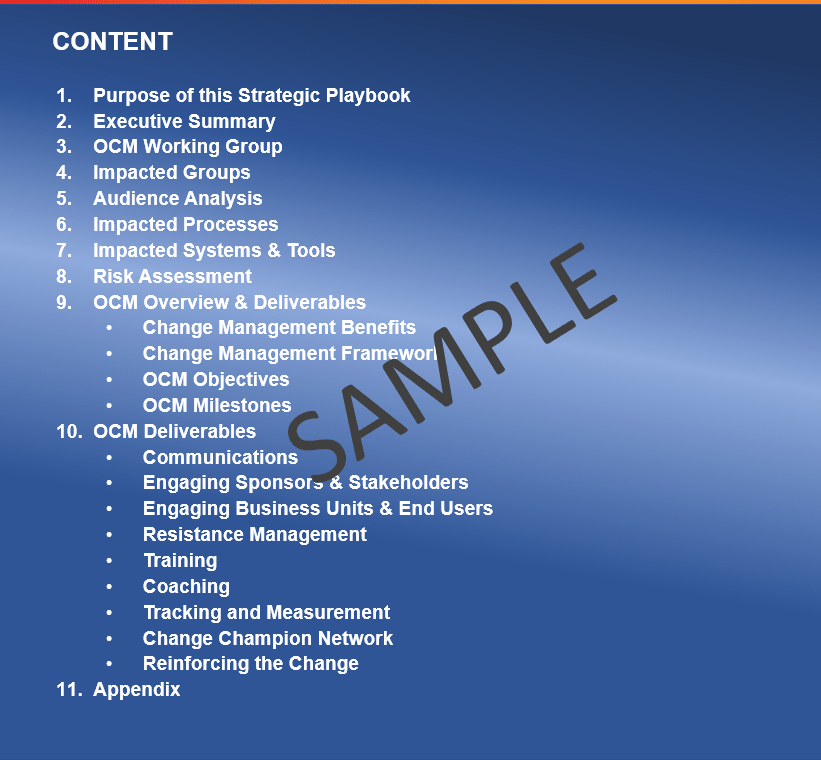 ---
Change Management Strategic Framework
Airiodion Global Services' sample Change Management Strategic Playbook includes an end-to-end overview of the various change management deliverables that can be implemented for mid to large scale transformational projects, programs, and change initiatives. It also outlines the key change management framework on which most change programs are based.
---
Sample Change Management Strategy
Click below to view or download the change management strategic playbook. Contact us if you have any questions, feedback or input.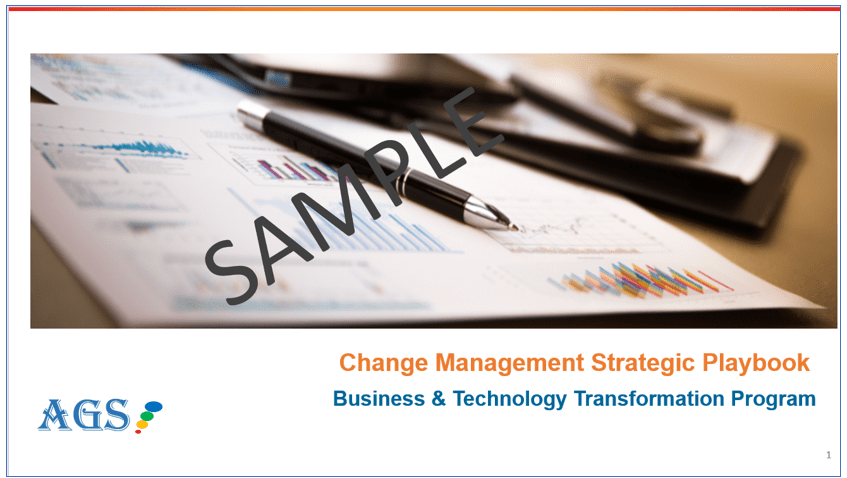 Change Management Strategy and Strategic Toolkit
---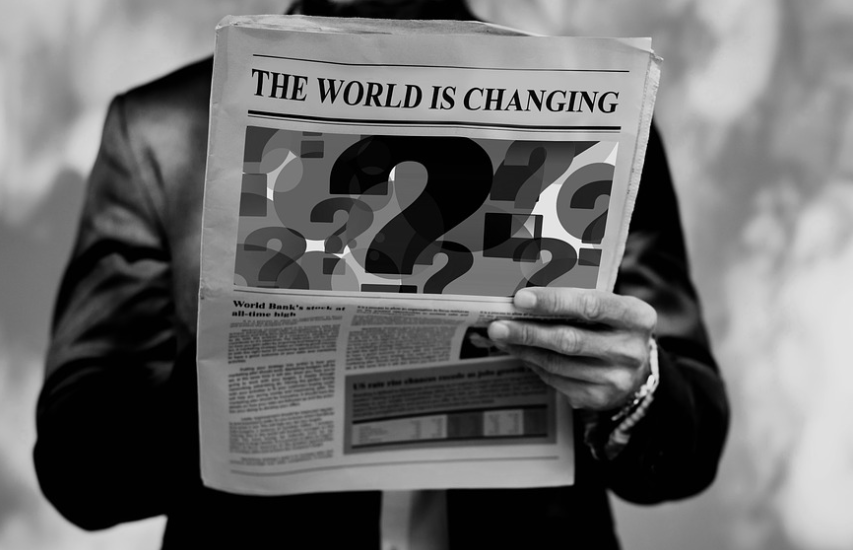 ---
https://pixabay.com/photos/change-world-man-newspaper-read-4039486/
---
Note: Content on Airiodion Global Services (AGS)'s Airiodion.com website is copyrighted. If you have questions, comments, or tips about this Airiodion Global Services content or product, please contact Airiodion Global Services today.
---