A BEST APPROACH TO LEADING CHANGE MANAGEMENT
By Ogbe Airiodion|  Senior Change Management Lead
---
AGS Change Model: A Proven Change Approach to Managing Organizational Change
When it comes to implementing a structured change management approach for the people side of change, there are a wide range of methodologies and change strategies that can be applied.
This article outlines the AGS Change Model – developed by AGS Founder, Ogbe Airiodion.
Read below for a detailed overview of the background and driving factors behind the AGS Change Model
---
How I Developed the AGS Change Management Methodology
Over the last decade, I have worked on large scale, complex projects as a Senior Change Management Lead and Consultant for top banking, financial, and technology companies including Cisco, Intel, HSBC, AHQ, Berkshire Hathaway, Deloitte, Accenture, and many more.
Most of these organizations apply the Prosci change management approach based on its flexibility and focus on the individual end-user. Over the last decade, I have mastered and applied the Prosci change model, but found that it lacked some key change components that were needed for end-to-end change management programs.
Prosci's change approach to managing organizational change can be considered a science. But with years of experience, which includes seeing what works and what doesn't work at various organizations, you can build upon the Prosci approach, and perfect your art of change management implementation, which is what I did.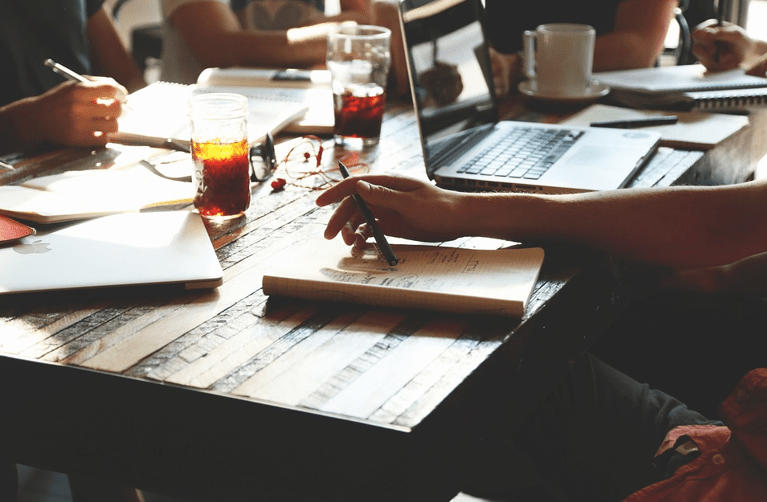 ---
AGS Change Management Approach
In developing the AGS Change Model, I evaluated and defined a flexible change approach for driving any kind of change from a small change to global, and complex transformations. I perfected this model with ongoing engagement and validation from a wide range of individuals, including other Change Managers, Program /Project Leads, key stakeholders, and members of the global change community. 
Similarly to the Prosci change methodology, the AGS Model utilizes a three-phased change process. But the approach and strategies applies for each of these three phases were modified and enhanced.
The first phase involves ramping up and conducting a set of change assessments, the second phase involves developing and implementing change plans (communications, engagement, resistance management, training, and change reinforcement), and the third phase involves tracking adoption and reinforcing the change.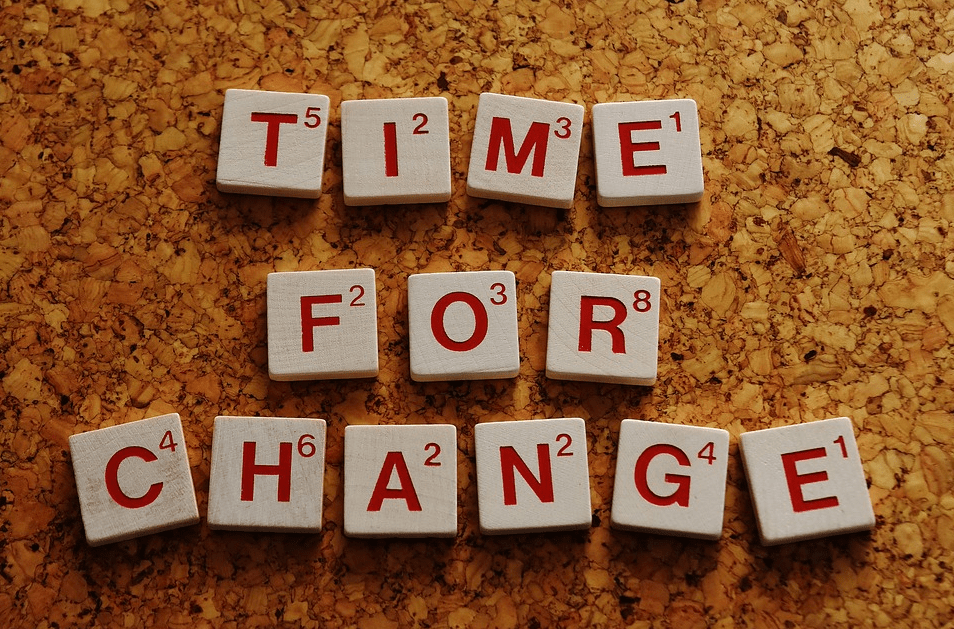 ---
Change Management Approach to Managing Organizational Change – Phase 1
(1) I start out on a project by hitting the ground running right from day 1. I focus on ramping up and working with the project sponsors and program managers to understand the scope, objectives, goals, issues, risks, roadblocks, milestones, timeline, and overall vision of the initiative(s) or program(s).
(2) Next, I review the company/group/team's change management playbook and framework.
Most projects don't have a documented change adoption playbook or framework, and so I generally have to create one.
For those projects that have an existing change management playbook (most of which are very basic and based on the Prosci change approach), I often align my change approach to theirs.
And if their playbook has gaps, I'll often propose a more optimal change approach that can help strengthen their playbook.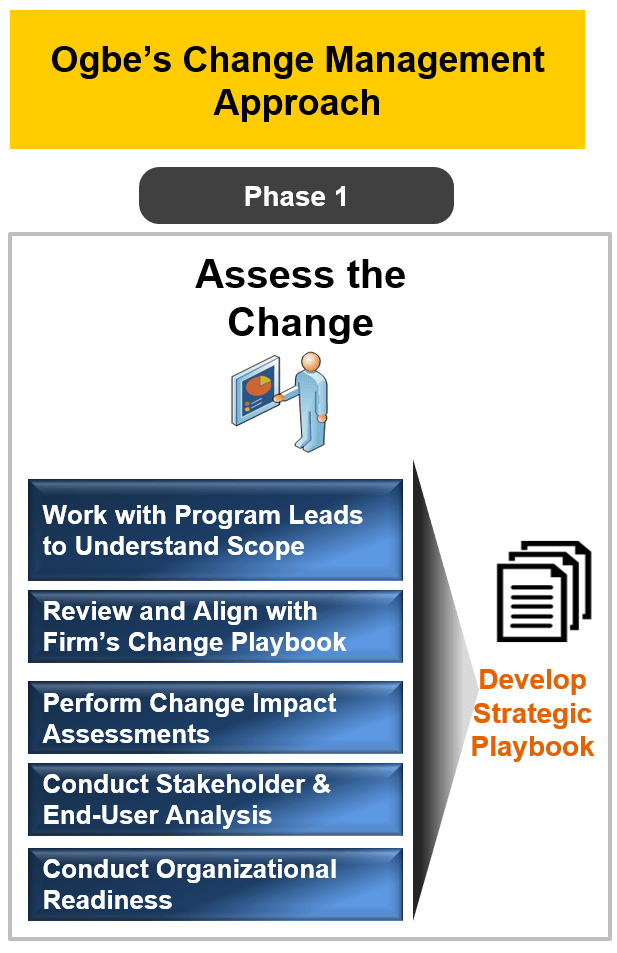 (3) My change management approach during the first phase involves conducting a series of assessments including  change impact assessments to identify business processes, technology solutions, job functions, and organizational groups that will be impacted by the change.
I also conduct a target audience analysis, which allows me to create a matrix of impacted employees and front line managers.
In addition, I also will conduct a stakeholder assessment to identify the leaders and executives that will be impacted by the change, that way we can effectively engage them throughout the duration of the project.
The stakeholder information gets entered into a Stakeholder Matrix Database.
(4) Based on the results of the series of assessments discussed above, I then develop the end-to-end change management strategic playbook that outlines the strategies that will be used to drive adoption for the project or program.
Every project and initiative is unique. And so a change strategy needs to match the scale of impacted end-users, as well as be structured to address each group's readiness for, and willingness to support the change.
It also needs to be flexible and robust enough to support the scope and severity of the change.
You can leverage a 4×4  matrix diagram to chart the position of the initiative. Where the initiative is positioned on the chart will determine the scale of your change management strategy.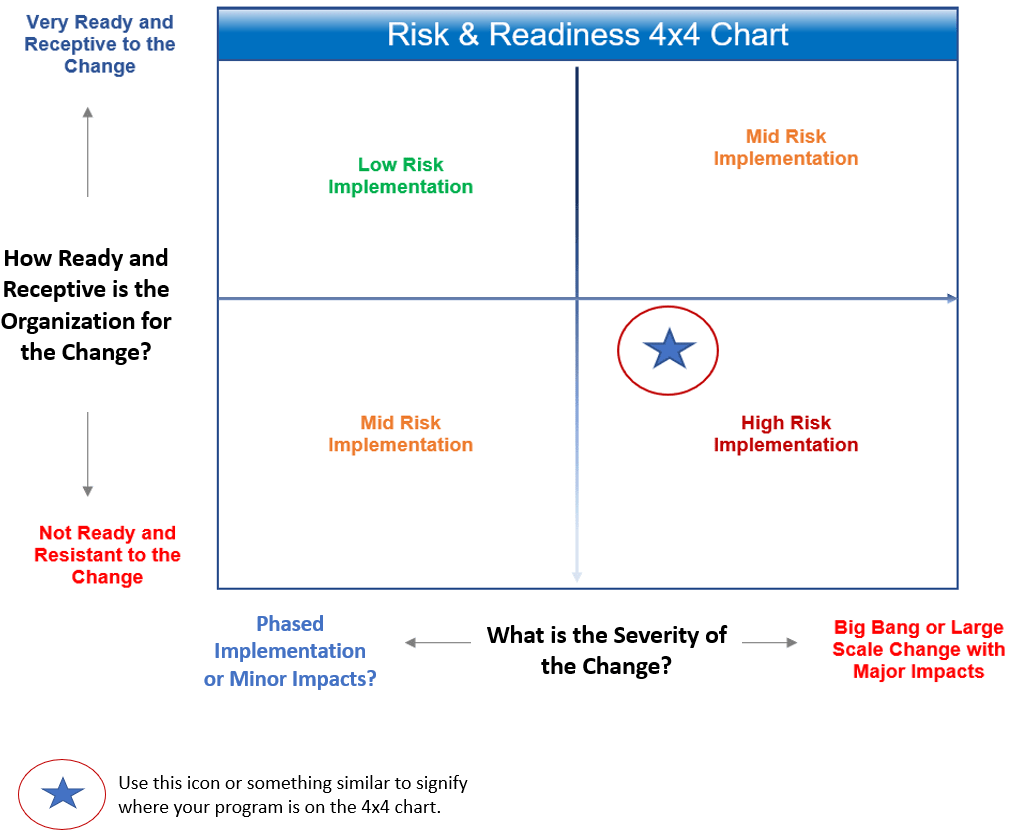 When implementing your own change management approaches and strategies within an organization, you can leverage the activities and plans presented above, to help increase stakeholder and end-user adoption.
In addition, if you'll like to share information on best change approaches that have worked great for you or your organization, then please click below and send me a message about your approach.
---
Change Management Approaches & Strategies – Phase 2
For the second phase of the organizational change management process, the AGS Change Model involves developing a top-to-bottom communication plan to spread awareness of the change.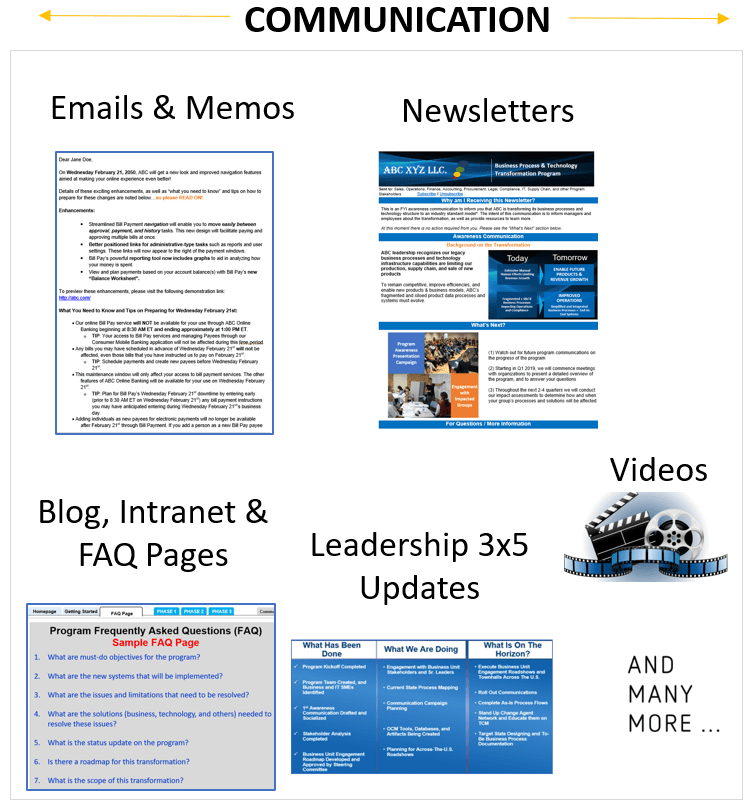 I utilize multiple communication mediums including emails, newsletters, videos, podcasts, 1-on-1 with key leaders, group meetings, internal social media, and blogging. I also leverage the help of key leaders, and managers to waterfall down the communications to their direct reports.
This is a best practice.
Decades of studies have shown that employees prefer getting change communications from their managers and leaders.
The second phase of my change approach also involves developing and implementing leadership engagement activities, end-user touch points, coaching, resistance management, and training, as well as standing up a change champion network to help facilitate the change across impacted functions.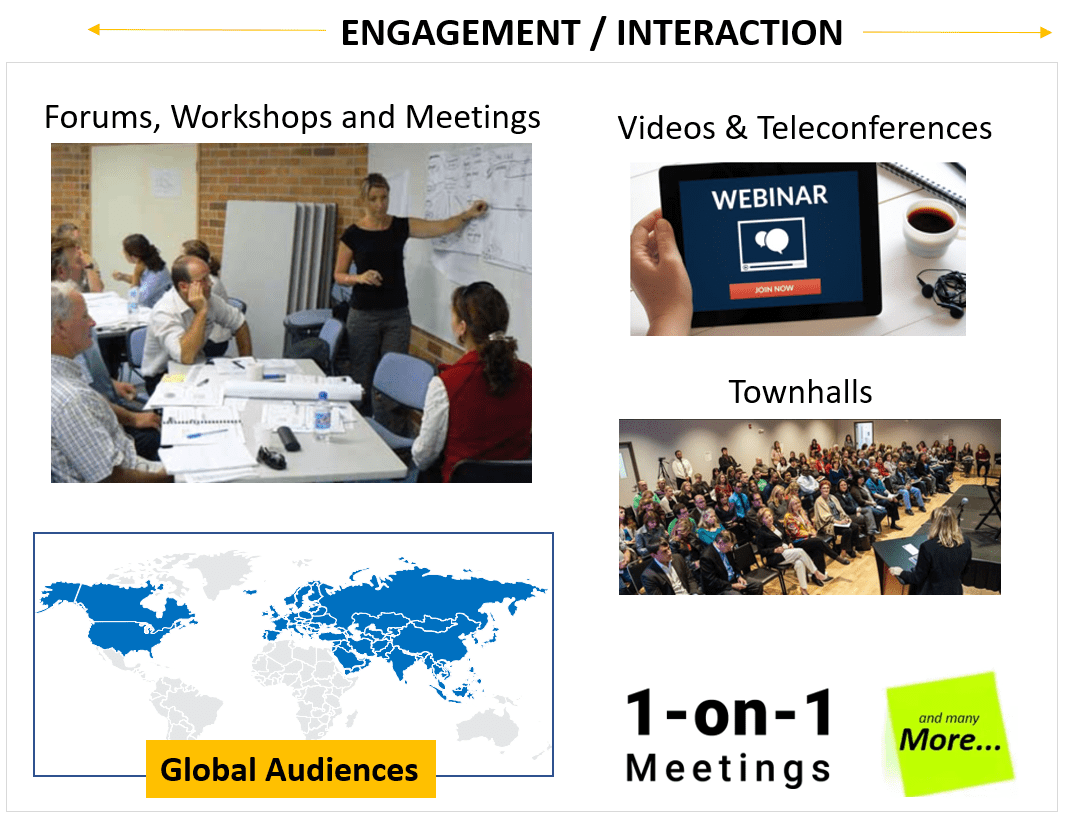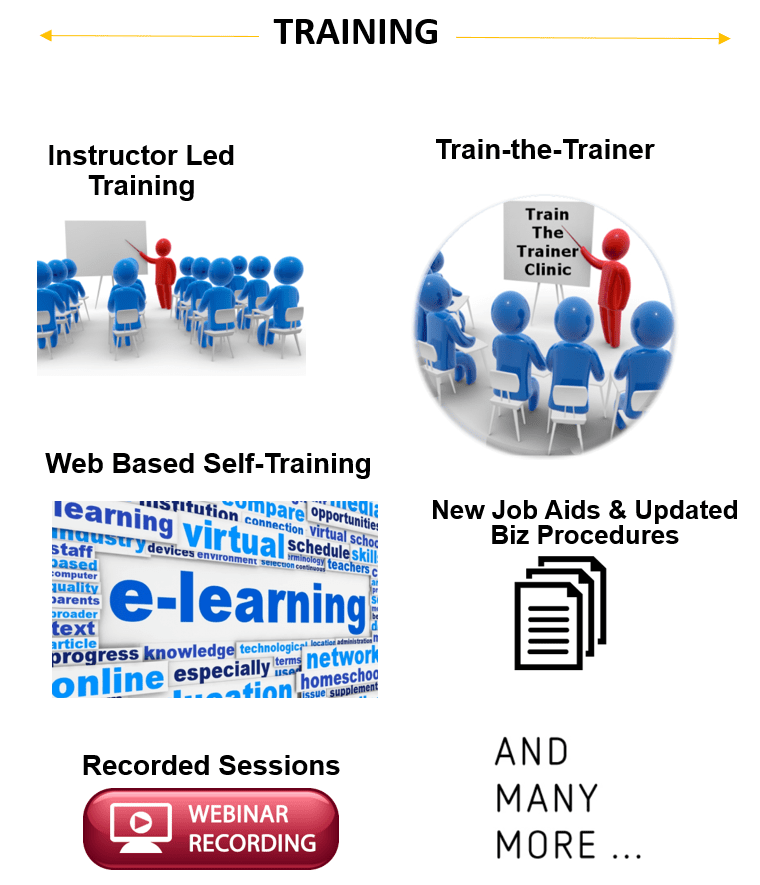 ---
Change Management Approaches to Organizational Change – Phase 3
For the final phase of a change initiative, my change management approach involves tracking and measuring user adoption of the change – before, during, and after Go-Live.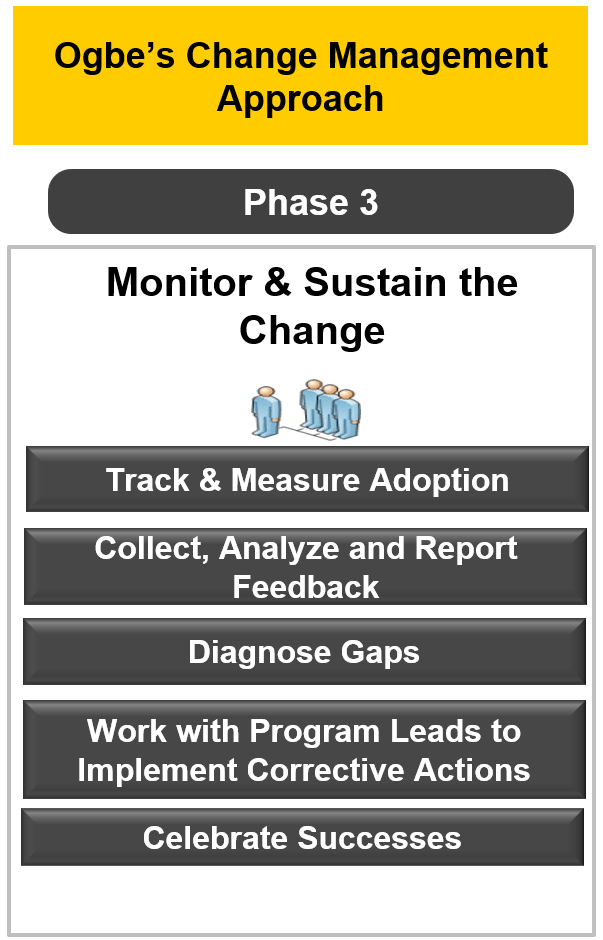 Part of this process involves collecting and analyzing feedback and adoption metrics (training performance, training attendance, usage of new processes and solutions, grassroots feedback from front line managers, FAQs, # of people requesting help, # of people developing workarounds & shortcuts, and many more).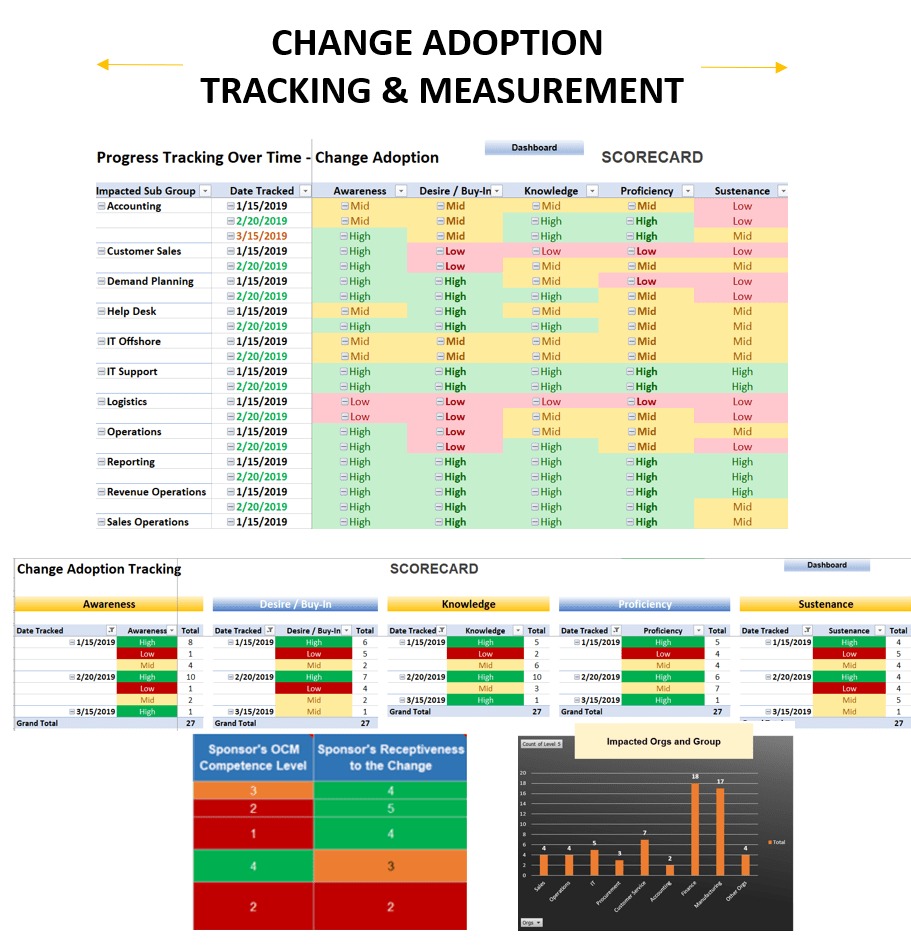 Another change approach that has worked very well for me involves celebrating quick wins and successes, and also rewarding the change champion network (e.g., bringing their involvement and participation to the attention of senior leaders).
---
Conclusion | A Top Change Management Approach to Driving Change
The organizational change management approach presented above, which is a modified version of the Prosci OCM methodology is an approach that I've developed over the years.
I highly recommend this approach based on its flexible structure and very high success rate.
You can take what is presented on this page, and apply it to any type of project, small or large. Simple or complex. Local or global.
You can also let me know if you have any questions. The change management community is a close-knit and ever-changing community, and I am a big advocate of this community.
Note that it is normal human behavior not to like change. Even when people, including employees, know that a change is beneficial to them, it still requires an extended level of effort for them to change their habits and learn new ways. And so, to successfully get people to willingly transition from their current state to a future state and to want to support a change, it is essential that you apply a structured change process, combined with an effective change management approach. 
If you'll like to share feedback on best change approaches that have worked really great for you, kindly click here: Contact Ogbe Airiodion, and send me a message about your approach.
---
Note: Content on Airiodion Global Services (AGS)'s Airiodion.com website is copyrighted. If you have questions, comments, or tips about this Airiodion Global Services content or product, please contact Airiodion Global Services today.
---
Image sources/attributes: https://pixabay.com/photos/startup-start-up-people-593341/, https://pixabay.com/photos/time-for-a-change-new-ways-letters-2015164/