CHANGE IMPACT ANALYSIS GUIDE

---
Change Impact Assessment, Templates & Samples | Everything You Need
This guide provides you with a step-by-step overview, and everything you need to know for conducting successful change impact assessments in 2020. 
---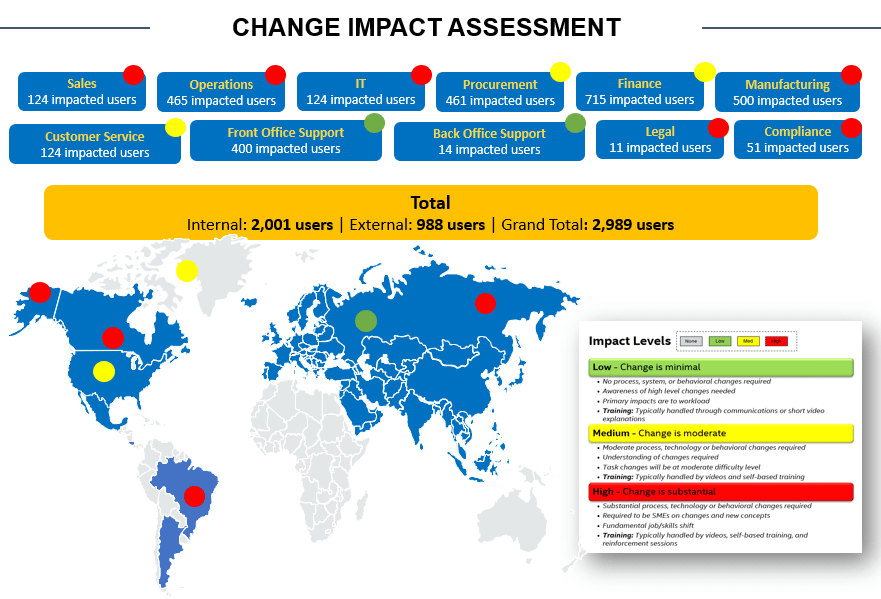 ---
First, What is a Business Change Impact Assessment?
A change impact assessment is the set of tasks that you perform to analyze the impacts of a business change. When a business transforms its processes or technology, or when it expands to new locations, produces new products, or changes its culture, there are individuals and groups that are impacted by this change.
Conducting a business change impact analysis allows you to identify the groups, departments, functions, teams, and job roles that will be impacted by the change. Conducting a change impact assessment will also allow you to identify the specific business processes and legacy technology tools that will be impacted (or replaced) by the change. 
Tool & Template for Conducting Your Impact Assessment
---
Change Impact Assessment Framework: Key Information to Gather as Part Your Impact Analysis
When performing your business change impact assessment, it is essential that you apply a structured change impact assessment framework.
Key data points that you will need to gather as you perform your change impact assessment include  reviewing process flows and mappings to gather "As-Is" and "To-Be" processes. This will allow you to identify the change deltas; in other words, what is changing between the current state and the future state.
You'll also need to identify and document which groups and job roles will be impacted, as well as what are the severity and levels of the change impacts, and most importantly, what does the change management team need to know (input for change management).
You can use the change impact template below for capturing your information. Click the link below to read more.
Impact Assessment Template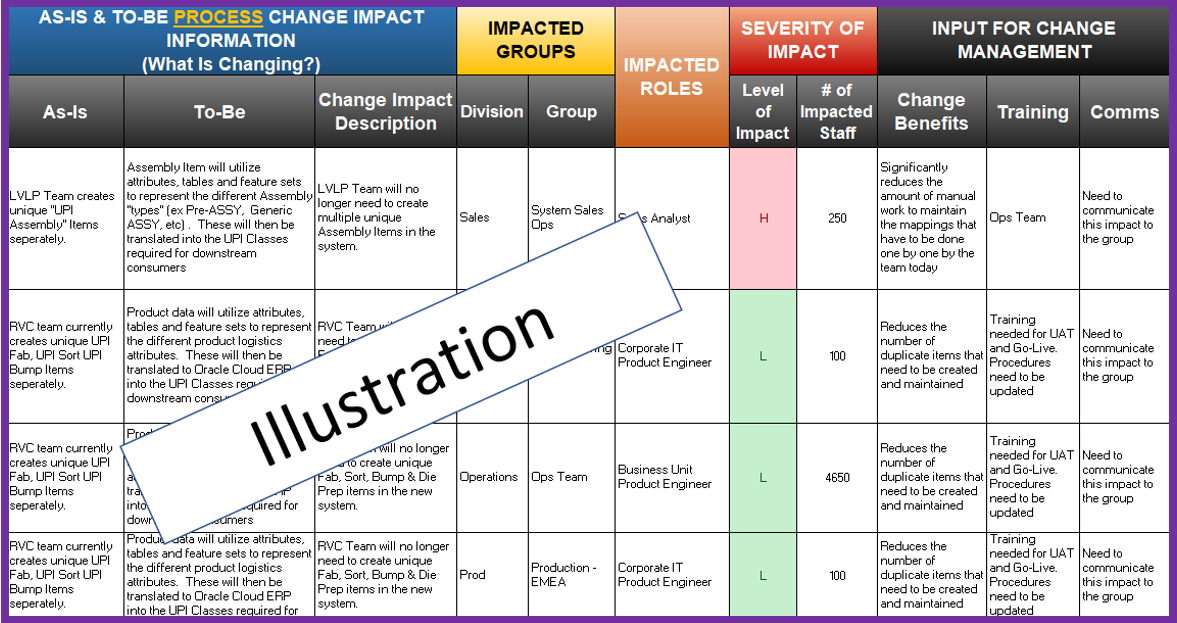 Change Impact Assessment Template & Tool
---
How Important is the Output from Your Business Change Analysis? 
The findings from your change assessment are extremely important as they will drive the development of your change management and project management strategies.
For example, your project, change adoption and program plans for communicating, engaging with stakeholders and firm leadership, training impacted end-users, coaching and supporting impacted stakeholders and employees will be based on the severity and scale of the impacts.
A higher level of change impacts to a specific group (for example, the Sales group) will mean a more comprehensive level of communication and engagement with Sales staff to increase their buy-in and acceptance of the change. It will also mean more training relative to less impacted groups.
---
Click below to read more about AGS' Change Impact Assessment Tool: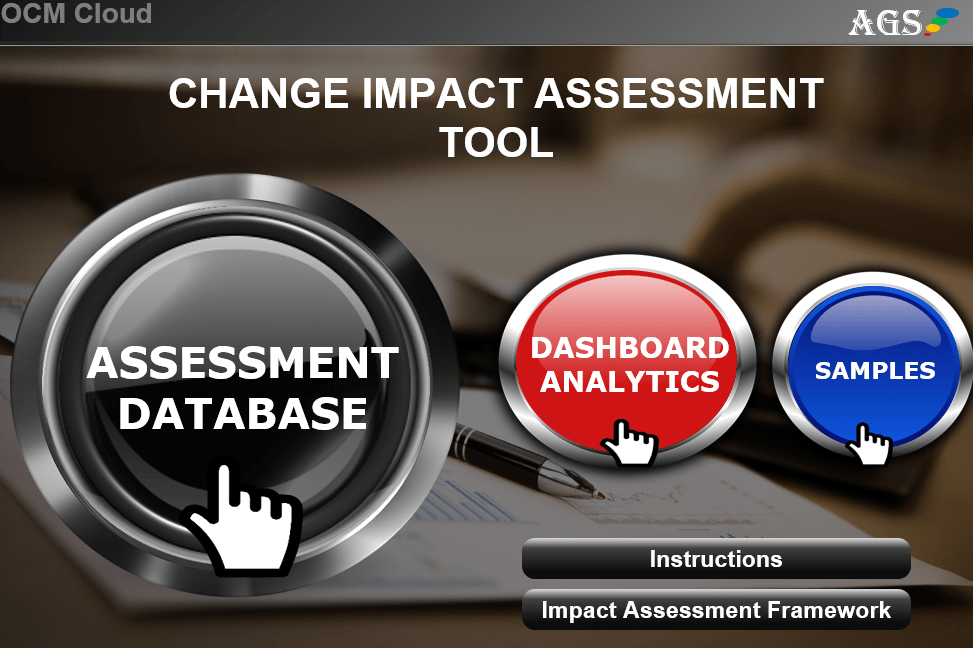 Change Impact Analysis Tools, Templates, Samples, & Databases
---
Change Impact Assessment Framework
The section below this one provides you with a list of process steps to take for conducting an effective impact assessment for changes to people, processes, tools and solutions. But first, let us quickly summarize an industry standard change impact analysis framework that you can apply when doing your change analysis.
A change impact analysis is nothing more than comparing the current state to the future state and then understanding what is changing, who is impacted, what processes and tools will be impacted, and the severity of impact to people, processes and tools.
As you conduct your effective impact review, keep in mind that you must capture the current state and the future state and then document the delta (aka what exactly is changing). See the below image for a best-in-class change impact assessment framework and methodology.
When conducting change impact assessments, you should gather process flows, information, and documentation on the changes, and then enter this information into a spreadsheet.
This spreadsheet should include a column for listing the current state processes, another column for listing the relevant future state processes, and another column for capturing the differences (the delta).
Click here for a sample and an overview of AGS' Change Impact Spreadsheet Template & Tool.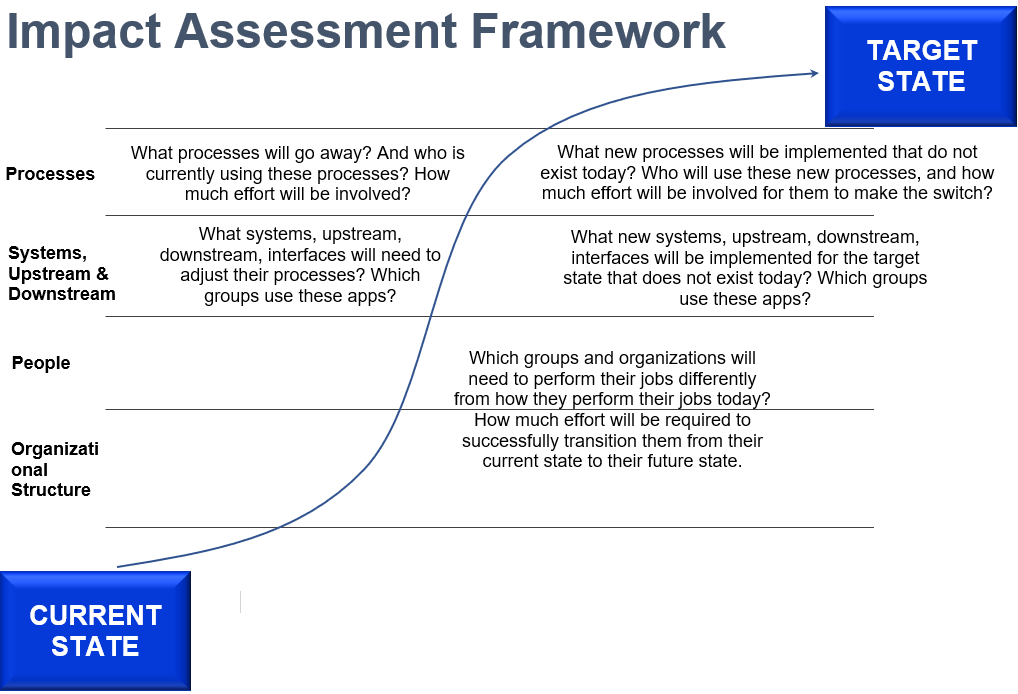 ---
Process for Conducting Your Change Impact Assessment
---
(1)
Identify the "Resource(s)" that are tasked with documenting the business and technical process flows.
Business Analysts are often the Resources tasked with conducting process flow mappings.
However, your firm might be using the services of a consulting firm or resources within the business units to map out the process flows, or this task might have been assigned to the project management team, design team, architect team, or some other group within the organization.
Irrespective, the first stage or step for you to complete will be to identify the Resource(s) that are responsible for documenting and mapping out the process flows.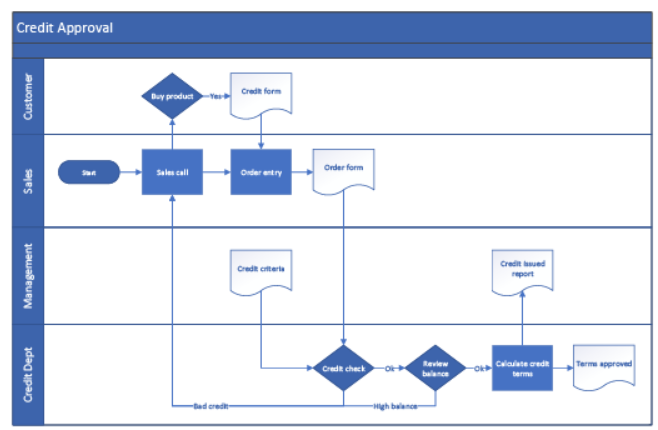 Sample process flows and mapping
---
(2)
Contact, and work with the Resource(s) performing the process flow documentation, using one of the below approach:
(A) Ask the Resource(s) to conduct the assessment
Explain the importance of conducting a change impact analysis

Develop a template for capturing the information, and show the Resource(s) how to complete the Change Impact Assessment Template, and have them populate the template with As-Is vs To-Be process information. 
You can create a Change Impact Assessment Template by yourself from scratch. Make sure to include a column for capturing current state processes, another column for the future state processes, as well as columns for other information such as what is changing variables, and who is impacted. In addition, you can learn more about AGS's Change Impact Assessment Matrix Tool which includes 360-degree holistic view dashboards, structured change impact templates, and samples.

Using information from the As-Is and To-Be process flows that have been created or that are in the process of being created, the Resource(s) will then populate the template
(B) Conduct the change impact assessment yourself
If you are not able to have the Resource (discussed above) perform the impact review and documentation, then you or a member of your team will need to be the one conducting the change impact analysis.
So how do you perform a change impact analysis? See below for a list of the action steps you need to take to help you identify the effects and impacts of the change:
Gather As-Is and To-Be business process flows, technical flows and other current and future state documentation and use this information to populate the Change Impact Assessment template yourself.

Conduct interviews and data collection with the project team, Work Stream Lead, business/org SMEs, architects, designers, stakeholders, and other SMEs

In addition, you can review the below collateral and resources to gather additional information:

Project Charter and Scope Document

Design Planning Workshops

Map Day Workshops

Functional Decomposition & Architecture Diagrams

Business Process Flows

System User Lists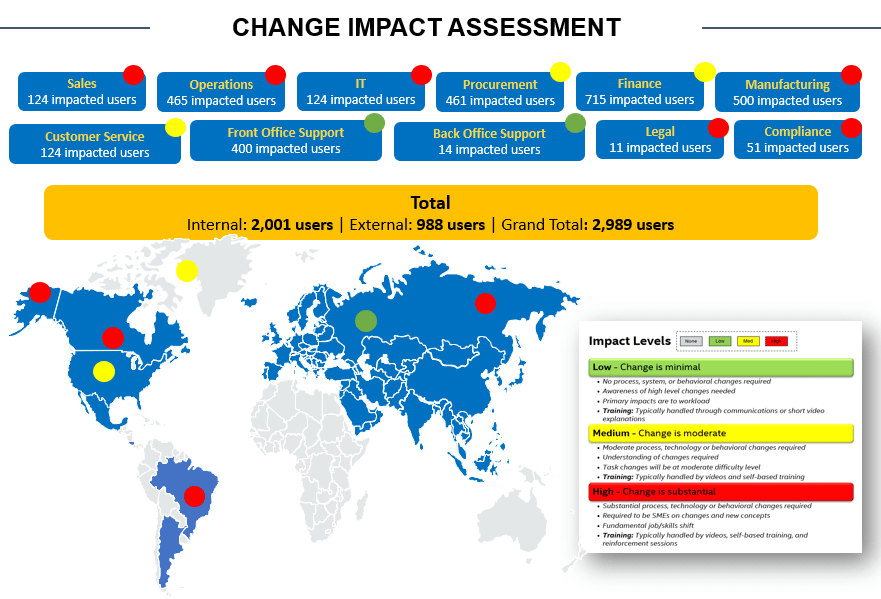 (3) Make sure to validate the change impacts document with the Project Team, Business Analysts and Subject Matter Experts, and key stakeholders to get feedback on the completed change impacts and to further build out the assessment based on feedback received
(4) Integrate feedback, and summarize the impacts in a presentation deck (see AGS' 360-Degree Impact Analysis Tool to learn more)
(5) Present the impacts to senior leaders, the steering committee, and to other program leaders
(6) Leverage the impact assessment for developing your training program, as well as your communications and engagement activities
---
Change Management Impact Assessment Tool, Matrix & Templates
When conducting your end-user impact analysis, it is imperative that you use a software, a impact analysis tool, or a change impact management spreadsheet to document the current state, the future state, and what is changing (the delta). 
On the impact analysis tool, you will also want to document the severity of the impacts, which groups and job roles are impacted and when they will be impacted.
You can obtain our Change Impact Assessment Tool, which includes change impact assessment database templates, samples, a 360-degree view of impacted groups, and many more.
As an alternative, you can create this change management impact assessment template from scratch by yourself if needed.
If you do decide to build and design the change impact spreadsheet for yourself, also make sure to check out Airiodion Global Services' Change Impact Assessment Tool page and review the images presented there. This will help you as you develop your own template. 
And finally, don't hesitate to email Airiodion Global Services if you have additional questions or inputs. 
---
Author: Ogbe Airiodion (Senior Change Management Leader and Founder of AGS).
---
Note: Content on Airiodion Global Services (AGS)'s Airiodion.com website is copyrighted. If you have questions, comments, or tips about this Airiodion Global Services content, please contact Airiodion Global Services today.
---
---
External image source/attribute: support.content.office.net/en-us/media/60e49196-5913-4481-ba29-3479fa0dc97e.png