BEST ORGANIZATIONAL CHANGE IMPACT ASSESSMENT (CIA) & ANALYSIS GUIDE
---
Complete Guide to Change Impact Assessments (CIA) | Everything You Need
I have been a Sr Change Management Consultant for over 15 years and have led global transformations that impacted thousands of employees and customers across the Federal Reserve Bank, Intel, Apple, Capital One, Accenture, HSBC, Cisco, Deloitte, and many other organizations.
Throughout my years of experience, I have discovered that applying the best organizational change impact assessment and management practices described below increases the success of change implementation by over 92%.
Ogbe Airiodion
Senior Change Management Consultant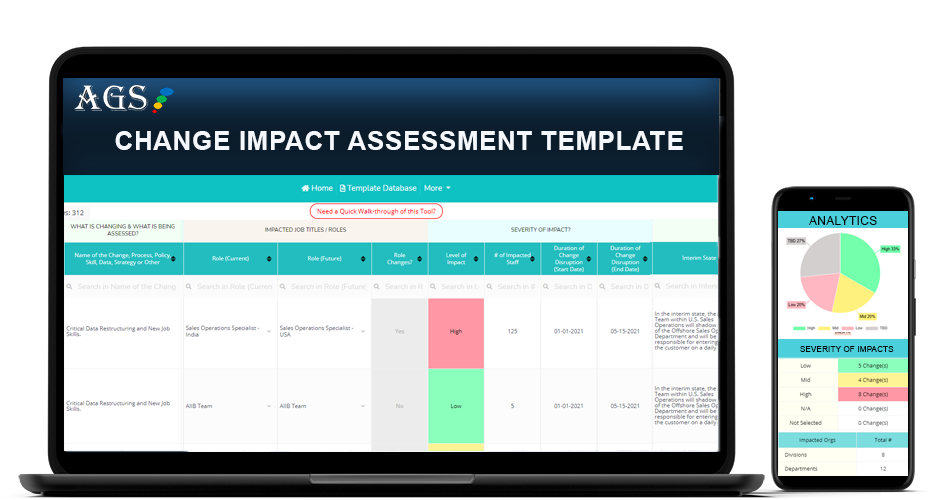 ---
This Guide has Been Designed for?
This organizational change impact assessment guide is designed for Business Change Practitioners, HR, Project Managers, Program Leads, Social Program Coordinators, Consulting Firms, Government Agencies, Corporations, Businesses, Social & Environmental Organizations, and many more for conducting the most effective levels of change impact analysis to identify the people, processes, tools, culture, mindset, skills, behavior, and policies that will be impacted by a change.
A change impact assessment (CIA) helps you identify who and what will be impacted by a change. It also allows you to answer key questions including: What is changing? How many people, groups, or regions will be impacted? When will they be impacted? Why? Severity of impacts? And many more.
The information and answers from your organizational change impact assessments will drive your change management planning for supporting the change.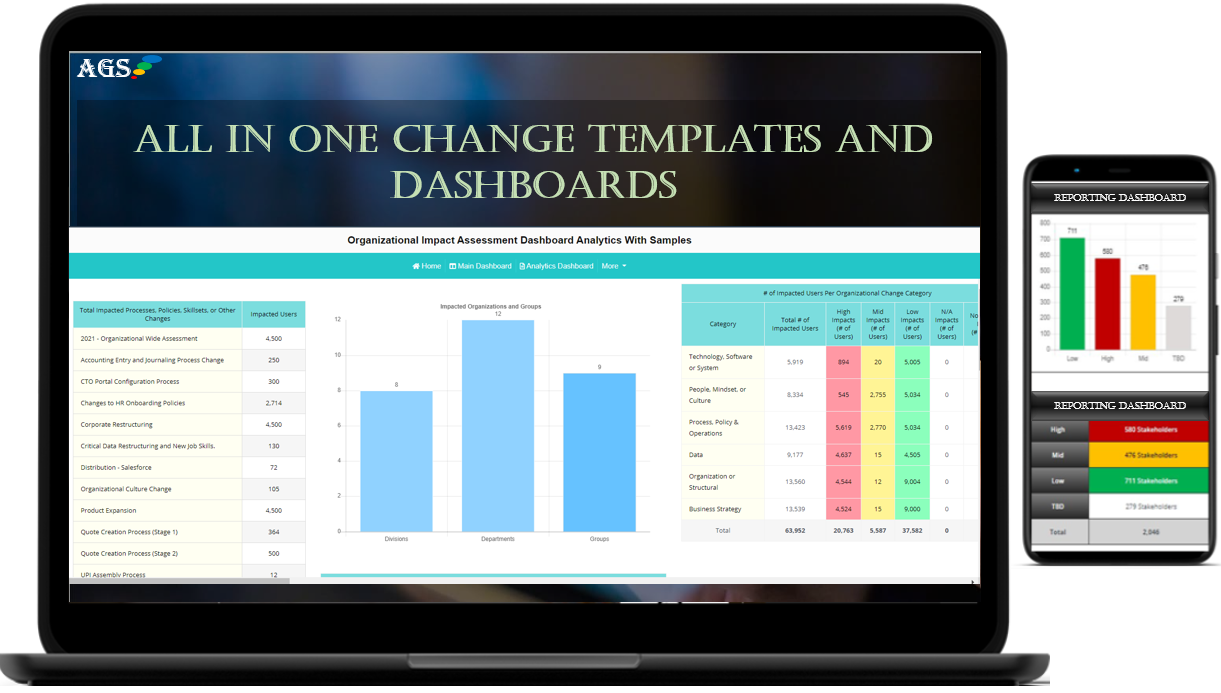 All-in-One Impact Assessments and Change Management Tools
---
Step-by-Step Change Impact Assessment Process with Templates and Samples
As mentioned above, an organizational change impact assessment is a critical component for increasing the success of an organizational change (technology, process, culture, etc.), and it serves as a foundation for many other parts of the change management process.
This free guide provides you with a step-by-step overview and everything you need to know for conducting a best-in-class business (process, tools, people, culture, strategy, expansion, and operations) impact assessment that you need to conduct in 2021. 
Change management and impact assessment practices are fast-paced and dynamic fields. It can sometimes be frustrating, especially if you're relying on outdated change impact analysis templates, matrix, frameworks, and processes that no longer work.
That's why it's crucial for you to stay well-informed and learn continuously. To support change practitioners and project management resources in their change impacts activities, this guide also references AGS' best-in-class Business Impact Analysis Toolkit with Template and Sample Data that you can leverage to enhance your change impact performance and save time.
---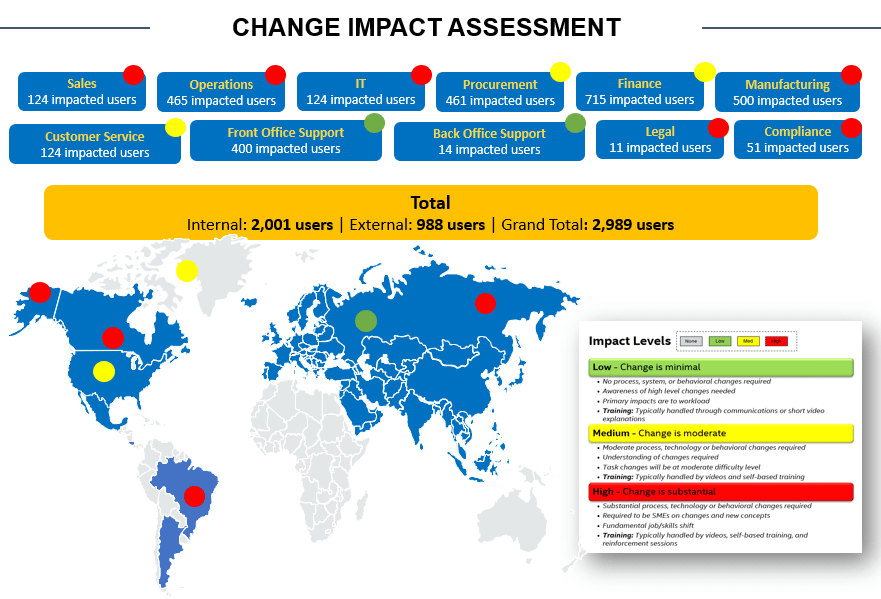 ---
First, What is an Organizational Change Impact Assessment (CIA)?
A change impact assessment is the set of tasks that you perform to analyze the impacts of a change on those within an organization or region. When an organization transforms its processes, culture, systems, skill set, values, policies, or technology, or when it expands to new locations, produces new products, or changes its operations, there are individuals and groups that are impacted by this change.
Knowing who is going to be impacted, how they're going to be impacted, and the severity of that impact is critical if you want to implement your organizational change project successfully.
Conducting a business change impact analysis allows you to identify the groups, departments, functions, teams, and job roles that will be impacted by the change.

Conducting a "system impact assessment" or "software change impact analysis" allows you to identify the specific business processes and legacy technology tools that will be impacted (or replaced) by a technology level change. 

Conducting an organizational culture, mindset, or operational change impact analysis enables you to identify the groups and individuals that will be impacted and who need to be enabled and supported through the change.
Other Types of Change Impact Assessment?
Businesses account for over 80% of impact analysis projects, but businesses are not the only ones that go through change.
Our climate is ever-changing and there are organizations and agencies that regularly have to conduct climate impact assessments. In addition, countries around the world continue to experience social, economic, and environmental changes which require social impact assessments (SIA), environmental impact assessments (EIA), privacy impact assessments (PIA).
Conducting these other types of impact evaluations allows organizations to identify the people, groups, regions, policies, social-economic segments, practices, and behaviors that will be impacted by a change.
If you are interested in reading about these other types of assessments, click below.
If you're interested in the best practices for end-to-end change assessments, keep on reading this article.
---
This guide is geared towards the most common impact analysis & practices, which are for change impact assessment and planning.
---
Change Impact Assessment Framework: Key Information to Gather as Part of Your Impact Analysis
When performing your business change impact assessment, it is essential that you apply a structured change impact assessment framework.
Key data points that you will need to gather as you perform your business change impact analysis include reviewing process flows and mappings of the "As-Is" and "To-Be" processes. This means learning in detail what the current state is now and what this is going to change in order to satisfy the needs of the change project.
This will allow you to identify the change deltas; in other words, what is changing between the current state and the future state.
You'll also need to identify and document which groups and job roles will be impacted, as well as what are the severity and levels of the change impacts, and most importantly, what does the change management team need to know (input for change management).
Sample Impact Assessment Template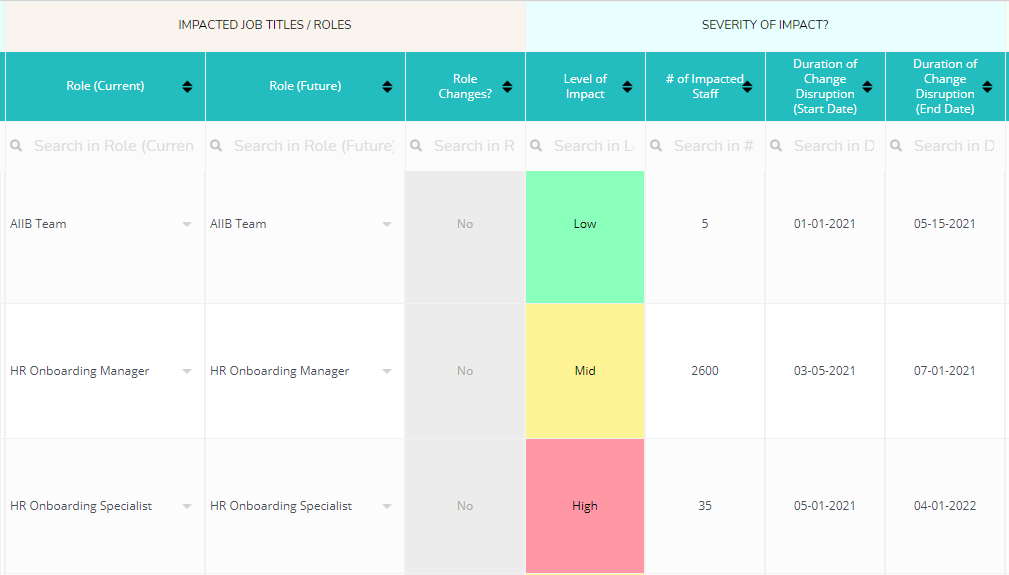 You can use AGS' #1 Ranked Change Impact Assessment Tool, AGS Cloud to help. This tool is an online change manager that is designed to help you plan, manage, and execute a successful change project. Choose from a Cloud or Excel version that includes real-time analytics and impact assessment samples, as well as a simplified template for gathering your organizational change impact information.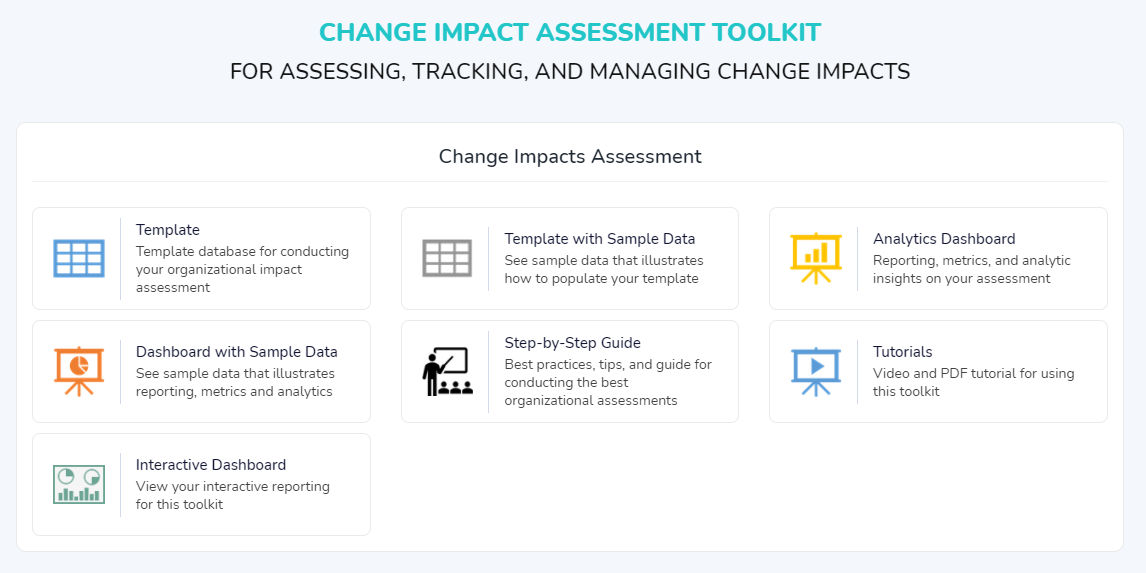 Change Impact Assessment Template & Tool
---
How Important is the Output from Your Organizational Change Analysis? 
The findings from your change impact assessment are extremely important as they will drive the development of your change management and project management strategies.
For example, your project, change enablement, and program plans for communicating, engaging with stakeholders and firm leadership, training impacted end-users, coaching, and supporting impacted stakeholders and employees will be based on the severity and scale of the impacts.
A higher level of change impacts to a specific group (for example, the Sales group) will mean a more comprehensive level of communication and engagement with Sales staff to increase their buy-in and acceptance of the change. It will also mean more training relative to less impacted groups.
How Does an Impact Assessment Impact Other Change Processes?
Tells you the level of training needed for users/groups

Tells you the type of communications needed for users/groups

Tells you where you need change agents to help with change support

Identifies where you're likely to get the most resistance to the change

Tells you what types of job role guides and documentation you'll need 

Identifies which specific processes/procedures/software/systems are changing due to the project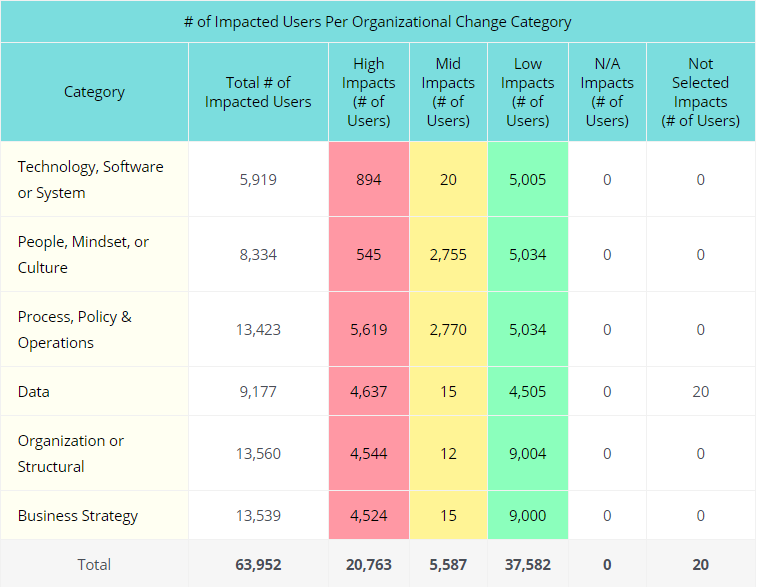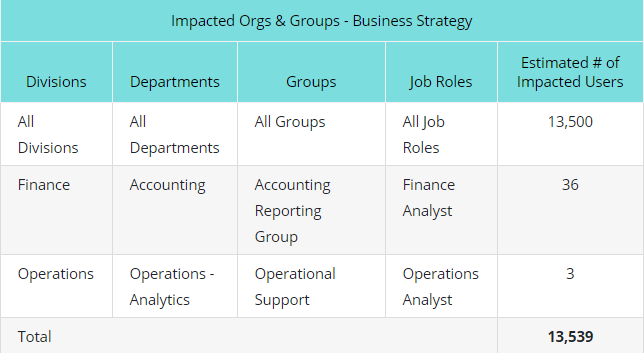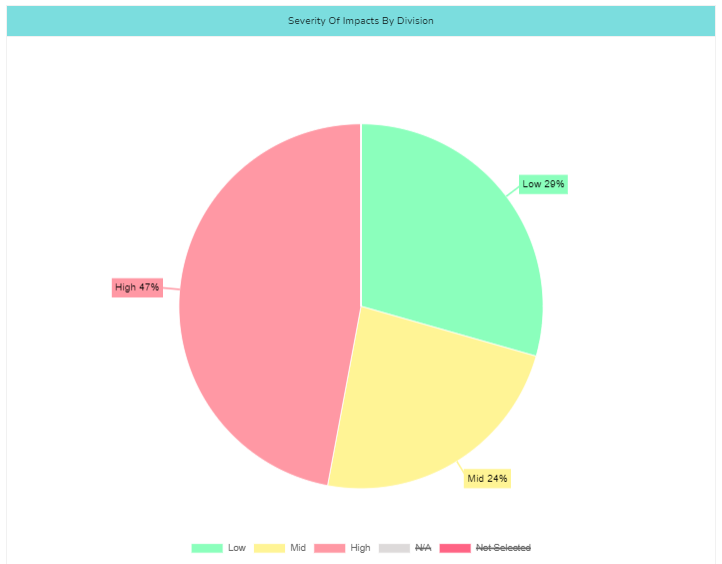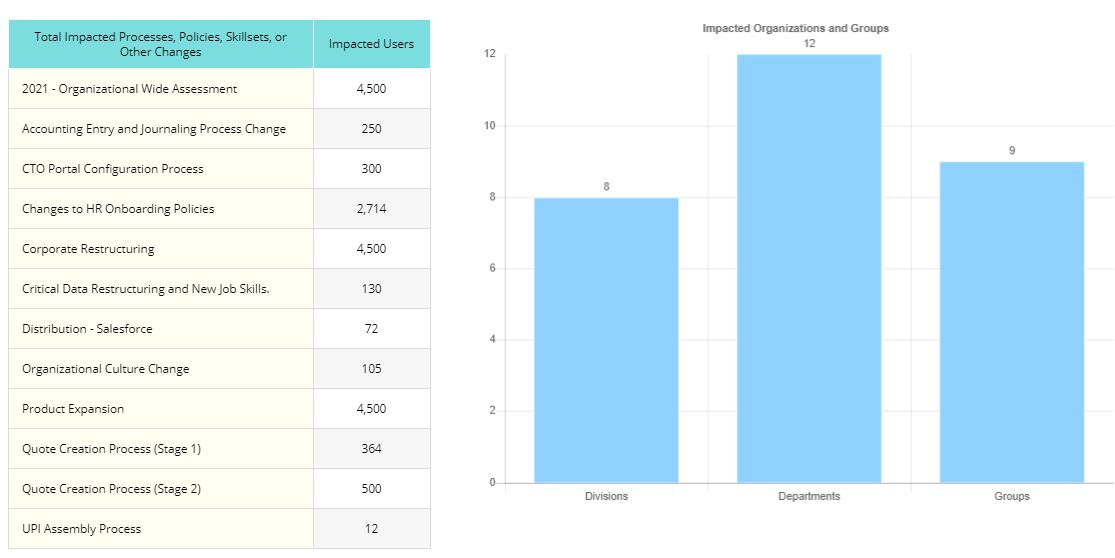 Change Impacts Tool – Analytics Dashboard With Sample Data
---
A Best Change Impact Assessment Framework & Methodology for Change Managers
The section below this one provides you with a list of process steps to take for conducting an effective impact assessment for changes to people, processes, tools, software, systems, and solutions. But first, let us quickly summarize an industry-standard change impact analysis framework that you can apply when doing your change analysis.
A change impact analysis is nothing more than comparing the current state (As-Is) to the future state (To-Be) and then understanding what is changing, who is impacted, what processes and tools will be impacted, and the severity of impact to people, processes and tools.
As you conduct your impacts review and evaluations, keep in mind that you must capture the current state and the future state and then document the delta (aka what exactly is changing).
See the below image for a simple change impact assessment framework and methodology that you can leverage for your purposes.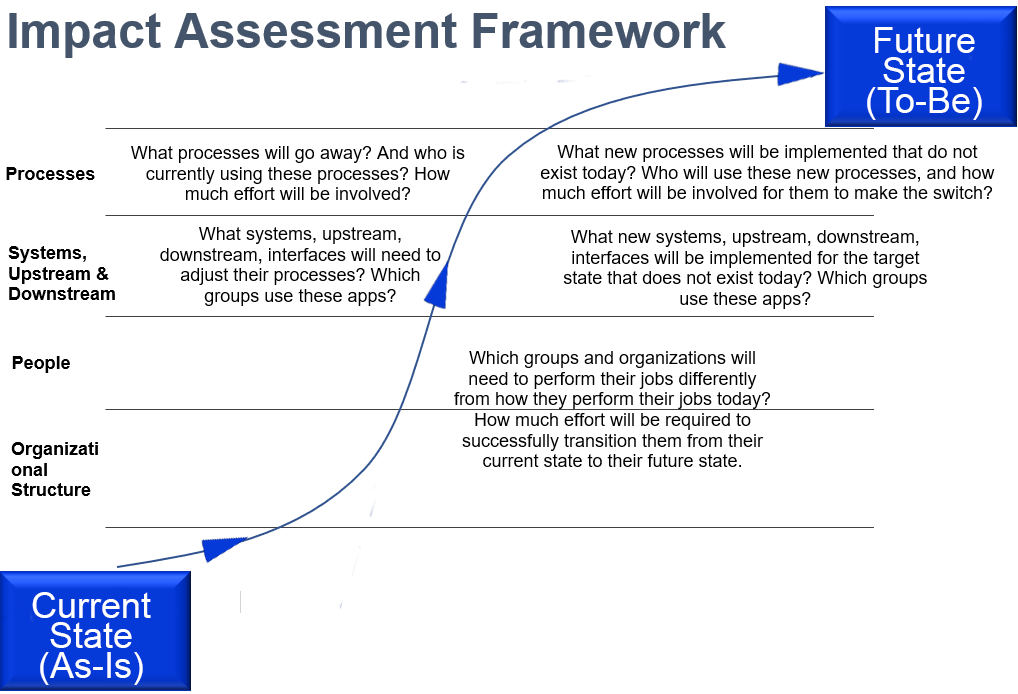 Simple-to-use impact assessment framework
When conducting change impact assessments, you should gather process flows, information on behaviors and cultures, and documentation on the change, and then enter this information into your business impact assessment template – Excel or online.
Are you conducting a software impact assessment? Then make sure you are gathering information on the current software as well as gathering information on the future software that the firm will be moving to. If you are doing a system impact assessment, then ensure that you are gathering information on the existing system infrastructure which will then be used to do an As-Is versus To-Be system-level impact assessment.  
If you are creating your own change impact assessment matrix from scratch using Excel, Quip, or some other spreadsheet, make sure that your impact template includes a column for listing the current state (processes, culture, people, mindset, social, climate, etc.), another column for listing the relevant future state processes, and another column for capturing the differences (the delta). It should be similar to the AGS Cloud impact assessment template which is based on best practices.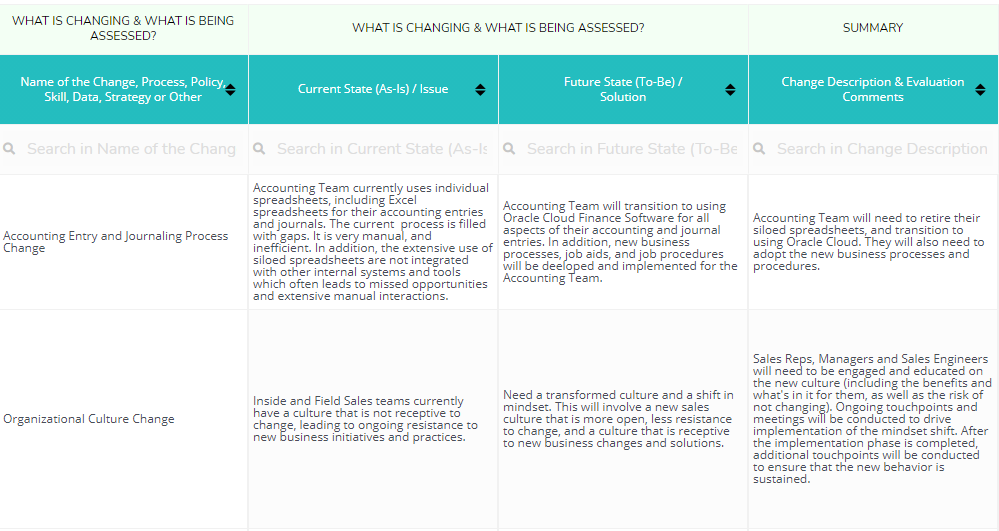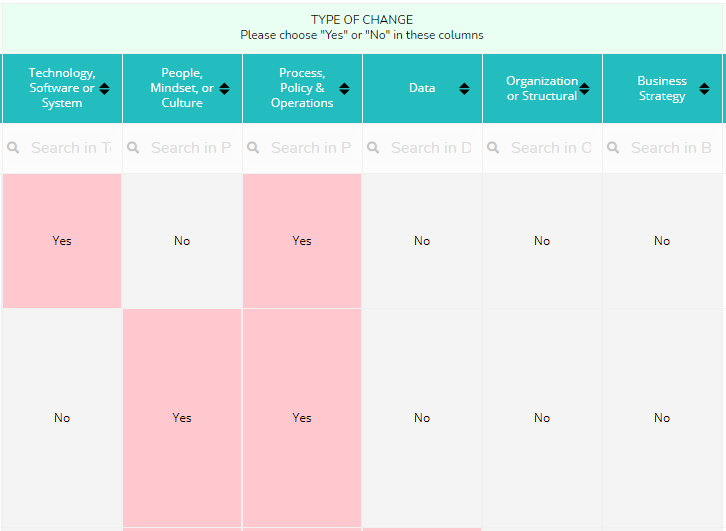 AGS' Change Impact Spreadsheet Template & Tool for Change Managers.
---
Process for Conducting Your Change Impact Assessment
---
Step 1: Identify the Resources that are tasked with documenting the business and technical process flows.
Business Analysts are often the Resources tasked with conducting process flow mappings. A process mapping involves documenting the end-to-end flow of the current state for a particular system, culture, process, organizational operations, or any kind of "current way of going things". It also involves mapping out the future state processes as part of the future state design initiative.
However, your firm might be using the services of a consulting firm or resources within the business units to map out the respective business process flows, or this task might have been assigned to the project management team, design team, architect team, or some other group within the organization.
Irrespective, the first step for you to complete will be to identify the Resources that are responsible for documenting and mapping out the process flows.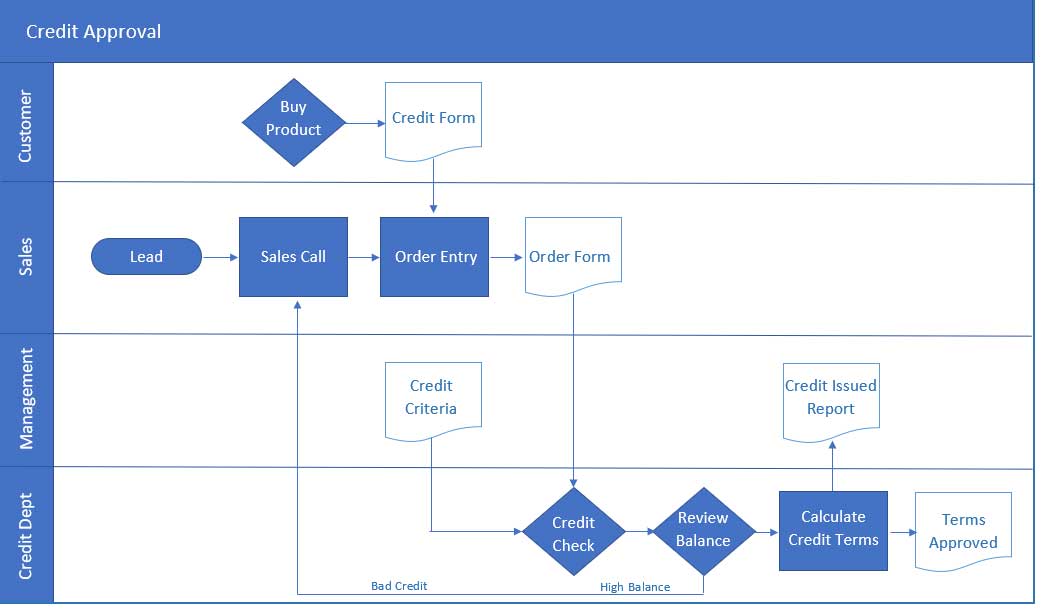 Sample process flows and mapping
---
Step 2: Conduct the business impact analysis
It is generally the role of the change management practitioner to perform the impact analysis. However, if you can get the Business Analysts performing the process flow documentation to also do the impacts assessments, that will free up your bandwidth to focus on other vital change management tasks.
Two ways for conducting your impact assessments
Ask the Business Analysts / Other Resources to conduct the assessment

Complete the assessment yourself
The two sections below describe how the two methods listed above can be completed.
(2.1) Ask the Business Analysts / Process Mapping Resource(s) to conduct the assessment
You will want to start out by meeting with the Business Analysts or other identified resources and explain the importance of conducting a change impact analysis.

If they are new to the process, then you will also want to explain what an impact analysis is, including providing them with a preview of the impact assessment framework discussed above.

Provide the resources with a copy of our Change Impact Assessment Template – Excel or online version, for capturing the impacts information, and walk them through how to do complete the impact assessment matrix.

Emphasize the need to populate the impacts template with succinct but meaningful As-Is vs To-Be information, and use our

business impact analysis samples for illustration of what needs to be completed.
Illustration –
AGS Change Impact Tool's Assessment Template with Sample Data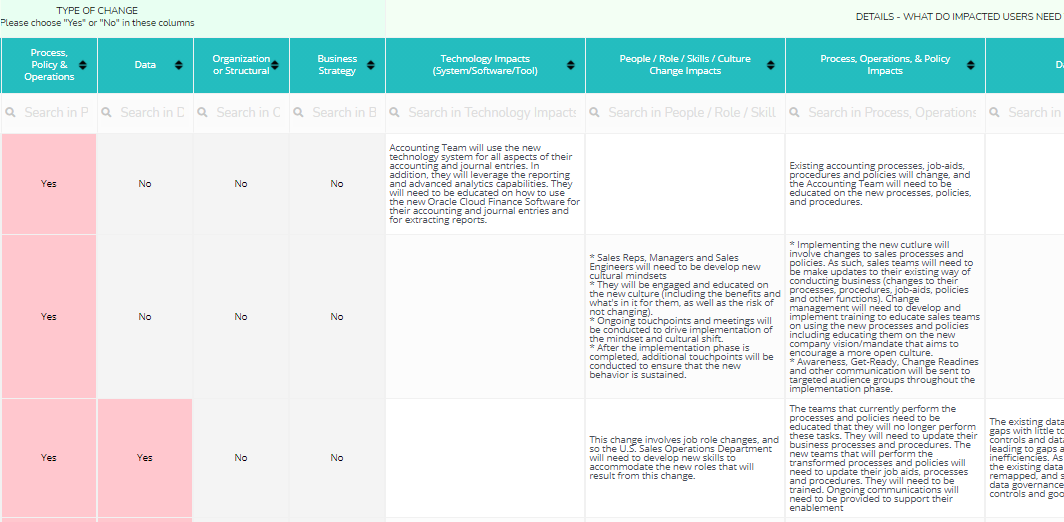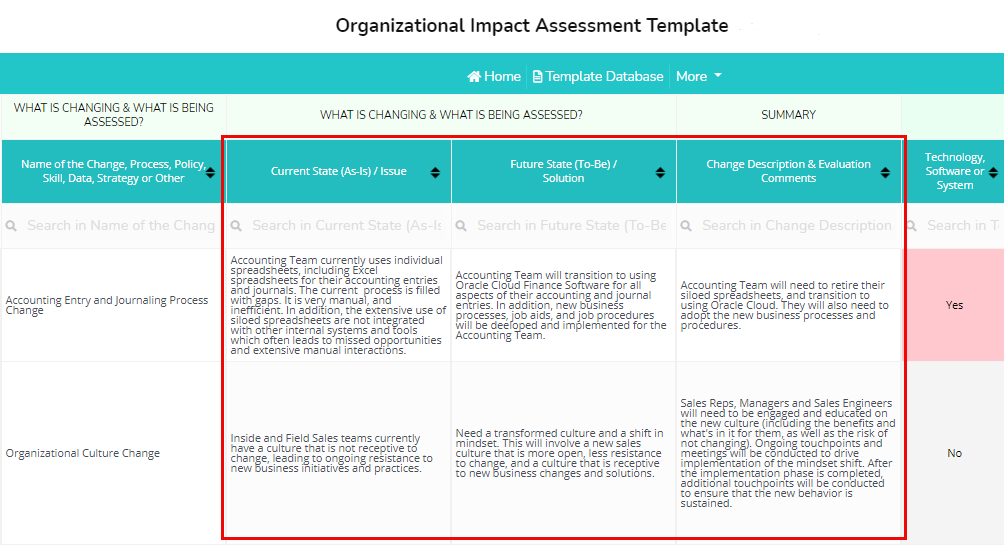 Using the As-Is and To-Be process flows that have been created or that are in the process of being created, the Resources will then populate the project impact assessment template which will flow into your AGS Change Impacts Analytics Dashboard for insights and holistic reporting. Using a tool like AGS Cloud with real-time analytics saves considerable time when analyzing the data because there are no reports to build, they're already done for you.
Illustration –
AGS Change Impact Tool's Analytics Dashboard with Sample Data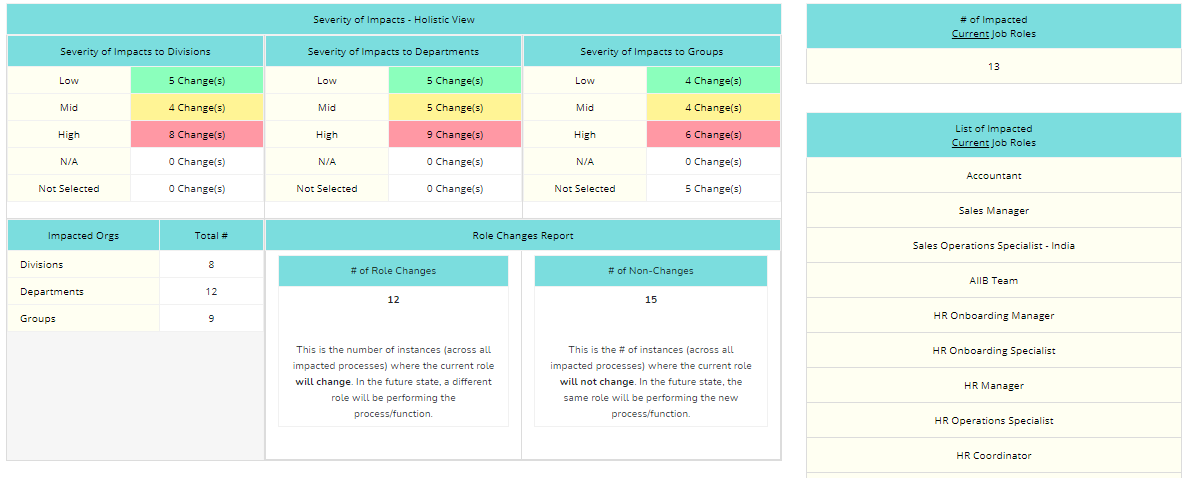 Throughout this whole process, make sure that you are following up with the Resources on a regular basis to check on their progress. Also, ask them to provide you with an estimated completion timeline, and then track their progress towards this promised delivery timeline.
(2.2) Conducting the change impact assessment yourself
If the above option of getting other Resources to do the change impact assessment is not viable, then the second option will be for you (if you are the Change Management Resource) to complete the end-to-end impact review and documentation by yourself. 
So how do you perform the most efficient, simplified, and yet impactful change impact analysis? See below for a list of the action steps you should take to help you identify the effects and impacts of a business change:
Gather As-Is and To-Be business process flows, technical flows, and other current and future state documentation from the project team, program sponsors, architects, designers, and other groups.

If your change evaluation is focused on culture or behavior then make sure you gather the relevant current state information as well as information on where the organization is moving to.

Review the gathered documentation and populate the various sections of AGS' Change Impact Assessment Template yourself. Leverage the end-to-end sample data that is included in the AGS tool to increase your success.

Conduct interviews with the project team, Work Stream Leads, architects, designers, stakeholders, and SMEs to get alignment and to ensure that you are capturing the right data.

In addition, you should review one or more of the below documentation types to glean additional information that should be entered into your change impact assessment matrix template:

Project Charter and Scope Document

Design Planning Workshops

Map Day Workshops

Functional Decomposition & Architecture Diagrams

Business Process Flows

System User Lists

and more…
---
Step 3: Final Steps: Organizational Impact Assessment Process
The final steps for wrapping up your change management impact assessment are listed below.
(3.1) Make sure to validate your change impact findings and output with the Project Team, Business Analysts, and Subject Matter Experts, as well as key stakeholders to get their feedback.
(3.2) Integrate their feedback into your template.
(3.3) Follow up with the stakeholders and teams that provided feedback to review and discuss the feedback that you have integrated into your impacts spreadsheet to ensure that you have correctly reflected their input.
(3.4) Summarize the impacts in a comprehensive presentation for presenting to leadership and impacted managers. Leaders do not like to digest a ton of information during a meeting, and so you should use a succinct presentation structure. Use the free Change Management Strategic Playbook that comes with your AGS Impact Analysis Tool for an easy-to-use template to present your findings.
Illustration –
Change Mgt. Strategic Playbook & Readout Slides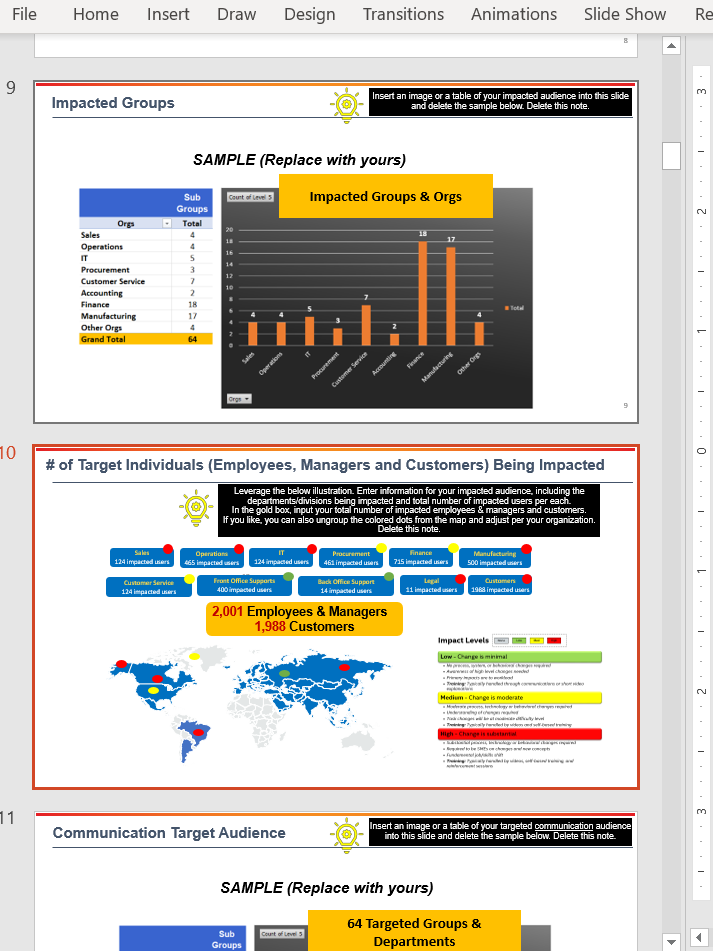 This AGS presentation template can save you several hours of work!
(3.5) Present the impacts to senior leaders, the steering committee, and other program leaders, and also discuss the next steps. If you have completed a roadmap of your other change management and project management deliverables, then you should also present this to give leaders a preview of what is coming.
(3.6) Based on the findings from your impact assessment exercise, you will then need to develop your training program, as well as your communications and engagement activities. Not every business change will require a training or engagement program. The severity and scale of the business impacts will be a determining factor in the change deliverables that you need to develop to support the business change.
---
Change Management Impact Assessment Tool, Matrix & Templates
When conducting your end-user impact analysis, it is imperative that you use software, an impact analysis tool, or a change impact management spreadsheet to document the current state, the future state, and what is changing (the delta). 
As mentioned above, you can try to develop these impact documentation matrix and tools by yourself. If so, make sure that you include fields to document the severity of the impacts, which groups and job roles are impacted, and when they will be impacted, as well as change management requirements.
The AGS Change Impact Assessment Tool includes best-in-class change impact assessment database templates, samples, a 360-degree analytics view of impacted groups, and much more that you can leverage to simplify and optimize your change impact performance.
AGS Cloud is a full-featured cloud platform to help you plan, manage, and execute a successful change project, end-to-end, whether this is your first change project or your one-hundredth.  You can choose all nine modules in the tool or just choose the Change Impact Assessment tool. 
Click below to purchase this tool and for instant access that will allow you to get started right away.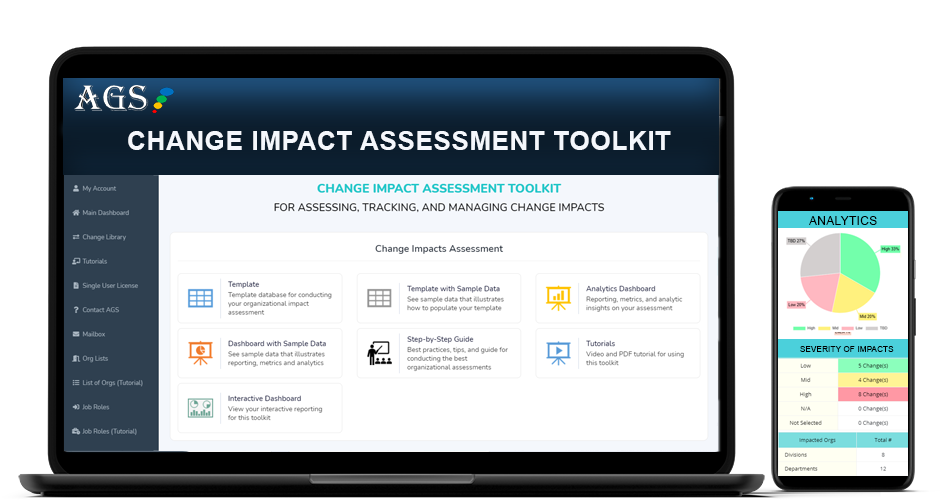 Looking for other types of assessments? Click below to check out our other impact assessment guides.
---
What is an Impact Assessment?
An impact assessment is an end-to-end analysis of how a business change or project will impact people, processes, tools, systems, policies, cultures, and job functions.
What are Impact Analysis Steps?
Impact analysis steps include gathering current state and future state process flows, and assessing what is changing (change delta), and then identifying the impacted groups, processes, tools and jobs.
What is an Impact Analysis Matrix?
An impact analysis matrix is a structured spreadsheet used to document As-Is and To-Be processes, as well as what is changing (the change delta between the current and future state). An impact analysis matrix also includes columns for documenting the impacted teams, groups, divisions, organizations, job functions, and other impacts-related information.
Change Impact Assessment Definition
How do you define change impact assessments? An impact assessment is basically comparing two states (the current state and the future state) of a change to identify what is changing, who is impacted by that change, and what do the impacted users need to know.
What is a Change Impact Assessment (CIA)?
A change impact assessment, often referred to as a CIA is a process used to evaluate the impacts of a change, including the who, what, when and how: who is impacted, what is impacted, when will they be impacted, and how will they be impacted.
---
Note: Content on Airiodion Global Services (AGS)'s Airiodion.com website is copyrighted. If you have questions, comments, or tips about this Airiodion Global Services content or product, please contact Airiodion Global Services today.
---
External image source/attribute: support.content.office.net/en-us/media/60e49196-5913-4481-ba29-3479fa0dc97e.png, https://www.ls.graphics/free/free-pixel-4-and-pixelbook-go-mockup