CHANGE IMPACT MANAGEMENT TEMPLATE & TOOL
for Assessing, Tracking, and Managing Change Impacts
---
Impact Assessment & Management Tool for 2020
A change impact analysis allows you to identify and document the "who, what, when, how and why" of the impacts from a business change.  
The section below presents a top impact assessment template and tool you can use for your change impact assessments, tracking and management.
Readiness Assessment Template – Illustration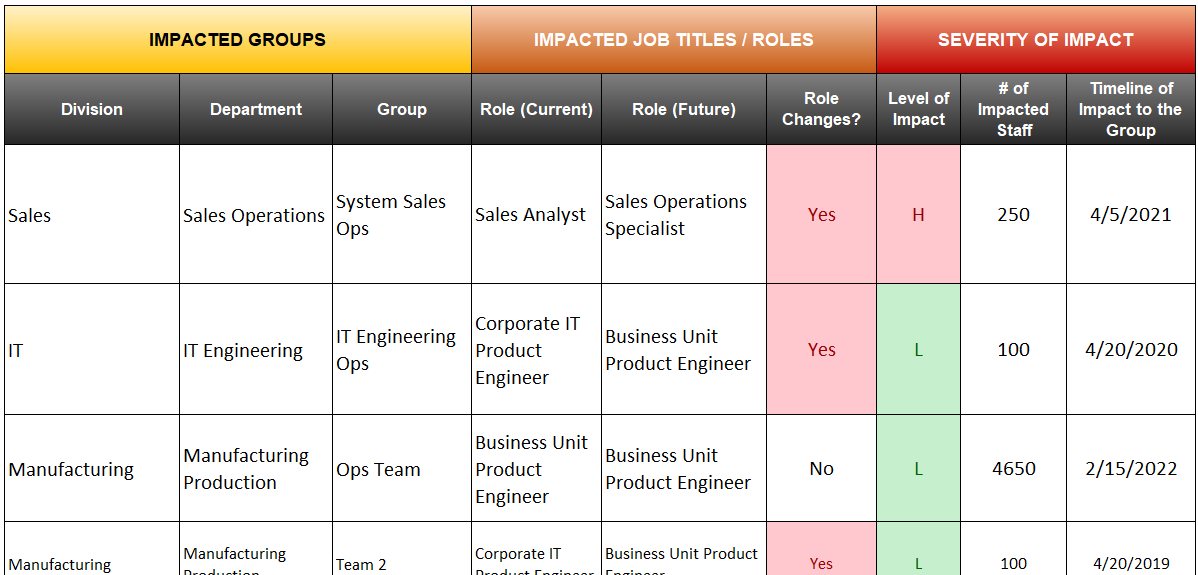 ---
Change Impact Assessment Template and Analysis Tool
Our Change Impact Analysis Tool provides you with an end-to-end impact assessment template that allows you to effectively capture the various change impact data points.
Watch a video review of this tool: Video Review of Change Impact Management Tool
Key data points that need to be captured when doing an impact analysis include the "As-Is" processes, the "To-Be" processes, what is changing between how people do their jobs today versus how they will do it in the future – after Go-Live.
You will also need to identify which groups are impacted, which roles are impacted, what are the severity and levels of the impacts, and most importantly, what does the change management team need to know.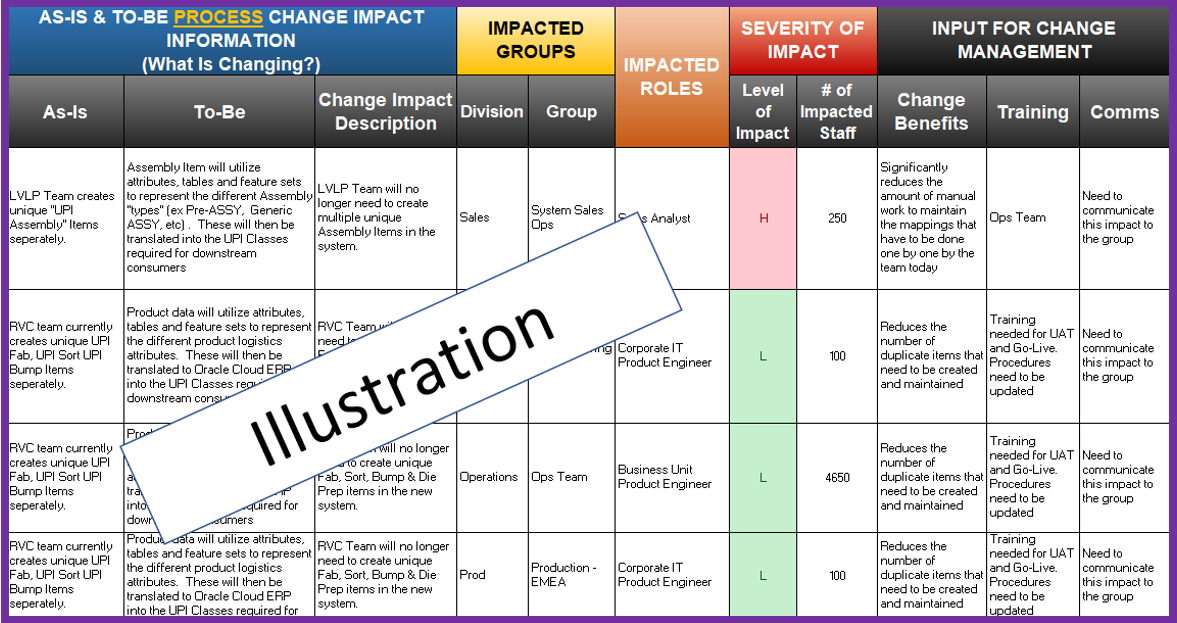 Flexibility & Scalability
Our impact assessment template is both flexible and scalable, meaning that you can easily use it for any type of program, from small projects that will impact only a few groups to large transformations that will impact thousands of employees, managers, customers, and external users.
► Video review of this tool: Video Tutorial of our Change Impact Management Tool
Analytics & Reporting Dashboard
The impact assessment Excel-based tool comes with a real-time dashboard for monitoring and reporting your impact analysis progress. This allows you to get faster insights that you can use in developing your engagement and communications with impacted stakeholders and end-users.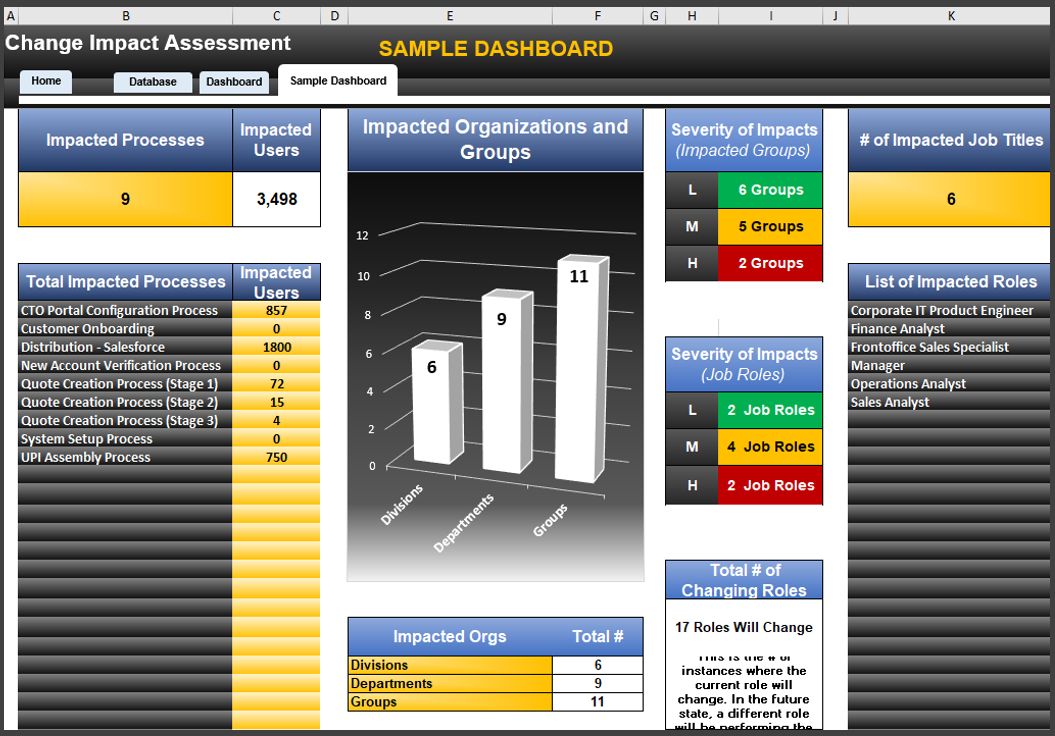 Using the dashboard, you can easily eliminate the guess work on who is impacted, as well as the severity of the impacts. Easily share segmentation impacts using graphical visuals & assessment reports.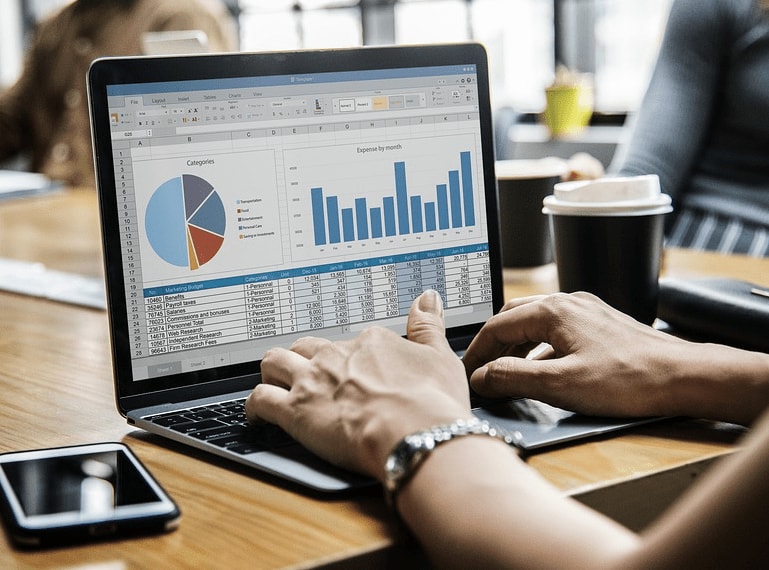 Your Change Impact Analysis Tool Dashboard is continuously up-to-date with the progress you or your team are making as you complete the steps and tasks needed for your project impact analysis and assessment exercise.
---
Video Review – AGS Impacts Management Template & Tool
Click below to watch the video tutorial of our Change Impact Management Tool
---
Three Options for You to Choose From – Get Yours Today
We decided to build this tool using Excel to increase its flexibility and usability. This is because most people are already familiar with Excel. 
"We created three options to match everyone's needs."
The 1st option is the Impact Assessment

Template

. It does not include the analytics, automation or dashboard capabilities.
The 2nd option is the Impact Assessment

Tool

, which includes the template for your assessment, a real-time analytics dashboard for insights and monitoring, and detailed samples. It is automated, and includes more features and also a guide.

 

The 3rd option is the Impact Assessment

Tool PLUS 90

.

With this option you get a 90-Day Priority Support & Customization Service. This option is similar to an insurance policy in the event that you need customization done to your tool in the future to meet particular needs. It gives you up to three separate customization requests within 90 days of purchase, as well as priority and prompt support entitlement. A customization can include requesting additional enhancements, added features, additional pivot tables, more charts, additional reporting analytics, etc.
If you are low on budget, then you can go with just the Template.
However, if you believe in value over cost, then obtain the 2nd or 3rd option.

Click below to purchase the version that best meets your needs.
---
---
Holistic 360° Impact Measurement Dashboard View
Your Change Impact Analysis Tool Dashboard also provides you with a holistic 360-degree view of your change impacts. Get the latest insights on the number of processes that are impacted by the change, as well as the number of impacted users (employees, clients, customers, 3rd party partners, suppliers, vendors, and other affiliates).
Want a video review of this tool? Click here: Video Tutorial of our Change Impact Management Tool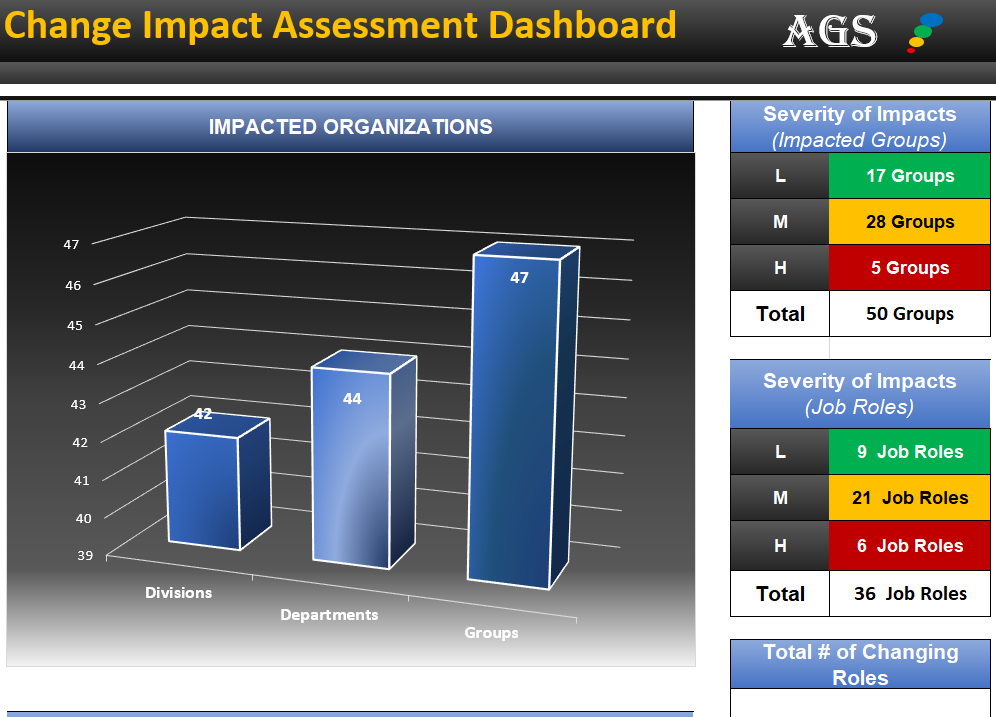 Easily include screenshots of these insights and tables on your impact assessment report when you provide a status update to senior leaders, steering committee members, and other project leads.
Using the the change impact assessment template and database provided, you can easily track the severity of impacts across the organization, including the number of groups and departments that are impacted by the severity of impact.
---
Click below to purchase the version that best meets your needs.
---
Developing This Impact Assessment Template and Tool Discussed Above
As a Senior Change Management Program Manager, I have spent the last decade increasing change adoption and project implementation successes across different industries, sectors, and organizations including at Intel Corp, HSBC, Deloitte, Cisco, Berkshire Hathaway, State Street, Accenture, and Goldman Sachs.
I often get questions from change and project managers on how best to measure the impact of a project, program or initiative. Based on the ever increasing demand for a best change impact template and tool, I decided to work with the developers here at AGS to develop a user-friendly, advanced, and simple-to-use impact analysis software tool.
Watch a video review of this tool: Video Tutorial of our Change Impact Management Tool
Sample questions people have asked that led to the development of this impact assessment Excel tool and template included: "is there a simple-to-use impact assessment template or tool that can be used on any project?" "What are the best impact analysis software or project impact measurement tools to use this year?"
And this is a very common one: "do you have templates for presenting change impact assessment reports to senior leaders?"
---
---
---
Content on Airiodion Global Services (AGS)'s Airiodion.com website is copyrighted. If you have questions, comments, or tips about this Airiodion Global Services content, please contact Airiodion Global Services today.
---
External sources: https://pixabay.com/photos/business-colleagues-communication-3605367/, https://pixabay.com/photos/office-business-colleagues-meeting-1209640/