CHANGE CHAMPIONS, CHANGE NETWORKS & CHANGE AGENTS

---
Establishing an Effective Network of Change Champions, Change Agents, and Changes Leaders in 2020
This 2020 guide provides you with everything you need to know about change champion networks. It includes the step-by-step process for establishing and managing a network of change champions, change agents and change sponsors for your project or business change.
---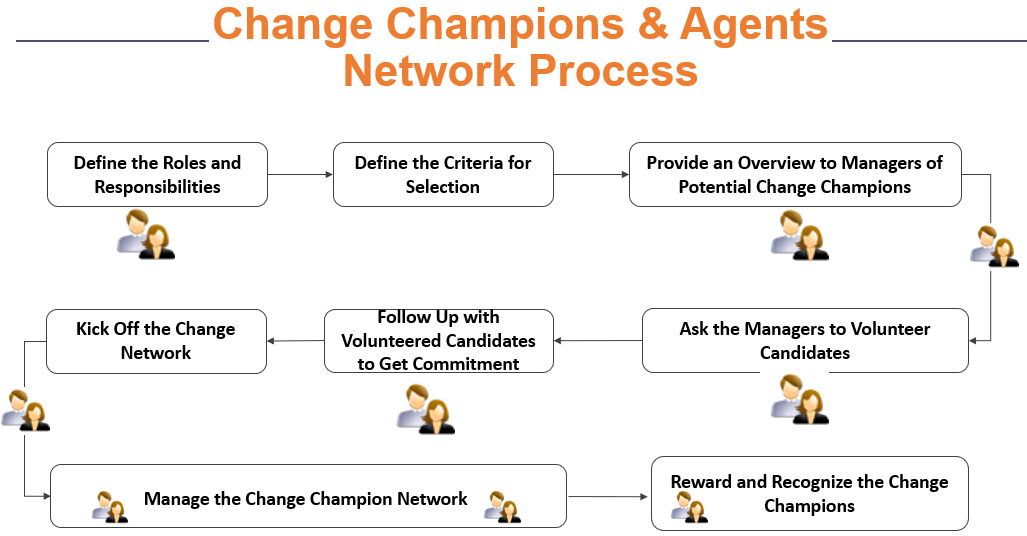 ---
First, What is a Change Champion Network?
A change champion network is a collection of selected individuals from groups that will be impacted by a change. A change champion network is a powerful part of any change strategy; it moves ownership of the change to the business units impacted by the change, which decreases end-user resistance, and increases stakeholder buy-in.
---
Second, What is a Change Champion?
A change champion is an individual who is part of a group that will be impacted by a change, and who is willing to engage their colleagues to increase awareness, acceptance, and adoption of the change. Change agents and change champions play a key role in transformational change because they are able to facilitate change at the individual level within their organizations.
In general, the definition and role of a change agent or change champion is centered around improving impacted user acceptance and adoption of the change for the long-term.
---
Change Champion Network – Everything You Need to Know
Click below to be taken directly to the section that is of interest to you, or scroll down to continue reading.
Click below for a tool to manage all aspects of your change network.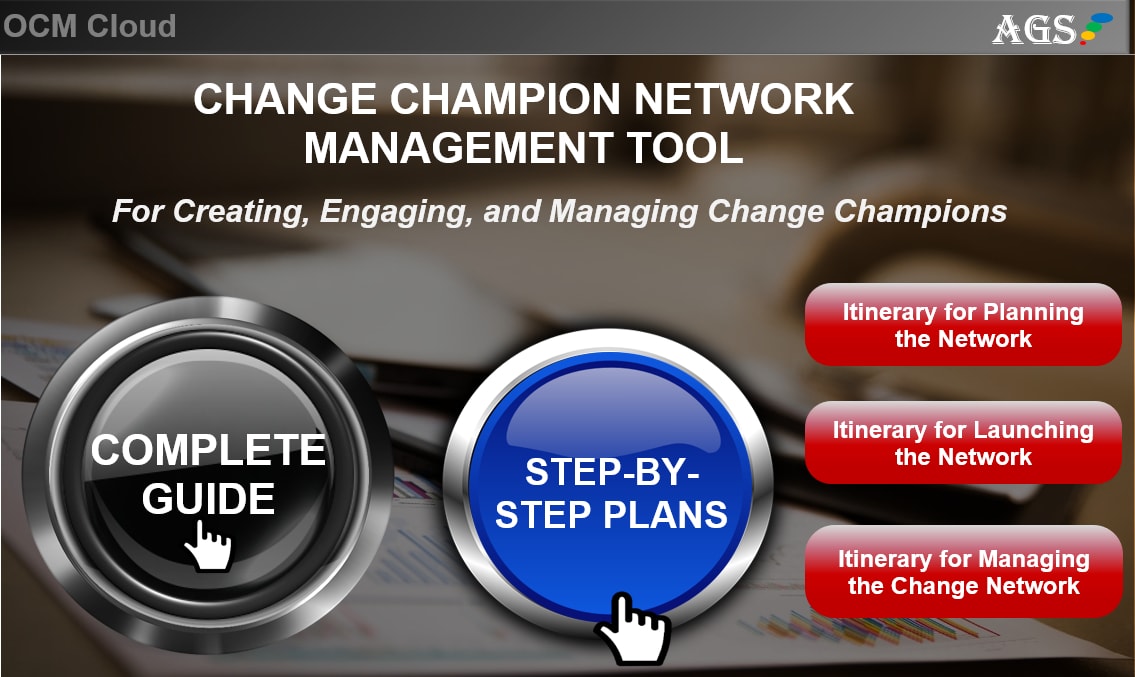 Click above for a Change Network Management tool.
---
Benefits of Change Champions and Change Agents
Decades of organizational change management studies, including those conducted by Prosci, have shown that people get through organizational change by relying on their relationships with others in the workplace.
It is much easier for you to understand the driving factors, as well as the benefits of the change if that information is conveyed to you by your colleague, and this is one of the biggest benefits of change champions, and change networks.
Another benefit of change champions and change agent networks is that it is easier for impacted individuals to share concerns about a change when they know they are sharing it with someone who is in a similar position as them: someone who will experience similar levels of impact from the change, as they would.
While leaders and managers play a vital role in increasing the successful implementation of a change, people need an informal environment to share their fears, joys, and concerns in order to eventually commit to the change. That is human nature. And, at the workplace, we relate best with people that are similar to us in profession and function: our colleagues and co-workers.
A change management change network is of great value and benefits because it consists of change champions – front line employees (peers) and individuals across the company who have accepted the change and are willing to become advocates for the change. These individuals are willing to engage their coworkers to increase buy-in and acceptance of the change and are often early adopters of the change.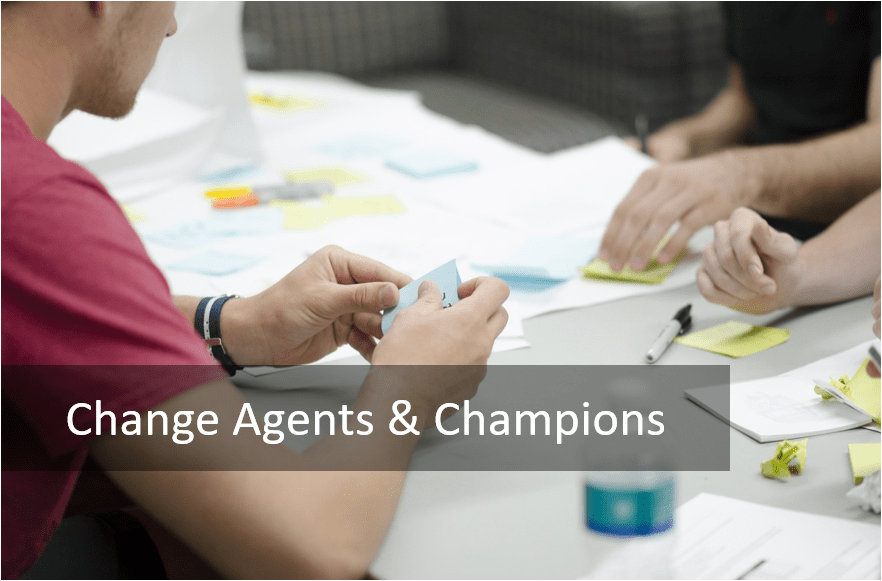 Change agents and champions having a brain storming session.
Summarized List of Benefits of Change Champions:
Change agents help facilitate change across groups

Change champions assist in identifying and mitigating resistance

Change champions provide others with an informal environment to share their fears, joys, and concerns

Change management agents help impacted audience to embrace, learn, and adopt the change

Change networks are implemented at the grass root impacted audience level

Champions make it easier for those impacted by the change to better understand the factors driving the change

Change agent networks provide a mechanism by which impacted individuals can freely voice concerns and get empathy
Standing up a change network requires an upfront investment, but change champions are true differentiators in driving change adoption.
The role of a change champion is very important because these individuals will be helping to manage the inevitable ambiguity and uncertainty associated with implementing change.
Additional benefits of change agents and change champion networks include:
Reducing the pressure on the centralized transformation team to deliver change

Identifying issues on the ground and raising them quickly to the change and project teams

Gathering feedback on the communications campaign and providing detailed level feedback to the change teams

Identifying key resistors of change

Becoming super users and assisting in training of users
---
Change Agents vs Change Champions vs Change Leaders (What Does Being a Champion Mean?)
How are change champions different from change agents? How are change agents different from change leaders? These are all great questions. See below for answers on how these roles are defined and differentiated.
Change Champions: These are individuals that volunteer to support the change and help facilitate adoption and acceptance within their groups. Driving the change is not part of their normal jobs. This is something they are doing in addition to their normal day-to-day job.
Change Agents: These are individuals and professions that are tasked with driving the change. Change agents vs change champions: unlike change champions, a change agent's day-to-day job involves managing and implementing change. An example of a change agent is a Change Management Practitioner or a Project Manager. Change Agents are primarily responsible for developing strategies for implementing the change, and also delivering the tactical phase of the change implementation.
Change Leaders and Change Sponsors are responsible for the successful implementation of the change within their respective organizations. Impacted individuals often look to their leaders for directions in the time of change, which makes it critical that leaders are willing to support and visibly advocate for the change. Not every leader is a change leader. Change Leaders are those leaders that are willing to support the change; they generally show their commitment via visible and active behaviors – in essence they lead from the front and advocate for the change.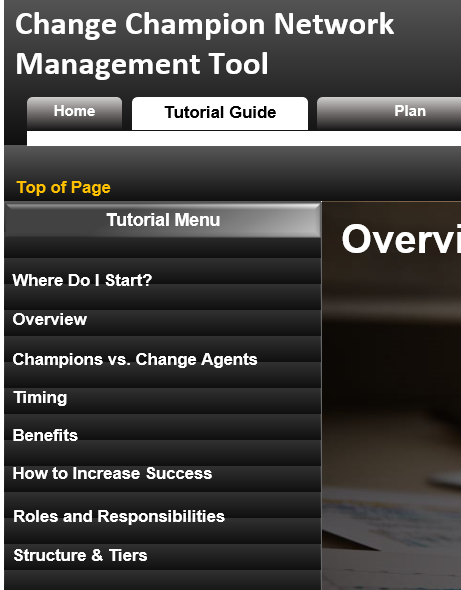 Change Networks  Management Tool
Click above for a change management change network tool.
---
Recruiting Change Champions
The first step to recruiting change champions is to define the roles and responsibilities that you need the change champions to fulfill. In other words, what are the qualities of a champion? Every change and every project is different, and so you might need to customize the list of change champion roles presented below. 
Sample list of change champion roles:
Assist with disseminating and cascading communications

Become early superusers, and be involved in the testing process

Understand how the change impacts their fellow colleagues, and help train and coach impacted employees to use the new processes and tools

Facilitate engagement with group leaders and managers

Continue to support, coach and engage impacted users after Go-Live

Help identify points of resistance

Help to remediate points of resistance

Assist in gathering input and feedback at the grass root level on communications, engagement and training campaigns, and providing feedback to the Change Management and Project Management managers.
The second step to recruiting change champions is to define the criteria for selection. Sample criteria includes:
An individual that is respected and liked by peers

Someone with good interpersonal skills

An individual that can be committed to the success of the organization

Someone who is flexible and courageous in speaking up for what they believe in
The next step to recruiting change champions and establishing a change champion network is to engage with leaders and managers of the impacted groups. See also: A Tool for Managing Change Networks.
Meet with Managers to Identify Prospective Champions
Start out with 1-on-1 meetings or group meetings with the managers. During the meeting sessions, provide an overview of the change, and the value of creating a change network, and then ask managers to propose potential change champion candidates from within their groups.
For help, click here: Step-by-Step Plan for Establishing Change Networks
When asking managers to propose potential resources that can be change champions, it is useful to present the criteria and roles of a change champion. Knowing this information will enable managers to make faster decisions on which employees can best fit the role, and then to propose these individuals as potential champions. 
After the overview session, provide a mechanism and a deadline for managers to submit the names of potential change champions.
Change champions must see their role as a good opportunity and not something being forced on them. One way to accomplish this is for managers and senior leaders, rather than the project or change teams, to communicate to business and workforce change champions that they have been nominated and explain that it's an honor to be selected as a change champion, and also highlight the characteristics that contributed to each person's nomination.
For help, click here: Step-by-Step Plan for Establishing Change Networks
---
Engaging Change Champions
After identifying a list of potential change champions, the next step is to engage with these champions. But, how do you engage change champions?
The process for engaging change champions is to first reach out to them to seek their commitment. Just because a person's manager has proposed that person's name does not mean the person will be interested in being a change champion for the project.
After getting commitment, you then need to schedule a kick-off session to engage the finalized list of change champions and change agents. This kick-off meeting will be the point of official launch of the change champion network.
Need help? Click here: Kicking Off the Change Network – Step by Step Plan & Agenda.
---
Managing & Rewarding the Change Champion Network
After launching and establishing the network of change champions, you will want to communicate the launch of the network to the organization, to impacted groups, and to senior leaders.
In managing the network of change champions, you should meet less frequently in the beginning stages of the project when the purpose is to build awareness. And as the project progress further into implementation and tactical phase, then you will need more frequent meetings of change agents and change champions.
Meeting Agenda: In the beginning, you will want to cover items such as the project scope, purpose, benefits, and challenges.
And as the project progresses into its tactical phase, then meeting agendas can revolve around more detailed reviews of the change and its impacts, system demonstrations, training plans, and most importantly, a continuous explanation of the change champion's role at each stage.
And throughout the implementation, it is essential that you reward and recognize the change champions and agents.
Such rewards can involve taking them out to lunch or drinks. If they are all based in different regions within the country, then schedule an In-Person All-Day workshop, invite all champions to travel to the designated venue for the workshop. Part of the workshop can involve taking the whole group out for food/drinks.
You can also take them out to events such as golf events, baseball games, hockey games, tournaments, team building events, escape rooms, etc.
For recognition, you should send out emails to senior management, and provide concise updates of how the change champions are making a major difference in the change implementation.
Recognition to senior leaders will mean a lot to change champions because they know that their leaders are aware of the effort they are putting into the change.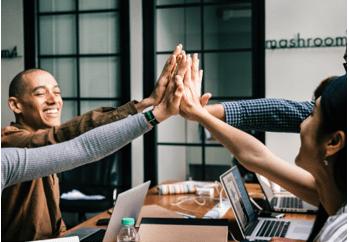 See Also: Change Network Management Tool.
---
How Many Change Champions Are Needed?
How many champions are needed to support your change or project? A ratio of 1 champion for every 60 impacted end users is normal.
This enables flexibility for which change champions can support the full group of end users without causing a significant resource drain. Depending on the scale of the project, it might be possible for you to have a 1-100 ration (1 change champion for every 100 impacted individual.)  
Learn more: change champions network tool.
---
What is the Time Commitment for a Change Champion?
Time commitment ranges from 5-15% of a person's weekly work hours, which ranges from 2-6 hours per week. And don't forget that this will be in addition to the person's normal work hours. 
---
End to End Process for Establishing a Network of Change Agents, Change Champions and Change Leaders
In standing up, launching, and managing the change champion network, you should apply a process similar to the one outlined below.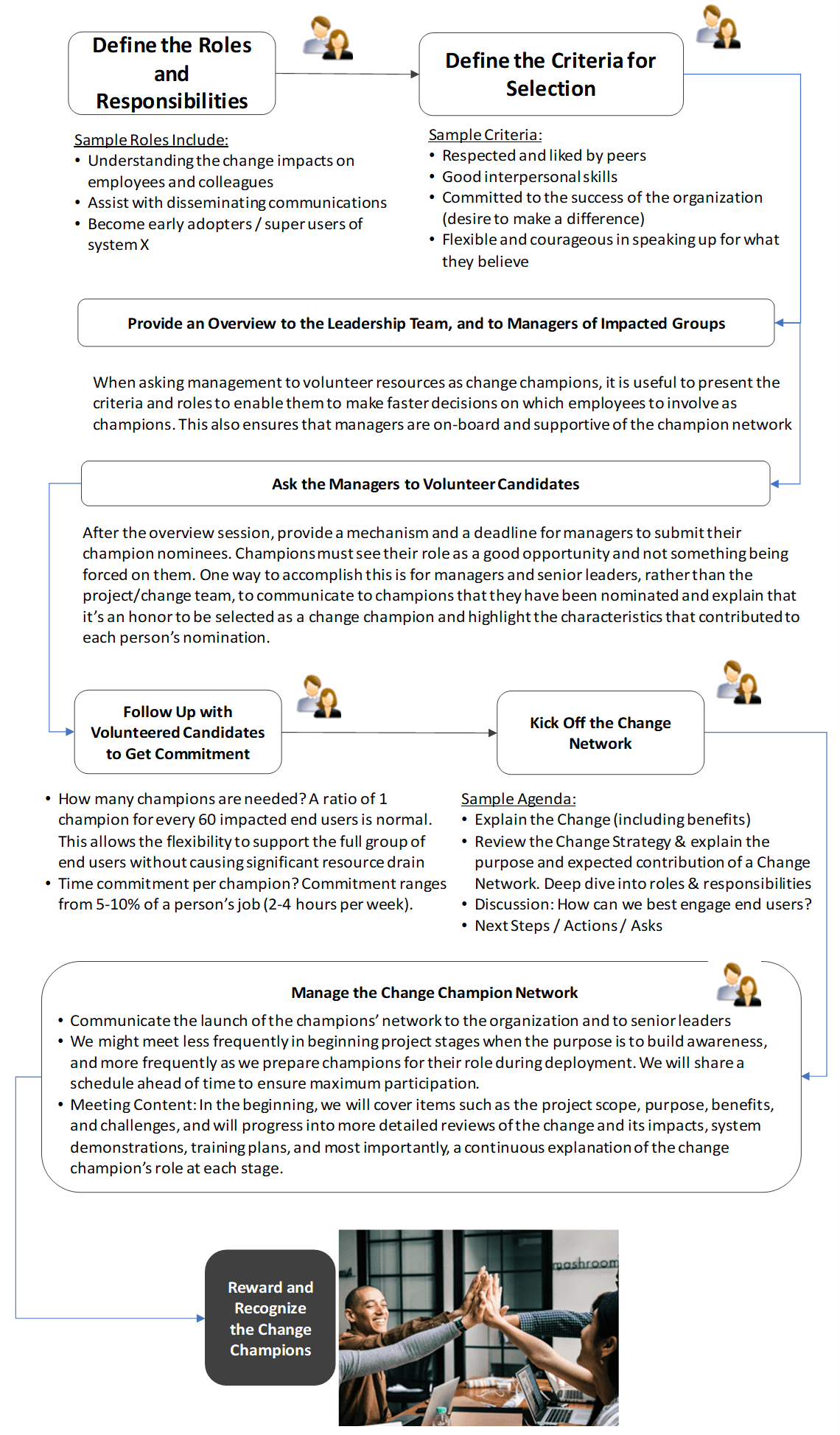 ---
Click below for a tool that you can use to manage all aspects of your change champions network.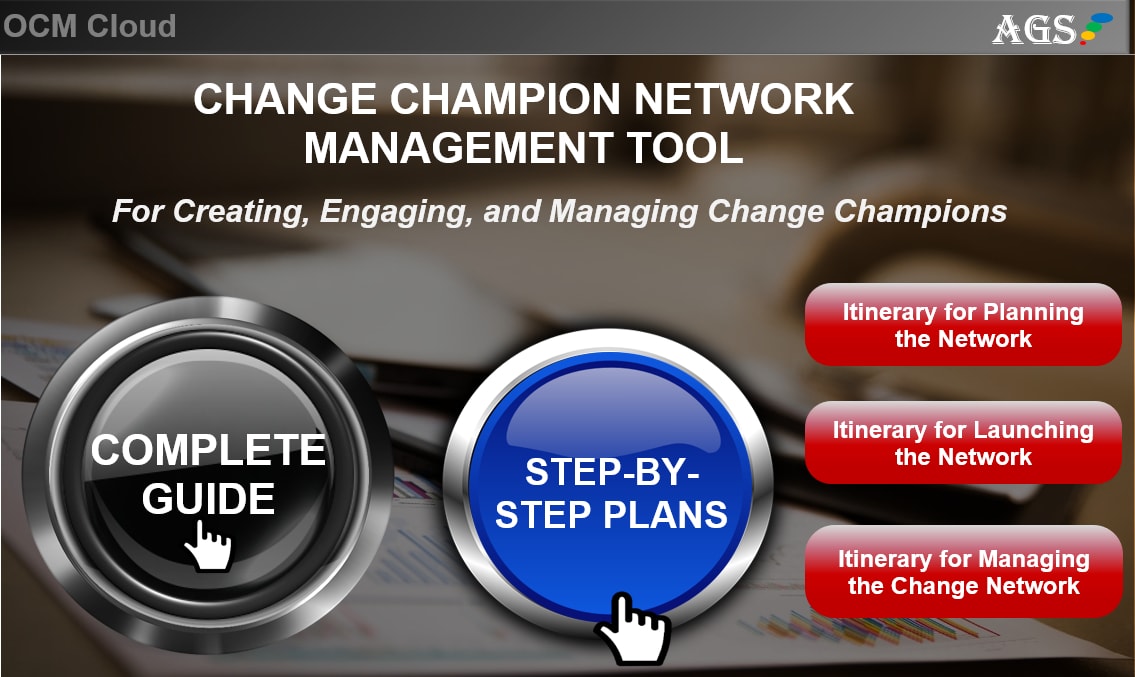 Our Change Network Management Toolkit provides you with a structured change champions template that enables you to effortlessly capture and document information on all change champions.
Use the first five columns (from left to right) on the template to capture the first name, last name, title, email address and phone number of the change champions and agents. 
Illustration Below 
Dummy Data for Illustrative Purposes Only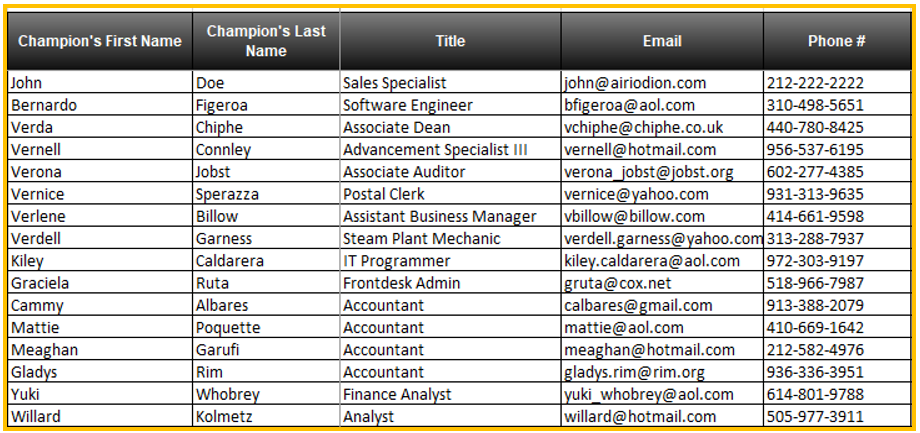 Use the Organization, Department and Group columns to capture the organizational details of the change agents and champions. It is also very important to identify and document the change management experience level of the change agents and champions.
Those individuals that have low and mid level experience will require more coaching, hand-holding, and support than those with a high level of change management experience.

Click here for more information: Change Champions Toolkit – End-to-End.
---
Image sources: https://www.pexels.com/photo/achievement-adult-agreement-arms-1153213/  https://pixabay.com/photos/adult-city-employee-furniture-2178440/ https://pixabay.com/photos/startup-start-up-people-593343/ 
---
Author: Ogbe Airiodion (Senior Change Management Leader and Founder of AGS).
---
Note: Content on Airiodion Global Services (AGS)'s Airiodion.com website is copyrighted. If you have questions, comments, or tips about this Airiodion Global Services content, please contact Airiodion Global Services today.
---