BEST CHANGE CHAMPION NETWORK MANAGEMENT TOOL & TEMPLATES
For Creating, Launching, Tracking, & Managing Change Champions for a Company's Transformational Initiatives
---
Intro: Developing This Year's Best Change Champion Network Management Tool, Templates and Samples
As a Senior Organizational Change Management Program Manager and Consultant, I have spent over a decade leading change adoption for very large-scale, and complex transformational change.
Part of my role, as a Change Manager, has involved standing up and managing small-to-large change champion networks across organizations like Cisco, Intel, Google, HSBC, Berkshire Hathaway, Accenture, Bank of America, Capital One, and Deloitte.
Based on my extensive experience in creating, tracking and managing change management champion networks, I decided to work with AGS's development team to develop a best-in-class change champion network management tool, including tutorials, templates and easy-to-follow processes that can be used by any change agent, project manager, program lead, or change management practitioners.
As mentioned on our Change Champion Network article, organizational change networks are a very powerful part of any  transformation strategy. By creating and launching a structured network of change champions, you are able to move ownership of the change to the impacted business units, which decreases the overall level of resistance and increases the long-term sustenance of the change.

---
AGS' Best Change Network Management Tool
Airiodion Global Services' Change Network Management Tool provides you with a complete step-by-step process guide that allows you to successfully launch a top-performing change network.
It also includes defined templates, talking points, and a state of the art implementation itinerary for managing all aspects of your change network.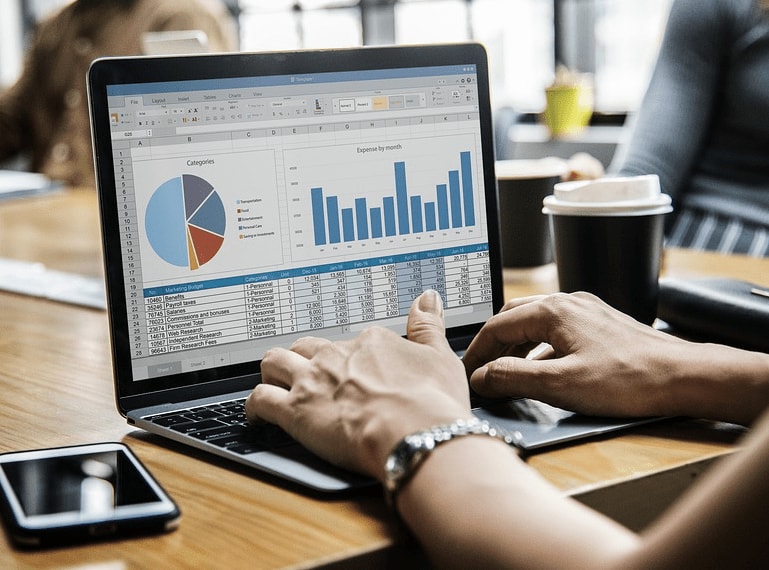 ---
Tutorial Guide Based on Best Change Management Practices
Your AGS Change Champion Network Management Tool is up-to-date with best practices and proven frameworks that guide you step-by-step through the process of standing up your change champion network, including tips for increasing the success of your efforts, as well as a defined champion structure.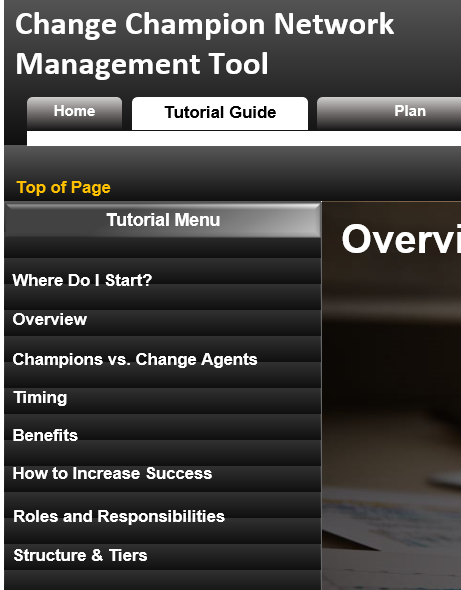 ---
---
Simplified Go-To & Next Steps Options
Standing up a change champion or change agent network involves developing and implementing different tasks in parallel.
The Tutorial Guide Dashboard on your AGS Change Champion Network Management Tool includes a simplified kick-off section with quick access to the planning, launching, and management tasks modules.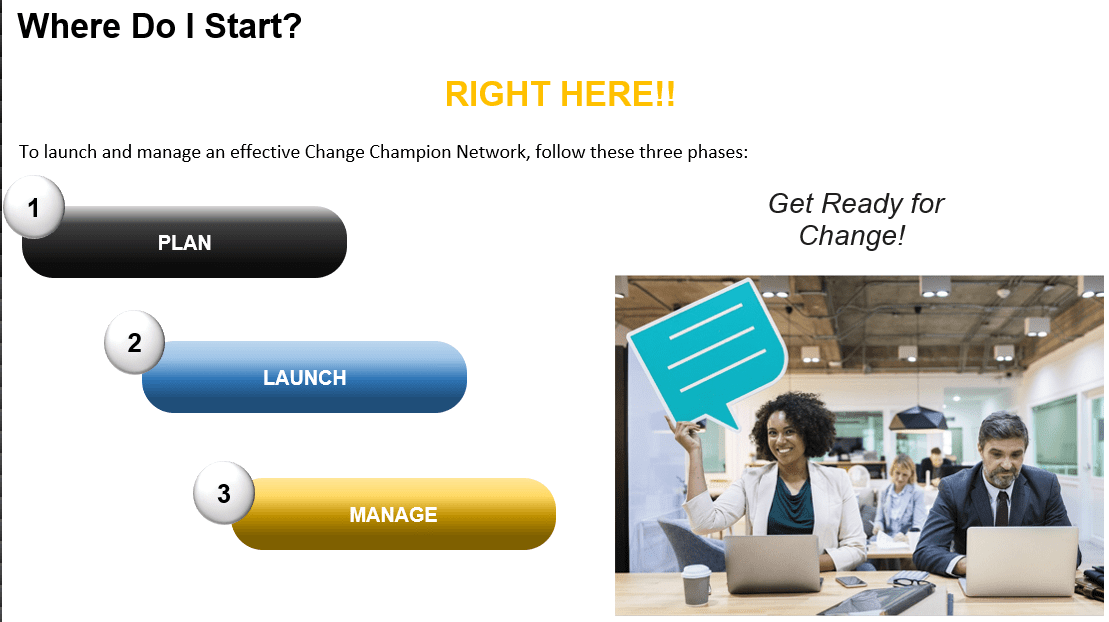 ---
Step-By-Step Itinerary of Tasks
Your AGS Change Champion Network Management Tool includes a detailed step-by-step checklist of activities that should be taken before and after you kick off your change champion network. It includes a streamlined agenda and itinerary for conducting your planning, as well as for meetings with change champions, managers and leaders.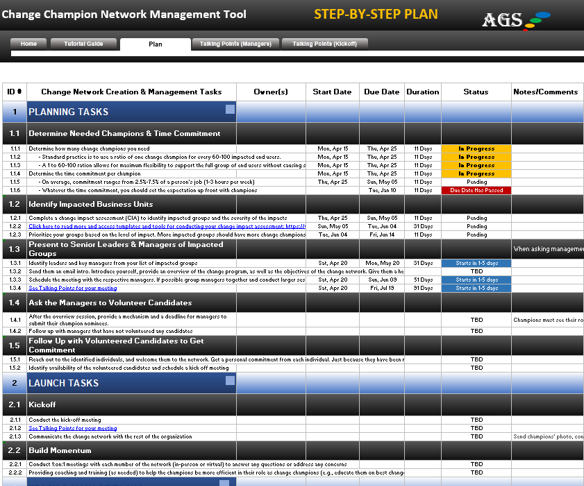 ---
---
360-Degree View of Your Progress
Your change champion implementation plan matrix comes equipped with a timeline chart that updates in real-time. This allows you to easily track your progress or the progress of your team. Quickly see when tasks are coming due, are past due, or about to reach their start date.
Collaborate as a team in one place, plan visually on a timeline, and never miss a deadline.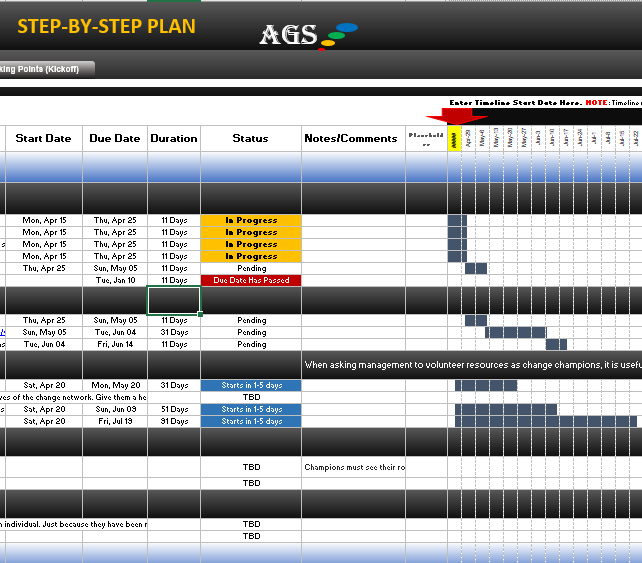 ---
Talking Points
When meeting with change champions for the first time, or when socializing the concept of the change network with managers and senior leaders, it helps when you have a list of talking points that will help you drive the conversation.
Your AGS Change Champion Network Management Tool provides you with key talking points to support your outreach activities, and increase your success in identifying and signing up potential change champions.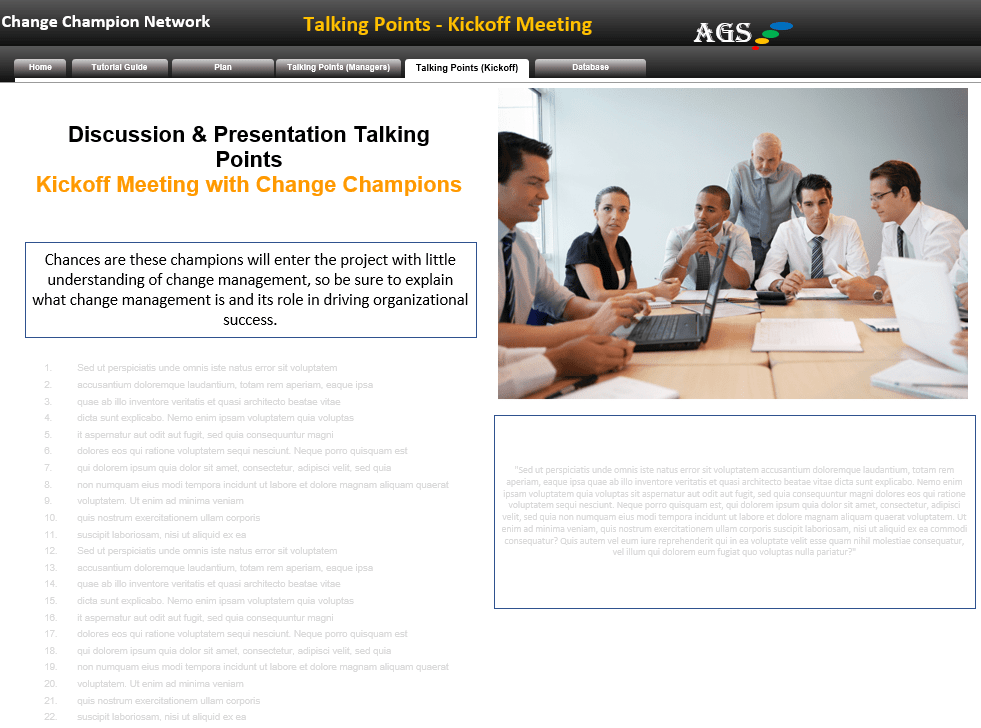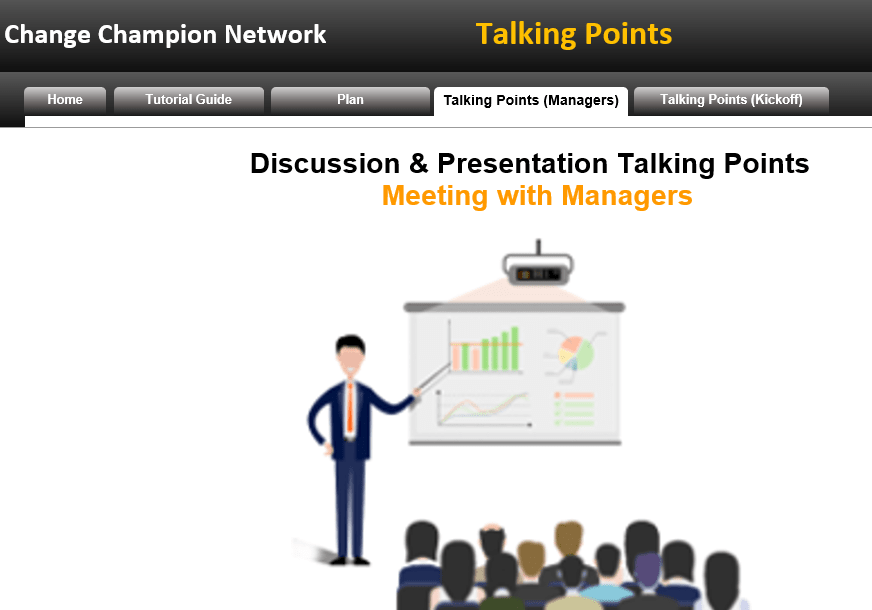 ---
---
Change Champion Database
The AGS Change Champion and Agents Tool comes equipped with a simple, easy-to-use database template for capturing change champions' information, including their reporting structure, their change competency level, and other key pieces of information.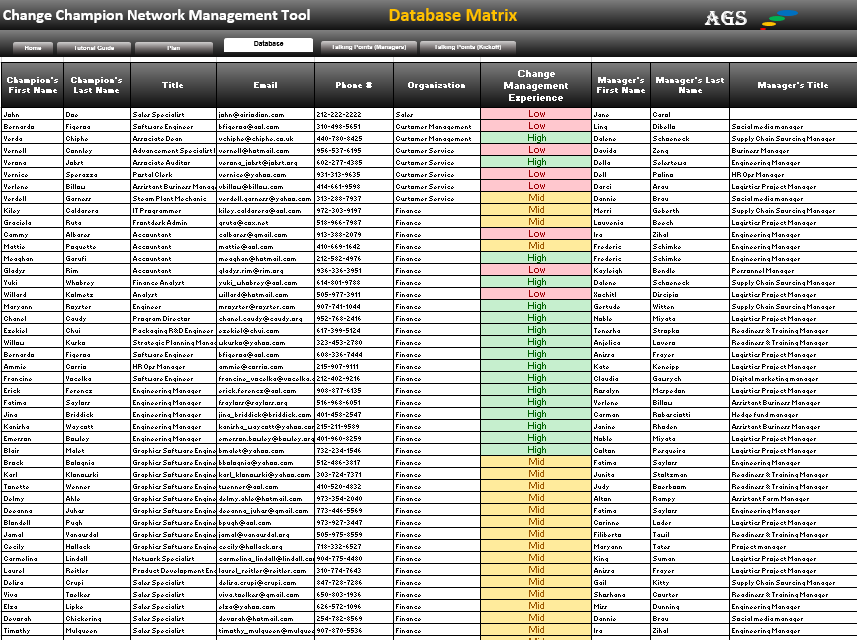 ---
---
External sources: https://pixabay.com/photos/business-colleagues-communication-3605367/