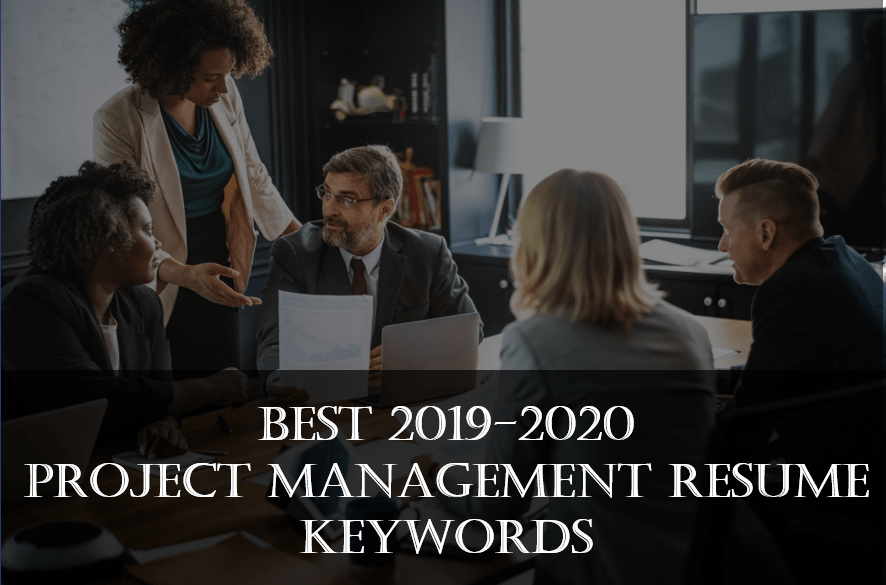 ---
The Best Project Manager Resume Keywords and Skills to Include in Your CV
What should a project manager put on his or her resume? What skills are needed for a program manager to increase the chances of their PM resume being selected? What are the skills every project manager's CV should include? These are all great questions, but first, let's discuss something that most people don't know.
What many project and program manager job seekers don't realize is that about 80%-90% of project management resumes and CVs are rejected before they are even seen by human eyes.
And even when it is seen by an actual person (for example, a hiring manager, recruiter, head hunter, etc.), it is often rejected due to the various factors explained below in this program manager coaching article. 
Before your project manager resume or program manager CV is seen by a live person, it often must pass muster with what is known as an applicant tracking system (ATS) bot or an ATS spider that crawls databases of resumes seeking specific project management keywords and pre-determined program manager skills.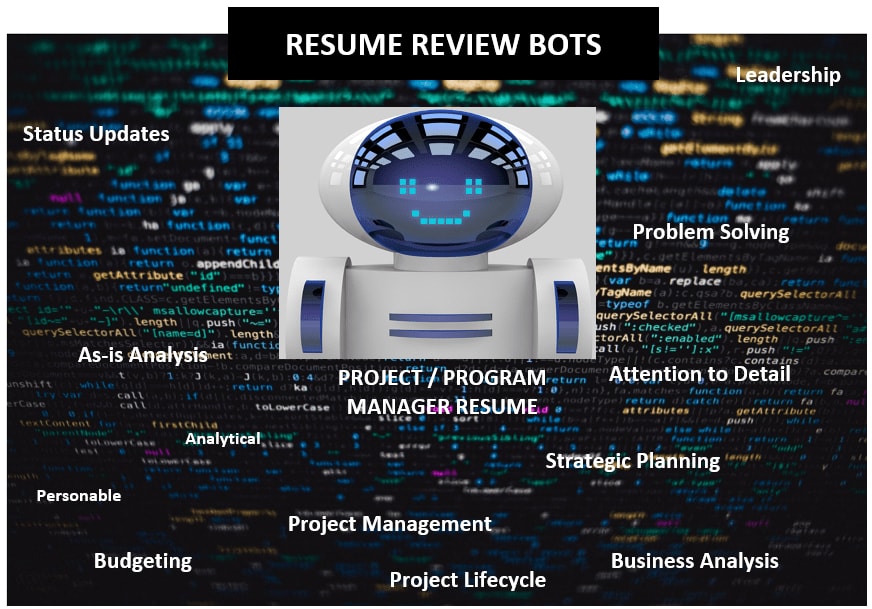 So, how can a project manager resume get past the resume review bots? And when it does, how can you ensure that your resume won't be immediately discarded by a recruiter or hiring manager after they review it? What skills should a program manager put on a resume to increase the success of their resume getting seen by humans? What are the best "must-have" project management buzzwords and keywords to include in your resume? What is the best visualization structure to use for your resume?
Read on for answers to all of your questions on best resume keywords for project managers, and if you want us to review and enhance your resume, click here to learn more: Review & Optimize My Resume.
---
Best Project Manager Resume Keywords and Skill Sets That "Resume Review Bots" Scan For
Over 90% of large organizations use Applicant Tracking Systems (ATS) to analyze project manager resumes and CVs to identify the first batch of project management candidates that best match the position they are looking to fill.
Unfortunately, the resumes for really qualified PM applicants are often rejected by these resume scanning software because a lot of qualified project managers are not doing a good job in integrating the right keywords onto their resumes.
This article provides everything you need to know about which keywords, skills, and buzz words to include in your program/project manager resume, as well as what you can do to optimize your resume to ensure that it reaches an actual human recruiter, as well as the hiring manager.
If you want us to review and enhance your resume, click here to learn more: Review & Optimize My Resume.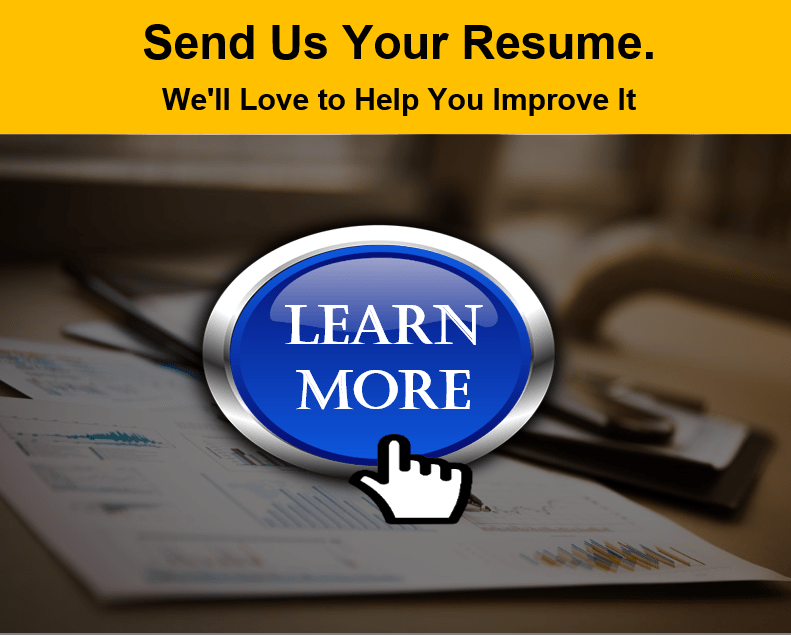 ---
Best Examples and Keywords for Project Manager Resumes
Examples of top keywords to use in your project or program manager resume are listed below.  Please note that you DON'T need to include each and every single one of these keywords in your program management manager resume.
These keywords are provided as examples, so you can review and decide which ones are missing on your project management CV.
Also, note that this list is not a comprehensive list. Review the sections below for additional program manager resume keywords and phrases examples that you can integrate into your own resume.
To jump below to see how we've integrated some of these project manager resume buzzwords into sentences and bullet point phrases, click here: How to Integrate Buzzwords into Your Resume.
---
The list below is applicable to ALL project and program managers. However, if you are an IT Project Manager, then you should also review this section: Sample IT Project Manager Resume Keywords.
---
List of Project Resume Keywords (A-C):
Agile

Analytical

Assertive

Assessing outcomes

Assessing progress

Attention to detail

Budgeting

Business Alignment

Business analysis

Business Process Improvement

Capacity planning

Change management

Conflict resolution

Collaborative

Collaborated

Coordinating

Communication

Communicate

Change impact assessment

Current state assessment

Current state-gap analysis

Current vs future state gap analysis
<See Also: How to Better Integrate These Keywords into Your Resume.>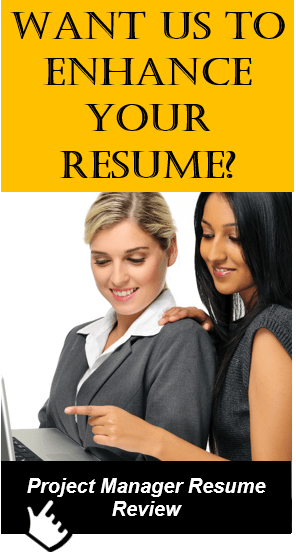 List of Program Resume Keywords (D-I):
Data analysis

Data analysis & design

Data modeling

Deployment management

Development & testing

Due diligence

Disaster Recovery

Escalations

Evaluation

Excel

Executing plans

Execution metrics

Financial analysis

Future state assessment

Future state design

Gap analysis

Governance

Great interpersonal skills

Great verbal communication

Great written communication

Impact assessment

Integration planning
Don't Miss: How to Integrate These PM Buzzwords into Your Resume.
List of PM Resume Keywords (K-P):
Kanban

Leadership engagement

Manage meetings

Managing client expectations

Managing conflicts

Managing IT system development and implementation

Managing relationships with key partners

Managing vendors

Mapping

Meeting deadlines

Microsoft Excel

Monitoring

MS Project

Multitasking

Pioneered

Prioritizing

Problem solving

Process development

Process improvement

Processes

Project coordination
List of Program Management Resume Keywords (P-W):
Project implementation

Project initialization

Project management

Project planning

Project reporting

Program risk assessment

Program risk mitigation

Program management risk mitigation

PMI / PMP

Quality control

Quality methods

Quantitative

Rectified

Redesigned

Release planning

Release scheduling

Remodeled

Reporting on the status of projects

Resolved project conflicts

Risk assessment

Risk management

Scrum

Stakeholder

Stakeholder management
<See Also: How to Better Integrate These Keywords into Your Resume.>
Scope Management

SharePoint

Solution development

Software Development

Status updates

Strategic

Strategic planning

Strategy

Success

Target state

Technical requirements gathering

Testing

Transformation

Waterfall
Don't Miss: How to Integrate These PM Buzzwords into Your Resume.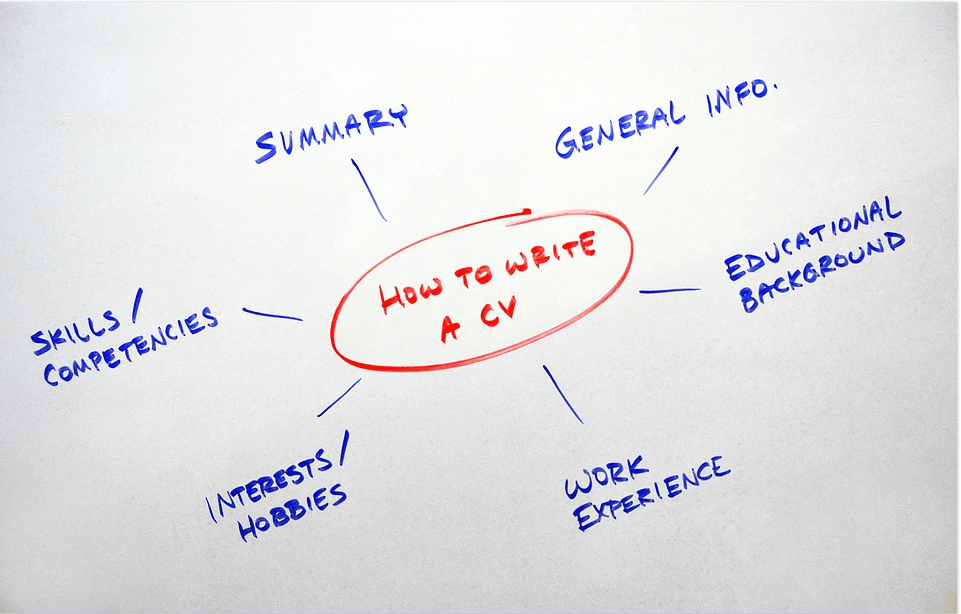 ---
How Should a Project Manager's Resume Be Structured?
A project manager's resume should include an overview section, an education and certification section, an experienced section and also an "other" section which often includes buzzwords like Excel, PowerPoint, Jive, SharePoint, Microsoft Project, and any other tools and platforms that you've worked with in the past.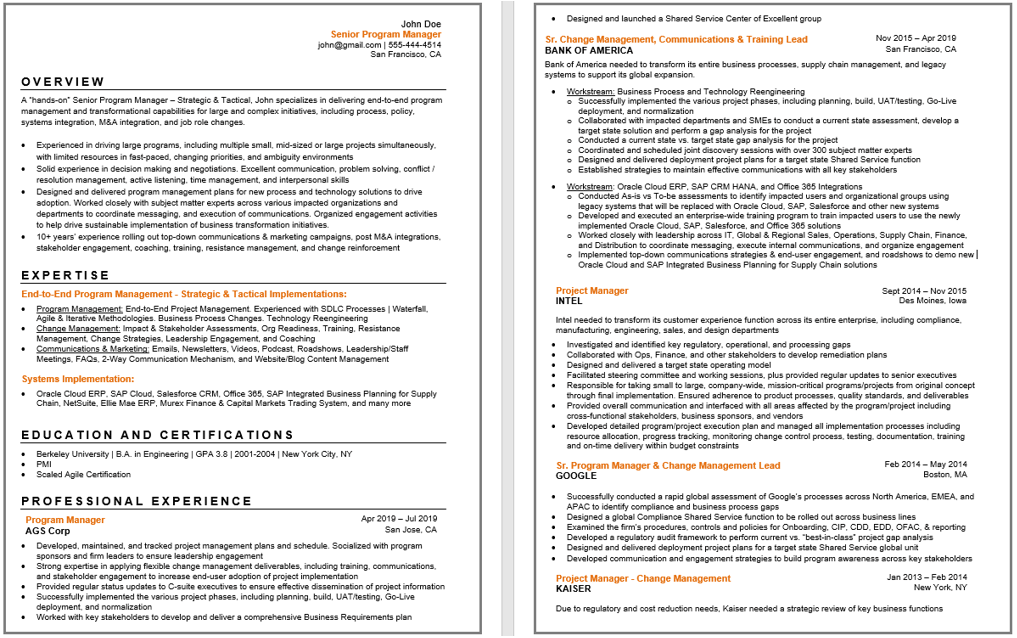 Every little bit helps when it comes to integrating buzzwords into your CV.
---
Integrating Project Management Resume Skills, Keywords and Phrases into Your Resume – All Project/Program Managers (IT PM, Business PM, SDLC PM, Infrastructure PM, Operations PM, etc.)
Examples of top project management skills and keywords to put on your resume have been integrated into phrases below. The keywords within the sentences are highlighted in bold font.
The goal with these keyword examples and phrases is to show you how project management keywords can be used in a resume so that they flow naturally.
Collaborated with subject matter experts to update processes and procedures
Worked with all stakeholders and senior leadership to rapidly develop multi-prong implementation project plans
Successfully managed and coordinated with all stakeholders, across the enterprise, and across regions to ensure that project deliverables were delivered on time
Developed, maintained, and tracked project management plans and schedule. Socialized with program sponsors and firm leaders to ensure leadership engagement
Strong expertise in applying flexible change management deliverables, including training, communications, and stakeholder engagement to increase end-user adoption of project implementation
Provided regular status updates to C-suite executives to ensure effective dissemination of project information
Successfully implemented the various project phases, including planning, build, UAT/testing, Go-Live deployment, and normalization
Collaborated with impacted departments and SMEs to conduct a current state assessment, develop a target state solution and perform a gap analysis for the project
Conducted a current state vs. target state gap analysis for the project
Managed and successfully rolled-out the target state
Coordinated and scheduled joint discovery sessions with over 300 subject matter experts across the enterprise
Partnered with the firm's Risk Manager to build out a Compliance program
Managed six project workstreams and analyzed the firm's enterprise-wide operating structure
Developed a comprehensive audit framework to perform current vs. future state gap analysis
Designed and delivered deployment project plans for a target state Shared Service function
Established strategies to maintain effective communications with all key stakeholders
Assessed the firm's global banking and onboarding program
Investigated and identified key regulatory, operational, and processing gaps
Collaborated with Ops, Finance, and other stakeholders to develop remediation plans
Designed and delivered a target state operating model
Facilitated steering committee and working sessions, plus provided regular updates to senior executives
Responsible for taking small to large, company-wide, mission-critical programs/projects from original concept through final implementation
Ensured adherence to product processes, quality standards, and deliverables
Provided overall communication and interfaced with all areas affected by the program/project including cross-functional stakeholders, business sponsors, and vendors
Developed detailed program/project execution plan and managed all implementation processes including resource allocation, progress tracking, monitoring change control process, testing, documentation, training and on-time delivery within budget constraints
Proven experience in managing multiple large programs/projects in an enterprise environment delivering enterprise software products
Personable and well-proven experience working well with all groups including business, operations, and technical organizations
Solid experience in decision making and negotiations
Excellent communication, problem solving, conflict / resolution management, active listening, time management, and interpersonal skills
Demonstrated consistent ability to lead cross-functional teams and deliver technical solutions while mitigating or removing hurdles / obstacles
Familiarity with a fast-paced project execution environment; a mix of Agile and Waterfall
Managed program risks and issues, as well as changes to projects plans and deliverables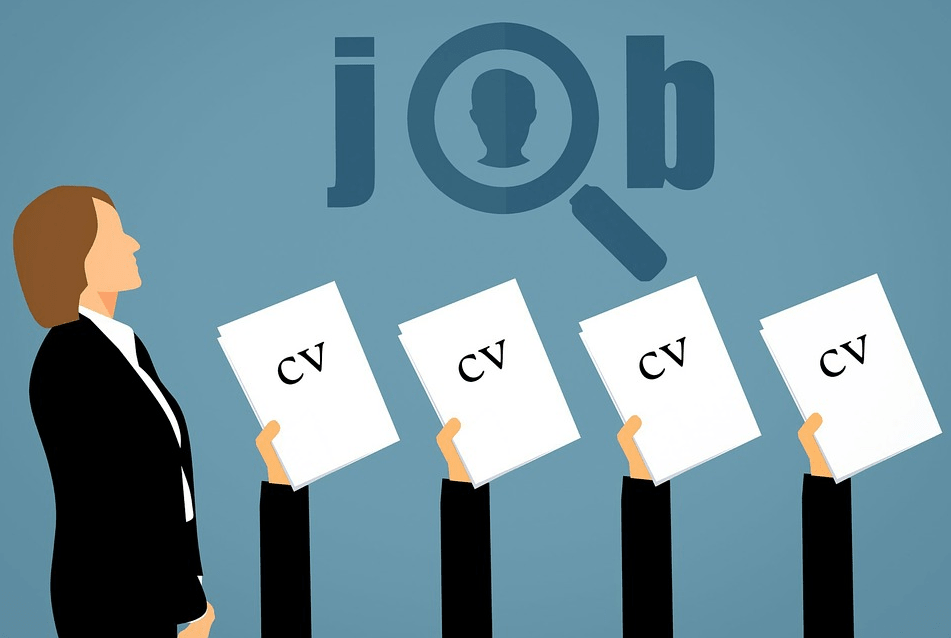 ---
Sample IT Project Manager Resume Keywords
For business PMs, but especially for IT project or technical program managers, some top keywords to include in your resume include:
Application Development

Conflict resolutions

IT Service Management

Information Security

Information Technology

ITIL

IT Project Manager

IT program management

LAN/WAN

Large-scale projects

Personable and proven experience working with both business, operations, and technical organizations

Management and tracking of project progress against the project plan

Managing software/IT/security projects

Mid-to-large-scale project implementation
 >>> See Also: How to Integrate These IT PM Buzzwords into Your Resume.
PMI Agile Certified Practitioner

PMP certification

Resolving conflicts

Scrum

Scrum Master

SDLC: Requirements Gathering, Analysis, Planning, Design, Build, Test, Deploy, and Maintain

Software

Software development

System testing

Technical program management

Technical Project Manager

Understanding of software development, build, test, test automation

Understanding of all phases of SDLC from coding to deployment
---
Where Should You Post Your PM CV or PM Resume?
Just like other job candidates, project managers normally post their resumes on job boards and websites like Monster.com, CareerBuilder, and Indeed.com. 
However, in addition to posting your project manager CV online, it is essential to maintain a professional profile on sites like LinkedIn. This is important because LinkedIn is becoming the go-to place for recruiters to find project managers. LinkedIn's job-posting platform now rivals Monster.com
According to a Forbes article, "Companies are spending their recruiting budget on LinkedIn licenses rather than on Monster licenses."
So, when developing your project manager resume or building your professional social media profile, remember to include some of these key project manager keywords on your online profiles to improve your chances of being discovered by recruiters and headhunters.
---
Additional Information on ATS Automated Resume Search Tools
Using an automated tool, a recruiter or hiring managers enters specific project management keywords for the project manager resumes they would like to see. The automated ATS bot tool then crawls through thousands (or hundreds of thousands) of resumes using the specific project manager terms.
It then aggregates those project manager resumes that best match the entered project management search terms and submits these resumes to the recruiter. The recruiter then performs additional reviews and narrows down the selection using a more streamlined and predetermined list of project management buzzwords. 
Adding some of the best project management resume keywords and skill sets provided in the examples above will help increase the chances that your resume / CV will be selected by the bots and sent to the hiring manager for additional resume, and hopefully an interview.
---
Click below to Airiodion Global Services know if you have any questions about the information provided in this "best keywords to include in a project manager resume" article.
Also, if there are other major keywords that you strongly believe should be included on this list, kindly let us know.
Contact Airiodion Global Services (AGS) today.
---
---
Note: Content on Airiodion Global Services (AGS)'s Airiodion.com website is copyrighted. If you have questions, comments, or tips about this Airiodion Global Services content or product, please contact Airiodion Global Services today.
---
External Image Sources/Attributes: https://pixabay.com/illustrations/robot-model-manufacturing-4363354/, https://www.pexels.com/photo/codes-on-a-screen-1936299/, https://pixabay.com/illustrations/job-search-hr-cv-opportunity-3681036/, https://pixabay.com/photos/cv-flowchart-whiteboard-white-2578872/, https://www.pexels.com/photo/people-gathering-inside-room-1345085/