---
TARGET AUDIENCE ANALYSIS TOOL & SOFTWARE
for Assessing, Tracking, and Managing Targeted Audience Groups
---
A Top Target Audience Analysis Toolkit with Streamlined Templates and Reporting Dashboards for Assessing Targeted Groups
The AGS Audience Assessment Toolkit (with templates & dashboards) reviewed and offered on this page has been designed for a wide range of professionals and entities including change management practitioners, advertisers, marketing teams, project managers, small and medium-sized businesses, large organizations, consulting firms, and anyone interested in conducting effective target audience research.
How do you know the best way to communicate with a certain audience? Not all audiences have the same views, beliefs, personality traits, goals, or needs. This means that doing an audience assessment to understand your audience is vital if you want to get your message across successfully.
Whenever you are performing a target audience assessment, you will either be (1) assessing internal audience groups, (2) assessing external audience groups, or (3) assessing both.
Internal audience: these are the targeted employees, managers, stakeholders, and leadership of an organization.
External audience: these are the targeted customers, prospects, leads, population-based demographics, socioeconomic demographics, content consumers, vendors, and many more.
There is a wide range of different types of audience analysis that can be conducted, and your objectives for wanting to understand this audience will drive the scale, type, and level of your assessment. For example:
If you are part of a government, non-profit, or social program, then you will be assessing specific demographics to better understand segments within these demographics to ensure that the government or social program is implemented appropriately to the right groups.

If you are a small-mid-sized business or large organization, you will be assessing existing or potential consumers from a sales, marketing, advertising, or outreach perspective.

If you are a project manager or change management practitioner, you will be analyzing impacted employees, managers, and leadership.
---
Developing Our Top Audience Analysis Software Tool
As a Senior Consultant, I have had the opportunity to work with some of the largest fortune 500 companies, including Intel, HSBC, Berkshire Hathaway, Cisco, Deloitte, State Street, Accenture, and Goldman Sachs.
Based on my extensive experience in assessing target audience groups using various types of target audience analysis tools, I sometimes received queries including:
What are the best ways to conduct an effective target audience analysis?

What are the best audience assessment software?

What are the best practices for conducting demographic audience analysis?

What are the top audience analysis software tools?

What are the best audience management tools for the different types of audience analysis?
To address these questions, I worked with my team to develop the top audience analysis tool reviewed below. The toolkit is designed to be easy-to-use and customizable for your needs.
Use this toolkit for assessing any of the following types of target audience groups:
Employees and managers that will be impacted by a change. Often referred to as internal target audience groups

Age-based target audience

Geographical, regional, or local target audience

Social-based audience

Job role based audience

Income-based audience segments

Gender segmented audience

Similar interests based audience

Audience groups with similar problems, concerns, needs, and aspirations

Family base or relationship status segment audience

Personality-driven target audience

Similar socioeconomic status

Marketing focused audience

Promotional focused audience

SEO and Search Engine Marketing audience

Content-focused audience

… and many more
Don't hesitate to reach out to me if you have any questions or feedback.
Ogbe Airiodion
Sr. Change Management Leader & Consultant
---
The Toolkits
The AGS All-in-One Audience Analysis Toolkit contains two different toolkits in one platform. Depending on the audience you are assessing, you can use either the Internal Audience Toolkit or the External Audience Toolkit.  
What are the benefits of using the AGS Audience Analysis Toolkit?
Gives you one place to enter all target audience data

Enter demographic, psychographic, and device/technology-related data

Enter target keywords to reach each audience

Preset dropdowns for demographics save you time and facilitate analytics

Quickly analyze audience data through a real-time dashboard to prioritize audience groups

Excellent reporting graphs & templates for your audience analysis presentations
Click any of the links below for details on these two toolkits, or continue scrolling down and reading this page.
Also, you can click here to go directly to the Pricing Table to purchase this top ranked AGS toolkit.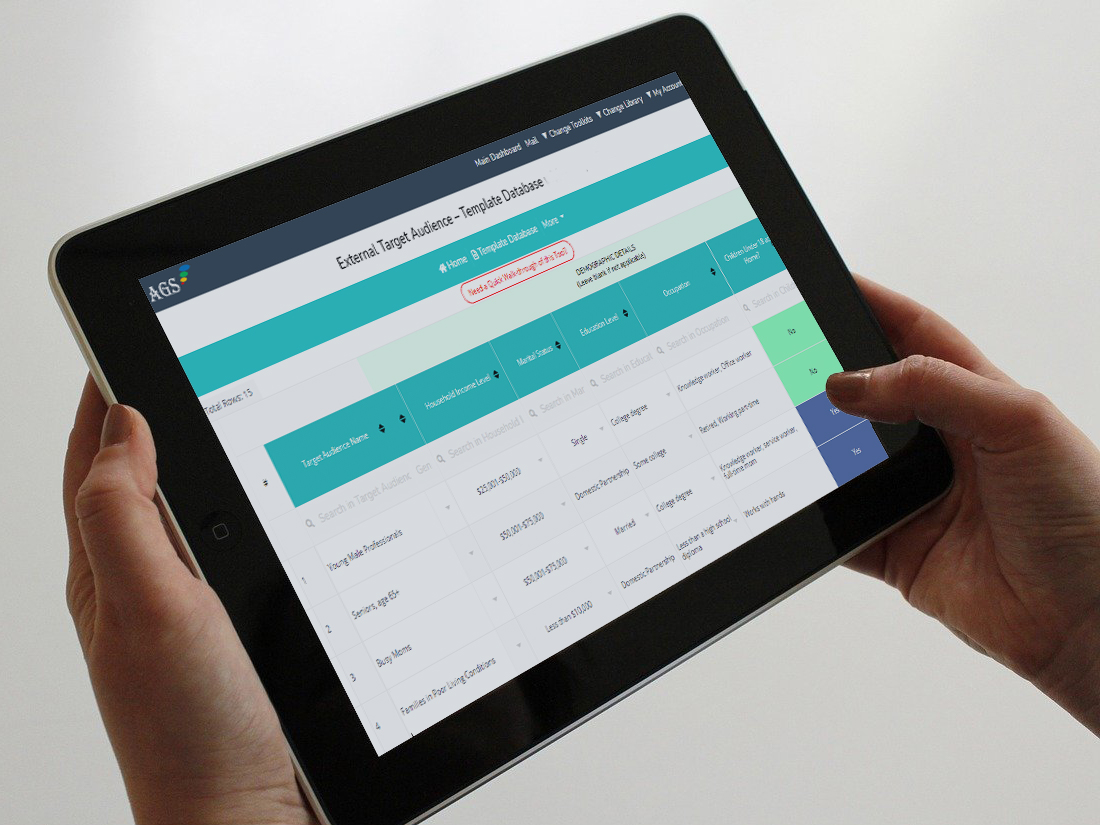 AGS Audience Review & Evaluation Template
---
Contact AGS, and let us know if you have any questions: AGS Contact Page.
---
Internal Audience Assessment Toolkit
---
For internal assessments, use the AGS Internal Audience Analysis Template for conducting your target research and assessment. The template includes well-defined and simple-to-use fields for capturing details on your target audiences.
Do you know all the internal audience factors that need to be assessed? If not, no worries, this audience analysis template spreadsheet includes a simplified and optimized structure with pre-defined columns and data fields for capturing internal audience data.
Spend less time trying to figure out what you need to assess. This allows you to better focus your time on conducting the target audience analysis itself.
Video Tutorial: AGS Audience Analysis Toolkit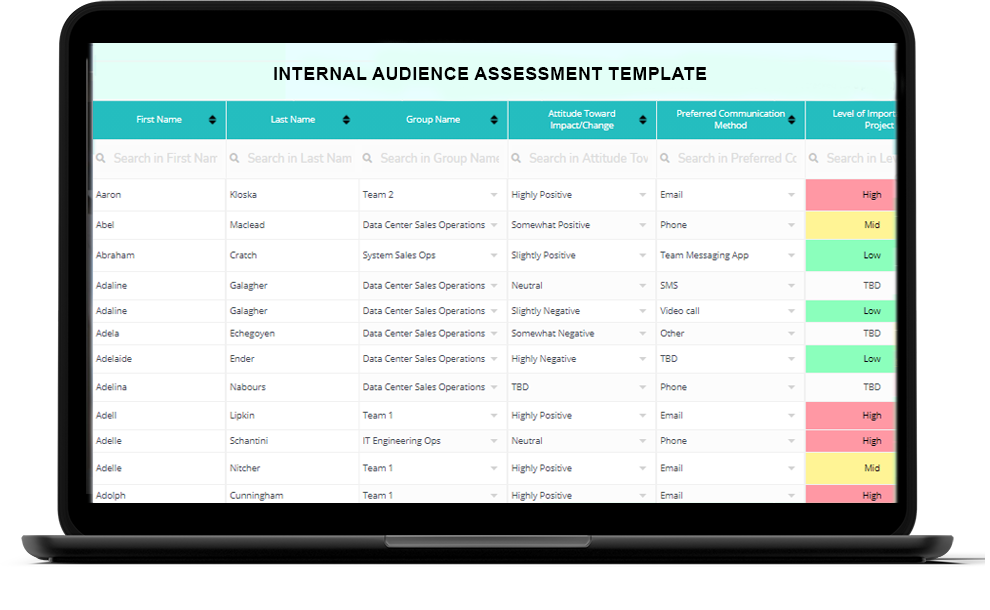 This target audience toolkit allows you to quickly identify key audience insights that can be used for planning your communications, engagement, training, and other internal business purposes. It also includes internal target audience examples that you can leverage.
Your AGS target audience software's template is scalable, meaning you can use it for any type of program, from small projects that will impact only a few groups to large transformations that will impact thousands of employees, managers, customers, and external users.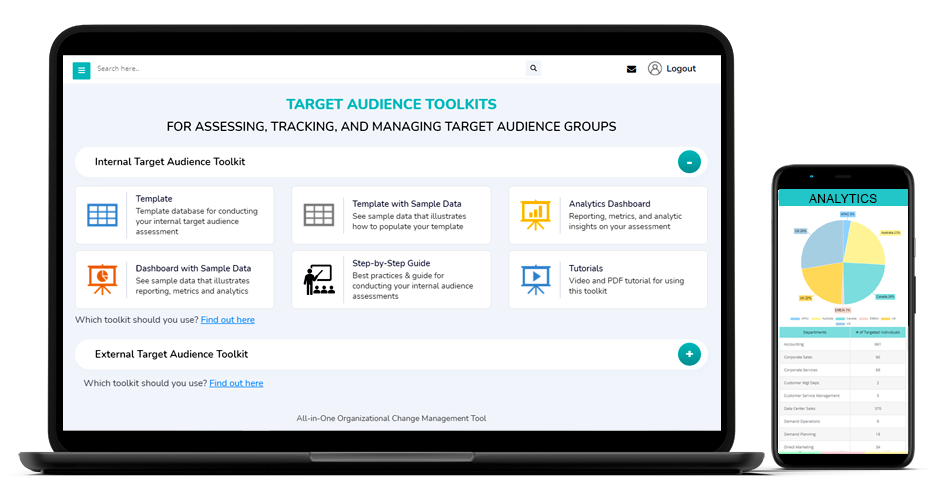 Easily develop advanced engagement strategies based on how each audience group is being impacted by multiple initiatives. Segmenting your audience based on which initiative is impacting them (and identifying where multiple initiatives are impacting the same target audience groups) will allow you and your team to implement communications, engagement, and change management activities using a surgical approach.
Video Tutorial: AGS Target Audience Analysis Templates & Dashboards
Analysis Dashboard
Your AGS Target Audience Toolkit comes equipped with an internal audience analytics dashboard that provides you with holistic views on your internal target audience analysis. This gives you immediate insights into your targeted employees and managers, so you always know which departments or divisions have the highest or lowest number of target audience members. 
Easily assess your target audience based on their geographical location, so you can effectively engage them based on localization attributes and content segmentation. In addition, you can apply segmentation based on office location, building, city, and other location data points.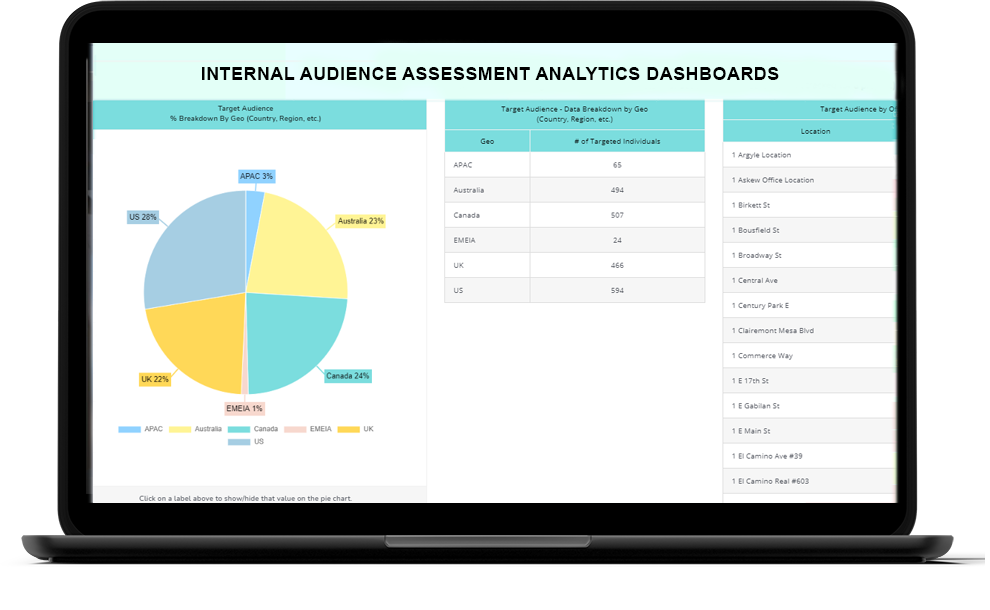 Your Internal Audience Assessment & Management Dashboard comes fully equipped with a 360-degree view of your engagement efforts. You and other members of your team can quickly view segments, including the localization breakdown of your target audience.
This helps you get straight to what matters most: better engagement with your target audience groups, better customer experience, and more effective governance.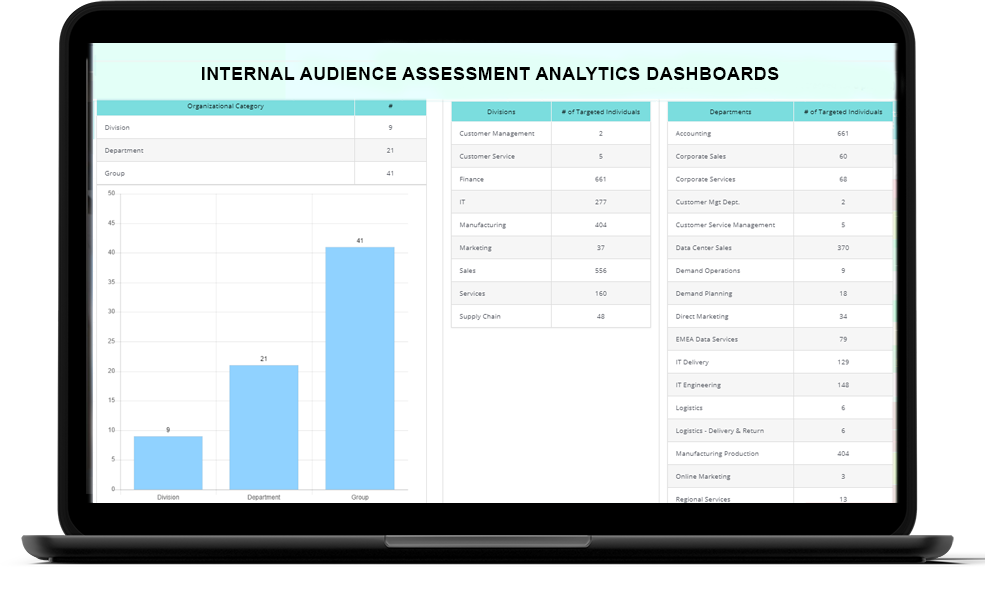 For project management or change management initiatives, your dashboard allows you to quickly see the number of organizations, groups, divisions, teams within or outside the company that are impacted, and need to be engaged. Also, you can easily see the total number of employees, managers, customers, or other external parties that are part of the target audience segments.
Last, but not least, your 360-degree dashboard provides you with a streamlined view of how many employees per job title/role are included in your target assessment database. Quickly identify which employee roles or titles have the highest or lowest number of impacted individuals.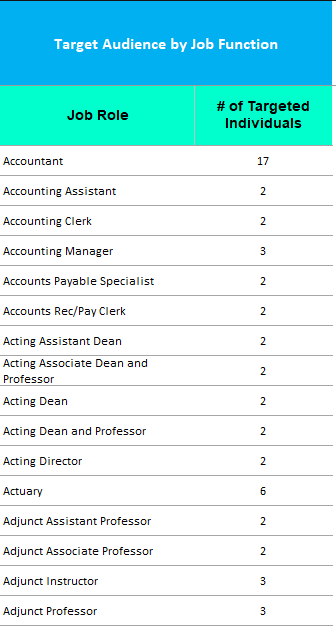 Click here to go directly to the Pricing Table to purchase this top ranked AGS toolkit.
---
Contact AGS, and let us know if you have any questions: AGS Contact Page.
---
External Audience Assessment Toolkit
---
The AGS Target Audience Analysis Toolkit includes templates and dashboards for analyzing external target audience groups. The more clearly you are able to define your external target audience groups, the better you can understand how and where to reach them.
Use the template spreadsheet to capture and gather a wide range of data points, that will allow you to conduct the most efficient levels of target segmentation, analysis, and tracking. The template is set up to capture data in the following categories:
Demographic details

Psychographic details

Buying Statistics

Digital Details (technology, keywords, etc.)

Social Details (for social projects)
Our template is one of the most extensive you'll find for capturing all the target audience details you might need. You can also easily hide the ones you don't need!
The template includes pre-defined columns and fields that will allow you to quickly get up to speed – spend less time trying to figure out what to assess, and instead spend time focusing on the end results.
Video Tutorial: AGS Target Audience Analysis Templates & Dashboards
Illustration – AGS External Audience Analysis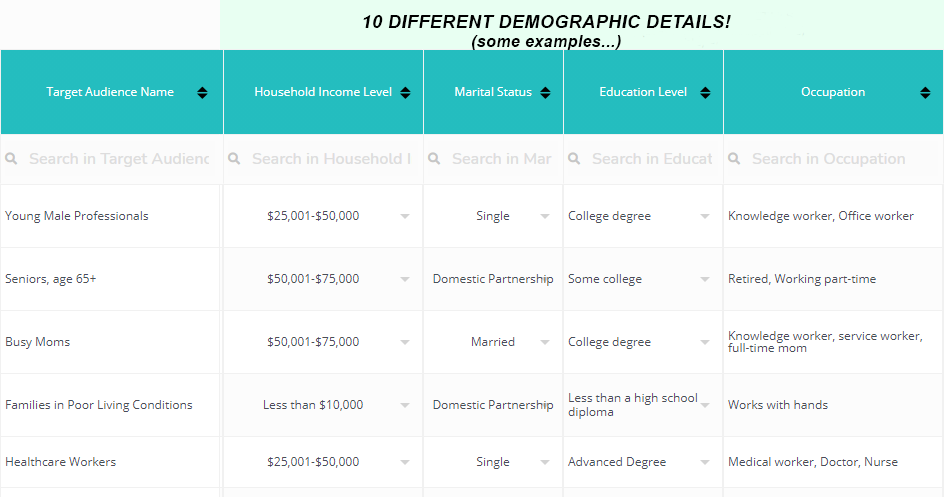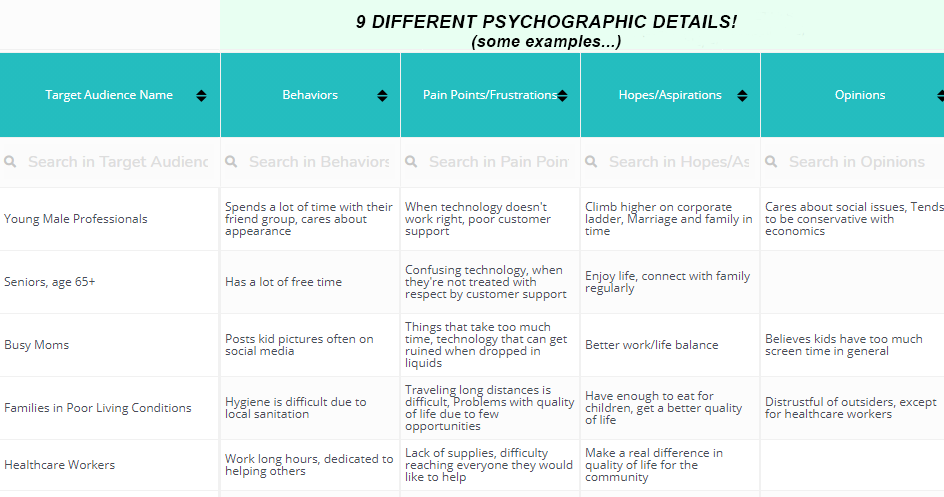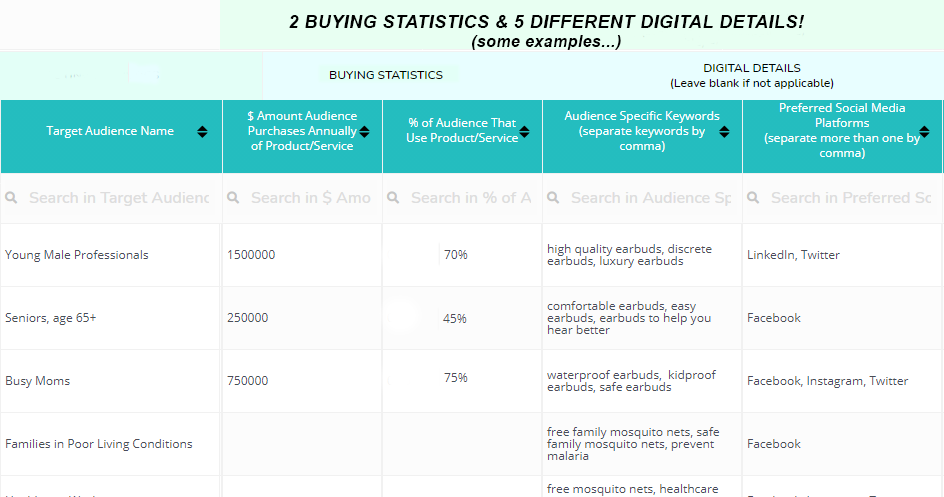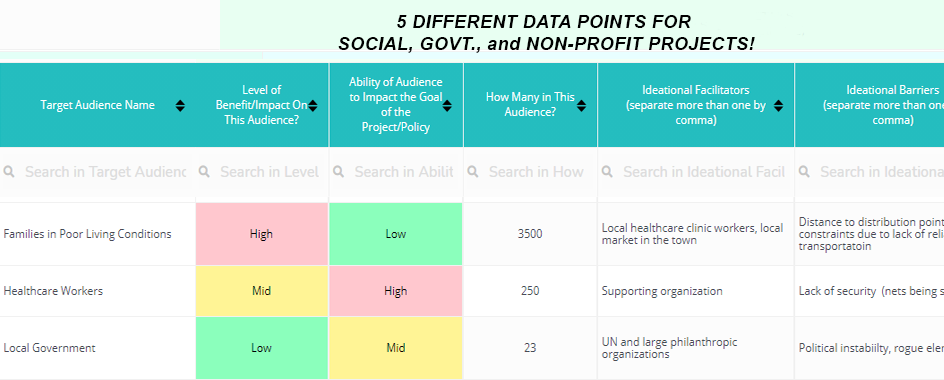 The external audience assessment toolkit comes equipped with an advanced analytics dashboard, that allows you to easily view your audience segmentation by priority, as well as a running list of your complete target audience groups.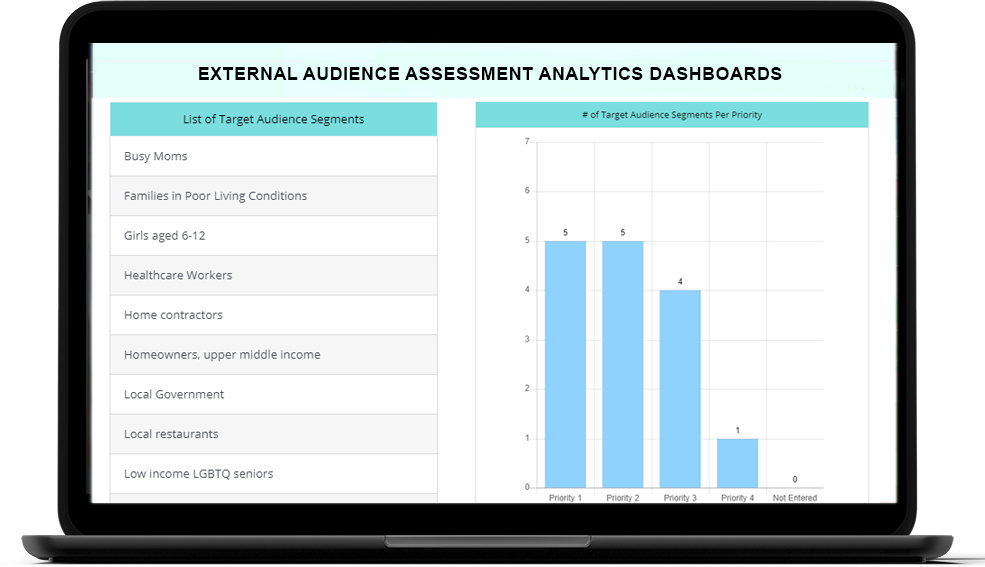 Your analytics dashboard provides a wide range of reporting and audience tracking views including the views listed below:
Target audience by priority views and insights

Target audience demographics table report

Target audience age range bar chart

Target audience household income level bar chart

Target audience education level bar chart

Pie chart with the percentage of preferred social platforms

Pie chart with percentage priority devices views

Best Communication Channels bar chart

Reporting dashlets and insights on Govt./Non-profit/Social Program audience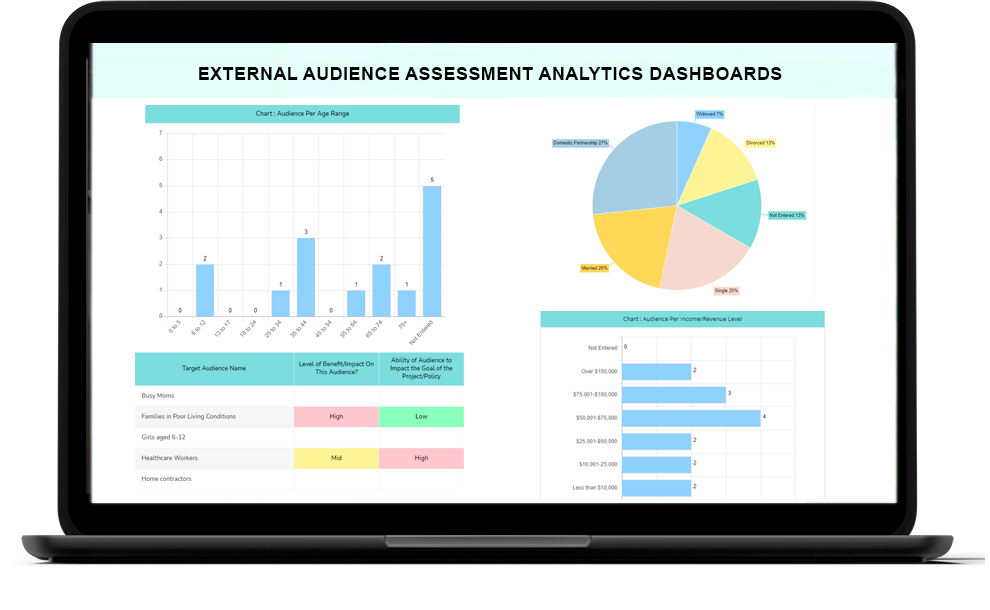 To make your life even easier and further simplify the tasks that you need to complete, we have also included Target Audience Profile templates that you can use for your audience readout during the presentation to stakeholders, senior leaders, managers, and clients.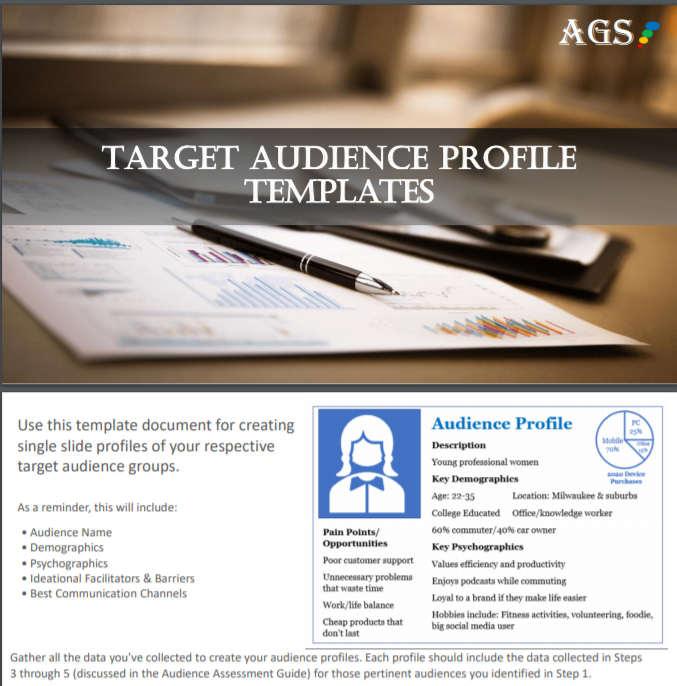 And as a bonus, we have also included a Customer Market Survey that you can leverage to survey your consumer market.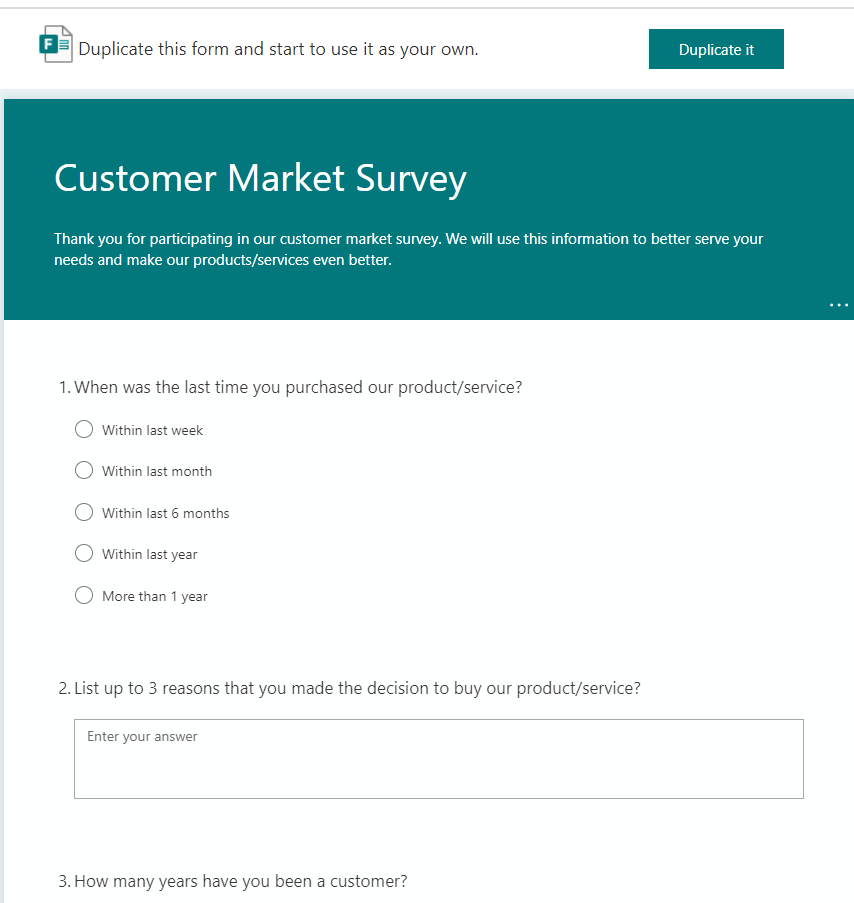 Don't miss out. Get this powerful toolkit today!
---
Video Reviews – AGS Audience Assessment Software Toolkits
External Target Audience Assessment Toolkit Video Review
Internal Target Audience Assessment Toolkit Video Review
---
Contact us if you have any questions about this product reviewed and offered on this page. 
---
Pricing
We've created this Target Audience Assessment & Management Toolkit in the Cloud, which allows you to access the tool using any device. In addition, everything is saved in one place and available to come back to whenever required on any device you see fit. No more having to switch between tools! Or worrying about siloed spreadsheets or Excel limitations.
This Toolkit



Multiple Concurrent Projects.


Single and Multiple Users

(Work alone. Or add team members. Work together or separately.)


Cancel anytime

Centralized Toolkit Portfolio
(No more switching between siloed platforms, or spreadsheets)

Ongoing enhancements & free upgrades.
(Because the Cloud version is in the Cloud and we own the technology, we're free to continuously innovate based on best change practices, enhance, and support the platform with new releases)
$30 
USD/user/monthly recurring payment. Cancel anytime.
I am Ready to Subscribe
Per User / Recurring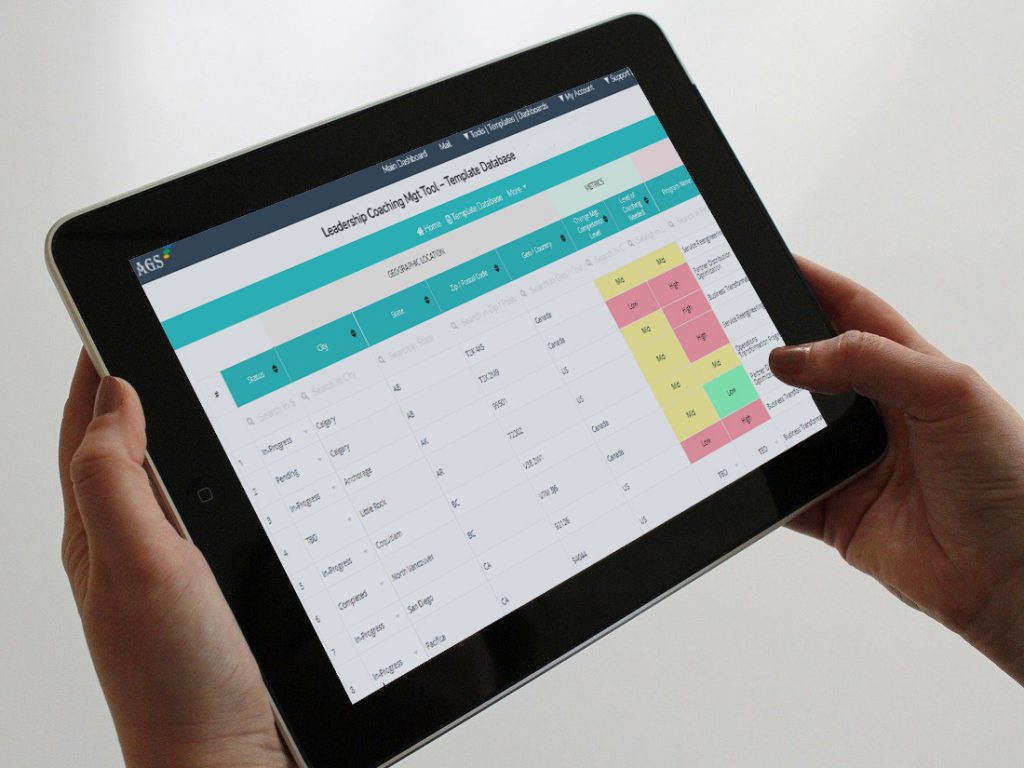 ---
Excellent ROI from the first month!
Looking for more tools?  If you'd like more project and change management tools, we offer the All-in-One Change Mgt Toolkit. It includes a full portfolio of change management tools perfect for Change Management Teams, Change Leads, and Consultancies.
---
FAQ
Multi-prong question about sharing the Target Audience Toolkit with other team members
Questions: Can I share AGS Target Audience Sizing Tools with others? What are the requirements for the single-use license? If I have a colleague on the same project, can we use it separately and work on the project separately, or do we need to buy 2 licenses?
Answer: Our Target Audience Analysis and Management Toolkit is offered on a per-user basis. You can obtain additional user licenses: https://ocm.airiodion.com/support/#Single-User-License
Do Your Audience Sizing Tools & Assessment Toolkits include guides and tutorials?
Answers: Yes, they do. In addition, we are also just a click away if ever you have any questions or would like a quick hands-on walkthrough of the tool. 
I am in a different region, will this Toolkit still work for me?
Answer: Yes. This tool was developed for the U.S., as well as for users in Australia, the U.K., Canada, Philippines, India, Africa, Europe, LATAM, Middle East, APAC, and in any region. It is truly a global Target Audience Assessment and Management Toolkit platform.
Can I upgrade at any time? Can I add more products later on?
Answers:
You can add products or upgrade at any time, but some products may need to scale together with this Target Audience  Toolkit. Check out our All-in-One Toolkit for more details.
Video Tutorial: AGS Target Audience Analysis Templates & Dashboards
---
Note: Content on Airiodion Global Services (AGS)'s Airiodion.com website is copyrighted. If you have questions, comments, or tips about this Airiodion Global Services content or product, please contact Airiodion Global Services today.
---