AUDIENCE ANALYSIS
---
A Top Guide for Conducting an Effective Audience Analysis | Everything You Need to Know
OCM Phase 1 | By Ogbe Airiodion
---
First, What is a Target Audience Analysis?
Audience analysis is a process of assessing a target audience for the purpose of engaging with that audience and fulfilling key objectives, goals, and mandates.
This process really involves understanding the intricate details of a particular audience. For example: Where are they located? What attributes do they have that will allow you to segment them into specific buckets? What do they do? What impacts them? What group or groups do they belong to? etc.
---
Your Objectives Will Drive The Type of Audience Assessment that You Conduct
There is a wide range of different types of audience analysis that can be conducted, and your objectives for wanting to understand this audience will drive the scale, type, and the level of your assessment.
For example, if you are part of a project or change management program, then the objectives of your audience analysis will be to understand the employees, managers, customers, and users that will be impacted by your program. As such, the type of information you assess and gather will be those that help you understand how to communicate with, train, coach, and transition these impacted users.
If you are part of a government or social program, then you will be assessing specific demographics to better understand segments within these demographics to ensure that the government or social program is implemented appropriately to the right groups.
Irrespective of the type of audience analysis that you are performing, this guide will walk you through best practices, samples, and steps for conducting your assessment.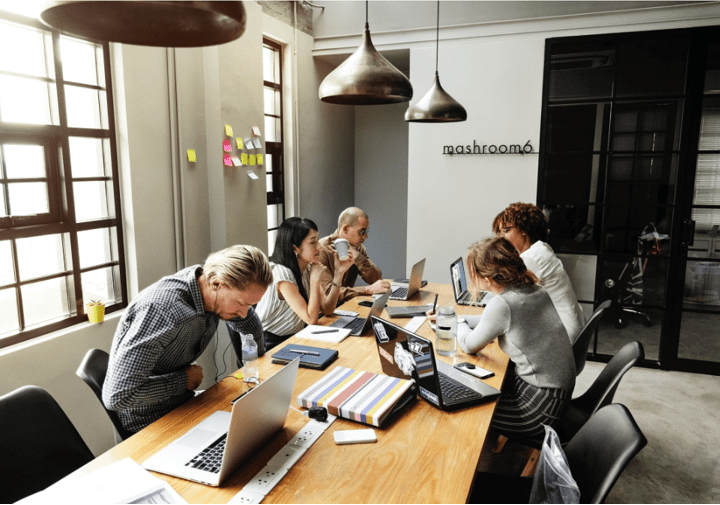 ---
Types of Target Audiences
Conducting an audience assessment for a project, program, transformational change, or for a business initiative allows you to identify the front line employees, managers, departments, divisions, customers, 3rd parties (suppliers, vendors, etc.) that will be impacted by this change. These individuals also referred to as "impacted end-users" will be your targeted audience for your project management or organizational change management communications, engagement, training, readiness support, go-live, and post go-live change reinforcement activities.
Conducting a social media, government, or demographic audience analysis allows you to identify and understand the habits and behaviors of a particular segment of people. This type of audience is referred to as a "demographic audience."
Performing a target market profile, marketing or industry segment analysis allows you to identify and understand the habits and behaviors of a primary target market. This type of audience is often referred to as a "consumer audience."
These are just a sample set of examples of the wide range of target audiences that exist today.
---
Target Audience Analysis Approach & Strategies
---
Step 1: Get a Comprehensive Dataset or List to Start
If your audience analysis is for a project or transformation change management initiative that involves a business changing its processes, technology, culture or other business-related changes, then you will need to work with the company's HR, IT or the relevant department to get a data dump/list/CSV/Excel download of all employees working for the company. If the change impacts external parties (customers, suppliers, partners, etc.) that you will need to gather a list of all these external parties that will be impacted.
If a complete list is not feasible for legal or technical reasons then you need to gather a list of all employees or external users that will be impacted as well as those that will potentially be impacted. This data will be a key component of your audience analysis process and will be used extensively during STEP 3 of the targeted audience analysis process. 
It is essential that you get the complete data of potential employees, managers, and other parties. You might need to go through an approval process by HR or the corporate department managing this information. 
If your assessment involves demographics, market, industry, social or other target audience, then you should ensure that you have access to a best-in-class provider of data, research and analysis database that has a comprehensive list of everyone or group that could possibly be part of your target audience.
When you get the data-dump of data, ensure the below:
The data should include a field or column that contains an identifying number (i.e., employee job ID). As an alternative, you can use the email field/column as the unique identifier for each person

Note that this data dump must be kept highly confidential and only shared on a "need-to-know" basis.

Use an "Audience Assessment Data Request" template as a guide to determine the data and fields that you will need.
You can create this template by yourself from scratch using the information presented on this page. In addition, you can review Airiodion Global Services' Audience Assessment & Management Tool.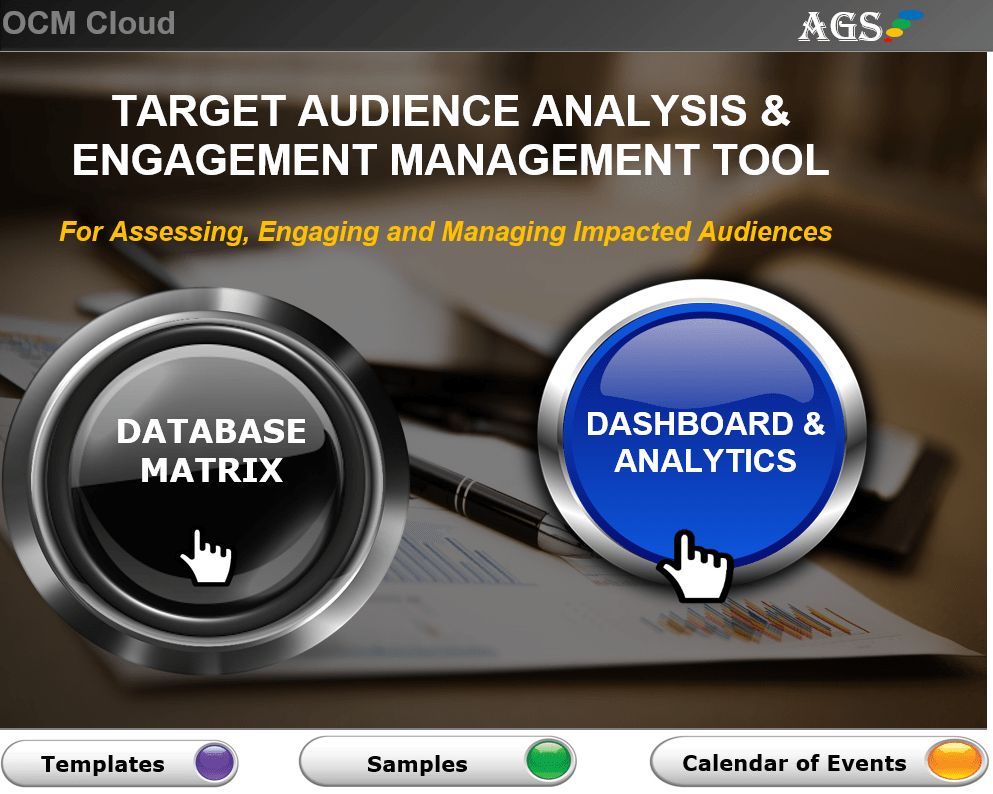 ---
The sections on step 2, 3 and 4 outlined below are for program and change management audience analysis. For all other types of target audience assessment, the next steps will be to conduct a thorough review of the comprehensive dataset that you received in step 1, to identify patterns, behaviors, groupings, and other behavioral insights.
And then based on your pre-determined objectives, you can further narrow the list down to focus on the specific groups, segments, markets or people that you need to engage with. You can also review AGS's Target Audience Assessment & Management Tool to see if this is a tool that you can use for your needs. Let AGS know if you will like a quote for any type of customization(s) to be made to the tool, so it can fit your needs. 
---
Step 2: Identify Impacted Job Roles & Employees
The next step (which can be done in parallel to STEP 1, or even before STEP 1, if needed) is to understand which groups, job titles, and job roles will be impacted by the business or organizational change.
To find the needed information:
Review project documents (charter, scope documents, functional decomposition) to identify groups and job roles that will be impacted

Review the Change Impact Assessment that has been completed or is in the process of being completed to identify impacted groups and job roles
Interview program team members and stakeholders to gather additional names of groups that will be or might be, impacted by the change   

For system, software or technology solution implementations, request the list(s) of system users from the system owners or from IT. Use this list as your initial indication of target audiences  
---
Step 3: Identify Impacted Employees and Managers on the Firm Employee Database
The next step after STEP 1 and STEP 2 is to cross-check the impacted job titles, employee name, and groups that you identified in STEP 2, against the Firm Employee Database that you received in STEP 1.
Copy and enter the information into an Audience Analysis Database. An Audience Analysis Database is a spreadsheet that you can use to capture, analyze, and manage your project's targeted audience. You can also use your firm's preferred software or tool of choice.
Click below to obtain an Audience Analysis & Management Database Template. As an alternative, you can create this template by yourself from scratch, if needed.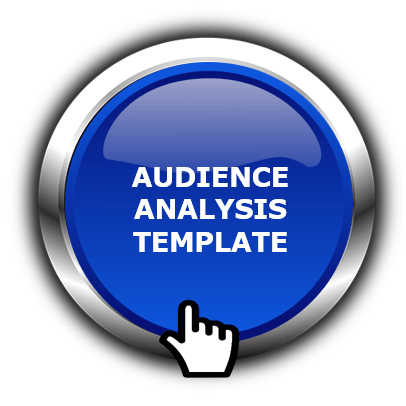 ---
Step 4: Validate the Audience Analysis Data
 Next, complete the below tasks:
Validate target audience names with Project Team members (Business Analysts, Program Managers, Program Managers, SMEs, Sponsors, Business Unit managers, and other program resources)

Use your targeted audience lists to target communications, engagement events, and training content

Share the lists with your program's Change Champion Network and others who can help cascade communications.
Plan to revisit and refine the audience analysis periodically as the project progresses and more information is discovered and further defined.
---
Image Source: https://www.pexels.com/photo/group-of-people-having-a-meeting-1204649/
---
Note: Content on Airiodion Global Services (AGS)'s Airiodion.com website is copyrighted. If you have questions, comments, or tips about this Airiodion Global Services content or product, please contact Airiodion Global Services today.
---