AGS CHANGE MANAGEMENT PRODUCTS
---
Below is our list of change management products.
To help change practitioners and project managers that might be budget constrained, we are offering a 20% discount if you are buying more than one product.
Use this discount code when placing your order: HSE7WE6A
Click any link below to add that product to your cart.

What's the difference between our Templates, Tools, & Tool+?

Click here to find out
---
Stakeholder Management Toolkit:
Change & Project Communications Toolkit:
Resistance Management Toolkit:
---
Email us if you would like to request a customized or new change management product that is not listed below. 
---
What's the Difference Between Each Product's Template, Tool & Tool+?
Each of our products will have these versions: a Template, a Tool, and a Tool+. This is to ensure that we can match everyone's budgeting needs.
Tool: The Tool version includes the template, as well as an analytics dashboard and sample data for references. It comes with automated capabilities, and is streamlined.
Tool PLUS 90:

With this option you get a 90-Day Priority Support & Customization Service for any of our products except for the All-in-One Change Management Tool (See below). Think about this option as being similar to an insurance policy in the event that you need customization done to your tool in the future to meet particular needs. It gives you up to three separate customization requests within 90 days of purchase, as well as priority and prompt support entitlement. A customization can include requesting additional enhancements, added features, additional pivot tables, more charts, additional reporting analytics, and more.

Tool PLUS 120: If you purchase the Tool Plus version of our All-in-One Change Management Tool, your purchase comes with a 120-Day

Priority Support &

Enhancement Entitlement Service. For the next 120 days, you are entitled to priority support if you have any issues. In addition, you can request up to six enhancements, customization, and features to be added to your product. For example, you can request additional dashboard analytics, more pivot tables, charts, reports, columns, and more.
Templates: Effective 5/9/2020 AGS no longer offers our Template products. This is in line with our move towards the cloud, and also based on low demand. Less than 4% of our sales were of customers buying the Template version of our products, compared to 96% of customers buying the Tool and Tool Plus 90 versions of our products.
---
Email us if you would like to request a customized or new change management tool/template/product that is not listed below. 
---
RELATED STORIES & VIDEOS:
---
Content on Airiodion Global Services (AGS)'s Airiodion.com website is copyrighted. If you have questions, comments, or tips about this Airiodion Global Services content, please contact Airiodion Global Services today.
---
Change Management Tools | All-in-One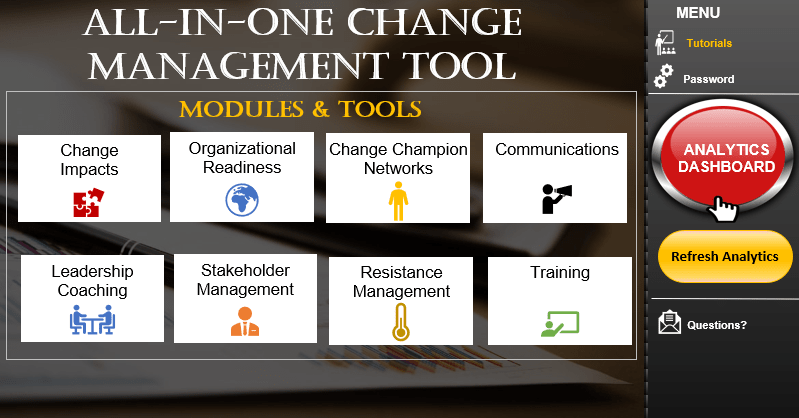 Top Rated Change Management Tool for Change Managers.
---

---
►► FREE Change Mgt Strategy Playbook and Toolkit ◄◄
---
►► Change Impacts Assessment Toolkit ◄◄
---
►► Change Readiness Templates & Toolkit ◄◄
---
►► Change Management Toolkit | All You Need ◄◄
---